Wednesday 27/09/2023, 09:59:20
03/06/2008 2:25:02 pm
Who Killed Health Care? We just finished a major event at Timbro which I was moderating. Regina Herzlinger was the key note speaker, and there were comments by Cecilia Widegren, Johan Hjertqvist and Stefan Ackerby. All in all, it became a forceful event for consumer-driven health care and a strong case for reform of health care in Sweden and the US alike.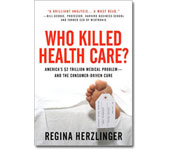 <-- Home