Wednesday 04/10/2023, 01:12:19
17/06/2008 1:52:33 pm
Centres of Commerce. Mastercard has compiled an index of what it refers to as Commercial Centres of the world. Their experts make an assessment of how commercially attractive a city is, using various parametres. London comes out on top, with New York substantially behind. Stockholm is number 16, a good position for a clearly smaller city. The report can be read here, with the full ranking starting on page 20. The Economist did a diagram, shown below.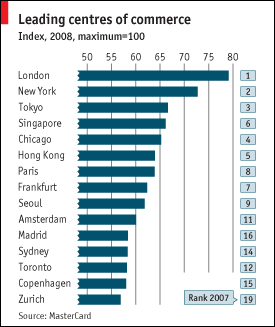 <-- Home