Tuesday 2021-11-30, 03:03:34
2009-04-20 09:51:22
A Living Heritage From Adam Smith. So I am back from a great trip to Speyside, Scotland. Beautiful landscapes, good friends, haggis, lots of whisky and a real bar fight (no, I was not involved).

People showed far-reaching hospitality and were full of stories about old Scotland. And everyone actually had something critical to say about government intervention - from taxes to regulations. Indeed the country of Adam Smith!

Did you know why so many Scottish whiskies are matured in American bourbon-casks? Because a US law prevents US bourbon distilleries from using the casks twice. The law is from the 1950s, to prevent unemployment among cask-makers...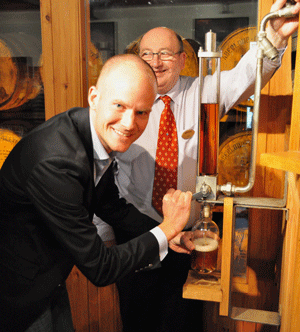 Me tapping my own bottle at Aberlour
<-- Home