21/01/2005 12:28:24 pm
The Historic Mission of America. Yesterday, George W Bush was sworn in for the second and last time as President. His speech focuses on the founding idea of America: freedom. It is a great speech outlining a radical policy for the world and describes how freedom should be advanced in the US as well:
"The survival of liberty in our land increasingly depends on the success of liberty in other lands. The best hope for peace in our world is the expansion of freedom in all the world. ...
This is not primarily the task of arms, though we will defend ourselves and our friends by force of arms when necessary. Freedom, by its nature, must be chosen, and defended by citizens, and sustained by the rule of law and the protection of minorities. ...
We will persistently clarify the choice before every ruler and every nation: The moral choice between oppression, which is always wrong, and freedom, which is eternally right. America will not pretend that jailed dissidents prefer their chains, or that women welcome humiliation and servitude, or that any human being aspires to live at the mercy of bullies. ...
By our efforts, we have lit a fire as well - a fire in the minds of men. It warms those who feel its power, it burns those who fight its progress, and one day this untamed fire of freedom will reach the darkest corners of our world. ...
In America?s ideal of freedom, the exercise of rights is ennobled by service, and mercy, and a heart for the weak. Liberty for all does not mean independence from one another. ...
And our country must abandon all the habits of racism, because we cannot carry the message of freedom and the baggage of bigotry at the same time. ...
When the Declaration of Independence was first read in public and the Liberty Bell was sounded in celebration, a witness said, "It rang as if it meant something." In our time it means something still. America, in this young century, proclaims liberty throughout all the world, and to all the inhabitants thereof. Renewed in our strength - tested, but not weary - we are ready for the greatest achievements in the history of freedom."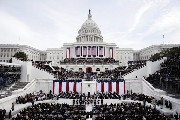 Read the entire speech here - >