Wednesday 31/05/2023, 18:40:09
11/04/2006 12:32:21 pm
New Book Presented. Yesterday, I and co-authors presented the new book "Beyond the European Social Model" (Open Europe) in London. Some 50 people came to the classic St Stephen?s Club by Queen Anne?s Gate. The book is faily short, yet contains many interesting new facts:

The productivity per working hour of the Nordic countries is today between 24 and 41 per cent higher than in 1990, in Ireland it is 78 per cent higher.

The long-term unemployment rate is five times higher in EU-15 than in the US.

The average income in Ireland 1995-2004 grew by 101 per cent, in Britain by 72 per cent, and in Sweden by 29 per cent. The income of the poorest 10 per cent grew by 79 per cent in Ireland, 59 per cent in Britain and 10 per cent in Sweden.

The proportion of households with post-tax income below $ 20 000 was 42 per cent in Ireland in 1990 and 14 per cent in 2004. In Sweden, it was 17,5 per cent in 1990, in 2004 it was 19 per cent.

Ireland decreased its public spending as a share of GDP from 57 per cent in 1982 to 35 per cent today. But due to higher growth, the value of today?s public spending is 4,5 times higher.

In 1991, the EU had 71 per cent of the US productivity, in 2005 it was 62 per cent.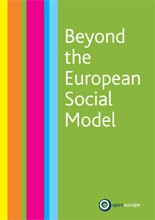 Read the entire book here (pdf) - >
<-- Home