Tuesday 21/03/2023, 20:45:50
27/10/2006 1:13:10 pm
French Riots One Year Ago. One year has passed since the start of the weeks of riots in Paris. The events displayed the great social problems of the most staunch defender of the so-called European Social Model. The need for change and free-market reform could not have been described more dramatically. Below the front page of the latest edition of The Economist - on the spot.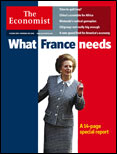 <-- Home