Thursday 30/03/2023, 13:07:27
08/02/2007 3:55:20 pm
Anti-Social. That is how I sometimes describe the so-called "European Social Model", since it obviously produces seriously negative social effects. Walking along a street in the magnificent old colonial city of Olinda in Brazil, my eyes fell on a sign warning for it. At first glance. It was, however, a subtle warning for a dangerous dog. And that might perhaps be taking the comparison a bit far...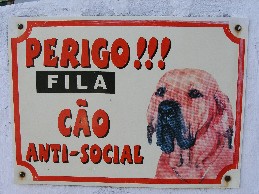 <-- Home