Sunday 2021-10-24, 20:32:06
2007-05-09 23:35:38
European Economic Outlook. Today, I gave a speech at the World Economic Outlook Conference, in Paris, arranged by Global Insight. An impressive arrangement by an impressive organisation. Roughly 150 people - economic analysts and business intelligence - were present.

Today has also been the Day of Europe. One economic forecast of today was that the eurozone will overtake the US in growth during the coming years - of cyclical reasons. Suitable for Europe Day, I suppose. But the fact that China has a larger share in knowledge-intensive exports than the eurozone is less encouraging...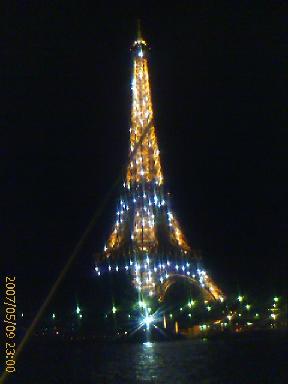 The Eiffel Tower seen tonight from a crusing boat on the Seine
<-- Home