Friday 31/03/2023, 09:12:59
10/12/2004 11:23:15 am
Face: Off. For some reason, I keep thinking about Viktor Yuchenko?s destroyed face. I am not sure why. Perhaps it is because it shows with intimate clarity the cruel evils of a corrupt and authoritarian political system. After all, if he was poisoned in an attempt to kill him - and his doctors say he was - the deed wan?t done by his fans. Perhaps I think of it partly because Yuchenko, who was a handsome man just a few months ago, now has to show his face all the time to millions of people around the world. It is also something irreversible over this event; even in a free Ukraine in the future, Yuchenko will bear the scars of dictatorship.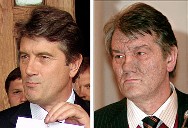 Viktor Yuchenko this spring to the left and this fall to the right.
<-- Home