Saturday 2022-05-21, 13:37:53
2007-09-04 10:03:36
India Leads Service Offshoring Attractiveness League. A cheap and seemingly local call for technical assistance - or booking a ticket - today often travels around the world. This is one kind of services which have been offshored to other countries to a large extent already. More qualified services will follow.

A T Kearney Global Services has created an index showing which countries are the most attractive ones to offshore services to for companies - and why. India is number one, followed by China, then Malaysia. India has more people and skills, but Malaysia has the more attractive business environment.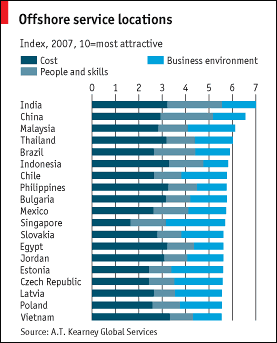 <-- Home