Friday 31/03/2023, 07:49:42
18/12/2004 1:28:25 pm
Welcome, Turkey!! The dramatic day in Brussels yesterday ended well. The Turkish PM Erdogan rejected the first proposal from the EU. As it was altered somewhat on the Cyprus issue he accepted. Great! Now the path towards a better Europe and a better Turkey is clear. This is the best Christmas gift anyone in Europe could have received. Erdogan was greeted as a hero by thousands of people when he came back to Istanbul. For once, I think there would have been reason for us to do the same.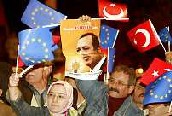 <-- Home