Friday 31/03/2023, 08:22:06
20/12/2004 11:06:06 am
Bush Time Person of the Year. US President George W Bush is the Person of the Year in Time Magazine. (Need it be mentioned that this has made very limited news in Swedish media?) The motivation is "for sticking to his guns (literally and figuratively), for reshaping the rules of politics to fit his 10-gallon-hat leadership style and for persuading a majority of voters this time around that he deserved to be in the White House for another four years." Furthermore, Time writes:
"An ordinary politician tells swing voters what they want to hear; Bush invited them to vote for him because he refused to. Ordinary politicians need to be liked; Bush finds the hostility of his critics reassuring. Challengers run as outsiders, promising change; it?s an extraordinary politician who tries this while holding the title Leader of the Free World. Ordinary Presidents have made mistakes and then sought to redeem themselves by admitting them; when Bush was told by some fellow Republicans that his fate depended on confessing his errors, he blew them off.
For candidates, getting elected is the test that counts. Ronald Reagan did it by keeping things vague: It?s Morning in America. Bill Clinton did it by keeping things small, running in peaceful times on school uniforms and V chips. Bush ran big and bold and specific all at the same time, rivaling Reagan in breadth of vision and Clinton in tactical ingenuity. He surpassed both men in winning bigger majorities in Congress and the statehouses."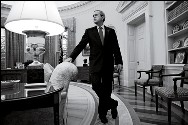 Read the article - >
<-- Home