Wednesday 04/10/2023, 02:42:25
11/08/2008 11:15:56 am
Summer Summary. A nice summer of family life, sailing and barbecues has come to an end. A few things may be worth commenting briefly.

- Turkey was saved on the brink of disaster as its constitutional court decided not to ban the governing party. Now, Turkey can continue the reform path.

- The Olympic Games opened spectacularly. Of course this is all an enormous scene for propaganda and politics. But I believe that it contributed to China′s openness and that there are positive effects from the world?s eyes being focused on China.

- I will be a guest speaker at the European Ideas Network′s Summer University in Fiuggi, Italy. The key note speakers will be Francois Fillon, Prime Minister of France, and Silvio Berlusconi, Prime Minister of Italy. The programme can be seen here (pdf). Will be interesting.

- Den svenska ekonomin viker nedåt kraftigare än bedömt. Detta understryker behovet av vidare och mer omfattande reformer, inte minst på arbetsmarknaden. Budgetöverskottet bör minska.

- Fortum och Stockholms Stad lanserar elbilar man kan ladda upp vid stationer längs gatan. Detta är en aspekt jag inte hann ta upp i debatten om den s k "mackdöden" på Aktuellt. Den nya tekniken kommer att förändra strukturen för bilarnas bränsleförsörjning.

- Träffade statsminister Reinfeldt i Vaxholm, där han höll ett engagerat tal. FRA-debatten har länge sett ut som Alliansregeringens tsunami - hanteringen har skadat trovärdigheten. Men behovet av signalspaning har nog illustrerats väl den senaste veckan.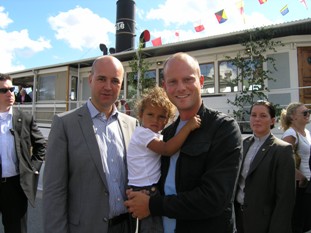 Jag och trött dotter Rebecka med Reinfeldt
<-- Home