Wednesday 04/10/2023, 01:53:38
20/09/2008 3:03:26 am
European Ideas Network. So I have spent five hours on Italian highways today, going from one place to another. I was actually late for my own speech at the EIN, due to heavy traffic out of Rome, but a re-scheduling apparently solved that. We are in a beautiful palace in Fiuggi. I have spoken about public sector reform, and for once I wrote the whole introduction down, and it can be read here.

At the dinner - quite far from here - the main speaker was Italian Prime Minister Silvio Berlusconi. He is in several ways an impressive and charismatic politician. I also think he has a great opportunity to reform Italy, which I hoped to hear about during his speech. But I was quite disappointed. He focused on international affairs. And he hinted that Europe needs to be gentle with Russia because we - or at least Italy - need their gas. A weak and immoral stance.

Anyway, I gave him my book - which he promised to read, and I hope he will.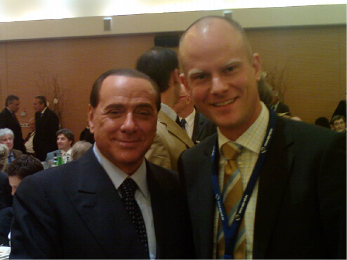 <-- Home