Saturday 02/12/2023, 13:39:49
13/10/2008 11:45:38 am
New EEI Publication: Competition and Innovation. The European Enterprise Institute today launches the first publication in the new series, co-ordinated by me. The series is dedicated to promoting the principles of free enterprise and free competition in the European debate.

The first publication was presented today by the EEI Co-Chairman Gunnar Hökmark at a major event arranged by the European Commission. It is written by Slovenian economist Rok Spruk and shows the importancve of free competition to have an innovative society. From my Foreword:

"Innovations have always been of great importance for society?s progress and indeed wealth creation. The importance of railroads for industrialization or Henry Ford?s factory organization for mass production can hardly be overestimated.

But innovations mean so much more than just economics or machines. Innovations come from ideas and they may improve many parts of society. Logistical innovations can improve access and marketing innovations can increase information, for example. ...

Innovations and structural changes in the business sector increase productivity, which is the main driver of increased living standards. Productivity growth has been slow in several major European countries in recent decades, which can be explained by too little innovation.

The Lisbon Agenda set the aim for Europe to become the world?s most competitive and knowledge-based economy in the world. For Europe to be innovative enough to reach that aim, obstacles to free enterprise, competition and R&D must be abolished."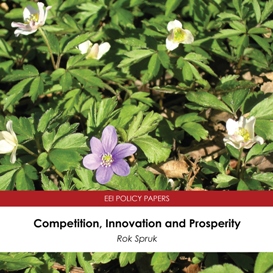 Download the publication here (pdf) - >
<-- Home