Thursday 30/03/2023, 16:31:47
07/01/2005 12:09:59 pm
Happy Birthday to the King! No, I am not thinking about the King of Sweden, but of a person who symbolises the American dream - an elected King if you like. Tomorrow, Elvis Presley would have been 70 years old had he not passed away only 42 in 1977. He was a great singer and musician, but also a strong force to modernise Western society from old, conservative, norms. Amazingly, he managed to change his style to stay on top for three decades. Personally, I think the 70s turned out the best; a great combination of musical creativity, self-irony and cool outfits to match the dream. Anyone in Sweden who wants to see a fabulous concert should watch the "That?s the Way It Is" film on SVT2 tomorrow.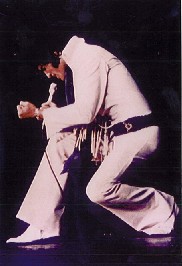 <-- Home