Sunday 2021-10-24, 21:56:38
2009-01-19 11:30:33
Bai Sao, Phu Quoc. Let me introduce you to Ian - an Englishman who moved to Australia, then married a Vietnamese woman and moved there. He is an airline pilot who turned entrepreneur.

International tourism in Vietnam took off a few years ago, but is still just starting. Ian bought a piece of land at the beautiful beach of Bai Sao, on the "paradise" island of Phu Quoc. There, he built an impressive main mansion with bar - bungalows are next.

We stayed at Gecko Jack′s several nights. Traditional architecture but with modern facilities. Nice people, quality Vietnamese food. A relaxed and flexible atmosphere.

But. There is another resort at the beach, which is older and much cheaper. They dislike the new competition, and during our stay they actually tried to put up a fence to stop beach visitors from reaching Gecko Jack′s.

And they - as well as local fishermen - throw all their garbage into the sea. The truly marvelous beach is thus scattered with pieces of broken glass and other pieces of junk. It is still possible to swim, but that is a problem.

So they don′t like the new competition. But they have totally different target-groups. And the beach is at least 90 per cent deserted - if more resorts can attract more people, everyone will benefit.

And they just laughed when Ian suggested they use a garbage man, like he does. They had no interest in tourists returning. They litter the source of their business.

So much for the local and traditional. As international tourism really gets going, there will be more skilled entrepreneurs coming to Bai Sao. They will offer people what they want, and they will clean the beach.

Of course, that will also lead to a more crowded beach and higher prices. So if you have a chance, drop by Gecko Jack′s now when they are still the only ones offering first class service at Bai Sao. That way, you would also support progress.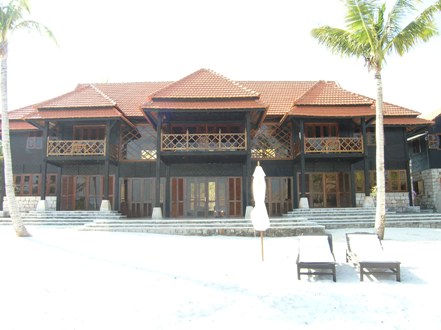 The main building, we had the balcony on the left

Gecko Jack′s web page - >
<-- Home