Friday 31/03/2023, 16:57:38
07/10/2004 11:56:34 am
Successful Presentation. Yesterday evening, my book "Sagan om välfärdens återkomst" was presented at a seminar. Maud Olofsson, leader of the Centre Party, and Stig-Björn Ljunggren, Social Democrat, commented. Some 70 people came to the seminar, and the debate got quite lively - and continued during drinks afterwards. Maud Olofsson said that "the book contains many good things" but thought that I was too critical to politicians - at least from her party. Stig-Björn Ljunggren personally had many positive things to say about the book. Thus, he had to assume the role of Bosse Greider (a combination of the Finance Minister and a socialist newspaper editor) in order to fulfil his task as opponent and he presented a number of critical arguments. Here, you can read my introduction. The book can be bought in any bookstore in Sweden and can be ordered here.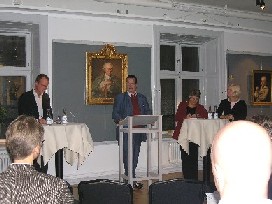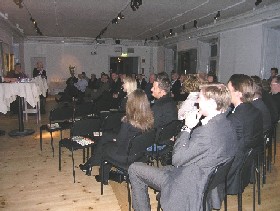 <-- Home