Sunday 2021-11-28, 04:10:40
2005-08-04 16:09:49
Globalisation and Technology! I noticed something called Google Earth at the blog of Jonas Morian. A fantastic little program, free to download. You can just type in any place on the planet and you will actually get an image - fairly close - of that place. Not just a map, a photo! Well, perhaps this is just exciting news to me, not exactly being a computer expert. But this is really lots of fun so far, not to mention a good example of globalisation and technology advancing...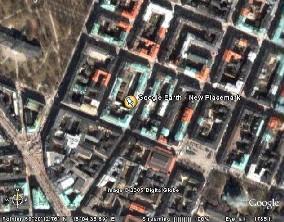 An image from Google Earth of Grev Turegatan 19 in Stockholm, where Timbro is.
<-- Home