2006-02-28 12:39:26
Free Enterprise Could Cure Bird Flu. The bird flu virus has apparently also reached Sweden now. There are fears of a pandemic following a possible mutation of the virus and possibly a great need for vaccine.

We now see politicians and bureaucrats competing in having the state to solve this issue. There should be regulations, subsidies or state-owned vaccine production, they claim. As usual, the statists think that free enterprise - in the pharmaceutical sector - are not fit to solve the issue.

If anything, economic history teaches us that the state is unfit to plan and produce goods or services to a good price and quality and in the correct amount. The centrally planned economies provide quite a lot of evidence to that point. And we can see the great pharmaceuticals that have emerged in capitalist countries, with patent rights and private companies.

In a possible crisis, with a great demand, it is ever more essential to know that the system of free enterprise and competition is the best provider. This industry is far too regulated and state-dominated as it is, mainly concerning funding. What we need is more freedom for these companies, especially concerning prices, and less state.

That would create a situation where we would be ready, quick and flexible in a response to a possible pandemic.
2006-02-27 11:23:50
Social Democratic Gate. Skandalen som foljer av den ledande s-tjanstemannens fortalsmail med logner om Fredrik Reinfeldt kommer att vaxa. I hur stor grad ar detta en organiserad kampanj under ytan? Hur manga ar med i den har typen av smutskastning? Hur mycket har s-ledningen vetat om och eventuellt uppmuntrat? Liknelsen med Richard Nixon och Watergate tycks rimligare for var dag.

Arligen ska sagas att alla partier kan ha opalitliga anstallda och medlemmar. Och att detta kunde avfardas som en persons verk. Om det nu inte vore sa att det passar sa val som pricken over i avseende en allman maktfullkomlighet. De anser sig fa kampanja for skattepengar, hota naringslivet, tricksa med statistiken, ta emot enorma resurser fran LO och betala med politiska privilegier och via retoriken spela pa fordomar.

I ett land utan maktdelning och starka domstolar finns ett tydligt sjalvandamal med maktskifte. Annars breder korruptionen ut sig. Makten gar fore allt, alla anpassar sig, reformer blir inte av. Och landet sjunker i moral saval som valstand.


2006-02-27 11:10:58
Congratulations, Sweden! The Olympic Games may contain a bit too much nationalism for my taste, but it is also an event where human achievement and indeed competition are at the centre. Sweden did very well and I am really happy they did! It is a very successful country in many ways. Just a pity that the same success in other fields is oppressed by destructuive policies...
2006-02-27 11:09:21
From Brussels With Love. Thursday evening, I spoke about my book for some 50 distinguished people at The Swedish Club in Brussels. Good arrangement and interesting questions. Then meetings Friday and the Capitalist Ball. 370 people who like and work to increase freedom and the free economy, mainly from Europe and the US, that celebrate capitalism. Johan Norberg gave a great speech pointing at why we celebrate; before capitalism, the freedom to create, there was practically nothing. Now, we live longer, we go to the Ball by plane, live in heated houses, more people live better than ever - and it has only started. Now off to London and conference on welfare and health care reform. (The headline here hints not only at me spending the week-end in Brussels with my beautiful wife and daughter, but also on the fact that I noticed some James Bond Fans who have started a web site protesting against the new Bond actor - and I agree with them - yet another action not possible before capitalism...)
2006-02-24 11:25:27
I GP: Lat unga arbeta utan skatt och avtal. I dagens Goteborgs-Posten skriver MUF-ordforanden Johan Forssell och undertecknad om den dramatiskt okande svenska ungdomsarbetslosheten och foreslar en "frizon" for unga:

Arbetslösheten bland personer i åldern 15-24 i Sverige är i dag 21,5 procent. Det är högre än andelen unga arbetslösa till och med under krisåren i början av 1990-talet. År 2000 var 10,5 procent av de unga arbetslösa - ökningen hittills under 2000-talet är dramatisk. Med denna ökningstakt är ungdomsarbetslösheten över 40 procent om fem år. Endast fem EU-länder har en större andel unga arbetslösa än Sverige. ...

Den svenska långtidsarbetslösheten bland unga, 18-24 års ålder, har ökat med 22 procent bara det senaste året. På motsvarande sätt har andelen ungdomar som är sysselsatta minskat successivt. I Nederländerna, Schweiz, Storbritannien, Island och Danmark är en hög andel - mellan 70 och 80 procent - av de unga mellan 20 och 24 år sysselsatta. Sverige ligger på den nedre halvan med 53 procent. ... Andelen unga på friår har ökat med 900 procent det senaste året - från låga tal, men riktningen är tydlig. ... Antalet unga förtidspensionerade, med sjuk- och aktivitetsersättning som det heter numera, var cirka 21 000 år 2005, en ökning från cirka 13 000 år 1999. ...

Maud Olofsson föreslog att Las inte ska gälla yngre - ett bra steg, men hon är beklagligt ensam och varför inte ta principen hela vägen. Ett effektivt reformpaket skulle, enkelt och snabbt, kunna utformas som en "frizon" för alla under 30 års ålder. En zon utan skatter, avgifter och regleringar, där avtalsfrihet råder."

Las hela artikeln har - >
2006-02-23 10:47:33
Finansnytt om Briefing Paper. Finansnytt på TV8 gjorde igår ett bra reportage om det Briefing Paper som jag presenterade på lunchen. (Bortsett från programledarens felaktiga påstående att vi skulle ha lyft fram låga löner som en framgångsfaktor för att öka sysselsättningen; låga ersättningsnivåer för att inte arbeta är det korrekta.) Det kan ses här (ca 8:20 in i programmet.)
2006-02-22 13:41:40
Nytt Briefing Paper: Visst kan västeuropa skapa jobb. På lunchen idag presenterade jag ett nytt Timbro Briefing Paper om sysselsättningen i västra Europa. I detta jämförs utvecklingen av sysselsättningen i de 15 länder som utgjorde EU mellan 1995 och 2004.

Där framgår bland annat att Sverige har minskat storleken på arbetskraften mest av alla EU-länder. Och i EU-15, 1995-2004, utvecklades sysselsättningen bättre i elva EU-länder än i Sverige. Jag visar också att att Irland, Nederländerna och Spanien lyckades bäst med sysselsättningen mellan 1995 och 2004. Länderna som har lyckats bäst med sysselsättningen har väsentligt lägre skatt på arbete, en friare arbetsmarknad och lägre ersättningsnivåer än de som lyckades sämre.

I en debattartikel i Dagens Industri utvecklar jag frågan om utvecklingen av arbetskraftens storlek. De länder som både ökar arbetskraften och antalet sysselsatta måste anses lyckas väl. Men de som minskar arbetskraften och på så sätt håller arbetslösheten nere kan inte sägas ha en god utveckling. Nedan visas hur arbetskraftens storlek har utvecklats i EU-15.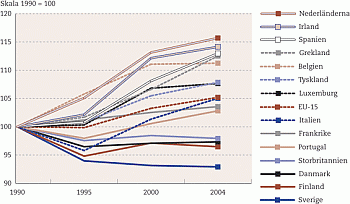 Läs pressmeddelandet här.

Läs min artikel i Dagens Industri här.

Läs "Så lyckas flera västeuropeiska länder med jobben" här (pdf).
2006-02-21 12:44:50
The EU, Turkey and the Clash of Cartoons. It may be impossible for us in the West to understand the reasons for the outrage in several Muslim countries against the Muhammed cartoons. We are used to satire directed towards all possible authorities, in a free press. But the outrage is there, thus it is a fact that we have to acknowledge and we must take a stand.

The view of some Swedish - and other European - politicians that we should either stay outside this because it is a Danish matter is simply foolish; sooner or later similar things will be repeated. One should take a stand now. And it should not be a compromise of any kind with the freedom of the press.

This also illustrates the importance of Turkey as a modern and free - secular but muslim-dominated - country. As an EU member, or as now on the long way to become so, they can be a bridge between the West and the Muslim world. The EU has now rightly asked Turkey to act in that capacity.
2006-02-21 12:37:50
Stockholm Network - New On the Web. The Stockholm Network of 130 market-oriented institutes in Europe, based in London, now have a new and very good web page.
2006-02-19 19:06:43
American Heritage. As I was jogging today in a suddely very cold but crystal-clear and sunny Washington, DC, two thoughts struck me. First, the presence of history in everyday life. I passed the ugly Watergate buildning (with its ugly history), the Lincoln Memorial, the Vietnam Memorial (where some kind of cermony was going on), the World War II Memorial ("Americans came to liberate, not to conquer" - true then and today), the Washington Monument, etc. Americans have a direct link to their history and it defines much of what they are and what they want the country to become.

Second, I thought about people I talked to these days in restaurants or a pub that defined themselves as "Finnish", "from Poland", "Norwegian", etc. I think none of them were actually born in these countries and hardly were their parents. But their family originally comes from there, which they are very interested in and proud of. America is an inclusive society, an immigrant country. You can be Irish and American at the same time.

So different from Europe! You can never become a Frenchman or a Swede. Neither can your children if they are born there, they will be second-generation immigrants. You will always be a foreigner, perhaps trying to hide your origin to aviod problems. This ethnic definition of citizenship and basis for the state is one main cause of many of Europe′s problems.
2006-02-19 18:38:34
Insikter från Jan X 2. Två tidigare ledande personer från LO och det socialdemokratiska partiet, Jan Edling och Jan Nygren, föreslår idag i DN bl a uppluckring av las och begränsade ersättningsperioder i a-kassan. När de inte längre sitter vid makten och kan hoppa över såväl populism som stöd till fackliga privilegier för gentjänster i valrörelsen kan de säga sanningen. Artikelns analys och fakta talar för sig självt, så här följer väl valda delar - särskilt den sista meningen med en pik mot Ulvskog är väl värd att nämna:

"Omkring 10 procent av den arbetsföra befolkningen är förtidspensionerad mot 4 procent 1970. Sammanlagt har drygt en miljon eller nästan 20 procent av alla i åldrarna 20-64 år ersättning för arbetslöshet, långtidssjukskrivning eller förtidspension. ...

Kostnaden för dessa transfereringar uppgår till 121 miljarder kronor, eller 4,8 procent av BNP. Lägger man också till de regionalpolitiska transfereringarna som regionalpolitik, EU-stöd och skatteutjämning till regioner med svag sysselsättning, är vi uppe i 6,6 procent av BNP. ...

Arbetslösheten tenderar att bli alltmer långvarig. Enligt statistik som Ams har tagit fram åt oss har 80 000 av de 375 000 som i dag är arbetslösa under de senaste tio åren haft en total arbetslöshet på mer än två år. ...

I Danmark har facket gått med på att mjuka upp anställningsskyddet till priset av kraftigt höjda ersättningar vid arbetslöshet. Följden har blivit att arbetsmarknaden blivit mer flexibel, arbetslösheten sjunkit och tryggheten ökat. ... Är det inte dags för oss i Sverige att diskutera ett svagare las i utbyte mot kompetenskonto, höjda nivåer och tak i a-kassan för de anställda?

Detta är frågor som vi tycker borde diskuteras i stället för påstått obevisat investeringsstopp i svenska storföretag."

2006-02-18 16:46:08
"Från Visby till Vita Huset." Gotlands Allehanda uppmärksammar mina framträdanden i Washington, DC, och en del annat.

Läs artikeln här - >
2006-02-18 05:14:20
What If...? Everyone now know about the great economic success of the countries of Eastern and Central Europe. Some like it and think it should inspire reform i Western Europe, some dislike it and try to shut it out - but everyone acknowledge that it is a fact. And as usual, we tend to assume that the situation couldn?t have developed in another way.

But of course it could. I recently read statements from politicians around 1989, when these countries were liberated from communism and the centrally planned economy collapsed. There were worries for enormous problems and a general belief was that they would be dependent on foreign aid for decades in order to make it. Instead, they did radical market-oriented reform that reduced the size of the state and introduced free enterprise. And now they grow rapidly from their own strength.

But what would have happened if they hade introduced the Western European Model, the welfare state? Would we have had tiger economies around the Baltic sea? Of course not. In Western Europe, this model creates problems, and it would have done so there too. A relief for some who are more interested in preserving a model than improving society, perhaps. But truly, Europe would not have had dynamic countries that compete and inspire others to improvement.
2006-02-18 05:05:25
Magazines That Matter. Today′s schedule in Washington, DC, included among other things meetings with editors of Reason and Foreign Policy. These are two globally leading magazines in their respective fields, with a lot of impact. Magazines of this kind are like think-tanks - they do research, analyse and communicate. Reason has a strong ideological compass for freedom, not least regarding the personal sphere. Foreign Policy spots global trends very well. In their latest edition, there is a very interesting article about the anti-globalisation and anti-american President of Venezuela, Hugo Chavez, being a new kind of authoritarian leader in a democratic age. And also a clarifying article by Anders Åslund about the Russian oligarchs and the current authoritarianism by Vladimir Putin.
2006-02-17 16:04:21
Meetings. Yesterday, I met with a number of interesting people. Wess Mitchell of the Center for European Policy Analysis, which is in a start-up phase, was one. Then I met with several people at the Vice President?s Office and talked about the need for reform in Europe, but also the current cartoon-conflict. (As I was leaving the building I saw President Bush live on TV finishing the press conference with the Colombian President and when I exited the building I saw him leaving the White House - that?s IRL for you.) In the evening, I had the opportunity to meet the British shadow chancellor for the Conservatives, George Osborne. A very interesting day.
2006-02-17 15:59:08
Sammanträffande. På väg till Office of the Vice President igår från ett lunchmöte passerade jag the Treasury, där jag talade dagen innan. Plötsligt möttes jag av en svensk röst som ropade: "Är du här? Och talar illa om Sverige förstås?" Rösten tillhörde Pär Nuder, som tillsammans med Gunnar Lund och flera medarbetare var på väg ut från Treasury. De hade träffat samme Tim Adams som jag dagen innan och vars personal jag hade talat till. Ett uppsluppet samtal om svartmålning, skönmålning och behov av reformer i Europa följde. Mycket lustigt.
2006-02-17 14:40:47
Därför gjorde Europaparlamentet fel. Idag skriver LO-ordföranden Wanja Lundby Wedin och Europaparlamentarikern Jan Andersson (s) i Aftonbladet om tjänstedirektivet. Rubriken är: "Nu gör EU som vi vill". En bättre illustration till varför parlamentet gjorde fel är svår att hitta.

I artikeln skriver de om vikten av en gemensam marknad för tjänster. Sedan skriver de om alla de tjänster som inte bör omfattas av den gemensamma marknaden. Vilket inte är lite, och dessutom råkar innefatta precis de områden som skulle vinna mest på ökad tjänstehandel - sjukvård och utbildning.

Europaparlamentet gjorde precis som LO, socialisterna och de demonstrerande protektionisterna ville. Detta blev möjligt för att kristdemokraterna kompromissade. Här i den amerikanska huvudstaden är jag inte direkt den ende som undrar vad som pågår i Europa.
2006-02-16 15:34:18
Dawn in DC. In a Washington, DC, where spring has suddenly come and where many seem somewhat preoccupied with the Vice President?s hunting accident, I yesterday gave three speeches about my book "European Dawn".

First, I spoke at what is known as the most important regular meeting in town, the Wednesday Meeting at the Americans for Tax Reform. Grover Norquist leads this meeting of some 120 people from the White House, think-tanks, Congress, and various lobby groups.

Second, I did my main lecture at the Heritage Foundation, the biggest think-tank in the US. It was well-visited and very professionally organised. The entire speech can be viewed here, at the Heritage web page, under Events Archive.

And the third speech was at the Treasury, for the staff at the Department for International Affairs. I was invited by the Under Secretary of the Treasury, Tim Adams, and we first had a meeting in his office (which was the President?s for a while after Lincoln was assassinated). A very interesting visit indeed.

There is a geunine interest in Washington, DC, in what happens with Europe. Will there be reform or further protectinist and statist backlashes? The Americans want a strong and growing Europe as a partner, not a declining, over-regulated and over-taxed museum continent. I have given an optimistic message that reform is coming also to Western Europe. But the question is fo course when.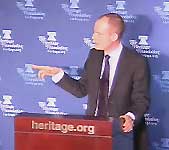 2006-02-16 15:25:32
Enpartistaten. Socialdemokraterna har suttit vid makten i Sverige under 65 av de senaste 74 aren och under 21 av de senaste 25 aren. Detta har lett till en korrumperad maktfullkomlighet. Facket far privilegier av staten for att anvanda enorma resurser for att socialdemokraterna ska valjas om. De sa kallat oberoende myndigheterna lagger milajredr i skattemedel per ar i propaganda for socialdemokratisk politik. Med mera. Idag har sajten Enpartistaten lanserats, dar detta kommer att uppmarksammas och granskas.
2006-02-16 15:21:18
Rasmussen Speaking Clearly. In an interview with the English version of Der Spiegel, the Danish Prime Minister speaks clearly about the weak Swedish political leadership in the current battle about the freedom of the press:

SPIEGEL: Haven′t you also made mistakes?

Fogh Rasmussen: I do not think that we could have done anything differently. Even now there is still a rumor that the government refused to meet with a delegation of 11 Islamic ambassadors. That′s not true. Foreign Minister Per Stig Møller met with them way back in November. This is normal. However, the ambassadors demanded that I take legal action against the paper. And I advised them that a democratic Danish government could not and would not do that.

SPIEGEL: Then why did your Swedish colleague Goran Persson criticize you and say he would have never underestimated such a situation?

Fogh Rasmussen: First, he is not in my situation. Second, I would never get involved in any domestic issue in Sweden. And third, I am especially honored to be attacked by the Swedish Social Democrats - it is a sign that our policies are the correct ones.
2006-02-15 03:29:04
No Four Freedoms. The Economist recently wrote about the fact that the four freedoms, the foundation and best part of the EU, are all threatened. The freedom of movement for services has not been introduced in practice yet - the European Parliament will vote on a proposal on Thursday. Unfortunately, the proposal that the EP will be voting about is worthless.

They have removed the parts of the European society which would benefit the most from free trade in services; health care and education. And they have removed the important and simplifying principle of the country of origin. Even if there is a yes to this, it is a yes to a fragment of what we could and should have had. Alexander Graf Lambsdorff wrote in the Wall Street Journal Europe about the foolish obstacles that remain in Europe against free trade in services:

"In France, technicians need to be registered five days in advance, making it impossible for competitors from neighboring countries to fix a heating system or an elevator on short notice. Efficiency? In Rome and Athens, foreign tour-guides are not allowed at historic sites. Fairness? A German food delivery service could not sell its products in Luxembourg because it did not have a permanent establishment in that country. Competition? If you transport food in Belgium, your car has to have a Belgian license-plate. Flexibility?"

The gains could have been enormous: Independent studies point to 600 000 new jobs. Already, some 70 per cent of EU GDP comes from services. But no, protectionism, socialism and a regulated labour market all strike at once. Representatives of these ideas will demonstrate outside the Parliament for a no vote, even to this insignificant proposal. And to stop this, they will talk about justice and solidarity. Ironic and immoral. A bad day for Europe.
2006-02-15 03:20:28
In DC. After having read the piece by Social Democrat Party Secretary Marita Ulvskog in Dagens Nyheter this morning, it is a relief to have landed in Washington, DC. Politics will be politics, but her attack on free companies, and her criticism of business leaders for not calmly accepting threats from the state, is worthy of the debate in a banana republic. Washington DC is currently a snowy place all dressed up for Valentine′s Day. Tomorrow morning, I will kick off an intense program for three days with a series of interesting meetings and several lectures.
2006-02-13 16:19:29
Välståndsligan. Härom dagen publicerade OECD en prognos över hur de bedömer att deras medlemsländer placeras i köpkraftskorrigerad BNP per capita 2005, den så kallade välståndsligan. Sverige uppges ha stigit från plats 12 till plats 11 och finansminister Nuder framhåller hur bra allt går, underförstått under hans fögderi.

Nu är det en prognos, vi får väl se hur det blir, men det kan säkert bli så. Det intressanta är dock inte de kvartalsvisa justeringar som kan ske, vilket finansministern verkar utgå från. Vad vi kan lära av är de stora trenderna över längre tid, vilka länder som gör stora förflyttningar. Då kan man bland annat notera följande, vilket jag även fick tillfälle att kommentera i Dagens Industri:

Länderna på plats 10 till 17 ligger extremt nära varandra. Förflyttningar inom denna grupp - som nu händer Sverige - kan ske utifrån minimala förändringar. Den större trenden är att hela denna klunga får allt längre till toppen - flera länder, som USA, fortsätter dra ifrån. Och avståndet till botten minskar, på grund av att flera tidigare fattiga länder - i t ex Öst- och Centraleuropa - går som tåget.

I övrigt kan Irland och Island studeras. Båda har gått från mycket låga placeringar till toppen, plats 4 respektive 6. Båda är tydliga reformländer, som har sänkt skatter, avreglerat och öppnat upp för omvärlden. Då går det bra. Det är sådana stora förändringar som betyder något och som finns inom räckhåll för varje land, allt som krävs är reformvilja.
2006-02-13 16:09:56
Tyck som vi eller tig. I fredags släppte Timbro en rapport där Charlie Brantingsson sammanställer en lång rad utfall från regeringen mot näringslivet. Läs rapporten här. Vad är då speciellt med dessa utfall, förutom att de spär på ett dåligt företagsklimat? Regeringen får väl försvara sina uppfattningar? Självklart får de det. Problemet är att de inte argumenterar i sak som alla andra utan använder hela staten i ett maktspel: "Om ni kritiserar oss kommer vi att förstöra för er - genom att undergräva ägandet, höja en skatt, införa en reglering, etc." Detta är en maktfullkomlighet som söker kväsa den demokratiska debatten.
2006-02-10 14:04:40
New Book: Development Models, Globalization and Economies. I have written a chapter about "A New European Model" in a book which is now being published by Palgrave Macmillan. It is mainly directed towards people in social sciences, but also opinion-makers in the debate.

The book compares and critiques the different economic models available in today?s global market place. The US or Anglo-Saxon model is often portrayed as the best, yet Europe has a well-known Social Model, and Asia has enjoyed success in the past wherein the ?Asian Economic Miracle? was highly vaunted before their crash. But now Asia, especially China, is again on a roll. The book analyzes how these models have influenced both regional and global development, and finally engages in discussions upon alternatives and the search for the ?grail?.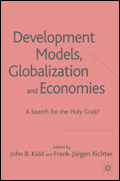 Read more (and buy it) here - >
2006-02-10 14:01:21
En påminnelse till Ulvskog. Ericsson behöver inte Sverige. Men Sverige behöver Ericsson.
2006-02-10 13:59:14
A Very Interesting Question. The Economist writes in its Bagehot column about the legacy of Mr Blair. The current rebellion against his school reforms shows how fragile New Labour is. In fact, there is no-one after Mr Blair who will defend his policies. On the contrary, the leadership of Margaret Thatcher inspired a movement in the whole Western world. Not only her party was changed forever, but also Labour and Britain - and, in turn, the rest of Europe. And her legacy of a free economy and limited state lives on. I really wonder what the main differences between these two - Thatcherism and New Labour - are. More content in Thatcherism, for sure. A stronger backing from think-tanks and economic science. A desire in society to see something new. In New Labour, much is definitely media spin and surface. But do these factors account for the whole difference?
2006-02-10 13:53:20
On the Road. De två senaste kvällarna har för min del tillbringats i Norrköping, först som årsmötestalare hos Moderaterna, sedan som talare på Campus - en del av Linköpings Universitet. Hos Moderaterna var dt proppat med folk och böcker fick signeras så pennan glödde. Budskapet från min bok uppskattades starkt; troligen närvarade mest personer från "de gamla moderaterna". Igår kväll var det färre personer i salen, men en intressant diskussion om ungdomsarbetslöshet, dess orsaker och lösningar. Att tala och diskutera i skilda sammanhang ger goda prövningar av egna argument och ny input från andra.
2006-02-09 10:59:59
Ulvskogs paradox. Sveriges tillväxt och sysselsättning går som tåget eftersom vi har ett bra företagsklimat, enligt regeringen. Samtidigt påstår Marita Ulvskog, s-partisekreterare, att företagen inte investerar i Sverige och detta på grund av att det är valår. Hur ska socialdemokraterna ha det? Går det bra för Sverige tack vare växande företagsamhet eller går det dåligt för att de avstår från investeringar?

Enligt min mening är Marita Ulvskogs verklighetsbild betydligt mer sann än regeringens - bortsett från att det inte är valåret utan företagsklimatet som skapar den dåliga utvecklingen. Kanske hon i sin iver att kriga mot den företagsamhet som skapar alla jobb och resurser glömde bort att argumentationen gärna får hänga ihop.

I sak är det naturligtvis helt bisarrt av en regering att lägga sig i företags investeringsbeslut. Företagen gör naturligtvis vad de vill med de resurser de har skapat. Än värre blir det med det tonläge som socialdemokratin har mobiliserat i syfte att hetsa mot näringslivet och vinna väljare. Så blir Sverige en förlorare.
2006-02-09 10:51:22
Persson till svars i Aktuellt. I gårdagens Aktuellt 21 togs EU-kommissionens rapport om den fria rörligheten upp som huvudnyhet. I detta reportage redovisades även statistik från Sverige om hur närmast obefintliga bidrag har betalats ut till personer i de nya EU-länderna. Av den totala familjepolitiken på 56 miljarder i offentliga utgifter årligen, t ex, gick ca 21 miljoner till gamla EU-länder och Norge och endast 1,2 miljoner till de nya EU-länderna.

Persson hade helt fel i sitt nedlåtande och fördomsfulla tal om social turism, vilket jag fick tillfälle att uttrycka i Aktuellt. Persson vägrade dock, som jag uppmanade, be de nya EU-medlemmarna om ursäkt. Tilläggas bör dock att det är synd att det inte kom fler till Sverige som ville arbeta - något Persson också har varnat för. Irland öppnade arbetsmarknaden för dussintals gånger fler och deras ekonomi och sysselsättning går som tåget - till skillnad från Sveriges.

Se Aktuellt 21 här - >
2006-02-08 15:19:19
The EU Commission: Free Movement for Labour Positive. Today, the EU Commission published a report that evaluates the effects of the previous EU enlargement on labour mobility. It states clearly that:

"The migration flows following the enlargement have had positive effects on the economies of the EU15 member states ... (newcomers) positively contribute to the overall labour market performance, to sustained economic growth and to better public finances."

The EU Commissioner for Social Policy, Vladimir Spidla, now urges the countries that enacted barriers for the free movement for labour to dismantle them. Ireland, Britain and Sweden had none and there have been no negative effects. In the Swedish case, only 3500 residence permits were issued in 2004, but in Ireland (half the size), the figure was 150 000.

The EU as a whole benefits from the free movement for labour. Ireland is a good example of that - vast immigration, rising employment and hardly any unemployment. Sweden is a less good example, since hardly any people came here, unfortunately. And there are few new jobs as well.

The politicians who warned for enlargement and talked of "social tourism" should - in light of these new facts in particular - ask the citizens of the new members states to forgive them for their views and words.

Read more here - >
2006-02-08 09:26:29
New Iron Curtain? I was interviewed by Bloomberg about the dynamic relation within the EU between east and west. It it published today and can be read here.
2006-02-07 17:05:48
Det lögnaktiga basåret. Om vi jämför temperaturen i augusti 2005 med den i februari 2004 - kan man då säga att vi har en stark trendmässig uppvärmning? Nej, det korrekta är förstås att jämföra samma månad. Denna självklara regel följer dock inte regeringen när den redovisar tillväxt och sysselsättning.

Regeringens nya skrytvals är att påstå att 300 000 nya jobb har skapats netto sedan 1994. Men det var bottenåret efter fyra års ekonomisk kris, orsakad av decenniers skadlig politik. Då kommer en naturlig period av upphämtning.

Jämförs med 1990 som basår - eller för den delen snittet på 1980-talet - ligger vi istället fortfarande på minus. Sysselsättningen ligger 430 000 lägre än 1980-talets genomsnitt. Färre var i arbete år 2004 än 1985, trots att befolkningen i arbetsför ålder är 500 000 större! (Tack, Tino.)

Att ha 1994 som basår är helt enkelt fusk och fiffel. Den tillfälliga upphämtningen efter krisen understöddes av reformer. Tyvärr har inga fler reformer skett och återhämtningen tog inte ens igen det som förlorades. Att nu använda den tillfälliga ökningen som ett argument mot reformer är att garantera fortsatt trendmässig försämring.
2006-02-07 17:02:44
Expressens rubriksättare förhastar sig.

"Granaten kan explodera när som helst"

Förstanyhet på expressen.se tidig em

"Granaten 106 år gammal"

Förstanyhet på expressen.se sen em
2006-02-07 12:49:37
Global utmaning. Lars Leijonborg har haft vänligheten att skicka mig ett ex av hans nya bok "Global utmaning" (Atlantica), som presenteras om några dagar. Förvisso tar han där, inte så överraskande, avstånd från min bok och dess förslag att med reformer dra ned statens omfång - även om den kallas "intressant". Utifrån samma analys om den globala ekonomin föreslår han istället mindre reformer. Detta ska kommenteras mer i detalj när boken väl är läst. För ögonblicket kan dock följande sägas: Det är bra att en ledande politiker tror på den intellektuella analysen och på fakta och därmed ger ut en bok, inte bara bryr sig om soundbites. Det är också bra att han försöker föra i det bredare globala och långsiktiga perspektivet i en annars instängd och detaljfokuserad inrikesdebatt. So far so good - återstår att ta del av innehållet mer noggrannt.

Läs mer om boken här - >
2006-02-06 14:01:29
International Poll: Majority Wants Capitalism. According to a new poll of 20 countries around the world, a clear majority supports capitalism. (61 per cent for and 28 per cent against.) The highest degree of support comes from China (74 per cent) and the lowest - yes, in France (36 per cent). There is also a majority supporting more regulations of companies to protect workers.

Read more - >
2006-02-06 13:31:29
Not Competitive - They Know It and They Show It. Defenders of the welfare state quite often claim that it is economically competitive. They say that tax cuts, de-regulations and privatizations are totally unnecessary. Such ideas are called neo-liberal ideological propaganda.

But look at reality. If the welfare state were competitive, a number of things that the defenders themselves constantly want would not be necessary:

Special tax reductions for foreign experts, for example. Or subsidies to some big companies. Or limits to competition from foreign trade and labour. Or efforts to force neighbouring countries to raise their tax pressure. Or all this rhetoric to portray people who want to keep their own money as evil. Or all the money to propaganda for the big state by the state. Or the fact that many taxes are hidden. Or all the control mechanisms to see to it that people don?t cheat on the welfare systems. Etc, etc.

By their actions and their proposals, they show every day that their system is not competitive. If it had been, all the exceptions, propaganda and control would be unnecessary. How can these people put forward such contradictions and defend a system with daily lies?
2006-02-04 14:05:10
Mot nya höjder. Idag når Aftonbladets ledarsida nya höjder i emotionell retorik och nya bottnar i intellektuell analys - båda delar stora bedrifter givet det tidigare skrivna.

I huvudledaren kritiseras Maud Olofsson för förslaget att slopa LAS för unga så de kan få jobb. Aftonbladet bemöter inte i sak utan klistrar etiketten "mörkblå" på förslaget. Men hur vill de vända trenden av en snabbt ökande ungdomsarbetslöshet?

De nämner att Maud Olofsson i ett tal med uppskattning citerade sin företrädare Gunnar Hedlund som inte ville ha ett högre skattetryck än den tiden (ca 1960), på 25 procent. Aftonbladet påpekar att Hedlund faktiskt samarbetade med s-regeringen då. Ja, men så länge den stod för ett skattetryck på 25 procent - miltals lägre än dagens moderater föreslår - var det väl en sak. Men idag?

Nästa virrvarr av slogans och missförstånd står Ingvar Persson för. Han skriver att "det stora hotet mot den europeiska tanken" är mer fri marknad. Det skulle "destabilisera politiken". Vad är det som säger att dagens avvägning av stat mot marknad - ca 50/50 - är av naturen given? Det gick trots allt bättre för Europa när det var 75 procent marknad och 25 procent stat.
2006-02-04 14:00:49
Dagens citat:

"Alla författare bara ljuger och ljuger."

Linda Skugge, författare, i en kolumn.
2006-02-04 13:57:40
Japan on the Rise. Yes, the Japanse economy, with its small state, is definitely doing a comeback. But I was referring now to the fact that the number of visitors from Japan to this blog is now third, after Sweden and Finland. I met with some people from a Japanse think-tank this week and spoke about the Swedish economy, but that is probably not the reason. Whatever - welcome.
2006-02-03 14:38:54
Dagens enpartistat 2. Statsminister Göran Persson har kommenterat att Ericssons VD Carl-Henrik Svanberg vill ha maktskifte:

"Jag såg att han ville ha ett maktskifte, att det var nyttigt med ett regimskifte. Det är ju möjligt att den diskussionen kan föras också om näringslivet. ... Men det är klart att han då får räkna med att han blir granskad, och att frågor som är kopplade till näringsliv och demokrati kan komma att lyftas."

Vad är det Persson säger? Jo, att om chefen för ett av landets storföretag opponerar sig kanske regeringen tänker börja driva en politik som hotar ägandet. Det är en signal till dagens ägare att hålla tyst. För till slut har regeringen makten att reglera, beskatta och konfiskera med hjälp av våldsmakten. Ett hot, helt enkelt. Kan behovet av maktskifte visas tydligare?
2006-02-03 14:28:47
Dagens enpartistat 1. Härom dagen påpekades här att länsarbetsdirektör Birgitta Heijer är ute i debatten och försvarar plusjobben. En tjänsteman som vi tvingas avlöna argumenterar för att höga skatter ska gå till att subventionera konstgjorda jobb istället för lägre skatt och färre regleringar. Detta var nu inte konstigare som exempel än något annat som dagligen sker. En person skrev i ett mail att Heijer hade varit klasskamrat och då ledande i SSU. Ny beteckning men samma partiarbete - så politiseras förvaltningen.
2006-02-02 17:36:05
Sverige - återindustrialisering utan nya jobb. Professorerna Steven J Davis och Magnus Henrekson skriver om svensk tillväxt och sysselsättning 1994-2003 i NBER-rapporten. Detta är den period som regeringen alltid framhåller har gått så bra. I själva verket präglas denna period främst av att Sverige industrialiseras igen, samt har haft tillväxt utan jobb.

Under denna period har svenska politiker ofta talat om att vi prioriterar sysselsättning och att vi vill att de nya jobben ska komma i högkvalificerad, välbetald tjänstesektor. Det har blivit tvärtom. Det totala antalet arbetade timmar i Sverige var 2004 endast en procent högre än krisåret 1993. Sverige har det svagaste sambandet mellan tillväxt och sysselsättning av alla undersökta länder.

Och av den värdehöjning av produktionen som har skett - som har gett viss tillväxt - har det mesta skett inom tillverkningsindustri, inte tjänster. 87 mot 35 procent i ökning. Alla västliga länder har länge ansetts vara på väg upp för värdekejdjan, in i tjänstesamhället. Sverige återgår till tillverkningsindustri. Riskerna med att ge sig in i en konkurrens med Asien om varuproduktion behöver nog inte nämnas.

Detta är anmärkningsvärda fakta om de tio senaste årens ekonomiska utveckling i Sverige. Davis och Henrekson visar hur regleringar, kollektivavtal och hög skatt har skapat denna utveckling. Därmed ligger möjligheten att låta det fortsätta, eller skapa en helt annan utveckling, hos politikerna.

Läs om NBER-rapporten och ladda ned Henreksons presentation (PPT) - >
2006-02-02 16:38:58
State of the Union. The State of the Union speech delivered by US President George W Bush the other day was much as I would have expected. Lots of clever and principled rhetoric, half about foreign policy and half about domestic issues, and no really big surprises. (The one about breaking oil dependence may qualify partly to that category, perhaps.)

The most interesting part was the domestic one, about the economic development and reforms to come. He pointed out, for example, that in "last two-and-a-half years, America has created 4.6 million new jobs - more than Japan and the European Union combined." And he argued for permanent tax relief - it was foolish to do it temporary from the start - and social security reform.

But largely, it was as expected, especially the foreign policy part. Predictible, but a clear and well-argued policy. George W Bush has a Jack Welch-kind of management style; he sets out a direction and follows it. He is fond of saying that tactics may change, but not the aims. Regardless of temporary opinion, he continues on the same path.

One can always argue about the policies - I agree wich much - but that is the only kind of leadership that ever changes anything substantially and thus ever enters the history books.

Read the entire speech here - >
2006-02-01 08:42:43
Principles of a Liberal Democracy. The pictures in Jyllands-Posten making fun of Mohammed have started a very interesting debate on principles. Some people in the Arab world now protest fiercely against this and terrorist threats have even been pronounced. Of course one should remember that this is not everyone and that major Islamic forces have defended the free press. But still this is enough. Jyllands-Posten should not excuse itslf in any way. It is their right to portray any king or prophet in any way they like. This is an extremely important point to make for us who like open borders and a society of many cultures. Tolerance doesn?t imply tolerance towards intolerance. In a liberal democracy there is free media and that?s it. People living in such countries simply have to accept it; it is a fundamental principle.
2006-02-01 08:38:51
I all enkelhet. I dagens Stockholm City finns ett kort inlägg på debattplats med rubriken "Plusjobben ger arbetslösa en chans till arbete". Där polemiseras mot plusjobbens kritiker och står bland annat: "Plusjobben ger de långtidsarbetslösa en rejäl chans till comeback på arbetsmarknaden." Vem som har skrivit? Pär Nuder? Annika Billström? Nej. Länsarbetsdirektör Birgitta Heijer. En opolitisk tjänsteman är ute i debatten och försvarar en kontroversiell politik som hon är satt att bara implementera. Via skatten tvingas vi avlöna en tjänsteman som strider för s-politik. Och hon är inte ensam.