2007-02-28 13:22:33
Tax Competition. The German Government is planning to decrease its corporate tax rate from 38,7 per cent to 29,8 per cent. To be competitive in a global world and new Europe, Germany has to improve its business climate. The Social Democrat Finance Minister Peer Steinbrück, however, is now facing a revolt from his own Party. They are upset because it seems that the companies will have a larger tax relief than they thought. Well, waith just one moment... They wanted to relieve some taxes from companies in order to get more competitive and not least create new jobs. And now it turns out that the relief will be larger than expected. And they turn against the proposal suddenly. When did more of a good thing become something bad?

Read more in the FT - >
2007-02-28 13:10:08
Ansvarskommitténs halva slutsats. För några dagar sedan lämnade Ansvarskommittén sitt slutbetänkande till regeringen. Namnet på denna kommitté må vara osexigt, men uppdraget var omfattande och i grunden spännande. Hela den offentliga sfärens struktur, och delvis omfattning, skulle ses över utifrån en ny verklighets krav. Tillsammans med Grundlagsutredningen sannolikt den viktigaste utredningen på många år.

Undeertecknad följde kommitténs arbete en del från början. Det fanns anledning att vara kritisk till dess ansats, som i hög grad var ett försvar av den befintliga modellen. Har t ex påpekats här. Men slutbetänkandet kom att inte alls handla om det offentligas omfång, utan bara om hur uppgifterna ska fördelas inom den offentliga ramen. Halva uppdraget slutfört, så att säga.

De ursprungliga direktiven ställde vidare frågor, såsom: "Hur klarar kommuner och landsting sina välfärdspolitiska åtaganden utifrån demografiska, samhällsekonomiska och teknologiska förändringar?". De flesta studier pekar på att svaret är "inget vidare" och att det behövs mindre offentlig sfär och mer privata initiativ för att få bättre välfärd imorgon.

Detta berör inte kommittén. Och antal landsting i all ära - den stora frågan är inte vilken del av statsmakten som gör vad utan hur mycket medborgarna själva ska få bestämma. Självklart kan inte en parlamentarisk kommitté besvara en sådan fråga slutgiltigt, där finns ideologiska skillnader. Men den kunde utan tvivel ha lagt fram fakta om den nya verkligheten, trender inför morgondagen och hur andra länder har lyckats.
2007-02-28 11:42:39
Den skapande förstörelsen. Joseph Schumpeters klassiska uttryck "kreativ förstörelse" för de ständiga förändringarna och framstegen i kapitalismen är ständigt aktuellt. Gamla företag, jobb, maskiner och sätt att producera får hela tiden ge vika för det nya och bättre som sporras fram av skickliga entreprenörer i konkurrens. Genom historien har detta lett till motstånd mot förändring och protektionism. Och det är inte alltid lätt att låta det gamla försvinna även om det nya är bättre. Nu har ekonomhistorikern Jan Jörnmark publicerat en coffee-table bok på Historiska Media med foton av sådant som tillhörde det gamla, t ex industrimiljöer. Intressanta glimtar av det förgångna.

Se valda delar av boken här - >
2007-02-27 10:32:45
Det här kan bli intressant. Och det inte sagt som ironi. Snart genomförs ett arrangemang som heter Socialistiskt Forum. Jag hade gärna gått dit, om det hade tillåtits av arrangörerna. Deras agitation mot den nuvarande svenska regeringen och hyllningar av Kuba och Venezuela må vara förutsägbara. Men när de ska formulera vad de själva vill, t ex under rubriken "ekonomisk demokrati", är jag ärligt nyfiken. Bortom hetsiga debatter och plakat, vad vill dagens vänster? Uppenbart är att de har lämnat planekonomin bakom sig. Likaså idén att staten ska ta över alla företag. Men vad vill de? Förhoppningsvis kommer någon att rapportera något från detta.
2007-02-26 20:25:08
Gjenforening. This Friday in Oslo, I was a main speaker at a conference arranged by Unge Höyre and Minerva. The participants were the leaders on different levels of the youth branch of Höyre through the decades. This was apperently the first time they had such a reunion, or "gjenforening". I also attended the great dinner party afterwards, in a former military palace. I think I was the only person there without a background in Höyre. Fantastic, you learn so much about a party and a country that way. What they stand for, what they are proud of. One speaker was a former Foreign Minister of Norway. He had started his political career in 1933 - the year my grandmother was born. It gives you some perspective.
2007-02-26 20:11:07
Roundtable Lunch in London. Next week, I will lead a roundtable discussion over lunch, arranged by the think-tanks Reform and Stockholm Network. The topic is reform strategy for Europe and the aim to have a qualified discussion and some expert advice on this. If you are in town and want to contribute, drop by!

Read the invitation here - >
2007-02-25 14:37:52
Tvärtom, Hedborg! Igår presenterades den sista rapporten av den så kallade socialförsäkringsutredningen, tillsatt av s-regeringen och ledd av f d s-ministern Anna Hedborg. Ämnet är sjuk- och arbetslöshetsförsäkringarna - två stora offentliga system som förklarar mycket av skattetrycket och påverkar arbetsmarknaden i hög grad.

Först "the good news". De föreslår att a-kassan ska trappas av ordentligt med tiden, som i t ex framgångsrika Danmark. Bra. Men sedan kommer det nya: den initiala nivån i a-kassan föreslås höjas, och det anses leda till högre sysselsättning. Tanken är att sjukskrivna då ska våga sig in på arbetsmarknaden och inte fortsätta vara sjukskrivna. Idag är sjukersättningen ju högre än a-kassan.

Alltså: ett bidrag som många lever av är mycket högt. Därför anstränger sig inte dessa för att komma in på arbetsmarknaden. Då bör man höja fler bidrag. De flesta torde se det orimliga i detta. Bättre i så fall att sänka den offentliga sjukersättningen också. Då kan skatten på arbete sänkas mer så att arbete lönar sig bättre. Då vill nog fler arbeta, däremot.

Läs Hedborgs DN-artikel här - >
2007-02-23 19:03:29
Självkritisk? F d finansministern Pär Nuder skriver i s-tidskriften Tiden om orsakerna till deras valförlust. Artikeln presenteras som en "självkritisk" betraktelse av Nuder. Och den är visserligen inte ett inlägg i en fortgående kampanj fylld av bortförklaringar. Tonfallet är resonerande och Nuder välformulerad. Säkert har han poänger i de nedslag i datum som görs. Men i grunden förklaras valnederlaget med tillfälligheter och otur. Inget fel i politiken. Allt det gamla ska försvaras. Bara dålig timing och missar i kommunikationen. Pär Nuder borde istället ha tagit tillfället att se den nya globala verkligheten och fundera över hur hans värderingar kan fungera i framtiden. Han borde ju inse risken med att ingen i hans parti hittills har presterat en intellektuell tanke efter valet.

Läs artikeln här - >
2007-02-23 08:15:11
Oslo Next. I am on my way through massive amounts of snow and ice - the debate about global warming seems to have cooled off for the moment - to Norway and Oslo. I will be a main speaker at an annual conference of Höyre, the Conservative Party in Norway. They will gather some 100+ current and former leading representatives of the Party. My topic: That the conclusion from failure and success both in Continental Europe and the Nordic countries is that free-market reforms are the solution for Europe.
2007-02-23 08:12:00
Central Europe Digest. The Center for European Policy Analysis is a quite new institute in Washington, DC. They regularly publish - and distribute via e-mail - a newletter with analysis of events and developments in Central Europe. Very useful, read more here.
2007-02-23 08:05:12
Vad kritiken egentligen handlar om? Aftonbladets Lena Mellin har nog en bra poäng när hon idag påpekar att kritiken mot Carl Bildt kan kallas att göra en höna av en fjäder - men...:

"Men Carl Bildt är en rik man. Enligt regeringskansliet har han aktier, fonder och optioner värda 23 miljoner kronor. De kommer fortsätta att vara ett problem för Bildt så länge han sysslar med politik. Även om han tycker kritiken är småskuren."

Ordentligt med pengar, internationella kontakter och ovilja att erkänna fel som inte har begåtts. Sådant får statsråd tydligen inte präglas av i Sverige.
2007-02-22 14:24:40
More Capitalism - Less Environmental Impact. The more foreign trade and foreign direct investments in a Chinese region or city, the lower are the emissions of sulphur dioxide (SO2). This interesting conclusion is drawn by Jie He, a Chinese researcher, in two studies.

In the first case, of exports, the reason is likely to be the fact that increased international competition leads to necessary improvements in the industries. In the second case, of investments, the foreign companies are simply more environmentally friendly than the old, state-owned industries. And their mroe labour-intensive production contributes to that.

In the current debate, not least about global warming, there is a tendency to believe that capitalism, companies and trade are the villains. To improve the environment, politicians are inclined to impose restrictions. These studies show the contrary. The environment needs more capitalism and globalisation, not less.

Read the studies here and here. (Thanks, Fabian!)
2007-02-22 14:09:39
Samtal med doktorn. Igår talade jag med en läkare om diverse. Hon driver en egen praktik, som dock är upphandlad av landstinget och därmed huvudsakligen offentligt finansierad. Med skärpa påpekade hon hur bisarrt det är att det är politiker som styr över sjukvården.

Därpå berättade hon att hon själv har en privat skukvårdsförsäkring. En sådan är som bekant helt privat finansierad och man får vid behov gå till en privat klinik. Detta hade hon inte behövt göra tidigare. Men nyligen var det dags.

Och hon överraskades. Plötsligt fungerade allt, de problem i vården som alltid diskuteras fanns inte. Ingen kö, boka tid på nätet, trevligt bemötande, etc. Och vad är det då för skillnad? Resurser? Nej.

I det privata fallet är man en värdefull kund. Man kan välja bort vårdleverantören och de förlorar en intäkt. Konkurrens råder. Privat finansiering. Vinstintresse. Därmed helt andra drivkrafter - som skapar en helt annan vård. Utan nödvändigtvis större resurser.
2007-02-21 23:15:42
This Never Happened To Berlusconi... Read more here.
2007-02-21 10:44:23
Turkiet och EU. Gårdagens föreläsning i Lund om betydelsen av att Turkiet blir medlem i EU blev bra. Ett samarrangemang mellan Timbro Syd och Lupef, Lunds universitets Politiska och Ekonomiska Förening. Rätt många åhörare och sedan turkisk mat på Kalmar Nation.

Undertecknad är ingen expert vare sig på Turkiet som land eller de pågående förhandlingarna med EU och dess olika protokoll och stötestenar. Istället tog jag upp det bredare perspektivet om framtiden för den muslimska världen, relationerna väst-islam, EU:s identitet och Europas ekonomiska framtid.

De huvudsakliga argumenten framgår av min debattartikel i ämnet i Expressen från november, kan läsas här. Och intervjun med studentradion ska man snart kunna lyssna på här.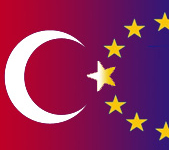 2007-02-20 10:12:36
Inequality, Not Poverty. The EU Commission has released a so-called social inclusion report. One main conclusion is that 16 per cent of Europeans live below the poverty line. Interesting.

But even more interesting is that the report is not about poverty at all. It is about income inequality, which is something totally different. The definition of "poverty line" is 60 per cent of the median income. But 60 per cent of a high median income, surely, might be better than 90 per cent of a low median income?

Of course. In a society where everyone have very low incomes - however the same level for all - by this definition, there would be no poverty. It might be of interest to know about income inequality too, but it is something different. Poverty should be measured not relatively but with a fixed income level. After all, it is with a certain income that people afford certain standards of living.

This is important. Most everyone want to fight poverty. But if this is defined relatively, it would be equally important to make the rich poorer as it would be to make the poor richer. And that would, in turn, likely decrease growth and increase the real poverty.

By defining poverty this way, the EU Commission doesn?t only describe reality wrong. It might also lead policy in a destructive direction.

Read about the report here - >
2007-02-19 15:06:40
Smakprov på egen medicin. Liberala Ungdomsförbundet Väst kräver Hans Tilly på Byggnads på granskningsavgift - på samma sätt som hans organisation anser sig få göra av alla byggnadsarbetare. Illustrerar tydligt det bisarra i dagens ordning och behovet av förändring. Läs mer här.
2007-02-19 11:14:02
Free Kareem! The Egyptian blogger Abdelkareem expressed hiw views freely and has now been detained since November. On Wednesday, there will be a manifestation in front of the Egyptian Embassy in Stockholm for free speech. Join it. And read more here.
2007-02-19 10:56:53
Gunvor på nätet. Gunvor Engström, tidigare bl a VD för Företagarnas Riksorganisation, har startat en blogg. Redan flera bra inlägg i viktiga frågor om företagande och arbetsmarknad. Kan läsas här.
2007-02-16 09:12:43
In Eurointelligence: Ségolène Royal′s Dangerous Gamble. I have had the pleasure to write an article for the Comment & Analysis section of Eurointelligence. It is an independent internet-based service for economic commentary and analysis, directed by FT Associate Editor Wolfgang Munchau. My article, published today, is about the European labor market, and shows why Ségolène Royal′s proposals would be disastrous if they became reality.

Read the article here - >
2007-02-16 09:11:12
In Capitalism & Freedom: Sweden, France and Labor Freedom. In Slovenia, a very enthusiastic and skilled economic analyst, Rok Spruk, runs a blog called Capitalism & Freedom. Lots of striking facts and analyses, worth regular visits. I have now contributed with an article as a guest writer. Read it here.
2007-02-15 11:38:25
2007 World Economic Outlook. I am scheduled to speak at the 2007 World Economic Outlook Conference in Paris in May. It is organised by Global Insight, the globally leading company in economic, financial, and political coverage of countries, regions, and industries. Their work is impressive indeed, and of course I am happy to contribute. But most of all, I look forward to taking part of their assessments of the future.
2007-02-15 09:01:54
Replik Olausson m fl. För ett antal dagar sedan försvarade de fackliga företrädarna Erland Olausson, Ella Niia och Kjell Dahlström fackets agerande i fallet Wild′n Fresh, i SvD. Jag skrev en replik, som till slut inte kom att publiceras. Den intresserade kan dock ta del av repliken här.
2007-02-14 16:59:34
The Flat Tax Revolution Continues. A recent publication by the Hoover Instuitution at Stanford University shows that quite a few countries have introduced the flat tax concept lately. It started as a theoretical idea - usually regarded as equally unrealistic and foolish - but became reality in Estonia. It was an essential part of the Estonian free-market reforms and enormous success that followed. Then, it spread over Eastern and Central Europe. Now, it continues in virtually every direction over the globe.

Read more here - >
2007-02-14 12:47:05
You Get Less From Government Than You Pay. Many people seem to believe that they get more from government than they pay in taxes. So they support the current order. A new study by the Swedish Taxpayers Association shows that reality is in fact the opposite. Eight out of ten families are net payers, i e they get less from government than they pay. In fact, the contributions they get back are not nearly enough to pay for the taxes. And the two out of ten that are net receivers are stuck in a poverty trap of heavy marginal effects instead. All are losers in big government.

Read more here (in Swedish) - >
2007-02-14 11:49:32
Movement for European Reform. A new movement for a better Europe and European Union has been started by, among others, British Conservative leader David Cameron. Its aims include less concentration of political power in Brussels and more free-market economic reforms. A good direction and a good initiative, in which I will play a role too. There will be a first big conference in Brussels on the 6th of March. Read more here.
2007-02-14 11:33:19
Frihet, fred och försoning. Idag läste utrikesminister Carl Bildt upp regeringens utrikesdeklaration i riksdagen, vilket åtföljdes av debatt. Deklarationen utvecklar och preciserar det som har kunnat noteras i tidigare utspel och deklarationer. Mer fokus på fri ekonomi för fattigdomsbekämpning, stöd för EU-utvidgning, reformerat FN, en central svensk roll i EU och förändrat bistånd, än tidigare. Över huvud taget naturligtvis en mer kompetent och aktiv utrikespolitik. I den följande debatten höll den socialdemokratiske företrädaren Urban Ahlin ett anförande på tvärs mot sina företrädare - vilket betyder en stor förbättring - i bland annat synen på EU:s utvidgning och Sovjetunionen och dess arv. Världen blir bättre i det stora och även ibland i det lilla...

Läs Utrikesdeklarationen här - >
2007-02-13 14:18:53
Europanytt. En ny sajt på svenska som sammanfattar nyheter om Europa har startats, av bl a journalisten Ylva Nilsson. En god idé, värd att följa. Läs här.
2007-02-13 14:15:23
Webcameron. The leader of the British Conservatives, David Cameron, yesterday visited Sweden and Prime Minister Fredrik Reinfeldt. There are numerous similarities between them, their policies and how they have transformed their parties. And of course the big question is if Britain is the next country to have a shift of Government following this new leadership. Mr Cameron has a sort of web log called Webcameron - it can be found here.
2007-02-13 12:07:03
Ett steg framåt. Byggnadsarbetare som inte är med i facket ska inte längre kunna tvingas att betala avgift till Byggnads. Detta enligt dagens dom i Europadomstolen. Detta innebär ett ökat skydd för en grundläggande mänsklig rättighet i Sverige - friheten att inte vara med i en viss organisation. Självklart ska den som vill vara med i facket - och betala avgift och få deras assistans på någon punkt - få vara det. Men den som inte är med ska inte behöva betala. På samma sätt borde den som vill ha kollektiva avtal få det och den som inte vill få avstå - utan att utsättas för fackets trakasserier. Förhoppningsvis är det en kommande fråga.

Läs mer - >
2007-02-12 13:24:42
Who Said That Ideology Is Dead? Yesterday, the Socialist candidate for President of France, Ségolène Royal, presented her manifesto with 100 proposals. Wow. Francois Miterrand could envy the degree of socialism. She promises to fight globalisation and any free-market reform. She wants to increase the minimum wage, nationalise companies, increase taxes, re-regulate the labor market, expand public welfare contributions, boost public housing, etc. Of course all of this would not become reality if she wins, because when elected, politicians always turn more centrist. But if it had become France′s policy, it would be disastrous. And, perhaps, in my view, this program makes it more unlikely that she wins - she is too far from mainstream.

Read the FT about it here - >
2007-02-12 13:20:48
Phelps About Entrepreneurial Culture. Last years Nobel Laureate in Economics, Edmund Phelps, writes today about entrepreneurial culture in the WSJ. He points out that the current "social model", with its vast government interventions in the economy, is one explanation for the economic problems of Europe. But he points to several studies that show deeper roots for the problems, not least historical - but also a spirit among people that work and entrepreneurship are not much to strive for. Very interesting!

Read the article here - >
2007-02-12 10:37:09
KGB Man. Russia has turned into a highly authoritarian state. The signs have been numerous and the direction obvious for a number of years. It is now considered "not free" in the assessment of the independent Freedom House, with grade 6 in political rights and 5 in civil liberties - where 7 is the most authoritarian. Read here.

It is with that background one should regard the speech by Vladimir Putin at the Munich Conference on Security Policy. He declared he would speak frankly and did so. He was fiercely critical of the US and strongly defended the rights of states as opposed to rights of individuals. The view of the world was that of a leader who sees many enemies and talks of international structures, never values. Of course Russia is always seen as victimised. Revealing.

Read Putins Speech here - >
2007-02-12 10:10:18
Moderna myter. KTH-forskaren Per Welander har en utmärkt blogg med detta namn. Där granskas diskussionen om klimatförändringar och nu inte minst den s k IPCC-rapporten. Mycket avslöjande. Läs här.
2007-02-12 10:04:17
Efterklok Schyman?

"Personligen vill jag gärna se Astrid Lindrens porträtt på den svenska enkronan. En av henns sagofigurer kan pryda myntets baksida. Varför inte Pippi på pengarna?"

Något som hade varit betydligt mer sannolikt om Sverige hade infört euron - vilket Schyman som bekant motsatte sig. I dinapengar.se.
2007-02-08 16:02:22
TT om ekonomisk frihet. TT skrev igår en kort artikel om Index of Economic Freedom, efter vår presentation. Publicerades i en rad morgontidningar idag. Kan läsas här.
2007-02-08 15:55:20
Anti-Social. That is how I sometimes describe the so-called "European Social Model", since it obviously produces seriously negative social effects. Walking along a street in the magnificent old colonial city of Olinda in Brazil, my eyes fell on a sign warning for it. At first glance. It was, however, a subtle warning for a dangerous dog. And that might perhaps be taking the comparison a bit far...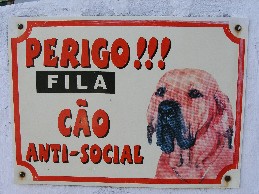 2007-02-07 15:25:48
The Index Presented. Today, the 2007 Index of Economic Freedom was presented at a conference here in Stockholm. In my view a successful and very interesting arrangement. Sweden is number 21 and gets several high scores, but low on taxes, government size and labor freedom. Read more about the Index here and my chapter, about Labor Freedom, here. Also, see the PPT presentations of Tim Kane, Stefan Fölster and me here, here and here. Finally, here is the press release and here you can order a copy of the book (408 pages) or the CD.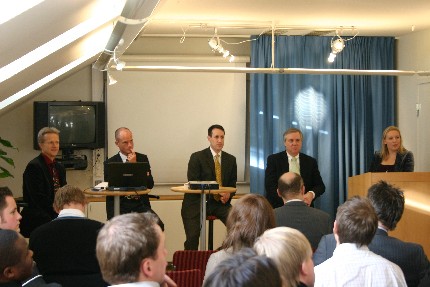 2007-02-07 15:24:28
"Tacka friheten för framgången." Svenskt Näringsliv har en artikel om Index of Economic Freedom i sitt nyhetsbrev, med referat från presentationen. Kan läsas här.
2007-02-07 15:15:02
40 procent fri. Igår kväll lanserades boken "Till 40 procent fri" (Timbro) på Junibacken. Boken är skriven av Robert Gidehag och Fredrik Bergström och handlar om hur staten styr en vanlig familjs liv. Ett viktigt, vardagligt, perspektiv på ett ämne som annars kan te sig byråkratiskt och stort. Boken visar tydligt hur staten belastar inte minst familjer med höga skatter och på en rad sätt har makten över våra liv. Lanseringen genomfördes på temat familj och många barn var där. I egenskap av projektledare för boken på Timbro inledde jag kort tillsammans med min lilla Rebecka.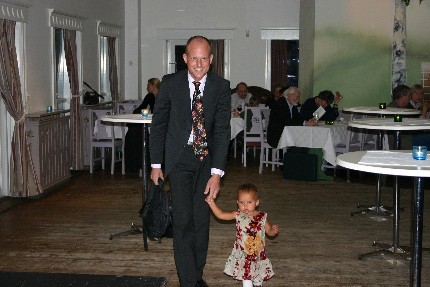 2007-02-07 14:15:13
Eurointelligence. There is a new internet-based service about economic news, analysis and comments called Eurointelligence. It is free for now, but there will probably be a charge. My first impression is very positive - there are numerous useful and easily accessible facts and up to date comments.
2007-02-06 11:41:17
Fack off! Sofia Appelgren, ägare till salladsbaren Wild′n Fresh i Göteborg, avser sälja sitt företag. Detta uppger hon just nu i en TT-intervju. Pressen blev för hård, säger hon, och nämner hur fackets maffiametoder till slut sträckte sig till att terrorisera hennes privatliv. I ett land där ett sådant agerande av facket är tillåtet är det fel på lagen. Fundamentala argument om skydd för grundläggande friheter talar för att lagen ska ändras. Denna händelse är upprörande, skadlig för framtiden och skamlig för varenda fackligt aktiv.
2007-02-05 13:50:46
International Attention. There has been quite an international interest in the 2007 Index of Economic Freedom, and in my chapter. As far as I have seen, so far there have been comments in a few hundred newspapers, web pages and blogs. The Wall Street Journal had a near full-page article. Generally, the reviews have been very positive. And on Wednesday, it is time for the release in Sweden.

Read the WSJ article here - >
2007-02-05 13:24:23
State of the Union. Some time ago, US President George W Bush gave the State of the Union speech. The Economist pointed out that it is fortunate that the state of the Union is better than the state of the President. And indeed, his power is now very limited and polls are not good at all. But the speech contained good things, such as the directives for immigration reform. But even more, the health care reform plan is very good. It would keep federal spending down, spread the opportunity for private insurance and solve lots of bureaucracy. It is too bad that the current political situation makes this reform quite unlikely.

Read the State of the Union here - >
2007-02-05 13:04:40
Partiledardebatt. Några blickar på vad som har hänt i landet den senaste månaden visar egentligen inte så mycket nytt. Många händelser, mycket förutsägbart. I Göran Perssons sista partiledardebatt framfördes olika typer av klart avmätta tack från de övriga partiledarna. Själv var han som vanligt och påstod bland annat att Centern styrs av "Timbrohögern och Stureplansmänniskor". Roligt på sitt sätt men självklart rena dumheter. Det faktum att Centern gick framåt i valet torde visa att partiet inte är kidnappat utan snarare återknyter till gamla frihetliga rötter.
2007-02-03 16:20:16
Back! After a month with my wife and daughter in Brazil, I am back in Sweden. It was really a great time off, strongly recommended. After all, one has to remember what is number one in life and what comes second and third.

Of course one cannot claim to know such an enormous country as Brazil well after one month. But naturally, there are observations that one can make. We visited three states - Brazil is a federation - in the North-East, which are all quite poor.

Brazil is fascinating. Extremely diverse, passionate, colourful and very friendly. But also a country of poverty, crime and racial divisions. A visitor gets to see all the strikingly positive things directly, and the other seem to appear from time to time later.

There is a lot of poverty around the countryside, and one wonders why. What obstacles are in the way for people to get better lives? After all, poverty is falling sharply in many countries. Of course the bureaucracy surrounding most things is overwhelming. And corruption in the administration is there.

In one place, iut took several days for the bank to repair the only cash machine. All the restaurants there suffered - and most likely the bank too. Why did it take so long? Well, the financial sector is heavily regulated and international competition is limited.

The recent elections were apparent in many places. Still, old posters were there, of Lula and his competitors. Positive to see such a vast and rather poor country but a well functioning democracy. Far out in the countryside there were posters.

Anyway, the trip was more about family, experiences, sun and carneval than about economics and politics. But now back to business.
2007-02-03 16:19:25
Economic Freedom - Stockholm, Wednesday. The 2007 Index of Economic Freedom (Heritage/Wall Steet Journal) has been presented in Hong Kong, which was the freest economy. On Wednesday, we will present it in Stockholm. There are a few seats left, read more here. (Attendants will get a copy of the 408-page publication and a CD.) Some more information about the 2007 Index in advance can be found here.

I have written Chapter 2, about the need for Labor Freedom in Europe. That is a new category in this year?s Index. The correlation between the degree of economic freedom and prosperity - and indeed between labor freedom and employment - is strong. Ther facts of the Index thus leads to obvious policy recommendations. In the case of Sweden, the main focus should be cutting taxes and public expenditure and de-regulate the labor market.



2007-02-03 16:18:25
Letter From the Golden State. I received a letter from Arnold Schwarzenegger, Governor of California. He thanks me for my book "European Dawn", which I sent together with some other business, and he sends his "best wishes for every future success and happiness". Nice and professional.
2007-02-03 16:17:40
Photos from Trinity College. A few photos from my speech at Trinity College in Dublin in November dropped in. The group photo is with the organisers of the Philosophical Society and, among others, the Chariman of the meeting, the reformist former Irish Prime Minister Garret Fitzgerald.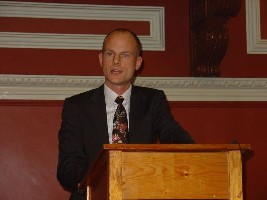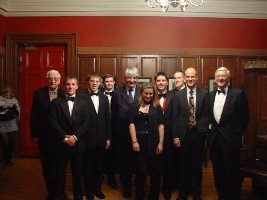 2007-02-03 16:16:40
Climate Change. No, I am not referring to the drop in outside temperature of some 30 degrees that I experienced after 13 hours in a plane from Brazil to Sweden. Of course I refer to the IPCC report about global temperature possibly increasing by 2-4 degrees in 100 years that was presented yesterday.

Hysteria is all over us. The "Climate Threat" is supposed to be here. It is something that appeals both to people′s demand for doomsday scenarios and idea of the original sin - people are actually the main problem of the planet. Media emphasises the threat part and point directly to the politicians to "do something".

Of course this will lead to politicians doing "something". And what they normally do is restrict freedom by regulations, taxes and other state intenventions in society. Regardless of whether it works or not, they will say that at least they did "something". And when people are considered the problem, it is even more legitimate to restrict our freedom.

A climate change might be going on. There are serious academic errors that have been pointed out in these studies, but I believe that there might be a change. I also believe that man has something to do with it, though, the main thing is likely to be a normal change. Climate does normally change, for a variety of reasons.

But, having acknowledged the possible change, it is not automatically a threat or something that demands "something" from politicians. The change may bring numerous benefits to cold places of the planet. And where there will be challenges concering floods or heat, there will be entrepreneurs to solve it. If the economy is free, that is.