2008-04-29 21:06:36
Dokumentation. På dagens seminarium med Kebnekaisegruppen om jämlikhet presenterades många fakta som motsäger invanda uppfattningar - och argument mot den rådande ordningen. Stefan Fölster och Fabian Wallen presenterade en rapport, som återfinns här, och här är deras PPT-presentation. Min PPT är här, Nima Sanandajis är här, Robert Gidehags här och Fredrik Bergströms är här. Ytterligare information om boken Plan B finns här och om The Guide to Reform finns här.
2008-04-29 16:28:40
Liberaliseringar bäst för låginkomsttagare. Det var temat för min presentation på dagens seminarium med Kebnekaisegruppen. Liberala Nyhetsbyrån distribuerade idag denna debattartikel med samma budskap. Dick Erixon har redan publicerat ett utförligt referat av arrangemanget med kommentarer av dagens evenemang - återkommer med dokumentation.
2008-04-29 13:50:21
I Sydsvenskan: Mer marknad i vården. I dagens Sydsvenska Dagbladet publiceras en debattartikel där undertecknad lyfter fram olika problem i amerikansk och svensk sjukvård - men med samma orsak: för mycket statlig inblandning och för lite marknad. Läs här.
2008-04-28 16:02:18
Det är kapitalet, dumbom! Den första publikationen i den nya serien från Munkhammar Advisory har lästs av relativt många på kort tid. Många positiva tillrop om initiativet. Bloggaren och ekonomen Stefan Karlsson känner sig nödgad att förtydliga att det inte är han som har skrivit. Annie Johansson, riksdagsledamot (c), har recenserat på sin blogg, läs här.
2008-04-27 22:01:53
Jämlikhet på tisdag. Några platser kvar till seminariet på tisdag om jämlikhet, läs mer här. På seminariet kommer flera vanliga föreställningar om jämlikhet att ifrågasättas:

- Inkomsterna i Sverige var jämlika redan före välfärdsstatens expansion på 1970-talet. Och reallönerna för låginkomsttagare steg mångdubbelt mer efter 1990-talets liberaliseringar än efter 1970-talets socialiseringar. Bidrar välfärdsstaten till jämlikhet?

- Iranska invandrare i Sverige tjänar cirka 40 procent mindre än infödda, men iranier i USA tjänar cirka 40 procent mer än infödda. Bidrar reglerad arbetsmarknad och generösa bidrag till ökad jämlikhet?

- Skillnaden i tillväxt mellan de länder som liberaliserade mest det senaste decenniet och de som liberaliserade minst motsvarar en välståndsförlust på 25 procent. Ojämlikheten i inkomster ökade inte mer i de liberaliserande länderna. Varför kräver inte vänstern liberaliseringar?

Välkommen!
2008-04-27 21:40:22
Republicans and Review. In Atlanta, I managed to squeeze in a speech at a meeting with the local top Republicans. It was very interesting to hear how they struggled to limit political interference in Georgia and Atlanta.

After each speech, there are normally comments on blogs I make nowadays. Here is one in Belgium, after my latest visit to Brussels. It is extensive indeed, and though I understand only about half of it, I can make out that it is positive indeed to my book.
2008-04-27 15:08:34
Warning to Travellers... I lost one bottle of Gentleman Jack, bought in Southern USA, because of this. So take note, it is serious business. Some new regulation makes it impossible to buy liquids in the tax free of a non-European country, bring it to the EU, and then get it on the next flight - if you have a transfer in the EU. They will confiscate it. Then, they can have a great annual Customs party, I guess...
2008-04-25 16:04:14
Munkhammar Advisory Publications. A few days ago, my company presented the first publication in a new series. The purpose is to add facts and new perspectives on issues of importance for society. The aim is that the publications shall be of use for decision-makers as well as analysts and opinion-makers.

Munkhammar Advisory offers objective analysis, strategic advice and winning arguments. This will be reflected in the publications and in their direction towards ideas and initiatives for progress and prosperity. Publications may be produced together with clients.

The first publication is written by Stefan Karlsson, who has had several positions in the international financial business. It is called "It′s the Capital, Stupid!". This publication is, however, only published in Swedish for Swedish target-groups. English-speaking publications are forthcoming.

The new publications are a channel of communication which adds to the company infrastructure. We want to reach relevant people with new messages on hot topics, in an accessible format, written by highly skilled authors. All publications can be downloaded here.
2008-04-25 15:58:03
Obama in the Lead. I just read in USA Today about the numbers in the continued Democratic primaries. Obama is still in the lead in terms of delegates; 1724 against Clinton′s 1593. And he is likely to win the upcoming states too, unless something rather dramatic happens. It is hard to see that Clinton has any chance despite the victory in Pennsylvania.
2008-04-25 14:12:57
Insider. The Heritage Foundation published an excerpt from my book in the Heritage Insider - their widely distributed newsletter. Can be read here.
2008-04-24 22:18:23
Atlanta. People are in good mood here at the Resource Bank in Atlanta. Apparently, 700 people from 53 countries are here. The lunch speaker was Jonah Goldberg, author of "Liberal Fascism", where he reveals the strong ties between the American left and fascism.

I spoke after lunch, next to Grover Norquist - formally head of Americans for Tax Reform but to a large extent the main conservative strategist. Recently, he published his new book "Leave Us Alone". He pointed out that the left is intetested in increasing government so they can be the ones to run everyone′s lives and called them "competing parasites".

I was the optimistic voice claiming that free-market reforms that decrease government have been possible in many countries. Then, we signed books - Grover a few more than I...
2008-04-24 22:11:06
Both, Please! The current rise in global food prices is hurting the poorest. And some of the rise has come from growing biofuels, intended to improve the environment. But we don?t have to choose between helping the poor and improving the environment. The main problem is that global food production has not kept up with the rise in demand, due to increased prosperity in many formerly poor countries. So that is what has to be done - food production should be de-subsidised, de-regulated and subject to free trade. That would increase efficiency and flexibility in production. Then we could probably grow biofuels as well.
2008-04-24 04:20:05
Synlighet. Vad syns mest - en skattesänkning eller en bidragshöjning? För politiker är detta en relevant fråga. De vill självklart att medborgarna ska märka att de gör något. I Sverige kan det vara så att bidragshöjningar syns mer, eftersom hälften av skatterna är dolda - då syns det mindre tydligt om de sänks. På det viset kan de dolda skatterna i komination med politikers naturliga intresse av att vinna röster driva politiken mot mer av bidrag, med alla nackdelar det medför. Det är ett dilemma för regeringen, som sänker skatter. Låginkomsttagarna har fått större skattesänkningar än någonsin förr, men märker det knappt. George W Bush genomförde ett par skattesänkningar, men missade inte tillfället att visa det. Varje person som fick en sänkning fick en check i brevlådan med summan, undertecknad George W Bush. Och han blev återvald...
2008-04-24 04:15:12
The Importance of Direct Flights. I am right now at Hilton Garden Inn, close to JFK Airport in New York - had to stop on my way to Atlanta. Lately, I have seen advertisements for direct flights from Stockholm to places like Bucharest, Sarajevo and Odessa. That is probably signficant and important. When we got direct flights to Croatia not too long ago, that was new. But now, that is a rather common and very natural place to go to. Direct flights lead to an increase in visits, which increases people′s knowledge about places and brings them closer. So which will be the first airline to open direct flights Stockholm-Tblisi?
2008-04-23 10:02:23
The Winner in Pennsylvania: John McCain. Since Hillary Clinton won Pennsylvania with the double-digit margin everyone thought necessary for her to continue her campaign, that is what she will do. That will guarantee John McCain some more time of having Clinton and Obama doing his work for him. Meanwhile, he can travel around the country and tell people what he wants to do.
2008-04-22 21:26:06
Stir in Georgia. Apparently, the interview with me published in one of the leading newspapers in Georgia, 24 Hours, creates a bit of a debate before the upcoming parliamentary elections there. See here and here. The articles claim that I criticise the government for implementing social programs.

During a long interview, I was told that the government has increased public expenditure for certain groups. I said that if this was the case, it did not fit with their previous policies, which have been all about limiting government. I also said that it was unnecessary in strategic terms, since most reformers win re-election.

What I did repeat many times was that I have been very impressed indeed with the Georgian government for all the far-reaching reforms they have launched.
2008-04-21 22:59:09
Äntligen dyrare på Öfre Östermalm... Liza Marklund säger rakt ut vad fri prissättning på hyresmarknaden innebär - hyran blir högre på Östermalm och billigare i Värnamo. Så som det ska vara, men inte är idag, vilket skapar enorma problem. Läs hennes kolumn här.
2008-04-21 09:06:04
Resource Bank. Spring in Sweden, finally! On Wednesday, I will however leave the country and go to the US. To Atlanta, to be more precise. I will speak at the annual so-called Resource Bank meeting arranged by the Heritage Foundation. 700 people from think-tanks, politics and academia from all over the world come. After speaking on Thursday, I am scheduled to do a book-signing at Barnes & Noble.

Read about the Resource Bank here - >
2008-04-21 09:03:54
Welcome. The top nationalities of people visiting this blog have for some time been Swedish, Finnish, Norweigian, British, German, Danish and Belgian. But during the last month, Russians have been frequent visitors. Welcome!
2008-04-18 14:03:44
Berlusconi′s Opportunity. I noticed that The Economist shares my view that Silvio Berlusconi now has a great opportunity and that he has to deliver reforms. The big question is not whether he would say that he subscribes to a particular ideology. The question is if he will use this opportunity. Does he have the intention, determination and strategy to launch the liberalisations that Italy needs?
2008-04-17 23:44:44
Hyresgä(s)tföreningen. Idag skriver Barbro Engman, ordförande i Hyresgästföreningen och f d riksdagsledamot för socialdemokraterna, i DN. Hon påstår att regeringen vill avreglera prissättningen på hyreslägenheter och att konsekvensen blir en fördubbling av hyrorna.

Vilket struntprat. I praktiken är beräkningen rena gissningen, eftersom hyran har jämförts med kostnaden för att bo i en bostadsrätt - till dagens priser och ränta. Detta är bara oppositionen i förklädnad.

Möjligen tror de faktiskt att fri prissättning leder till högre priser. Har de glömt prisfallet på 70 procent på några år efter avregleringen av telemarknaden, till exempel? Det är en annan marknad, men visar poängen; fri konkurrens och prissättning kan ge lägre priser.

Detta är bara enpartistaten som lever vidare trots regeringskiftet.
2008-04-17 15:33:15
Mer jämlikhet med mer marknad. Välkommen till seminariet nedan lagom till första maj, arrangerat av Kebnekaisegruppen.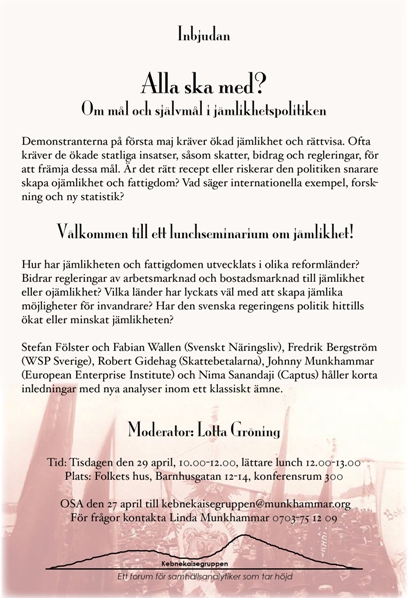 2008-04-17 09:41:09
Stockholmspolitik. Den bästa efterträdaren till Axén Olin.
2008-04-16 22:13:59
In Eurointelligence: Is Europe Finally Back? I have written a Comment & Analysis piece for Eurointelligence, the independent economic news and analysis service. The message is that many European countries have liberalized substantially during the past decade, but the United States has not. This will produce economic effects effects, some of which may be visible already:

"The 2008 Index of Economic Freedom (Heritage Foundation) provides similar evidence. Of the 20 countries in the world with the freest economy today, 10 are European. In 2008, 19 European countries had increased their economic freedom compared to the year before. The degree of economic freedom is strongly correlated with economic prosperity. The EU has had higher economic growth than the US during the past two years, and forecasts show that to be likely during the next two years as well."

Read the entire article here - >
2008-04-16 14:27:07
Sjunkande skattetryck men ökande skatteintäkter. Regeringen har gjort om formerna för den så kallade Vårpropositionen, bland annat så att den inte innehåller skarpa förslag. I de långsiktiga bedömningarna finns dock en hel del intressant, såsom att det samlade utanförskapet har minskat med 121 000 personer hittills.

Skattetrycket - de totala skatteintäkterna som andel av BNP - sjunker från 49,1 procent år 2006 till 46,6 procent 2010. Dock ökar de skatteintäkterna från 1423 miljarder till 1642 miljarder under samma tidsperiod. Detta reflekterar förstås bara att ekonomin, BNP, ökar snabbare än skatteintäkterna. Men man ska inte tro att det sjunkande skattetrycket innebär mindre skatteintäkter.

KI bedömer att utrymmet för reformer som inte behöver finansieras statiskt är 30 miljarder. I hög grad beror detta på ökande sysselsättning. I den riktiga statsbudgeten i höst kommer regeringen antagligen med nästa steg i jobbskatteavdraget. Men slutsatsderna i professor Sven-Olof Lodins studie förtjänar att upprepas: Nu är beskattningen av låginkomsttagare på EU-snittet, men beskattningen av medelinkomsttagare är 50 procent över.

Med andra ord - ta bort värnskatten. Den står för fem promille av skatteintäkterna, men är tung för dem som bär den.
2008-04-16 13:37:00
Norberg, Berlusconi and Me. Johan Norberg writes on his blog about Berlusconi:

"For some reason, a lot of people think he is a liberal, and even my friend Johnny Munkhammar think that he can deliever "substantial reform" and says that "expectations are huge"."

This is what I wrote in the two sentences he quotes:

"This can be interpreted as a strong mandate for Berlusconi to launch substantial reforms. ... There is a great need and expectations are huge, so Berlusconi has to deliver."

I am not saying that he can or will deliver. I am just saying that he has a mandate to do it, and that many people expect him to. Johan disagrees about the latter point, and I think he is wrong.

Since Johan feels strongly about quoting correctly, I think this is a bit odd.

Anyway, I have studied what Berlusconi has said during the election campaign. Many very market-oriented things, for sure. But also the direct opposite, promising a "statist" economic policy, for example. His previous record is mixed, but the pension and labour market reforms he initiated are underestimated.

My point is that he has a good chance of reforming - if he chooses to do it. I hope that the good half of the policies is what he wants to do and the bad half is what he (wrongly) believed he had to say in order to win...

Update: Johan acknowledges my correction and points out that I am still hoping. Well, let me say that the day when Johan becomes a candidate for public office, I will feel certain in my support - until then, a susbtantial degree of hope is needed in most cases...
2008-04-15 11:38:23
Strong Euro No Problem. There has been a lot of criticism against the strong euro and thus the policies by the European Central Bank. Wolfgang Münchau, columnist at Financial Times and Editor of Eurointelligence, lists ten reasons why this is in fact not a problem. Read here.
2008-04-15 10:47:41
Reforms for Italy? I spoke in the European Parliament this morning about my book - focusing on reform strategy, also related to the EU. A substantial part of the discussion focused on Italy, where Silvio Berlusconi won a decisive victory in both chambers. The fact that the Communists lost their seats for the first time is an event in itself. This can be interpreted as a strong mandate for Berlusconi to launch substantial reforms. Italians want change and a strong government. It is often claimed that Italy is "ungovernable", but if there has ever been a chance, this is it. If the coalition can just agree, things can really happen. There is a great need and expectations are huge, so Berlusconi has to deliver.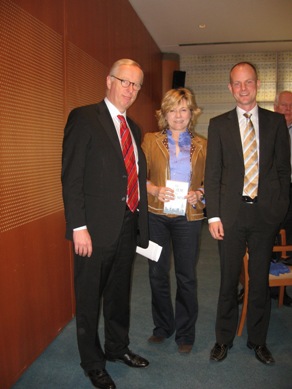 With MEP:s Gunnar and Pilar after the meeting
2008-04-14 18:50:05
Reform in Brussels. I spoke at an interesting lunch seminar here in Brussels, arranged by the Stockholm Network. Very interesting comments from Alexander Graf Lambsdorff, Member of the European Parliament (MEP). Now off to dinner with several of the Sweidhs MEP:s and their staff, and tomorrow morning breakfast seminar about reforms in the European Parliament, arranged by the European Enterprise Institute.
2008-04-14 14:14:27
Brief Reflection. Sometimes the things that take a lot of one′s time seem quite small and irrelevant. I just read a few articles about the development in Darfur. It is simply horrible. Why is there a United Nations if things like this can go on? And the tragic killing of a girl in the Swedish countryside is a tragedy of a different scale - but a tragedy nonetheless. The first function of the state must be to protect people from violence. That principle must be taken far more seriously in criminal policy.
2008-04-13 16:51:10
Nomad? As I am writing this from Bergen Airport - after speaking at a nice arrangement by Civita - I have to recommend an article from the latest edition of The Economist. It is about the increase in wireless connection, and its impacts not only on work but also family life, the structure of cities and more. Read it here.
2008-04-12 12:28:51
Propaganda på nyhetsplats. I dagens Aftonbladet skriver journalisten Wolfgang Hansson om det italienska valet. Eller rättare sagt om Silvio Berlusconi. Eller ännu rättare sagt om sin personliga avsky för Berlusconi.

Artikelns budskap kan sammanfattas med att Berlusconi är uppblåst, sexistisk, extrem, korrumperad, löjlig, oseriös - och värst av allt rik. Att italienarna sannolikt ändå kommer att välja honom för tredje gången ursäktas med att han trots allt är rolig.

Så får man inte skriva på nyhetsplats. Där finns bara ensidighet och personliga uppfattningar. Berlusconi är inte en svensk politikertyp. Det gillar inte Wolfgang Hansson. Dessutom gillar han marknadsekonomi, vilket han inte verkar dela med nämnde Hansson.

Berluscioni gjorde inte succé förra gången, påstår Hansson. Frågan är om han inte jämfört med Prodi och övriga italienska premiärministrar i 60 år nästan har gjort det. Och hans regeringar påbörjade viktiga reformer av pensioner och arbetsmarknad.

Om Wolfgang Hansson tillhör Aftonbladets ledarredaktion bör han skriva på ledarsidan.
2008-04-12 12:26:10
Bra av Fp. Idag föreslår Tobias Krantz, riksdagsledamot och socialpolitisk talesman (fp), och Frida Johansson Metso, LUF-ordförande, att förtidspension för personer under 29 års ålder ska förbjudas. Antalet förtidspensionerade under 30 har som bekant tredubblats på just 30 år. Istället bör de erbjudas utbildning och matchning till arbete efter förmåga. Ett bra och viktigt förslag. Läs mer här.
2008-04-11 13:04:07
Om fack och vård i nya Entreprenör. Idag kommer senaste numret av Entreprenör. Min ledare handlar om vilken positiv roll fackföreningar skulle kunna spela i samhället - om de bara släppte den gamla rollen. Och i kolumnen ställer jag frågorna: "Varför är inte svensk sjukvård en dynamisk exportbransch? Varför betraktas sjukvård i hög grad som en kostnad och ökad efterfrågan därmed som ett problem?" Efter att ha framfört några svar på detta beskriver jag kort sjukvårdsreformen i Nederländerna, som modell för Sverige. Ledaren kan läsas här och kolumnen här (Windows Vista) - kommer snart som pdf.
2008-04-11 12:50:53
Intense. Blogging has been quite limited during the past few days, due to too many other tasks. Among other things, I have finished writing several publications, which will soon be published. I have also delivered an analysis for a client, with a colleague in my business, and had to go to semi-professional/social events like Hill & Knowlton′s great party in their new Stockholm facilities. Add to this more private matters, like selling our apartment in Stockholm City, because we will move to a new house by the sea. On Sunday, then, I will go to Norway to speak at an arrangement by Civita in Bergen, and on Monday, there will be a book event in Brussels - followed by a dinner with Swedish Members of the European Parliament.
2008-04-08 08:23:20
Talande. Passerade i går Stocksholms Stadshus, där en liten grupp demonstranter hade samlats. De huttrade påtagligt i snålblåsten. Tydligen var de emot något motorvägsbygge. Med parollen "Rädda klimatet!"...
2008-04-06 22:56:18
Interview in 24 Hours. Today, one of the leading newspapers in Georgia, 24 Hours, published a major interview with me. Read it here.
2008-04-06 22:52:31
About Clinton. In the FT yesterday, there was a very interesting piece about the ever more manic struggle by Hillary Clinton to win the Democratic nomination. Read it here.
2008-04-05 11:29:12
Speech in Brussels. In about a week, I will speak in Brussels about my book, at an arrangement by the Stockholm Network. There, they will also present their annual publication "State of the Union", which lists reform progress throughout the EU. I have written the chapter about Sweden. Read more here. Welcome!
2008-04-04 13:53:20
With Bendukidze. In Georgia, I met with Kakha Bendukidze, the former Minister of Economy and Reform Co-ordination - currently Head of State Chancellery. He invited me with my family to his house for lunch. The day before, the President of Georgia had just signed his latest reform package. It contains the plan to decrease the total tax on labour from the current 25 per cent to 12 per cent - in five years!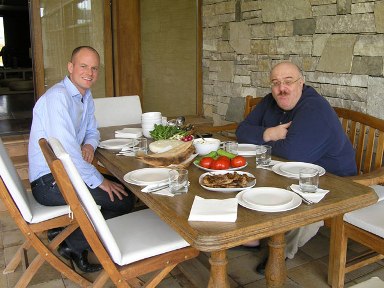 2008-04-02 21:34:46
Swedish Taxes. A new study, by professor Sven-Olof Lodin, of Swedish taxes in comparison with other countries reveals interesting information:

- Swedish taxes on labour, in relation to GDP, are 50 per cent above the average in the EU.

- Sweden still has the highest consumption tax in the EU, at 25 per cent.

- The highest income tax rate, 52 per cent, is paid by most middle income earners (not counting the 32 per cent in payroll tax) which makes this the highest in the EU.

- A few years ago, the Swedish corporate tax rate, 28 per cent, was at the EU average, but now the EU average is below 25 per cent.

The Swedish government is doing several things right concerning taxes, but most of our neighbours are working in the same direction. To improve our relative position, it has to be more ambitious.

Read the entire study here (pdf, in Swedish) - >
2008-04-01 22:23:15
Reformer för konkurrenskraft. Institutet för tillväxtpolitiska studier, ITPS, har just publicerat en intressant rapport som går igenom ett par länder som har reformerat för att öka konkurrenskraften. Fokus är på reformer som vi kan lära av i Sverige.

Läs rapporten här (pdf) - >