2007-08-31 11:48:33
En vanlig Svensson. Det är namnet på Mattias Svenssons nya blogg, inom ramen för Metrobloggen. Skarpt, roligt och principiellt som alltid. Utmärkt om t ex Göran Rosenberg, EU-bidrag och Folkhälsoinstitutet de senaste dagarna.

Följ Mattias blogg här - >
2007-08-29 17:59:30
Norska fjordar, amerikanska inkomster och svensk fattigdom. Undertecknad är för närvarande i Norge, vid Hardangerfjorden, med den så kallade Kebnekaisegruppen. Detta är en årlig sammankomst för en grupp namnkunniga ekonomer, varav flera är goda vänner. Konferens och strapatser på schemat. Samt god stämning.

Årets ämne är ojämlikhet - olika aspekter, mått, åtgärder och effekter. Är t ex höjda inkomster för låginkomsttagare viktigare än jämlika inkomster i samhället? Ofta ökar fattigas inkomster när rikas inkomster också ökar. Men vissa är så starkt emot att rika blir rikare att de är beredda att acceptera att de fattigaste förblir fattiga.

En intressant information som refererades från den s k Luxemburg Income Study jämförde de disponibla inkomsterna hos den fattigaste tiondelen i olika länder med medianinkomsten i USA. Den fattigaste tiondelen i Sverige ligger på ca 33 % av USA:s median. (Inklusive bidrag m m.) Den fattigaste tiondelen i USA ligger på 39 % av USA:s median.
2007-08-28 13:16:44
"Neoliberal" Power. George Monbiot has a fabulous piece in The Guardian today. He claims that a "cabal of intellectuals and elitists hijacked the economic debate, and now we are dealing with the catastrophic effects". According to him, the main effect of freer markets that the rich get richer and the rest are left to "sink or swim". And that, in turn, is the very reason for the pursuit of free markets by many institutes and think-tanks, he claims.

Well, thanks for the vote of confidence. I never feel as influential as when the leftists describe the work done by me and many colleagues. As most people, I really enjoy a real conspiracy theory. It is entertainment. But I seriously wonder if Mr Monbiot has missed the dramatic increases in incomes for ordinary people - and the fall in global poverty - during the last decades of ever freer global economy? Or would that ruin the story?

Read the article here (recommended) - >
2007-08-28 09:07:31
Brott mot föreningsfriheten. I nordliga delar av landet samarbetar tydligen olika statliga myndigheter med facket om att inspektera arebetsplatser för att se till så svartarbete inte förekommer - enligt Rapport. Denna verksamhet ska även innefatta inspektion av att kollektivavtal finns.

Staten ska använda sina myndigheter för att tillse att lagar följs. Att blanda ihop myndighetsutövning med fristående, privata, organisationers verksamhet är dock i grunden problematiskt för en rättsstat. Ett än större problem kan dock vara om staten tillsammans med facket kampanjar för kolletivavtal. Friheten att teckna eller avstå från att teckna kollektiva avtal är central.

Undertecknad kommenterar detta i morgonens nyhetssändningar från Rapport.
2007-08-27 10:51:07
Biståndets särintressen. Regeringen presenterar en ny biståndspolitik. Dess huvuddrag är att biståndets omfattning ökar, antalet mottagarländer reduceras och uppföljningen ska bli bättre. Men politiken kritiseras från många håll redan innan den har presenterats.

Socialdemokraterna är arga för att de inte har varit med. (Var de borgerliga med i sådana sammanhang någon gång under alla år med s-v-mp?) Biståndsorganisationer, vars verksamhet i hög grad finansieras via det offentliga biståndet, är också arga för att inte ha varit med. Journalister påstår att fattiga länder drabbas av detta, trots att minskningen av antalet länder bygger på en fokusering på länder med störst behov.

Kan det vara så att biståndspolitiken länge har varit en stor offentlig budgetpost med mycket liten granskning? Att allt fler särsintressen har dragits in och blivit delar av ett komplex där ett övergripande syfte är att expandera snarare än uppnå resultat? Svar kommer i en bok från Timbro den 17 september.
2007-08-24 13:28:09
The True Face of Socialism. Venezuela is on a fast track route to socialism, according to its President, Hugo Chavez. Read more here. Many leftists in Europe and the US are enthusiastic. It is odd that this doesn′t deprive them from all credibility in a serious debate. Venezuela is taking giant leaps towards a full dictatorship. Private media is being shut down - and now the Constitution will be changed. Private property can be socialised without warning, the President can remain in office for life, etc. Venezuela′s economy is fuelled by oil revenues. But the country is heading towards political and economic dictatorship, and that will in the end strangle all creativity and economic dynamism too. Don′t forget that this is the kind of society that many leftists desire everywhere.
2007-08-23 16:41:20
Theories and Reality. Earlier today, I gave a lecture about globalization - its main parts, causes and effects - for the corporate management of a rather large company. My perspective is long-term, rather macro and quite theoretic - or at least derived from research. It is striking, however, to have almost all the points confirmed by stories from everyday life in such a company. What I read about, they experience. New markets, pressure on prices, "unbundling" of production, tough competition, the ongoing IT-revolution...
2007-08-22 12:36:21
Alla talar om Facebook. De senaste dagarna har media fyllts av reportage om Facebook, en sorts mötesplats på nätet. Undertecknad tillfrågades för några veckor sedan av en bekant om att vara med där. Sedan inregistreringen har i snitt kanske fem förfrågningar om att knyta kontakt inkommit per dag - från vänner, tidigare kollegor och andra. Ofta personer i andra delar av världen man inte har träffat på ett bra tag. Helt klart roligt och möjligen till nytta. Men det är bara tiden som kan visa hur mycket man eventuellt kommer att använda denna tjänst. Prime PR har just publicerat en s k Spaning om Facebook, kan läsas här.
2007-08-22 10:38:08
Ny fastighetsskatt. Klokt tänkt och väl argumenterat av Villaägarna i Dagens Nyheter härom dagen, där deras förslag till ny fastighetsskatt framförs. Även särintressen kan ibland spela en konstruktiv roll... Regeringen borde beakta förslaget seriöst.
2007-08-21 05:42:48
Kreativitet. Sektionen Insidan i Dagens Nyheter har just haft en serie om kreativitet - vad det är, vad som främjar kreativitet och intressanta exempel. Kan läsas här.
2007-08-20 12:59:00
In the Office. This summer, I have been going on and off duty. Today, however, I am formally back full time. Though far from entirely sunny and warm, this summer has offered several relaxing activities for me.

A few days ago, I watched Yamato, the Japanese drummers, part of the Stockholm Cultural Festival. Very impressive. A display of energy and rhythm. An image of the old Japan.

Yesterday, we were among the 35 000 who watched the Royal Philharmonics in a concert outdoors in the sun. Apparently the biggest arrangement of its kind in Europe. Very nice atmosphere.

I am now probably also one of the last Swedes to read Stieg Larsson′s thrillers. Very intriguing stories and personalities, though regrettably partly with a somewhat narrow leftist perspective on society.

Apart from Gotland, there was also a bit of sailing. Always a remarkable thing to do in the Swedish archipelago. It is so huge and there are so many islands. Stress levels come down quickly when you get out there.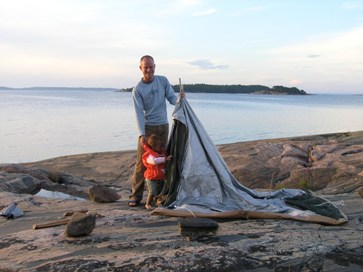 Raising the tent with our helpful daughter Rebecka.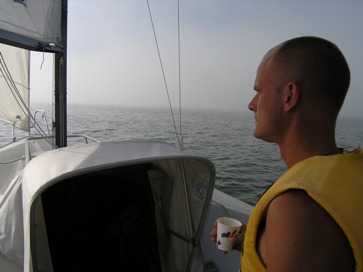 Trying to navigate in thick fog.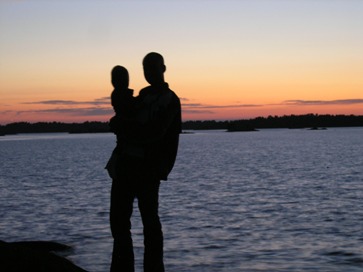 With Rebecka in the peaceful archipelago evening.
2007-08-20 10:38:38
I TV4 med Reinfeldt. Igår var statsminister Fredrik Reinfeldt gäst i Söndagsintervjun på TV4. Undertecknad framförde en förinspelad kommentar med sikte på framtiden. Kan ses här, under "Se inslag från programmet". (Komiskt att programledaren satte fel etikett två gånger; först moderat, sedan folkpartist - jag är ju inte medlem i något parti.)
2007-08-16 13:36:22
Three Decades Without the King. It is hard to miss the fact that Elvis Presley passed away 30 years ago today. He was - and is - an enormous cultural pheonomenon. There is something for everyone in a very complex figure: The rebel, the mega-star, the American Dream, the patriotic Conservative icon, the self-ironic super-performer - and a life ending like a Greek tragedy. Nowadays, there are numerous films on You Tube - not least from concerts in the early 1970s, when at least I think he was at his best. Here is one cool clipping from 1970 with "Little Sister/Get Back".
2007-08-15 09:27:58
India 60 Years. A huge country of great diversity and different religious groups, dominated by widespread poverty. Not surprisingly, there were doubts about how India would develop after the British left it 60 years ago.

But it remained not only one country with internal peace - it has also enjoyed a stable democratic system. The contrast with Pakistan, also 60 years, is clear; The Economist recently concluded that Pakistan is simply in "a mess".

The tragedy of India was always the massive and persistent poverty. For fifteen years, however, India has boomed. Socialism and protectionism were left behind. India opened up to globalisation. Its latest annual growth rate was 9 per cent. Despite vast improvements, many are still poor and thus income inequality has increased. But would anyone prefer that all Indians were still equally poor?

India is indeed a great showcase for democracy and economic freedom, also disspelling a number of myths. More in the FT here.
2007-08-13 22:32:48
Mission Impossible? Perssons första uppdrag?
2007-08-10 00:42:09
Dawn in Berlin. Early in June, I gave what might have been Lecture No. 1000 about my book European Dawn at a quite small but nice arrangement in Berlin. Obviously, it was filmed and can be seen here.
2007-08-01 09:54:15
Bergman och den stora staten. Kort men slagkraftigt skriver idag Mats Wiklund en kolumn på DN:s ledarsida om hur den växande statsmarken i 1970-talets socialistiska Sverige behandlade Ingmar Bergman. Läs här.
2007-08-01 06:52:45
In Health Care News. The Heartland Institute′s publication Health Care News published my speech in Washington, DC, about markets and health care as an essay.

Read "Markets Are the Answer to Health Care Problems" here - >