2004-10-31 20:48:02
Good News From Iraq. In the media, we constantly see continued problems in Iraq. Violence seems to be everywhere, people die and various organisations are leaving the country. Often, this is also considered to show that the invasion of Iraq and the removal of Saddam Hussein was wrong. But there are numerous other facts from the new Iraq that are seldom shown in the media; positive signs of a free society being built step by step. There is a new currency, schools are being built, more people go to work, ever more companies are listed on the new stock exchange, tens of free newspapers are circulated, elections will be held in January. And don′t forget what is not there any more; no killings of curds, no torture by the regime, no totalitarian oppression. Andrew Cherenkoff gathers such facts, also about the new Afgahnistan (where the first person to vote in their first free elections ever was a 19-year old woman), and it is very useful reading - not least as a balance against the ordinary media.
Follow Cherenkoffs blog - >
2004-10-31 20:32:21
Re-elect Assemblyman Wright. New York City is far from being a battleground place before the Presidential election. Thus, there is lots of more attention given to Halloween than to the campaigns. But one should remember that it is not just the President that is elected but also parts of Congress - and not least several local elections. For example, in Harlem I came across the poster which can be seen below for the re-election of assemblyman Wright. And of course, in NYC the terror threat is still closely felt by many. Thus, the bin Laden recording shown on TV has again made the war on terror the abolute centre issue of the debate. New York Post today wrote about "spin Laden" due to the efforts of the both campaign?s media spinners to try to use it for their candidate. Probably that will benefit Bush, since his credibility on that issue is much stronger than Kerry?s.
Poster of assemblyman Wright in Harlem - >
2004-10-30 13:03:38
Interactive Election Map. Currently, Bush is still in a slight lead in the polls. This Interactive Election Map shows the latest polls and the situation in all the states. Still over 200 electoral votes are too close to call. The remaining days will be a thriller.
2004-10-30 12:55:16
Conspiracy Theorists Get What They Want. Just prior to my departure to NYC, the news revealed that al-Jazeera has broadcast a new tape showing Osama bin Laden presenting new threats. Since the American election is only three days away, commentators directly discussed what possible impact this might have on the results. Most seem to agree that it helps Bush, because his credibility in the war on terror is stronger than Kerry?s. Perhaps they are wrong, not least since Kerry has criticised Bush for going to Iraq instead of catching bin Laden. Anyway, beyond doubt is that the conspiracy theorists that have believed that bin Laden one way or another would appeear before the elections get what they want. From a Swedish perspective, however, the most uncomforting aspect of this new bin Laden tape might be that he says that that he would not attack Sweden. So he hates America - and what? Does he like Sweden? What does that say about our country?
Read a transcript of the bin Laden tape - >
2004-10-29 13:29:46
The Importance of China?s Economy. For the first time in nine years, China yesterday raised its interest rate. This is one attempt to cool down the booming economy; GDP grew with over 9 per cent the last quarter. Inflation is rising. The Financial Times today has a good analysis. This has sent shock waves through not only the stock markets in China but also the rest of the world. Everyone knows that the Chinese economy has to be cooled down, but it is still uncertain whether they will make a "soft landing" or a more tough one. Perhaps the most important conclusion of the events following this decision is that it illustrates the current importance of the Chinese economy. It has grown extremely strong for decades; it is now 650 per cent larger than in 1980. Predictions say that in a few more decades, it will be the second largest economy in the world. And in an open and interconnected world, what happens in China affects the lives of people in Sweden. There will be more of this as time goes by.
2004-10-29 13:20:53
One Month with munkhammar.org. One month ago on the day, I started this web log. Since then, it has attracted over 7 500 returning visitors. I have also received many comments - thanks! Several conclusions might be drawn from this phenomenon. First, the web log - blog - is indeed a channel for communication in the rising. The number of visitors can be compared with the number of people who read editorials in the larger countryside dailies. Second, the blog seems to be competing with e-mail newsletters. And to many, the blog is a more attractive source of information, not least since you choose if, when and what you want to read. Third, in Sweden, the dominance of freedom forces using this channel is striking. Perhaps political scientists in a few years will conclude that this development gave politics and the debate a new injection of thoughts on freedom and contributed to change.
2004-10-29 12:51:31
Tips: Frank form. Igår öppnade portarna på Frank form. Cecilia Nykvist, god vän och kollega, inledde byggandet av sitt imperium med den första butiken:
"Frank form är ett butikskoncept som kombinerar inredningsdetaljer, konfektion för dam och herr samt accessoarer. Den röda tråden är formgivningen, som vi kallar modernt klassiskt med liten tvist. Välkända formgivare blandas med okända, beprövade varumärken med helt nya. En frank blandning helt enkelt."
Kungsholmsgatan 20 i Stockholm. Be there.
2004-10-29 12:39:09
6,6 procent för mycket. Enligt en ny opinionsmätning av Temo får Vänsterpartiet 6,6 procent. Det är det lägsta stödet på tio år och nästan en halvering sedan i juni. De flesta kommentarer förefaller gå ut på att partiet rasar utför. Bakgrunden är självfallet debatten om Ohly, partiet och kommunismen. Men mot den bakgrunden, i all sin avskräckande och avslöjande förfärlighet, är det snarare förvånande hur 6,6 procent av väljarna fortfarande stödjer partiet. Det enda som fortfarande är mer förvånande är att denna debatt dröjde så länge. Kopplingen mellan kommunismen som ideologi och totalitärt förtryck är väl etablerad. Ohlys extrema hållning likaså. Samt partiets smarbete med förtryckarna i Sovjetunionen och i Öst- och Centraleuropa.



2004-10-28 14:53:37
Välkommet val. Styrelsen för stiftelsen Fritt Näringsliv har nu utsett Cecilia Stegö Chilò till ny chef för Timbro. Bra att Timbro får en chef så att ovisshet kan ersättas av långsiktighet. Bra också att en person med god erfarenhet och starka uppfattningar i marknadsliberal tradition tillträder den 1 januari.
"Jag ser fram emot att få ägna mig åt idéutveckling igen och hoppas kunna öka styrkan i den marknadsliberala opinionsbildningen. Den svenska samhällsdebatten är för nyhetsfixerad, för vänster - och för inställsam till makten," säger Cecilia Stegö Chilò.
Att vända debatten i riktning mot förändring och frihet är en tuff utmaning. Man kan bara önska lycka till!
2004-10-28 14:24:58
Growth Saves Children?s Lives. Some say that economics in general and GDP-figures in particular are just theories without effects in reality. Growth is called materialistic - something that doesn?t actually increase living standards. One of the best proofs of the opposite is the World Health Chart. The UN and Karolinska Institutet, among others, have designed it. There, one can see a strong correlation between GDP per capita (the x-axis) and how many children out of 1000 born that actually reach grown-up age (the y-axis). All the countries lie in a near perfect line. Rich countries have many children that live, poor countries don?t. And this is a correlation which has been the same for the about 100 years from which there are statistics. Hence GDP growth increases living standards in reality in the most important sense imaginable. The obvious conclusion is that a free economy that increases growth should be priority one for all countries.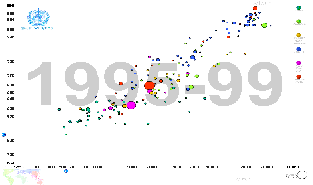 2004-10-27 11:58:22
Restart Barroso. Hours before the vote in the European Paliament on the European Commission, President-Designate José Manuel Barroso withdrew his proposal. Obviously, he considered the risk of having a "no" majority to be too big, despite weeks of negotiations, compromises and changed propsals following the questioning of the proposed Italian Commissioner Rosso Buttiglione. Now, the Prodi Commission will continue until mid-November when Barroso will present a new proposal. One important sign from these events is that the checks and balances of the EU system actually work. Another is the issue itself, where many European Parliamentarians seem unable to draw a line between private life and politics - typically mostly the socialists. I don′t agree with Buttiglione′s reactionary views in the private sphere more than they do, but that doesn′t mean that he is unfit as a Commissioner. It must be possible for people who have conservative Catholic views in private life to hold leading European positions. Just as it must be for Muslims in the future when Turkey and Bosnia are members.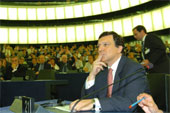 Follow the development via the EP web camera - >
2004-10-27 11:37:05
Systemskiftet pågår. Nu startar även försäkringsbolaget If ett livförsäkringsbolag i Sverige.
"Vi kommer att komma ut med barnförsäkring och en fullständig olycksfalls- och sjukprodukt under nästa år", säger If:s VD Torbjörn Magnusson till Dagens Industri.
Privata välfärdsförsäkringar tar över. Allt färre litar på att det offentliga ska leverera, allt fler köper privat. Enligt en opinionsmätning av AMF Pension för någon månad sedan tror endast en av tio att det offentliga kommer att hålla sina löften om pensionerna. Redan har över två miljoner svenskar privata pensionsförsäkringar. Likadant på fler områden; över 200 000 har privata sjukvårdsförsäkringar. En sådan kostar någon hundralapp i månaden och ger god vård i tid på en privat mottagning.
När det offentliga ska göra allt åt alla blir inget bra. Nu faller den stora staten successivt samman och fler tar ansvar för sin egen välfärd. Fler bolag kommer in och erbjuder sina produkter. I takt med att det offentliga försämras och fler köper privat snabbas utvecklingen på. I förlängningen kommer det offentliga att dras ned och fokusera på dem som inte själva kan betala. Flertalet kommer att betala själva och få de tjänster just de önskar: en ny samhällsmodell med både valfrihet och välfärd.



2004-10-27 11:29:41
Omvändelse under galgen för SR. På Aftonbladet kan man just nu rösta på vilken kandidat man anser bör vinna det amerikanska presidentvalet. När ca 13 000 har röstat leder John Kerry med 85,9 %. Självklart är detta i stor utsträckning orsakat av en fullständigt snedvriden, felaktig och spekulativ nyhetsrapportering av svenska medier - från vilka de flesta svenskar får bilden av världen. Bush har smutskastats på ett sätt som torde göra Kerrys kampanjmakare gröna av avund. Således var det inget nytt i sak att programledaren för Konflikt i P1, Cecilia Uddén, igår förklarade följande:
"Och jag tycker heller inte att svenska medier har något som helst krav på sig på opartiskhet när det gäller valet i USA. Vi har ju ingen anledning att vara opartiska och redovisa båda ståndpunkter på samma sätt som vi skulle göra i ett svenskt val."
De har aldrig haft ambitionen att göra annat än att kampanja för Kerry. Således skulle mycket få svenskar stödja Bush. Och många svenskar frågar sig förvånat hur det kan komma sig att minst hälften av amerikanerna kan tänka sig att göra det. Nu backar Sveriges Radio och säger att de ska bli opartiska. Under de sex dagar som återstår till valet får Cecilia Uddén inte bevaka valet. Sent ska syndaren vakna.

2004-10-26 22:04:12
The US and Europe - and Warnings about Kerry. When I spoke in Lund earlier tonight about the relation between the US and Europe, I gave an optimistic view of the future. No matter who wins the election, the American President will try to build better relations with Europe. The differences over the Iraq war will fade and economic realties will gain in importance. First and last, on both sides of the Atlantic, in peacetime, jobs and growth is what means most for voters and hence politicians. And despite the fact that Europe lags behind economically, the economic ties are strong. The US foreign direct investment, FDI, in Europe was 87 billion dollars in 2003 - an increase with 30 % since 2002. The US has ten times more assets in Holland alone than they do in China. And the EU does 75 % of all the FDI in America every year. So the ties over the Atlantic will be repaired. Some say that Kerry would have the best opportunities to do it; not least since he speaks French. Based on economic reasons again, I believe the opposite. John Kerry and John Edwards have proposed an economic program with a clear protectionist profile. They would subsidise American industry, re-negotiate every trade deal the US has signed and impose tariffs. That would harm global trade, make poor people poorer - and make relations with Europe worse.
Read my article that compares the two economic programs (in Swedish) - >
2004-10-26 21:56:02
ABB flyttar till Kina.Ännu ett exempel i den långa rad som bekräftar tesen i nyss nämnda kolumn kunde Dagens Industri berätta om idag. ABB avser de närmaste fyra åren investera drygt 700 miljoner kronor i nya anläggningar i Kina. De tänker anställa 5000 kineser, lika många som idag arbetar på ABB i Västerås.
"Helt klart flyttar vi en del produktion från Europa", säger Jürgen Dormann, ABB:s ordförande och koncernchef.
Åter bör framhållas att detta är en god utveckling; produktion sker där den görs bäst. Konsumenterna vinner. Och Kina behöver inte växa på vår bekostnad. Men om vi vägrar att skapa goda möjligheter för företag i vår del av världen väljer vi själva bort företag, jobb och välstånd.
2004-10-26 10:14:05
En ny värld kräver ett förändrat Sverige. En del säger att det inte är något nytt med globaliseringen, att den internationella konkurrensen inte är tuffare och att jobben inte flyttar. Alltså anser de inte att Sverige behöver förändras för att klara en ny tids utmaningar. De har totelt fel. I min kolumn i denna veckas Entreprenör visar jag varför:
"400 av världens 500 största företag har förlagt centrala funktioner till Kina. I de länder ? Kina, Indien och Ryssland ? som nu är öppna för konkurrens bor sammantaget 2,5 miljarder människor. I Nordamerika, Japan och EU bor 0,8 miljarder. Kostnaderna för produktion i dessa nya marknadsekonomier är mindre än hälften så höga. ... Vi kan även se stora förändringar i antalet anställda i svenskägda bolag med dotterbolag utomlands. 1987 hade de 750 000 anställda i Sverige och 480 000 utomlands. 2002 hade de 520 000 anställda i Sverige och 960 000 utomlands. Var tredje större företag har outsourcat verksamhet under senare år. ... Att i detta läge, som västeuropeiskt land, välja att inget göra har sina risker. ... Än värre vore dock att förändra, men i fel riktning. ... I en öppen värld måste Sverige bli en attraktiv plats. Vi måste locka företag, inte stöta bort dem."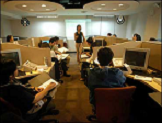 Ett av många snabbt framväxande call centers i Indien.
Läs kolumnen - >
2004-10-25 13:27:15
Så här följer du USA-valet bäst. I ett nytt Amerikabrev tipsar jag om hur man bäst följer USA-valet, dess frågor, bakgrunden och utfallet. Som Johan Norberg tydligt visar i Expressen idag är svenska medier ofta kraftigt vinklade och selektiva i riktning mot antiamerikanism i allmänhet och anti-Bush i synnerhet. Då behövs andra medier att följa.
Läs Amerikabrevet - >
2004-10-25 13:15:04
Prodi: "Lisbon is a failure". When the Lisbon Process was launched in 2000, the aim of its reforms was to close the GDP gap with the US by 2010. Now that we have come almost half way, the gap has grown larger. Outgoing President of the European Commission, Romano Prodi, now talks of missed objectives, failed promises and calls it all a failure. Which, of course, is nothing but the obvious truth. On November 5th, however, former Dutch PM Wim Kok will deliver his report on how to repair the failure. His report has already been sent to Financial Times, and they reveal parts of it today. Apparently, Mr Kok is also stating the facts of the failure. He blames it on a lack of political will. Now he presents new proposals, such as fast-track work permits, speeding up work to complete the single market and reshaping the EU budget. Indeed some well-meaning proposals. But why would the political will suddenly appear? And everyone knows that most of the reforms necessary in Europe - lower taxes, de-regulations, free enterprise in welfare services - have to be decided on the national level. Not to be a pessimist, but the hill upon which the road to serious reforms for growth goes is still steep.



2004-10-25 12:48:52
Svensken lyssnar framför allt på radio. Av alla medier vi konsumerar i Sverige lägger vi mest tid på att lyssna på radio. Hela 22 % av den totala tiden (över fem timmar om dygnet) vi konsumerar media står Sveriges Radio, SR, för. Tvåa är SVT1 med 8 %. Detta enligt Nordicom, ett informations- och forskningscentrum vid Göteborgs universitet. Internet står endast för 7 % - och det inkluderar även när alla de traditionella medierna konsumeras via Internet. Att den gamla radion än så länge leder över det nya Internet är intressant. Å andra sidan är radio ett medium väl anpassat för en modern tid eftersom det är lätt att kominera lyssanande med att göra annat. För den som vill nå ut och påverka är detta intressanta siffror.
Se hela fördelningen av mediekonsumtion här (PPT) - >
2004-10-24 23:37:09
Kyckling filé med pesto dressing och pinje nötter. Särskrivning är ett intressant språkligt fenomen. Rubriken är ett autentiskt exempel från Drottninggatan i Stockholm. På närliggande Dalagatan finns en Matt Handlare. Av stiltjen att döma kan rimligen inte alltför omfattande affärsverksamhet ha orsakat detta tillstånd. På mitt jobb sitter en Skum Släckare på väggen. Exakt vilken ljusskygg verksamhet den misstänks för är okänt för mig. Fler roliga exempel finns på skrivihop.nu. Särskrivningar är onekligen i tilltagande. Kan huvudorsaken vara det engelska språkets stora inflytande? På engelska är särskrivningar ju korrekt, till skillnad från på svenska. I så fall är det ett intressant tecken på den tilltagande globaliseringen. I en öppen värld behöver vi kunna kommunicera och i den fria konkurrensen har engelskan blivit alternativet; den globala marknadens lingua franca. Kanske engelskans tillväxt och vårt alltmer intensiva användande av detta språk även leder till en starkare influens på våra egna språk? Att särskrivningar då kommer snabbt i ett av världens mest globaliserade länder ter sig i så fall naturligt.
2004-10-24 23:26:24
Bush in a Narrow Lead. With nine days left until the American Presidential election, George W Bush is in the lead. In the latest polls, he leads by between one and six per cent. See all the lastet polls here. This election has been called a referendum on President Bush. He is a controversial leader with strong ideas that he pursues forcefully. John Kerry had at least 40-45 per cent of the votes just by not being Bush. But Kerry seems unable to reach out to enough of the rest of the voters. The momentum that was building after his good efforts in the debates was halted when Bush turned out very positive in the last one. And so far Kerry isn?t winning the issues; people still trust Bush on foreign policy and the economiy is going fairly well - by American standards, very well by European standards. Still, the election is decided in the dozen swing states, where both candidates are now campaigning relentlessly. And in the final campaign, Kerry will take help from Bill Clinton and Bush from Arnold Schwarzenegger.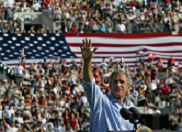 2004-10-23 17:19:00
Känd eller ökänd? Linda Skugge ägnar idag en kolumn i Expressen åt det hon kallar sitt storhetsvansinne. Bakgrunden är att hon vid en sökning på Google får upp 12 800 träffar på sitt namn. Ett skäl till att hon gläds är att hon därmed passerar andra skribenter som Maria Abrahamsson och Susanna Popova med råge - de kommer endast upp i ett par hundra träffar. Om nu antalet träffar på Google skulle vara måttet på inflytande i debatten kan man möjligen påpeka att Carl Bildt med 33 600 träffar tack och lov ligger före. Likaså Johan Norberg med 29 900, även om några förefaller tillhöra en idrottsman. Och varför inte gå utanför landets gränser? Margaret Thatcher kommer upp 239 000 gånger och Winston Churchill 742 000. Nu tror jag dock inte att detta är ett rättvist mått på inflytande, och det inte bara för att jag endast kommer upp 1 430 gånger. Det finns ju andra arenor för inflytande. Och viktigast: det är skillnad på känd och ökänd. Låt oss hoppas att de 825 000 träffarna på Stalin avskräcker mer än de lockar. Likaså de ytliga, elaka, fördomsfulla och nedlåtande texter som mestadels utgör de 12 800 träffarna på Skugge.
2004-10-22 15:07:20
The World is Getting Better, Part II. In the year 1900, the average person in America had to work 107 hours to be able to afford 100 KWh of electricity. In the yesr 1990, he or she only had to work 43 minutes for the same amount. In 1950, the work to afford 1 MIPS (Million Calculations Per Second) of computer power was 515 000 lifetimes. In 1990, it took about 14 hours. A sample of 12 food staples, enough for three meals, took 2 hours and 22 minutes of work to afford in 1970, but today it takes 1 hour and 45 minutes. This, and much more, is the effect of free competition. Technical and organisational improvements take place where companies compete for the customers. In the globalised world of today, the pace of this development increases. Goods and services are prouced where the best quality to the lowest prices can be achieved.
2004-10-21 15:25:07
The World is Getting Better - Thanks to the Free Economy. According to the International Monetary Fund, IMF, the economies of "emerging market and developing countries" will grow by 6,6 % this year. The countries in Sub-Saharan Africa will grow by 5,8 %. The figures are high indeed. The advanced economies will have a growth of about 2 %. Significantly lower, but a reasonable level. Thus, the entire world economy is growing - we don′t grow at each other′s expense, all can win. And the poorer countries grow the fastest. The reason? We have a more open and globalised world than ever. This benefits the poor countries the most. We can also see how market economic fundamentals such as fiscal discipline and de-regulated markets are established in poorer countries. The world gets better, thanks to a free economy.
2004-10-21 14:59:32
Staten klarar inte sina kärnuppgifter. Vansinneskörning i Gamla stan. Misshandel i Åkeshov. Mordet på Anna Lindh. Listan var lång och nu kom ett till tragiskt fall: mord på ett barn och en kvinna i Linköping. Ännu kan de exakta orsakerna till det sistnämnda inte beskrivas, eftersom ingen har dömts för dådet. Men det förefaller sannolikt att det, som de andra, har begåtts av en person med psykiska problem. Vilka fel som har begåtts i psykvården och vad som kan göras utreds av Anders Milton. Han har föreslagit 500 miljoner i extra tillskott till psykvården för nästa år. Uppenbart är att staten inte har klarat av en kärnuppgift: att skydda medborgarna mot våld. Psykiskt sjuka och farliga individer går fria. En ofta nämnd orsak är nedskärningar i landstingens verksamhet. Säkert är det så, dessa människor är fria för att landsting måste spara en miljon här och en miljon där. Detta sker i samma land som det offentliga spenderar ungefär 70 miljarder kronor om året på förtidspensioner och 50 miljarder på sjukskrivningar. När det offentliga åtar sig att göra väldigt mycket, att ta hand om människors liv på en rad olika sätt, blir det knappt resurser kvar för de allra viktigaste uppgifterna. Är det inte hög tid att inse att det offentliga åtagandet måste fokusera på det viktiga och släppa många andra uppgifter som istället kan lämnas över till frivilliga, privata, krafter?
2004-10-21 11:51:02
Liberal Debatt: "Optimistiskt och lovvärt". I det senaste numret av Liberal Debatt, som har tema välfärd, skriver avgående redaktör Karin Ekdahl-Wästberg om min bok i ledaren. Hon skriver att undertecknad "argumenterar livligt för att den stora statens fall är nära" och lyfter fram fakta från boken. Anslaget kallas "optimistiskt och lovvärt". "I en tid när de flesta politiker diskuterar om det är staten, landstinget eller kommunen som skall ha den politiska makten tycks få komma ihåg att bemyndiga individen", skriver hon.



2004-10-20 16:10:11
If You Lose the Jumping Contest - Throw the Yard Stick Away. When the EU:s Lisbon Agenda was invented in 2000, the proud aim of its reforms was to close the GDP gap with the US by 2010. By then, US GDP per person was about 50 % ahead, now it is farther ahead and the gap is still widening. Now, this is what European policy makers agreed on at a seminar in Brussels: "No more comparisons with the US." Thus, they seem unable to do the economic reforms in Europe necessary in order to increase growth and prosperity. So the comparison with the US gets ever more embarassing and they scrap it. If you don?t look, it doesnt?t exist. It is like losing a jumping contest largely and throwing away the stick that you do the measuring with as the solution. Where is the Europe where capitalism once started, where is the spirit that created the industrial society, where is the Europe of the single market?



2004-10-20 16:05:39
Södertankar på nätet. Nu finns ännu en intressant s k blogg att besöka. Pär Henriksson - god vän, liberal och skicklig skribent - lanserar "Södertankar på nätet". Den som är intresserad av politik och media lär finna mycket intressant där framöver.
Besök Pärs blogg - >
2004-10-20 11:54:46
The Land of the Free.
"I like the tax cut, because now I can afford a better education for my son."
This was said by a man in California who was interviewed on TV the other day about the American election and the Bush tax cuts. This would never ever have been said in Sweden. Here, people think that higher taxes is the only way to better education. The reason? Government has monopolised education - and lots of other services - and created a society where one is allowed to buy any car, hot dog or medicin one likes, but not education. Or health care, elderly care, child care, etc. Thus, now we even have a government monopoly on thinking about these services. Choosing and paying by yourself is not an option. In America, the natural thought is that with lower taxes, you can afford things you like, not least education. And that is a better way to go; you get to choose, less money is wasted in inefficient public monopolies, growth can increase and a variety of companies can compete for your consuming.
2004-10-19 14:21:18
Varför ska någon verka i Sverige? I dagens e-brev från Svenskt Näringsliv skriver undertecknad och Ebba Lindsö om vikten av att genomföra genomgripande förändringar i Sverige mot bakgrund av den internationella rörligheten:
"Förr var länder som öar. Vatten skilde dem åt, det var svårt att röra sig mellan dem. Nu har de flesta länder växt ihop till en enda kontinent. Människor och företag kan lätt röra sig från det ena landet till det andra. ... Den nya situationen ställer krav på att ett land måste skapa en miljö som lockar, inte stöter bort, företag och jobb. Var tredje större företag har flyttat ut verksamhet på senare år. 1987 hade svenskägda företag med dotterbolag utomlands 750 000 anställda i Sverige och 480 000 utomlands. 2002 hade de 520 000 anställda i Sverige och 960 000 utomlands. ... I början av 1990-talet fanns det 37 000 internationella företag med 175 000 dotterbolag. 2002 hade antalet ökat till 64 000 företag med 870 000 dotterbolag. ... Sverige har lyckats förr med att locka produktion. Naturligtvis kan vi lyckas igen. ... Lyckas vi inte med detta kan utvecklingen gå i helt fel riktning. Utflyttningen av jobb och företag kan accelerera. ... Den svenska biten av den globala kontinenten skulle bli alltmer tom och ogästvänlig."
Läs hela kommentaren - >
2004-10-19 14:08:28
Bush 52 %, Kerry 44 %. In the CNN/USA Today/Gallup Poll Tracker of likely voters, Bush is again in the lead. Kerry did very well in the TV Debates when it comes to the issues, but Bush is still clearly the most likeable person. Perhaps the strong general performance of Bush in the third debate has had an impact too.
Follow the Poll Tracker - >
2004-10-19 10:57:52
Högaktuell Hayek. I år är det 60 år sedan FA Hayeks bok "Vägen till träldom" först publicerades. Det är en av den moderna historiens mest inflytelserika böcker. Han visar framför allt hur nazism och kommunism står på samma grund av totalitarism och att planekonomin aldrig kan fungera utan leder till fattigdom och förtryck. Bokens betydelse för att avvärja planekonomi i väst på 1940- och 50-talen och för den marknadekonomiska renässansen på 1980-talet kan knappast överskattas. Att idag bara små sekter tror på socialism och att också socialdemokratiska partier står för marknadsekonomi är i mycket en följd av denna bok. Idag är den i sin analytiska skärpa och principiella klarhet en stark kritik mot den stora stat vi fortfarande dras med. Hayek ger den idémässiga grunden till dagens behov av förändring. Timbro ger nu ut "Vägen till träldom" igen och ägnar hela denna vecka åt Hayek, med seminarier och andra arrangemang.
Läs mer om Hayekveckan - >
2004-10-18 14:58:19
Rullstolen underlättar inte. Sverige är världens tredje mest konkurrenskraftiga land, enligt den senaste Global Competitiveness Report från World Economic Forum. En del som i vått och torrt försvarar vår samhällsmodell med stor stat säger då att höga skatter inte alls bromsar tillväxt. Men den som läser rapporten finner att mycket liten hänsyn tas till just faktorer som skattetryck och offentliga monopol. I den kategori där dessa finns med som en del hamnar Sverige på plats 17. Det är således inte tack vare höga skatter som vi har halvrimlig tillväxt utan trots dem. Precis som att en person i rullstol kan vara bra på tennis, men det är inte tack vare utan trots rullstolen. Om detta skriver jag i dagens e-brev från Svenskt Näringsliv, som har ca 5000 mottagare.
Läs kommentaren - >
2004-10-18 13:29:00
Nytt Amerikabrev: Jack Ryan vs Carl Hamilton. I ett nytt Amerikabrev gör Anders Ydstedt en intressant jämförelse mellan de två agenterna Jack Ryan och Carl Hamilton. Trots de liknande karaktärerna och omgivningarna har de helt olika bakgrund, vilket kanske säger en del om olika samhällen och ideal på de två sidorna av Atlanten:
"Hamilton är ?född med silversked i mun?. ... Det gäller inte bara att välja rätt vin, musik eller konst för varje sammanhang. Den livsviktiga kompetens som Hamilton fötts med är kunskapen om skillnaderna i svensk politik mellan vad som sägs och vad som verkligen gäller. ... Ryan kommer från tämligen små omständigheter, hans pappa var polis i Boston. Ryan har skaffat sig sin kompetens genom egna studier... I det svenska samhället hade Ryan varit tvungen att antingen födas in i rätt familj eller göra en omfattande och framgångsrik karriär i det politiska systemet för att överhuvudtaget kunna agera."
Läs Amerikabrevet - >
2004-10-18 10:53:02
Why the High Oil Price? The price of oil has risen by more than 70 per cent during ths past year. Despite the fact that the world economy today is less dependent on oil than it was in the 70s, many worry that this development will stop the global economic recovery. In this interesting paper, my friend Fredrik Hjelmqvist, CEO of Introvista, explains the causes of the rise in the oil price and predicts that it will decrease substantially in the coming months. The main cause of the rise, according to him, is political instability in many oil producing countries. Its the problems with Chavez in Venezuela, Yukos in Russia, rebellions in Nigeria and violence in Iraq. This cuts the supply of oil while the demand is stronger than it has been in a long time. He concludes, however, that most of the increases are not based on economic fundamentals and that the price level will fall again after the elections in the US and in Iraq.
Read the paper (in Swedish) - >
2004-10-16 13:32:05
Fem stormvindar som fäller den stora staten. Allt dyrare välfärdstjänster, allt färre som försörjer allt fler, ökande efterfrågan på välfärdstjänster, snabbt ökande press nedåt på skatterna och ett mer heterogent samhälle. Dessa fem stormvindar fäller den stora staten. I dess ställe kommer ett samhälle med mindre stat, lägre skatter och privat välfärd. Detta vet de flesta ledande politiker, men det är hög tid att diskutera det öppet. Skriver således om temat för min bok i en debattartikel som just distribuerades av Svenska Nyhetsbyrån.
Läs artikeln - >
2004-10-16 13:25:49
Selective Competitiveness Index. In this year?s Growth Competitiveness Report from the World Economic Forum, Sweden is again considered to be the third most competitive country in the world. Finland is number one, the US two, Taiwan four, Denmark five and Norway number six. It is always nice to hear positive remarks about your country, and this index does have its qualities. Unfortunately, it is sometimes regarded as proof that we don?t need to make any changes in our society in order to increase growth. Since we have very high taxes but still rank number three, the defenders of the system claim that high taxes don?t have any significant negative effects on the economy. The defenders of a highly regulated labour market and large public monopolies say the same. But this index simply doesn?t put any weight on these factors. That is obvious since the US, with its low taxes, and Sweden, with the very high taxes, are put next to each other. Instead, emphasis is put on the technological readiness, the state of the public insitutions, business competitiveness and the general macroeconomic environment. So what the index says is that Sweden is good at technology, has good public institutions and competitive business. In the last category, macroeconomic environment, Sweden is number 17. Thus, in the category where taxes, monopolies and regulations are taken into account, we score badly. It is a pity that the index doesn?t focus more on these issues since they are the essential ones for developed countries. And they are directly within the political responsibility and possibility to change.
2004-10-15 11:32:36
Liberal välfärd i framtiden - mindre stat, mer privat? Den 10 november kl. 1130 i Folkets Hus i Stockholm genomför Bertil Ohlin Institutet ett lunchseminarium med anlending av min bok. Undertecknad inleder och Johanna Elgenius, politisk redaktör på Västerbottens-Kuriren, och Lotta Edholm, biträdande borgarråd i Stockholm, kommenterar. Välkommen! Den som i fortsättningen vill få inbjudningar från Bertil Ohlin Institutet kan skicka ett mail till kansliet@ohlininstitutet.org.




Läs inbjudan - >
2004-10-15 11:29:36
Ohly - demokratins medlöpare? I onsdagens partiledardebatt vägrade Lars Ohly gå med på att utträda ur Svensk-Kubanska Föreningen. Dock påstod han att han långt om länge har insett att Kuba är en diktatur. Svensk-Kubanska Föreningens ordförande Martin Österlin kallar, enligt TT, detta bland annat "lögnaktigt förtal":
"Det är medlöperi att uttala sig så. Kuba har ett väl utvecklat demokratiskt samhällssystem. Det är inte förenligt med föreningens målsättning att kalla Kuba för en diktatur. Vi utgår från att han drar sina egna slutsatser."
Föreningen är tydlig om vad medlemskap innebär och vad de står för. Ohly vill ändå vara med. Är det så att hans ursäkter idag är tillfälligt prat och att han i sak inte alls, som han säger, har begripit bättre nu än förr?
2004-10-15 11:08:50
Two Weeks and 5000 Returning Visitors Later. Since its release two weeks ago, this web log has attracted some 5000 returning visitors. That is, according to surveys, comparable to the number of people who read editorials in the larger Swedish countryside dailies. It has also been quoted in several countries, other web logs and newspapers. Many people have sent comments and ideas - please continue to do so, feed-back is great! I will continue to create a content which provides new facts, analyses and arguments in order to match the demand.
2004-10-15 09:47:06
Reducing Poverty by Reducing Government. Many people are rightfully engaged in a discussion aboout poverty and how to reduce it. Unfortunately, most of these describe the causes of poverty totally wrong, which makes the propsed solutions counterproductive. The blame is often put on the free society, capitalism, and the solutions are often different kinds of more government interference. For example, the Kerry-Edwards economic program contains quite a few such proposals, such as raising the minimum wage. In this article, George Reisman of the Ludwig von Mises Institute, argues the opposite. He shows convincingly that big government is the cause, not the solution, to poverty. The minimum wage creates unemployment and higher consumer prices. He also shows how licensing and prounion legislation hampers productivity growth - the real source of wage increases - and forces people into jobs they did not choose and into government programs. This is one of the daily articles from the Mises Institute, which in my view is one of the very best daily e-mail newsletters one can subscribe to.
Read the article - >
2004-10-14 13:42:49
Liberal Debatt, den stora statens fall och välfärdens återkomst. Det senaste numret av tidskriften Liberal Debatt har som tema de utmaningar vår samhällsmodell står inför och de förändringar som är nödvändiga. Bland andra skriver namnkunniga experter som Gunnar Wetterberg, Lars Magnusson, Nils Karlson och Fredrik Bergström. Numret följer i stor utsträckning de frågeställningar som tas upp i min bok och här kan min inledning till detta nummer av Liberal Debatt läsas.
2004-10-14 09:51:40
Did Bush Win the Final Debate? I admit to being surprised; John Kerry has been a very good debater. After seeing him speak and debate in the primaries and the start of the campaign, it seemed likely that George W Bush would win the debates. But Kerry changed - he started to express himself in a clear, confident and strong way. In the first debate, it seemed as if Bush was surprised too; Kerry won that one. All in all, Kerry has given his best impression ever in these three debates. Bush, on the other hand, was unfocused in the first debate, tough and quick in the second - and did his best performance in the third debate yesterday. He was positive, commanded the facts and on the offense. The rise from the first debate is almost remarkable. Polls show an even match from yesterday, but perhaps Bush just by improving so much changed the game again. The days to come will tell.
See the debate - >
2004-10-13 10:18:48
Göran Persson 1 och Göran Persson 2. I den pågående partiledardebatten kritiserade statsminister Göran Persson skarpt moderatledaren Fredrik Reinfeldt för dennes förslag att sänka vissa ersättningsnivåer i socialförsäkringarna till 65 procent. Sådana förändringar innebär "ett större systemskifte än någonsin", ansåg statsministern. Men hur går det ihop med hans eget svar på en fråga i samma kammare för mindre än ett år sedan? Då uttryckte statsministern följande: "En basal finansiering från samhället, därutöver avtalsfinansierade tillägg och på toppen kan det finnas en individuell försäkring. Det är värt att pröva och utreda." Är det inte så att både statsministern och moderatledaren inser att verkligheten kräver stora förändringar, men att ibland politisk taktik och retorik tar över innehållet?
2004-10-13 10:01:34
European Union or OECD+? Yesterday, I participated in a panel debate at the annual summit of the Pan-European Movement. The debate became an interesting dicussion about several issues of great importance for Europe in the long run. I pointed out, among other things, that one positive aspect of the enlargement is that the least common denominator between the member countries gets smaller. That implies that the EU will have to focus more on its core mission: to tear down borders and increase freedom and mobility - not to build new social systems. I also argued that it is highly likely that the referendums in several countries about the proposed Constitution will create the two-speed Europe that has been dicussed for years. A Europe where some have the new Constituion and some in the periphery will use the Nice Treaty. In the panel the most renowned EU journalist in the country, Rolf Gustavsson of Svenska Dagbladet, also participated. His interpretation of Jacques Chirac lately is that he acknowledges that there will be a two-speed Europe and that he wants to build a core co-operation based on the Euro Zone. Mr Gustavsson also pointed out that one great problem today in the EU is the tendency to replace the rule of law with various political deals. One example is the handling of the stability pact, another that the German government continues to subsidise industry despite the fact that it is prohibited in the internal market. This, he concludes, creates a risk that the unique foundation of the EU as an international co-operation based on the rule of law falls apart and is replaced by a weak OECD+. That must not happen; the EU should focus on its core mission but that core must be based on the rule of law.
2004-10-12 12:27:57
TV4 and American Tax Cuts. In Sweden, media often have a tendency to report about America in a negative, selective or misleading way. That is also the case in most other parts of Old Europe. During election times, particularly much negative is written and said about Republicans - with whom European journalists share few personal opinions. This fact has been analysed and debated at Amerikabrev and recently in detail particularly often i The Stockholm Spectator. The tabloids are the worst in deviating from objective reporting, but other news media sometimes also have that tendency. Yesterday at TV4, reporter Bertil Karlefors made a story from a Republican part of California. The people there were portrayed as rich people that just want to get richer by having their taxes lowered by Bush. This was accompanied by claims that Bush only has lowered taxes for the very rich. Nothing was said about the fact that everyone now pay lower taxes. But if you decrease taxes with one per cent, the person that earns 1000 dollars will keep 10 and the person that earns 10 000 will keep 100. And if you only decrease taxes for people with low incomes, you get a more progressive tax-system. That is why it was done for everyone. Of course, neither was it mentioned that the lower capital taxes, according to a new study, lead to a boost in the stock market that increased investor wealth more than $ 2 trillion! Such wealth is a precondition for investments and new jobs. The TV4-story ended with words like: and so the sun sets in the America of rich and poor. That is misleading and spreads prejudices about America.
2004-10-11 17:20:05
Oberoende riksbank tack vare ekonomipristagarna. Finn E Kydland och Edward C Prescott får således Riksbankens pris i ekonomi till Alfred Nobels minne. Motiveringen är "deras bidrag till dynamisk makroekonomisk teori: den ekonomiska politikens tidskonsistens och konjunkturens drivkrafter". I stor utsträckning har deras forskning stärkt tesen att fasta institutioner och normer snarare än konjunkturpolitik, med olika tillfälliga stimulanser, bör vara grunden för den ekonomiska politiken. Ett skäl till detta är att politikerna helt enkelt inte kan förutse framtiden och veta hur, när, och i vilken form stimulanser skulle fungera. Dessa slutsatser har bland annat bidragit till att penningpolitiken numera i västvärlden styrs av fasta normer om prisstabilitet och sköts av oberoende centralbanker. Vikten av denna forskning är betydande; nu vilar samhällsekonomin i detta avseende på stabilare fundament.
Läs mer - >
2004-10-11 11:08:51
Howard Wins Again in Successful Australia. During the last two decades, Australia has become a star on the global economic sky. The success is the result of market-oriented reforms since the 1980?s. Now Prime Minister John Howard just won a fourth term in office. Read more about the election and its implications here. This election result shows clearly that the Australian people likes the reforms. That may not be surprising; high growth creates ever better living standards and more jobs. One sign of the economic success can be seen at migrationexpert.com where the Australian government seeks more people. 200 000 work visas have been made avaliable until 2006. In fact, the reforms are working so well and are so popular that the entire political landscape has changed. There are hardly any forces that want to stop change or bring the old times back. The main parties are competing about who wants more reforms. This is a contrast to Europe, where politicians are afraid of even the most necessary reforms. But Australia shows that reforms work, and that the politicians who have courage to act for change are rewarded in due time.
2004-10-11 09:51:00
The Strengths of the Bush Economic Record. Currently, the polls show quite even figures before the US election. That implies that the third and final debate on Wednesday in Arizona State University between Bush and Kerry will be important. The topic will be domestic issues, and thus mainly economic issues. All this year there has been quite a lot of discussion about jobs and economy, and the record of President Bush has been scrutinised. Indeed, he has been President during a recession which got worse following September 11th. Unfortunately, the discussion has so far not so much concerned whose economic ideas are the best for the future. In my view, that is the most important reason to vote for Bush. Now, the Heritage Foundation has produced an analysis showing that the economic record of Bush so far, even during these tough times, has been rather good. They find that output is booming, the manufacturing outlook is positive, business confidence is high, and productivity continues to set records. Even such canards as income inequality, tax burden, health coverage, worker discouragement show grounds for optimism.
Read the analysis here - >
2004-10-08 16:08:54
Praise from Norberg. My good friend, and indeed globally respected analyst and writer, Johan Norberg, comments my new book. He calls it "an important work" that he likes and recommends: "Important reading for those of us who want to change the system. Necessary reading for those who want to conserve it. They will see what they are up against." Also, don?t miss Johan?s blog, which is the best one in the country.
2004-10-08 13:25:22
Old Europe - New System. We live longer, which is a great success for humanity. But the government′s systems for health care, elderly care and pensions are constructed for another reality. When the pension age of 65 was introduced in Sweden, life expectancy was 55. Now, the real pension age is 58 and we live, on average, for 80 years. This development is a fact in many countries, particularly in western Europe. In Italy, for example, the working-age population will fall from today′s 39 million to 22 million in 2050. The Economist recently published an article that claimed that Germany will have to have an immigration of 3,6 million people every year until 2050 - just to keep today′s ratio between the working and the supported. That is 180 million immigrants! In Spain, pensions will account for 80 per cent of the public expenditure by 2030 if the systems are kept unchanged. These things portray an unsustainable system. The demographic development is a promise of a longer and healthier life. But big government makes it a problem. We have to change our view about what working age is, limit government size and increase private responsibility. That is the only way to make the promise come real.
2004-10-08 10:11:56
Ohly - skamlöst intellektuellt haveri. Vänsterpartiets ledare Lars Ohly har en gång anklagat undertecknad för att argumentera "oförskämt och lögnaktigt". För det påståendet fanns ingen grund, vilket förvånar eftersom han tycks vara ledande expert på området. SVT:s Uppdrag granskning har gjort ett gediget journalistiskt arbete med programmen om Vänsterpartiet. De har inte bara visat hur de ledande vänsterpartisterna är ideologiska anhängare av den totalitära kommunismen. Bortom allt tvivel har de också belagt att flera, särskilt Lars Ohly, var starka anhängare av de totalitära kommunistländer som fanns. Själv var Ohly olycklig när Berlinmuren föll. Därtill hade de nära samarbete och utbyte med dessa förtryckande regimer. Ofta har vänsterpartister försökt påstå att kommunismen är bra, men de länder som har försökt införa den har missförstått. Men de gillade ju länderna också! Bortförklaringarna av deras kramande av förtryck som idé, förtryck i praktik och förtryckare själva är nu patetiska:

"Ingen i vänsterpartiet har Lenin som förebild."
Lars Ohly, 27/12 1998 i Dagens Nyheter

"Jag står för en modern leninism baserad på klasskamp."
Lars Ohly, våren 1999. Intervju i engelska tidskriften Renewal

Oförskämt och lögnaktigt. I Sverige har de bara några procents stöd, så de kan inte genomföra allt de skulle önska. Friheten skyddas därtill av en grundlag. Men det är naturligtvis en skam att Lars Ohly sitter bredvid finansministern och presenterar budgetpropostionen. Den här mannen är en av dem som styr våra liv. En som uppskattar planekonomi och kollektivism. Finns det något spår av rimlighet i det? Är det värdigt ett demokratiskt land?
Läs SVT:s citatsamling - >
2004-10-07 14:57:42
På DN Debatt: Ännu ett belägg för att den stora staten faller. Ordförandena Ilmar Reepalu i Kommunförbundet och Lars Isaksson i Landstingsförbundet skriver på DN Debatt idag om att vi i framtiden måste ta mer ansvar för oss själva som äldre:
"Äldreomsorgen står för ungefär 20 procent av kommunernas totala kostnader. När 40-talisternas vårdbehov blir stora om cirka 20 år, sammanfaller det med att 60-talisterna går i pension. Det innebär inte bara stora ekonomiska påfrestningar, utan även svårigheter att rekrytera personal. Vi menar därför att fokus i äldrediskussionen behöver förskjutas. ... Syftet är att underlätta för medborgarna att leva ett självständigt liv, oavsett ålder. Stöd i form av hemtjänst, hemsjukvård och särskilda boenden blir då ett komplement. ... Om kommuner och landsting har ansvar för samhällsplanering samt vård och omsorg, måste vi vänja oss vid att den enskilde - även den som är äldre - har ansvaret att planera för sitt eget liv."
De offentliga monopolen kan inte leverera, skatterna räcker inte trots att de är mycket höga. Alltså kommer den offentliga sfären att minskas och privata lösningar släppas fram. Detta ytterligare belägg för tesen i min bok kom lämpligt dagen efter dess presentation.
2004-10-07 11:56:34
Successful Presentation. Yesterday evening, my book "Sagan om välfärdens återkomst" was presented at a seminar. Maud Olofsson, leader of the Centre Party, and Stig-Björn Ljunggren, Social Democrat, commented. Some 70 people came to the seminar, and the debate got quite lively - and continued during drinks afterwards. Maud Olofsson said that "the book contains many good things" but thought that I was too critical to politicians - at least from her party. Stig-Björn Ljunggren personally had many positive things to say about the book. Thus, he had to assume the role of Bosse Greider (a combination of the Finance Minister and a socialist newspaper editor) in order to fulfil his task as opponent and he presented a number of critical arguments. Here, you can read my introduction. The book can be bought in any bookstore in Sweden and can be ordered here.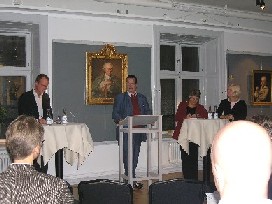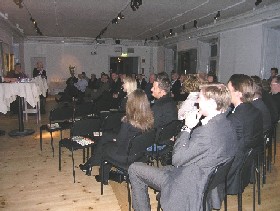 2004-10-07 11:04:29
Welcome, Turkey! The European Commission recommends the EU to start accession talks with Turkey. The decision will be taken at a European Summit in mid-December. The recommendation is based on a report which analysed the current situation in Turkey with regards mainly to human rights, democracy and the rule of law. Here you can read a summary which also links to the report. The recommendation is, however, a "yes, but...". It emphasises that the outcome of the talks isn?t necessary EU membership, just that it is the aim. Some people also say that 10 years of negotiations is a minimum and that it could well take 20 years. This recommendation is thus a compromise; it is a reluctant "yes". That is unfortunate and means that we who strongly want Turkey in the EU must continue to argue our case. But the direction is clear: Welcome Turkey!
2004-10-06 13:22:17
A Good Start. One week ago, I introduced this web log. Since then, there have been 3800 visits. At least 2900 visitors have come one or several times. I have also received many positive comments from friends, politicians, journalists and colleagues. I will try to match those high expectations in the future!
2004-10-06 13:05:17
Första lansering över landet. Liberala Nyhetsbyrån distribuerar idag en debattartikel av undertecknad till ett 30-tal landsortstidningar med anledning av min nya bok, som presenteras idag.
Läs artikeln - >
2004-10-06 10:05:00
Nytt Amerikabrev: Fortfarande den skinande staden på kullen. Olaf Gersemann, författare till "Cowboy Capitalism - European Myths, American Reality" (Cato Institute 2004) inleder ett nytt Amerikabrev: Det är Europa, dumbom. Världsdelen har blivit "den nya staden på kullen". Det är i alla fall vad Jeremy Rifkin, en av de mest ökända kritikerna av amerikansk kapitalism, hävdar i sin senaste bok. När det gäller livskvalitet har Europa passerat Amerika, menar Rifkin. Som en europé som har bott i USA i fem år fick det mig att brista ut i skratt. Jag satte dock skrattet i halsen när jag kom på att Herr Rifkin faktiskt kan bli trodd, inte bara i Europa utan även i USA. Det är ju uppenbart att det är Europas ekonomier som behöver bli mer amerikanska, inte USAs ekonomi som behöver "europeiseras".

Läs Amerikabrevet - >
2004-10-05 15:20:15
Det låter lika dumt som det är. I en TT-artikel utvecklar nu statsminister Persson skälen till att kärnkraften ska avvecklas, med anledning av beslutet om rivande av Barsebäck 2. Många andra kommentatorer har visar varför detta beslut i sak är dåligt, men statsministern intar en särställning i att visa hur dåliga skälen faktiskt är:

"Alla i Sverige måste inse att kärnkraftens tid är utmätt. Det är farligt att tro att den är evig till sin karaktär", säger han.

Alla måste inse? Vad händer annars? Jag inser inte det utan vill tvärtom tillåta byggande av ny kärnkraft. Sedan tror sannolikt ingen att nuvarande kärnkraft är evig, men det är bättre att utveckla den vidare än att avveckla den.

"Industrin ska inte oroa sig för höjda elpriser. De ska se till att de har energisnåla processer", fortsätter han.

Men om de inte har energisnåla processer? Vi har en elintensiv industri som betyder mycket för jobb och tillväxt i Sverige. Vidare är det ett faktum att energi inte är ändligt utan oändligt - frågan är bara hur vi får fram den. Att spara energi och stänga energikällor i onödan är bara destruktivt.

Efter påståendet om att industrin ska vara energisnål besvarar dock statsministern frågan om huruvida de kan räkna med att få högre energipriser med ett klart nej. Varför ska de då tänka på att vara energisnåla?

"Vi har redan stängt Barsebäck 1 och att låta det andra verket fortsätta att gå vore konstigt", framhåller Persson i slutet av TT-artikeln.

Ett felaktigt beslut ledde således till ett annat. Har man gjort fel från början är det lika bra att fortsätta. Logiskt, men definitivt ingen god politik. Sveriges företag, jobb och välfärd behöver energi. Och varför energi från utländsk kärnkraft per import skulle vara bättre än svensk kärnkraft ter sig minst sagt oklart.
2004-10-05 09:33:12
No cometan el error de Suecia! I was invited by market-oriented think tank Fundacion Libertad in Panama to write an op-ed article in one of their largest dailies, El Panama America. I chose to write an article with the headline "Don?t Make the Swedish Mistake!". In it, I describe the fantastic Swedish economic development between 1890 and 1950. Entrepreneurs, free trade and low taxes created the highest economic growth in the world. After that, however, growth has declined. Few people work, many people are dependent on government contributions. Welfare services are deteriorating. The main cause is the model of big government itself. If any country wishes to learn from the Swedish example, they should look before 1950, and not after.
Read the article (in Spanish) ->
2004-10-05 09:04:05
Debate Between the Candidates for Vice President. Tonight Vice President Dick Cheney and Democratic Nominee for Vice President John Edwards will debate on TV. Since the opinion polls now show more even figures following the last debate, it will be important. Dick Cheney said at a campaign rally, according to Financial Times, about Senator Edwards that: "It is alleged that he got his job because he′s charming, sexy, good-looking and has great hair. ... How do you think I got the job?". Thus Cheney stresses that his own competence for the job is heavy enough to outweigh his deficits in those fields. Senator Edwards is reported to have said last week that "Iraq is in a mess because of two men - George Bush and Dick Cheney." Allow me in all modesty to propose adding a third name that all might agree should top the list: Saddam Hussein.
2004-10-04 17:17:03
Moderaterna och AMS. Med en debattartikel i dagens DN fortsätter Moderaterna sin strategiska ompositionering. Nu släpper de kravet på att avskaffa AMS. Möjligen är det valtaktiskt riktigt att inte föreslå stora förändringar, men i sak - och därmed i förlängningen för hela samhällsdebatten och landets framtid - är det olämpligt. I den senaste statsbudgeten omfattar arbetsmarknadspolitiken cirka 70 miljarder kronor. Detta motsvarar runt 20 000 kronor i skatt per arbetande svensk och år. Olika utvärderingar visar att de åtgärder AMS ägnar sig åt ofta misslyckas. Samtidigt är det förstås korrekt som Moderaterna skriver att aktivitet är bättre än passivt bidragsberoende. Men varför ska det offentliga stå för aktiviteten? När viss avreglering på detta område skedde på 1990-talet växte en stor sektor av bemanningsföretag fram. Fritt företagande är bättre på att skapa aktivitet än myndigheter och verk. Politiken bör främst ta bort hindren för detta.
2004-10-04 14:18:25
Capitalism Takes Us to Space. The first private space ship, SpaceShipOne, went into space for the first time on June the 21st. The second trip took place on September the 29th and the next will take place today. Its designer, the private entrepreneur Burt Rutan, has every reason to be pleased so far. Now, multi-millionaire entrepreneur Richard Branson is inspired and talks about his Virgin corporation offering space trips in the future. The price for a trip into space will be between $ 100 000 and 200 000. Quite a lot of money, one might think, but still an enormous improvement. The current cheapest trip is with the Russian government′s Soyuz, and the price tag is $ 20 million. This is a great example of private enterprise and free competition versus government monopolies. In free competition, creativity is released, quality improved and prices reduced. The most recent frightening example of government in space is the International Space Station. Its price was first estimated to be $ 8 billion, but now most think it will end at $ 100 billion. Clearly not only earth but also space needs more capitalism.
Read more ->
2004-10-04 10:11:41
Read This, UNDP and Newsweek! Sweden is sometimes regarded as one of the best countries in the world when it comes to living standards and prosperity. True, Sweden is a good country in many ways and has improved its macro-economic framework during the last 15 years or so. Unfortunately, the rosiest pictures seem more like wishful thinking when one regards statistics. Here are some facts, compiled by my colleague Fredrik Segerfeldt: Since ten years, the number of companies decreases with, on average, 10 a day. None of Sweden′s 50 largest companies was started after 1970. Of a population of 9 million, only just above 3 million go to work on an average working-day. The Government Social Insurance Office supports 26 per cent of the population. Sweden has lost 100 000 jobs in the industry in three years; if that continues, Swedish industry will have zero employees in the year 2033. In 1999, Sweden was no 4 in the international investment league, in 2002 it had fallen to no 27.
2004-10-03 15:37:31
P1: Godmorgon, världen! Dagens panel, bestående av PJ Anders Linder, Barbro Hedvall och Per Wirtén diskuterade bl a min bok som presenteras i veckan. De föreföll relativt överens om att inte dela min optimistiska bild av att verkligheten fäller den stora staten. Bland annat framfördes argumentet att detta har sagts förut men ännu inte hänt. Förvisso är det sant att den stora staten har svajat ett längre tag. Men min poäng är att ett antal faktorer har tillkommit på senare tid som kommer att leda till stora förändringar. I boken sammanställs fakta om dessa faktorer; om de allt dyrare tjänsterna, det mer heterogena samhället, den internationella konkurrensen och demografin.
Lyssna på programmet här ->
2004-10-03 15:34:34
I Värnpliktsnytt. Tidningen Värnpliktsnytt har reportage om framtidens arbetsmarknad i senaste numret, med bl a intervju av undertecknad.
Läs artikeln ->
2004-10-01 17:29:24
Socialist Austria. Now I have learned more about the imfamous socialist aspects of the Austrian society. Currently attending a conference about housing policy in Vienna, it seems to me that this sector is in even worse shape here than in Sweden. Privately owned homes account for only 8 % of total housing in Vienna. One reason is that non-profit housing companies are heavily subsidized by not having to pay any corporate taxes - in contrast to ordinary companies. The non-profit companies are also forced by law to be members of one single, mighty, association. That is textbook corporatism. Incidentally, this association has started newspeak, they talk about "limited profit" instead of "non-pofit", since they want to give the impression that they make profits despite the fact that they don?t. This association, GBV, with some 100 employees, is a heavy lobbyist to keep its privileges and subsidies; a vicious circle. The largest municipal housing company possesses 220 000 homes of the total 900 000 in Vienna. They choose who is going to live where and how much they shall pay - not demand and supply. And by the way, non-european immigrants are not allowed to join the line waiting for a home. These facts might contribute to the explanation of why Governor Schwarzenegger left for the US.
2004-10-01 13:47:09
Who Won? Two very diffeerent personalities debated yesterday before the US presidential election. It was a quite even match; while Bush beat Gore clearly in the debates in 2000, this was more even. Kerry is a more skilled debater than Gore. In terms of facts and figures, John Kerry would emerge as the winner from yesterday. But he seems older and more tired as a person than George W Bush, who is quick, plain-speaking and witty. And Bush is very good at repeating his main message and to show his passion for certain issues. If voters are asked what they remember from the debate, most would pobably still feel that Bush is a stronger and more determined leader. That was the most important impression for Kerry to change, and he did probably not achieve that aim despite a good effort. The problem is not his skills at debating, the problem is his changing positions on the issues. If this was Kerry?s last chance to get into the game, he might have failed. But one month and two debates are still left. Much can still happen.
2004-10-01 13:42:47
Regeringen förvaltar - medborgarna vill ha förändring. Hela 75 procent av medborgarna anser att regering och riksdag inte gör tillräckligt för att förbättra företagsklimatet. 64 procent av medborgarna anser att politiken generellt bör inriktas mot att skapa tillväxt. 26 procent anser att den istället bör fokusera omfördelning. Detta enligt en opinionsmätning genomförd av Sifo i början av september, beställd av Svenskt Näringsliv. Idag skickar LNB ut en kort debattartikel till ett 30-tal landsortstidningar om detta, av undertecknad. Siffrorna är särskilt intressanta mot bakgrund av att regeringsförklaringen och budgetpropositionen mest inriktades mot fördelning och saknade viktiga förbättringar för företagande.
Läs artikeln ->