Thursday 30/03/2023, 13:27:20
07/11/2006 12:55:18 pm
In Trend: ?védsky sociálny model má antisociálne efekty. This week, the main topic - in several articles - in the Slovakian version of The Economist, Trend, is the so-called social model, the Nordic countries and Sweden. It features an extensive interview with me. Read the first article here and the interview with me here.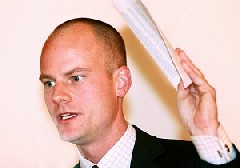 <-- Home