Thursday 2022-08-11, 12:46:25
2007-07-13 20:07:37
Sky Dive. I had to leave the panel at a seminar in Visby - about globalisation and jobs - a minute before it ended. The reason was that I had agreed to meet my wife at precisely 14.30. I had no idea what was going on. It was, however, the realisation of a gift she had given me for my 30th birthday, almost three years ago. Yes, we were going for a parachute jump directly above Visby.

A sunny day with clear air. We went up in a small plane and jumped in a tandem jump - she jumped too, with another instructor - from 3200 metres. Free fall in 200 km/h for 30 seconds, then flying in parachute for a few minutes.

A fantastic thing to do! Really an experience to remember. Quite amazing. Visit Sky Dive Gotland if you want to do it too. Or if you want to give a great gift to a friend.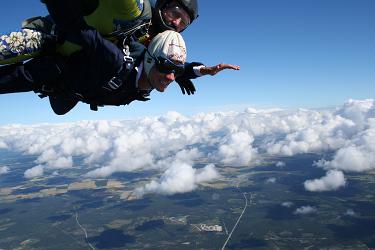 <-- Home