Thursday 30/03/2023, 17:13:22
11/12/2005 3:17:21 pm
Born Free. The reason why there has been a slight reduction in blog posts - among other things - in recent days is that our daughter has now been born. She is the coolest girl I have ever seen; calm, curious and beautiful. We are probably the happiest family anywhere. This is fantastic indeed. My main focus will remain here - with this number one assignment - for quite some time, of course.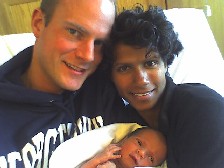 Me, Rebecka and Linda
<-- Home