2007-05-31 15:09:30
Cracks in the Case for Climate Hysteria. An increasing number of scientists are arguing against the current hysteria of the coming doomsday following climate warming. In this article, mathematician David Evans shows in a simple way how new facts have changed the case.
2007-05-31 14:57:43
Socialistbal. Kommunal hade tydligen en lång debatt på sin kongress om huruvida man ska fortsätta verka för ett socialistiskt samhälle eller ej - enligt LO-Tidningen. En majoritet beslutade att det ska man fortsätta med.

När jag igår kväll cyklade hemåt från mitt sista möte för dagen passerade jag Stockholms Stadshus. Ett antal kvinnor i vackra aftonklänningar var på väg in, sannolikt för någon tillställning av det pampigare slaget.

Ögonblicket efter såg jag skylten "Kommunal" utanför. Förvisso inget underligt om deras förtroendevalda går på bal, bara trevligt för dem. Men det måste vara en kontrast till beslutet tidigare under dagen.

På dagen socialist, på kvällen kapitalist?
2007-05-30 15:20:03
Second House of Sweden. Today, the Embassy of Sweden in the virtual world was inaugurated. An interesting idea and clever PR stunt. Read more here and access the virtual Embassy here.
2007-05-30 11:21:18
In Rome. I received a number of pictures from the NCPA conference in Rome, not least from the beautiful Villa Borghese and its art. Here is a slightly funny-looking one of me during my lecture.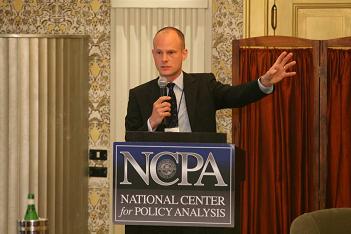 2007-05-29 07:29:18
SAS. Idag har således strejken på SAS upphört, ett ämne jag debatterade på Nyhetsmorgon på TV4 med Rebecca Bohlin, chefredaktör på Arbetaren. SAS har förlorat cirka 100 miljoner kronor hittills - den framtida skadan på varumärket är okänd.

Kabinpersonalens medianlön är över 30 000 kr och veckoarbetstiden cirka 28 timmar, enligt fackets egna uppgifter. Långa flygpass varvas med flera dygns paus på olika resmål. Är dessa villkor så usla att en strejk som kan föra SAS till konkurs var nödvändig?

Rebecca Bohlins minst välgrundade påstående kom på slutet och jag fick inte möjlighet att kommentera det. Hon påstod att detta var en del i en viktig strukturomvandling, utan vilken vi ännu hade "spänt hästen för plogen". Men det är ju konkurrens som driver omvandling, inte orimliga fackliga krav som gör det svårare att klara konkurrensen.

Härom dagen uppmärksammades en facklig demonstration utanför Näringslivets Hus, där förhandlingarna pågick. Stödet för facket framstod som stort. I demonstrationen deltog 35 personer. Det totala antalet i SAS kabinpersonal är 1178. Rätt många i personalen förefaller anse att fackets strid med SAS inte var berättigad.

I grunden visar detta en arbetsmarknad med problem, där fackets makt är orimlig. Slutligen är spelreglerna på arbetsmarknaden en politisk fråga. Ska det fortsätta så här eller ska liberaliseringar ske, som främjar sysselsättning och företagande?
2007-05-29 05:28:58
Change. Your Perspectives. On Monday, I will be a keynote speaker at an event in Amsterdam called "Change. Your Perspectives", arranged by Delta Lloyd Group and SEO Economic Research. About 250 business leaders will be present and the topic is the effects of globalisation and the need for reforms in Europe. Another keynote speaker is Thomas Friedman, author of "The World Is Flat". I have an opponent for my speech; Maxime Verhagen, Foreign Minister of the Netherlands. Will be very interesting.





Read more here - >
2007-05-28 09:54:20
In Daily Telegraph: "How Choice Has Transformed Education In Sweden." I was asked to contribute an op-ed to an education special for The Daily Telegraph, about the Swedish system of school choice and its effects. Can be read here.
2007-05-25 11:35:05
Working Hours. Somewhat ironically, I discussed working hours on TV4 this morning. My last meeting yesterday started at 2100. After morning TV today, I hosted a group of rising stars called "Forum 21" of Japanese business, then a meeting - and now off for a lunch meeting and then another one. After that, hopefully some quick writing. Quite intense, but I happen to like that. At times, it is also compensated with more flexibility. People might have different preferences about their working conditions, which is fine. But if one would find the conditions too demanding in one workplace, surely sometimes it might be easier to change job than to change the workplace?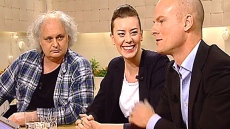 2007-05-25 10:57:18
"Mama mia!" Vissa åhörare från debatten på Sveavägen 68 har synpunkter...
2007-05-24 11:09:45
Debatt i det socialdemokratiska partihögkvarteret. Igår deltog jag som talare och debattör i regi av Friedrich Eberet Stiftung på Sveavägen 68. Ämnet var reformer och lärdomar från Europa, Norden och Sverige. Åhörare var huvudsakligen socialdemokrater från olika delar av Europa, främst Tyskland.

En delvis surrealistisk upplevlese, men trevligt och intressant. En kanske inte helt frälst publik, men många gav positiv feed-back efteråt. Aftonbladets Jesper Bengtsson kritiserade mina många siffror, dock utan att ge belägg för att någon av dem skulle vara felaktig.

Den "opolitiska" Maud Schori från Stockholms Universitet förklarade att den enda sociala utmaningen för Europa var att minska inkomstskillnaderna. Högst normativt, naturligtvis, men också komplicerat. Mer utjämning kan bromsa tillväxten och därmed försämra för dem med lägst inkomster.

Alltid bra att möta andras perspektiv och utbyta argument.
2007-05-24 09:42:41
In Newsmax: Sweden′s Conservative Revolution. The American news agency Newsmax today publishes an article about Sweden and the reforms by the new Government. I am interviewed.

Read the article here - >
2007-05-23 14:07:57
Den borgerliga regeringens fransmän. Idag gör riksdagsledamoten Tobias Krantz (fp) ett utspel på DN Debatt som skulle kunna betecknas "Ullenhag II". På grund av låga opinionssiffror och behov av att flytta fokus från inre problem skjuter Folkpartiet mot Alliansen och vill rulla tillbaka reformer.

Nu vill Folkpartiet lämna överenskommelsen i Bankeryd och höja taken i sjukförsäkringen. Förvisso underligt att just den överenskommelse som beskrevs som en framgång för just Folkpartiet ska frångås. Hur många andra överenskommelser inom Alliansen ska nu omförhandlas?

I sak är detta varken liberalt eller vettigt rent objektivt. Att höja offentliga ersättningar till höginkomsttagare kan inte vara en prioriterad offentlig uppgift. Att tvinga alla till höga skatter och höga ersättningar och bidrag ökar inte friheten. I en värld där behovet av sänkt skatt på arbete blir allt viktigare bör snarare ersättningarna sänkas ytterligare.

De som har höga inkomster kan själva välja privata komplement till de låga offentliga nivåerna. Att premierna skulle skilja sig åt kraftigt är i hög grad en myt. Även privata försäkringar kan komma att omfatta grupper, som utjämnar risker.

Dumt och destruktivt, helt enkelt. Att inte längre vara medlem i Folkpartiet var ett av mina bättre beslut hittills i år.
2007-05-23 13:41:22
European Weakness. Senior officials at the European Court of Justice today announced their recommendation for a verdict on the case of free mobility versus trade union power. They say that the free mobility of labour in the single market is not automatically a principle that overrides claims by trade unions concerning, for example, collective bargaining.

On the one hand, it might be seen as a great weakness that the EU seems to be unable to defend one of its core principles. On the other hand, they do emphasise the need for proportionality on the actions by trade unions. And - most importantly - this makes these issues all national. It is up to national politicians to set the rules for the labour market and for trade unions.

The latter point means that trade unions cannot claim that the EU has taken any power from them. It also means that there will be institutional competition in labour markets between EU countries. And the most successful countries will be those that defend a free labour market and free mobility.

Read more in the FT - >
2007-05-22 16:24:44
Continued Economic Boom In the East. The European Bank for Reconstruction and Development, EBRD, regularly publishes a Transition Report of the economic situation in the countries of Eastern Europe, former Soviet Union and the Balkans. They just published a new one in May, which is interesting reading. Growth rates are double-digit in a number of countries. For some, the oil exports are naturally important. The high growth rates in other countries are more due to free-market reforms, like Estonia and Latvia. But there are also countries where reforms appear to have stalled, like Croatia, and in comparison with some of the others, so have growth rates.

Read the EBRD Transition Report here - >
2007-05-22 08:55:08
Fler privata sjukvårdsförsäkringar - utmärkt. Igår hade SVT:s Aktuellt ett längre reportage om att antalet privata sjukvårdsförsäkringar ökar. Detta åtföljdes av en debatt mellan Ylva Johansson (s) och Göran Hägglund (kd).

I reportaget påstods att antalet försäkrade nu är en kvarts miljon. Jag påpekade för cirka tre år sedan i "Sagan om välfärdens återkomst" att antalet redan då var över 200 000. Med all sannolikhet är Aktuellts siffra tilltagen i underkant.

Man kan förvisso beklaga att allt fler anser sig tvingade att betala två gånger. Först en gång till det offentliga som inte fungerar, sedan en gång till, privat. Men i grunden är utvecklingen både naturlig och positiv.

Offentliga monopol - som sjukvården i hög grad ännu är - har alltid svårt att möta efterfrågan. Då uppstår köer. Vi har valt en typ av organisation för något så viktigt som sjukvård som vi vet inte fungerar.

Ingen står idag i kö för att få en ny mobiltelefon. Men vi accepterar att stå i kö för vård. Detta är i grunden mycket märkligt och hur detta kan försvaras av t ex Ylva Johansson är obegripligt.

Utöver de grundläggande problemen med monopol ökar efterfrågan på sjukvård, både för att fler blir äldre och för att vi vill ha bättre vård i takt med ökad inkomst. Detta kan offentliga monopol än mindre tillgodose och gapet mellan utbud och efterfrågan ökar.

Då är det naturligt att människor väljer en annan väg, i form av privata alternativ. Att dessa växer fram ökar valfriheten, kortar köerna och skapar välbehövlig konkurrens inom sjukvården.

Tal om att detta bara är för de rika är huvudsakligen strunt. Men så länge man måste betala två gånger finns ett korn av sanning. Ska privat sjukvård bli tillgänglig för alla bör man få dra av kostnaden för privata försäkringar på skatten. Då får alla råd.

Läs mer och se reportaget här - >
2007-05-21 13:29:18
Índice de Libertad Económica 2007. The 2007 Index of Economic Freedom (Heritage/Wall Street Journal) is now avaliable in Spanish. Yes, all 408 pages. The title of my chapter is "La necesidad urgente de libertad laboral en Europa y en el mundo". Always funny to see your own words in a language you can′t speak yourself.

Read the Index of Economic Freedom in Spanish here - >
2007-05-18 11:21:47
Furillen! Somewhat late, I just visited a new attraction in my home island, Gotland. That is Furillen, an old limestone factory turned into a restaurant, hotel, art gallery and conference center. A totally amazing makover, I can assure you, and a symbol of the change from manufacturing industry to services society. Quality and design in this rough place. Very much worth a visit.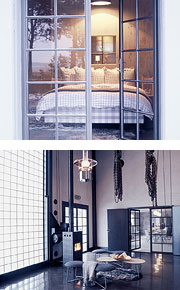 Read more - >
2007-05-18 11:14:54
Veckans Debatt Axess. Nu finns det avsnitt av Veckans Debatt på Axess TV som jag medverkade i på nätet. En livlig debatt, som alltid med Lennart Pehrsson som programledare. Särskilt under den andra halvan av debatten - kanske på nätet - blir det tydligt att de som ser faror med konsumtion står och väger mellan att föreslå planekonomi och att inte ha lösningar. I vilket fall är farhågorna ogrundade; såväl frihet som lycka och miljö mår bara bra av mer konsumtion och tillväxt.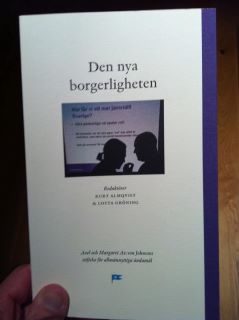 Se debatten här - >
2007-05-15 14:32:24
Reformstaten? Idag talade således Norges förre finansminister Per-Kristian Foss (Höyre) på Timbro. Ett 50-tal personer närvarade. Undertecknad inledde med ett globalt, europeiskt och nordiskt perspektiv på liberaliseringar som har lett till tillväxt och välstånd. Ett antal länder har diskuterats relativt flitigt, dock inte Norge. Men, som framgick av Foss anförande, Norge har också reformerat.

Han inledde med att ge bakgrunden till Norges ekonomisk-politiska situation; den snabba rikedomen och oljefonden. Alltid svårt för ett land att motstå att använda allt på en gång, men Norge har hittills avstått. Vidare berättade han om sänkta marginalskatter, avreglerad finansmarknad, pensionsreform med friare pensionsålder, med mera. Lärorikt!

Han underströk också att Norge hade vunnit på globaliseringen tack vare öppenhet, bejakande av förändring och en flexibel arbetsmarknad. Vidare påpekade han att den nuvarande vänsterregeringen inte har rullat tillbaka hans regerings reformer annat än i marginell utsträckning. Det bekräftar tesen att dagens regeringar - oavsett socialistiska vallöften - inte frivilligt väljer att försämra landets framtida möjligheter.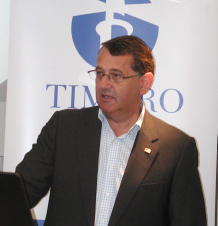 Ta del av Foss PPT-bilder här - >
2007-05-15 10:26:50
Safety on Board? Ever since I read the article linked to below, I find the security briefing on airplanes quite amusing. It basically shows how most of so-called safety on board measures are about psychology rather than actual safety. Just an example of how a more truthful message from the onboard staff would sound like:

"Your life-jacket can be found under your seat, but please do not remove it now. In fact, do not bother to look for it at all. In the event of a landing on water, an unprecedented miracle will have occurred, because in the history of aviation the number of wide-bodied aircraft that have made successful landings on water is zero. This aircraft is equipped with inflatable slides that detach to form life rafts, not that it makes any difference. Please remove high-heeled shoes before using the slides. We might as well add that space helmets and anti-gravity belts should also be removed, since even to mention the use of the slides as rafts is to enter the realm of science fiction."

Read the article here - >
2007-05-15 10:20:52
Getting Flatter. The so-called flat tax revolution continues. Today, 16 countries have some sort of flat tax; the same percentage tax rate for all. And most of these countries enjoy very high economic growth. Here is an updated list by Dan Mitchell, also containing countries that will introduce flat tax or are considering it:

Flat Tax Jurisdictions

Jersey 1940 20%
Hong Kong 1947 16%
Guernsey 1960 20%
Estonia 1994 22%
Latvia 1995 25%
Lithuania 1996 27%
Russia 2001 13%
Serbia 2003 14%
Slovakia 2004 19%
Ukraine 2004 15%
Romania 2005 16%
Georgia 2005 12%
Iceland 2007 35,7%
Mongolia 2007 10%
Kyrgyzstan 2007 10%
Macedonia 2007 12%

Future Flat Tax Jurisdictions

Montenegro 2007 (July) 15%
Mauritius 2009 15%

Active Consideration

Albania 2008 10%
Czech Republic 2008 15%
East Timor 2008? 5-10%

Read the entire article by Dan here - >
2007-05-14 16:05:28
Scocco om Sverige och krisen. Alla vet hur f d statsminister Göran Perssons favoritrefräng löd: De borgerliga 1991-94 skapade en kris som vi/jag fick reda upp. Så motiverade han sitt maktinnehav, istället för att tala om vad han själv ville.

Att detta är en enda stor lögn har jag tagit upp förut, bland annat i Expressen. Och historien är viktig. En felaktig historieskrivning leder till fel rekommendationer om framtiden. Vilket förvisso var precis vad Persson ville.

Nu har Socialdemokraternas tidigare chefekonom, numera chef för ITPS, Sandro Scocco, påpekat samma sak. I en ny och intressant rapport mäter han Sveriges konkurrenskraft på ett delvis nytt sätt. Som synes nedan inleds Sveriges ekonomiska nedgång långt före 1991. Och uppgången börjar före 1994...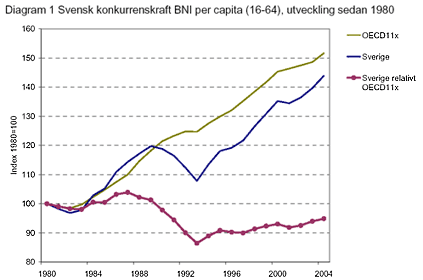 Läs hela rapporten här (pdf) - >
2007-05-14 09:50:03
International Visitors. Merit Wager writes that she has had visitors to her blog from 115 countries in two years. She speculates that I may have more international visitors.

It seems that it is not possible to check visitors for such a long time here. But during 2007 so far, there have been visitors from at least 82 countries. During April, they were from 57 countries - so most seem to come back. The biggest category is .net domains, which can of course be any country.

In any case, I want to congratulate Merit to the success. I don′t think many editorial pages of newspapers have readers in so many countries.
2007-05-13 10:39:29
Sökes: Fler grannar. Det kan naturligtvis finnas ett stort antal skäl att gratulera Serbien till segern i schlagerfestivalen. Allt från att de nu är med i Europa till att arrangemanget nästa år lär ha betydelse för deras öppenhet och självkänsla. Det är också roligt att deltagarna reflekterar ett nytt och bättre Europa.

Men. Det är alldeles uppenbart att röstandet inte har med musik att göra. Alla - även i Norden - röstar på sina grannar, i stort sett oavsett vad de framför musikaliskt. Ju fler grannar man har, desto bättre går det. I Serbiens fall är detta möjligen också ett gott tecken, eftersom dessa grannar krigade för inte så länge sedan.

Men i sportsammanhang brukar ofta framhållas att politik inte ska blandas in. Ska politik och liknande aspekter då vara centrala i en schlagerfestival? Jag tror att tävlingen förlorar sin legitimitet om musikens betydelse är minimal. Frågan är om ett röstsystem där geografins betydelse minskar kan utvecklas.

Själv ansåg jag för övrigt att Rysslands bidrag var en höjdare.
2007-05-11 14:59:57
Alla dessa debatter... Tillbaka i ett soligt Stockholm. Otaliga större och mindre ärenden. En dag inledd med snabba möten, men också inspelning av Veckans Debatt på Axess TV. Ämnet var konsumtion, välstånd och frihet. Livligt - sänds den 20 maj. På söndag intervju i irländsk radio om den s k nordiska modellen, läs vidare här.
2007-05-10 12:55:46
Au Revoir! I just finished the stay in Paris with a lunchtime jog along la Seine, passing Place de la Concorde, la Dôme des Invalides, la Louvre and Champs-Elysées. It is always quite strikingly beautiful.
2007-05-10 11:46:00
Will Be Missed. I just came back from an interesting meeting here in Paris with Alain Madelin, among other things former Minister of Industry and Minister of Finance in France. The media is full of information and speculation about the resignation of Tony Blair. Apparently, he told his Cabinet this morning that he will resign. A more public announcement awaits. Despite announcing this, he will probably continue as Prime Minister for another seven weeks.

After that, it is time for the man who has been waiting forever to be Prime Minister, Gordon Brown. He is often called a mystery. In my view, he is not. He is an ordinary politician, though a bit more forceful and academically skilled. But he has none of Tony Blairs qualities of vision, leadership, conviction and communication. Some of his recoed isn′t great, but for sure, I think that more people than I will miss Tony Blair in a while.
2007-05-09 23:35:38
European Economic Outlook. Today, I gave a speech at the World Economic Outlook Conference, in Paris, arranged by Global Insight. An impressive arrangement by an impressive organisation. Roughly 150 people - economic analysts and business intelligence - were present.

Today has also been the Day of Europe. One economic forecast of today was that the eurozone will overtake the US in growth during the coming years - of cyclical reasons. Suitable for Europe Day, I suppose. But the fact that China has a larger share in knowledge-intensive exports than the eurozone is less encouraging...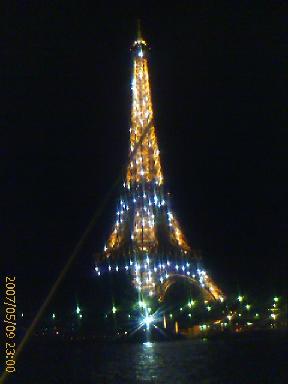 The Eiffel Tower seen tonight from a crusing boat on the Seine
2007-05-09 23:23:04
Okunskap om kommunismen. Idag presenterades resultaten av en undersökning av Demoskop, genomförd på uppdrag av föreninge för Upplysning om kommunismen. I en artikel på DN-Debatt redovisas centrala siffror, såsom att 90 procent av dagens unga inte känner till Sovjetunionens dödsläger Gulag. Det är knappast en kontroversiell tanke att denna okunskap ligger bakom att kommunismen bland många unga inte ses som lika förkastlig som den andra huvudsakliga totalitära 1900-talsläran nazism.

Läs artikeln här - >
2007-05-08 23:50:46
De-Regulation And Its Opponents. Today, it was impossible to get a taxi in Rome. Why? Because there was a strike. Why? Because of a proposal to de-regulate the taxi business. And why was that proposed? Because it is almost impossible to get a taxi in Rome even when there is not a strike.

Apparently, taxis in Rome operate within strictly defined zones. They get a permission from some public authority. So entrepreneurs can′t enter, competition is very limited and the demand for taxis can′t be met. Still, today′s insiders protest. A challenge for any reformer.
2007-05-08 23:37:50
Opposite Roles? I just landed in a slightly rainy and calm Paris. Only a few signs that a new President was just elected, only some old posters and new headlines.

Nicolas Sarkozy said the other day that "I will not act fast, I will act very fast". He promises a 100 day-program of reforms to revive the economy. It remains to be seen what will be done, though quite a few free-market steps are considered to be likely.

In recent years, it has been common among free-market economists to joke that Europe′s problems can be described in one word: "France". That has always been a provocative exaggeration, but not without substance. Now, the decisive win of Sarkozy might well reverse the roles. France might take the lead in reforms.

Roger Cohen had a column in today′s IHT with 10 conclusions from the French election, which was very interesting. It can be read here, though only for subscribers.
2007-05-08 23:30:52
HSB hos JKL. Att förre statsministern Göran Persson nu blir senior advisor på JKL är komiskt. Han har ju inte bara kritiserat politiker med kontakter i näringslivet utan konsulter i allmänhet. Nyttan för JKL är uppenbar; Perssons namn kan säkert locka kunder och de är bara att gratulera. Perssons syfte är tydligt: att tjäna mer pengar. Så gör han som flera näringslivskritiska tidigare s-ministrar och börjar arbeta för näringslivet. Till slut är de socialistiska fraserna till leda upprepade bara luft, använda för att vinna val. Vad säger detta om moralen hos en person och dennes långa arv i politiken? I kategorin ironi var Carl Bildts kommentar "det är väl bra att grabben får ett jobb" träffande.
2007-05-08 15:43:26
To Paris. Today, I met the former Labour Market Minister, Maurizio Sacchoni, at the Senate in Rome. Very good meeting in this traditional building. Italy did do a reform that increased labour market flexibility during the Berlusconi government. And unempoloyment actually decreaed despite the poor business cycle then.

Later today, I gave a lunchon speech about the Nordic Model, Sweden, and reforms, at the Instituto Bruno Leoni. A very interesting discussion followed about what to learn and about the current political situation. But now soon to the aiport and off to Paris.
2007-05-08 15:39:17
Communication and Content. Someone put an insight about differences across the Atlantic in a nutshell yesterday. He said that European politicians talk about protecting the welfare state and do some free-market reforms silently. US politicians, on the other hand, talk about freedom and introduce more welfare state silently. It is all a matter of politicians choosing the arguments they think will work in a certain framework. But the policies may not differ too much.
2007-05-07 13:25:45
Rome and Reforms. I just gave a speech about the need for free-market reforms in Europe for the annual retreat of the National Centre for Policy Analysis - this time in Rome. I spoke after Bob McTeer, former President of the Federal Reserve Bank of Dalls, and was succeeded by former Italian Defence Minister Antonio Martino.

Rome is always a striking reminder of the rise and fall of societies. There are so many impressive remnants of the - for its time - extremely sophisticated and advanced Roman Empire. It provides a perpective when discussing any need for change of direction, reforms and improvement.

The struggle throughout history between rationalism and religion is also very visible everywhere. Interesting and indeed ongoing, with different symbols and methods over the years.

Anyway, the sunshine and great pasta are also candidates for the first place in making the stay more than worthwhile...
2007-05-07 13:19:02
Efterfragad Erixon. De traditionella medierna brukar tala om en allt tuffare konkurrens. Gamla dagstidningar moter gratistidningar. Nationella tv-kanaler moter utlandska kanaler via satellit. Traditionella medier har helt enkelt svart att tjana pengar. Deras attityd till bloggar har ocksa varit minst sagt kritisk - innehallsligt. Nu har Dick Erixon dessutom bevisat att detta kan bli en kommersiell konkurrent. Han drog in 90 000 kr till sin blogg pa fem arbetsdagar nar han framholl att han annars skulle upphora. Annu ett steg framat i det nya landskapet av kommunikation.
2007-05-07 09:49:53
Reform President? As expected, Nicolas Sarkozy won the French Presidential election yesterday. This raises hopes for a wave of free-market reforms in France. Partly, this is justified, since he embraces change and reform to a much greater extent than his opponent. But he will probably disappoint the most hopeful supporters.

Sarkozy will now try to solve the equation of being the President for every Frenchman - including the 46 per cent that voted for Royal - yet initiating reforms. This will probably lead him to some actions to show that he is not as free-market as some claim. There will soon be elections for Parliament too, which is of great importance to win. The war within the Socialist camp will of course help Sarkozy initially.

Having said this, however, it is clear that the fact that the more reformist candidate won in France will initiate change. That will make reformers in other countries bolder too.
2007-05-04 18:26:34
Fascinating. The speech yesterday was very well received. Schindler is an impressive company; 133 years, bigger than ever and going strong. There were lots of interesting discussions, not least about the role and challenges for a global company today, followed.

Today, I had a very good lunch meeting with the Swiss Interior Minister, Pascal Couchepin. He showed me a great, old, countryside restaurant in a typical Swiss village.

Switzerland is a fascinating country, however not the one I know very well. I got to know several interesting facts during this visit. One being that the federal structure is extremely decentralised, allowing for real tax competition between the cantons. And Swiss taxes are very low, to be in Europe.

One canton actually introduced a tax rate that first increases, then decreases, with higher income - to encourage education and work. This was approved by 85 per cent of the population in a referendum. And so far, tax revenues have increased - just as the Laffer curve suggests.

Now on my way to Rome, where I will be joined by my wife Linda and daughter Rebecka for the week-end. Then, speeches and meetings again.
2007-05-03 16:31:31
In Switzerland. I landed in Zürich a while ago today. Sunny, beautiful and ads for Swiss watches everywhere. I did some jogging on a rather challenging forest track in the mountains around Wolfsberg Castle. I will be the guest speaker at the annual global corporate management meeting of the Schindler Group. The topic is the need for free-market reforms in Europe and there are some 100 people here.


2007-05-03 16:30:50
Turkey, Secularism and Democracy. In today′s Financial Times, there is a very good analysis that sheds light on the current somewhat explosive political situation in Turkey. At first, the conflict between democracy - which might lead to more islamisation - and secularism - defended by the military - might seem completly odd to people in the Western world. But in Turkey, secularism comes first, democracy second, is one point made in this analysis.

Read it here (subscribers only) - >
2007-05-03 16:24:25
Sakozy Won. French voters considered Nicolas sakozy the winner of yesterday′s TV debate. An opinion poll showed 53 per cent believing that Sakozy was more credible, compared to a mere 31 per cent for Ms Royal. This should increase his already good chances of winning. Before this poll, most international media just concluded that the debate was rather harsh. Several Swedish media, however, pointed out Ms Royal as the winner. Even the news pages of a conservative daily. This probably reflects the political preferences of some reporters more than anything. But it is a pity that the editors allow such personal opinions in the news pages. By the way, I still haven′t seen the debate. If anyone has a web link to where it can be seen, please e-mail it.
2007-05-02 19:38:53
In Cato Videocast. The Cato Institute in Washington, DC, has launched its videocast. Looks very professional. The first episode is to a substantial degree devoted to my speech there two weeks ago. It can be watched here.
2007-05-02 19:31:13
European Freedom Summit. In Berlin, June 2-3, the Institute for Free Enterprise is hosting a big arrangement. I am a keynote speaker. Read more here.
2007-05-02 11:54:55
180 grader. I Danmark har just en ny liberal nättidning startats. Verkar mycket lovande. Läs här.
2007-05-02 09:42:12
Debatt i TV4 om arbetarrörelsen. Det blev en ganska bra debatt i TV4 igår om arbetarrörelsens situation och framtid. Som vanligt handlar svaren från den yttersta vänstern om vad "högern" möjligen kan ha för "intressen" bakom ståndpunkter och argument. Och som vanligt är dessa påståenden lika felaktiga som fördomsfulla. Men att de lägger sin tid på sådant innebär ju att man själv får tala mer om sakfrågor - som arbete eller bidrag, hög eller låg skatt för vanligt folk, fri eller reglerad arbetsmarknad, med mera. Så tack för det!

Se debatten här (under "Se inslag från programmet") - >