2008-06-29 12:48:19
Mer om Nederländerna. I en längre artikel i Health Affairs beskrivs Nederländernas sjukvårdsreform med delvis något nyare siffror än i min rapport i ämnet för Lif. Intressant nog bekräftas samma tendenser och effekter i hög grad. När konsumenterna ges makten över sjukvården, och både finansiärer och leverantörer måste konkurrera, förändras sjukvården i grunden. Då får den förutsättningar att bli entreprenöriell och dynamisk - så att köer försvinner och kvaliteten ökar.

Läs artikeln här - >
2008-06-29 10:46:48
Golf Cruise. Yesterday, my wife and I had dinner with Jim Lamont, founder and CEO of Kalos Golf. We were on board the Sea Cloud II. The concept is for people - mostly Americans - with a great interest in golf to go on a luxury cruise and play in different countries. Jim is a fascinating entrepreneur, involved also in other businesses - and interested in society and politics. A magnificent and well-managed ship. The onboard manager, Tom, had done several concerts in the US with Swedish icon Povel Ramel.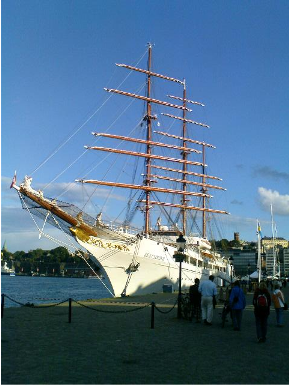 2008-06-29 10:40:42
Outspoken Left. Small poster seen in Stockholm yesterday:

"We have found new homes for the rich."

Picture showing a cemetary...
2008-06-27 11:05:22
Lättsam nyhetspanel. Morgonens diskussion i TV4, där jag medverkade i nyhetspanelen, blev klart semesterbetonad. Två ämnen ströks - Volvo och Zimbabwe - och in kom annat - exempelvis fotboll, "bag in box"-viner och relationstips. Oklart vilken kvalitet mina bidrag på några av de punkterna höll. Dock bra att Ylva Johanssons avdrag diskuterades. Förvisso naturligt att man anpassar sig efter de regler som gäller, kan tyckas. Men om man sätter upp ett starkt värdebaserat, moraliskt, motstånd mot en företeelse så kan man inte sedan bara byta fot. Slutsatsen kan bara bli att moralen inte fanns där från början. Här kommer den intresserade att kunna se panelen.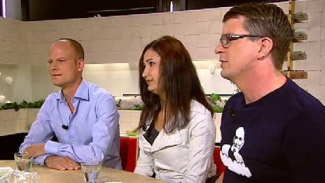 2008-06-26 09:34:11
Elmbrants fördomar. Björn Elmbrant, i många år en av de ledande politiska kommentatorerna på Sveriges Radios P1, skriver numera ledare på Dagens Arena. Så här skriver han i senaste numret:

"Finns det någon farm t ex på Lidingö där man föder upp moderater, som redan från födseln bär slips, och som har de rätta moderata "i:na" när de uttalar meningen "sälj ut skiiiten"?"

Han har analyserat de två ledande Stockholmsmoderaternas utseende. Som om alla moderater i Stockholm såg likadana ut. Eller för den delen i resten av landet. Sakfrågan är dock mindre intressant än fördomen.

Partier är således bara organiserade intressen och grupper. Moderaterna företräder överheten. Så barnslig kan tydligen den politiska världsbilden även hos medelålders män vara. Min erfarenhet är att han delar denna tro med många i s-leden. Kärnan i rörelsen är ett ointellektuellt och föraktfullt grupptänkande.

Och för övrigt: Är det någon som nu tror annat än att Elmbrant i alla år har levererat socialdemokratisk propaganda i statsradion?
2008-06-24 13:48:39
The Tragedy of Zimbabwe. Zimbabwe was once one of the countries with the best opportunities in all of Africa. Now, it is one of the most troubled, due to the rule of Mugabe. As this publication by David Coltart, member of Parliament in Zimbabwe, shows, the results have been disastrous. Since 1994, the average life expectancy in Zimbabwe has fallen from 57 years to 34 years for women and from 54 years to 37 years for men. Now, they will hold what is called "elections", after the government killed and attacked thousands of representatives of the opposition. The current inaction by the rest of the world is regrettable indeed.
2008-06-24 12:12:47
Euro och Rove. Det är en del att planera inför politikerveckan i Visby, inte minst olika evenemang man själv ska medverka i. Ett sådant är Hill & Knowltons Tvekampen, där jag ska debattera "ja eller nej till euro" med Jesper Katz. Detta på tisdagen, mingelstart kl. 1730, debatt fr o m 1800, allt på Wisby Hotell. Välkommen! Samma dag för övrigt även deltagande i middag med Karl Rove, George W Bushs främste rådgivare - av Bush kallad "the architect" bakom Bushs återval 2004.
2008-06-24 12:06:49
Writing and Events. These days, I try to focus on writing a new publication. But I received some information about previous events. Here, one can watch me speak at CEPOS in Copenhagen. And below is a picture of me on the panel in Prague with Vladimir Dlouhy, former Czech Industry Minister, and John Fund from the Wall Street Journal.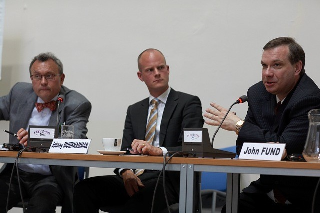 2008-06-22 18:58:24
If You Reform Financial Markets, the Chances of Re-Election Increase. Three economists affiliated with the European Commission - Marco Buti, Alessandro Turrini and Paul van den Noord - have taken my book as a starting-point for further research. They have studied 21 OECD countries 1985-2004 focusing on which governments were actually re-elected.

They do confirm that reformers are at least as likely to get re-elected as non-reformers. But they also find that 65 per cent of the re-elected reformers governed in countries with high financial freedom. Liberalising financial markets, thus, seems to improve the chances of re-election.

This may be perfectly logical, because many reforms have a short-term cost and long-term greater gain. But the short-term loss is smaller if free financial markets can compensate for a temporary loss of income. This might make voters more likely to accept the short-term cost.

Read their paper here - >
2008-06-19 23:08:38
Happy Midsummer! After Swedes, the biggest groups of visitors to this blog currently come from Russia, Finland, Norway, Germany, Switzerland and Denmark. At least in a few of these countries, people celebrate Midsummer. For most Swedes, this is probably almost as important as Christmas. Enjoy the dancing and the pickled herring tomorrow!
2008-06-19 10:03:25
I Entreprenör om euro och parasitsamhället. I senaste numret av Entreprenör har undertecknad bidragit med två kortare ledare. Den första handlar om euron, som fyller tio år, och kan läsas här. Den andra behandlar vad som i ekonomisk forskning brukar kallas "the rent-seeking society":

"Gratis är gott, lyder ett halvt skämtsamt uttryck. Det finns däremot ingen gratis lunch, har Milton Friedman påpekat. Båda dessa påståenden är sanna. Vi uppskattar att få saker så billigt som möjligt, och det finns inget billigare än något helt utan kostnad. Problemet är att allt har en kostnad. Betalar man inte själv måste någon annan göra det.

Politiker lovar gärna gratis förmåner, från tandvård till a-kassa. Men någon måste alltid skapa de resurser som politikerna generöst lovar bort. Då tas omfattande skatter in från dem som skapar resurserna för att betala "gratis" förmåner åt andra. Detta får långtgående inverkan på vad som är lönsamt i samhället, vilka metoder som gör att man kan förbättra sin situation.

Det blir helt enkelt olönsamt att arbeta eller driva företag för att förbättra situationen. Istället premieras de som har en stark röst som kan få förmåner via staten av politiker. I ekonomisk forskning brukar detta kallas "the rent-seeking society" ? ett lämpligt uttryck på svenska vore "parasitsamhälle"."

Läs hela artikeln här. Strax efter jag skrev detta talade Lars Ohly om samhällets parasiter. Vi menar inte samma sak - han vill ju ha ett "rent-seeking society". Han pekar istället ut enskilda individer (på Stureplan) som parasiter. Jag kritiserar tvärtom hans samhällsmodell som tvingar många att överge produktiv verksamhet till förmån för att leva av andras resurser.
2008-06-18 17:02:11
FRA. Det blev således inte avslag i riksdagen avseende FRA och signalspaningen, utan ja till ett modifierat förslag. Detta förtar i och för sig inte att en handfull ledamöter stod emot länge och väl. PJ Anders Linder har en skarp text om alla dem som inte gjorde det, läs här. Oscar Swartz skriver här mycket konkret och engagerat om vad FRA-satsningen handlar om.

Mycket kan sägas om integritetsingreppet, men även för dem som inte bryr sig om det borde det finnas en vilja att göra sådant som fungerar. Väldigt många experter har de senaste dagarna framhållit att spaning på alla svenskars kommunikation inte fångar terrorister i Afghanistan.

Detta förslag, härrörande från den förra regeringen, borde ha stoppats av denna regering. Det förblir minst sagt en svaghet att de så ofta saknar känsla för viktiga principer.
2008-06-18 12:58:11
Bäckströms freudianska. På Svenskt Näringslivs trevliga sommarmingel i förrgår med de närmaste krestsarna talade VD Urban Bäckström. Budskapet var att det finns ett stort reformbehov och att regeringen bör göra mer. För att åskådliggöra förbättringen jämfört med den förra regeringen påminde han om hur förre näringsministern Thomas Östros hotade med att de statliga företagen skulle lämna Svenskt Näringsliv om inte reformkraven tonades ned. Bäckström råkade dock nästan ersätta "statliga" med "socialdemokratiska". Avsiktligt skämt eller ej, han gjorde därmed poängen än tydligare. Den förra regeringen såg det statliga ägandet som ett partipolitiskt redskap som kunde användas för att bromsa reformer och tysta obekväma röster. Den tiden är förbi.
2008-06-17 22:28:19
Another Slovenian article. By now, most Slovenian newspapers and magazines must have had articles after my visit there. Here is another one. I get information that there has been a general impact on the debate, with a tilt towards more support for reforms. And when Scandinavia is mentioned, it is more about success due to free-market reforms rather than big government policies.
2008-06-17 13:52:33
Centres of Commerce. Mastercard has compiled an index of what it refers to as Commercial Centres of the world. Their experts make an assessment of how commercially attractive a city is, using various parametres. London comes out on top, with New York substantially behind. Stockholm is number 16, a good position for a clearly smaller city. The report can be read here, with the full ranking starting on page 20. The Economist did a diagram, shown below.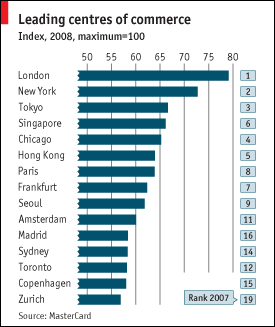 2008-06-13 21:37:11
Stoppa FRA-lagen. Den 18 juni röstar riksdagen om en ny lagstiftning som ska ge FRA långtgående rätt att utan misstanke avlyssna i stort sett vilken kommunikation som helst. Att den personliga integriteten inte får köras över av staten på det viset, inte ens i tider av terrorism, är viktigt. Man kan inte bekämpa frihetens fiender med omfattande inskränkningar i friheten.

Läs mer här - >
2008-06-13 10:51:47
I Liberal Debatt: Socialdemokratisk förnyelse? I senaste numret av Liberal Debatt har undertecknad bidragit med en längre artikel om tillståndet i den socialdemokratiska rörelsen. Försökte sätta situationen i en längre historisk och en internationell kontext. Expressens ledarsida refererar idag artikeln.

Läs artikeln här - >
2008-06-11 22:00:20
Traffic Regulation in Brussels... There is a lot of construction work going on at Zaventem Airport in Brussels. One of the temporary traffic signs is shown below. I don′t know if this is an advisable combination - separately, yes, but simultaneously? Neither is it obvoious whether this is to be regarded as compulsory. The taxi driver anyway fortunately refrained from obeying...


2008-06-11 11:08:27
Rapporten om Nederländerna. Således har jag just presenterat rapporten om Nederländernas sjukvårdsreform på ett välbesökt frukostseminarium.

I Nederländerna har idag samtliga medborgare privata sjukvårdsförsäkringar som tecknas hos konkurrerande försäkringsbolag - som i sin tur köper in tjänsterna av konkurrerande privata leverantörer. Medborgarna har valfrihet och konkurrens finns bland leverantörer och finansiärer.

Samtidigt är en försäkring obligatorisk, staten finansierar för dem som inte kan betala och en fond utjämnar risker - och gör det lönsamt för bolagen att försäkra även kroniskt sjuka.

Många har redan bytt bolag, köpkraften har ökat och kostnaderna ökar långsammare. Ett intressant system, där alla de klassiska kritikpunkterna mot ett marknadsbaserat, privat, sjukvårdssystem har lösts.

Roger Mörtvik från TCO och Gustav Andersson från SLL kom med intressanta synpunker - men enigheten om behovet av reformer och Nederländernas framgång var ändå tydlig.

Läs rapporten här (pdf) - >
2008-06-11 06:44:25
Nederländerna visar vägen för sjukvården. Ska strax iväg till Sheraton och presentera rapporten "Sjukvården kan reformeras - lär av Nederländerna" (Läkemedelsindustriföreningen) på vad som tydligen blir ett väl besökt seminarium. Idag publiceras också en debattartikel i Göteborgs-Posten av undertecknad med de främsta slutsatserna från rapporten, läs här. Sedan vidare till Bryssel och möten med European Enterprise Institute.
2008-06-10 12:36:40
The Economist: The Euro Has Been a Success. In the latest edition of The Economist, there is a Briefing about the ten years with the euro, and a leader. The conclusions are almost identical to the Swedish report I wrote with Fabian Wallen on the same topic. It is described as a success, with "sky-high" confidence in the European Central Bank. They also point out that the ECB "coped strikingly well with the credit crunch", inspiring both the Bank of England and the Fed. The Economist also argues that sceptics were wrong about the ECB and exaggerated possible negative effects of a "one size fits all" monetary policy. They also point to the fact that several more countries are about to join. A future issue, which is mentioned, will be that some euro countries by the Mediterranean have economic problems and are in need of structural reforms. Read the leader here, the first article of the Briefing here, and the second here.
2008-06-09 19:57:31
Öppenhet för ny välfärd. Centerpartiet har inlett ett idéarbete för att utveckla partiets politik, och driver webbplatsen Framtidsdialogen. Undertecknad är gästkrönikör där just nu, och anlägger ett öppenhetsperspektiv på framtidens välfärd.

Läs krönikan här - >
2008-06-09 11:31:32
How Did You Spend Your Stimulus? In the current Keynesian fashion of American government, the so-called stimulus package came into effect in recent weeks. US politicians wanted to soften the economic downturn by temporarily sending people cheques to spend. Policies like these normally turn out to be wrong in timing, size and precision. So this turns out to be, as the worst part of the downturn is likely already passed. And the high oil price has already consumed almost all of the stimulus. There is a funny web page where people can tell how they spent the stimuls, see it here. Interestingly, it shows that many choose not to spend but to save - hence another weakness with such a policy.
2008-06-08 17:29:55
The Fall of the House of Clinton. Many thought that Hillary Clinton could not lose the Democratic nomination. But she did - after a populist, protectionist and even racist campaign. She damaged not only her own prospects for the future, but also the legacy of her husband - and he helped too. More about this disastrous result in The Economist, read here.

Now that Obama and Clinton are exchaning compliments, some may think that they actually like each other. They do not. Their comments have to be put in a strategic context. Clinton is kind to Obama because she does not want to seem like a poor loser. He is kind because he wants the support of her troops. And they both want the Democrats to win.
2008-06-07 22:29:57
Bratwurst und Bier. After speaking at the Summer Camp of the Youths of the Swedish Moderate Party - 100 very enthiastic present - I went with my family to the Swiss Residence in Stockholm. The Embassies of Switzerland and Austria had a joint arrangement showing the first soccer match of the European Championship. They served all sorts of Swiss and Austrian specialties. I did by far not win the contest for a Tissot watch, where one should guess the outcome of the game. Now I see that Hillary Clinton has finally done what had been expected for a long time; endorsed Barack Obama.
2008-06-05 17:24:57
Spanish Review. Today, my book "The Guide to Reform" is reviewed in Spanish, in ABC. Read it here.
2008-06-04 13:31:36
Biagireform gav fler jobb. I Svenskt Näringslivs satsning Reformbanken har undertecknad idag en artikel om de reformer som genomfördes 2001 på arbetsmarknaden i Italien - med goda resultat. Avregleringar gav fler jobb, trots låginkonjunktur.

Läs artikeln här - >
2008-06-04 09:21:31
Varför kundorientera om det inte finns kunder? Bra artikel på Svenska Dagbladets ledarsida från gårdagens seminarium med Herzlinger. Kan läsas här.
2008-06-03 22:18:57
A Big Dog in Winter. As AP reports that Hillary Clinton′s campaign is likely to be formally ended soon, Rich Lowry of the New York Post describes very clearly what has been tragically wrong with Bill Clinton for quite some time. Read his piece here.
2008-06-03 14:25:02
Who Killed Health Care? We just finished a major event at Timbro which I was moderating. Regina Herzlinger was the key note speaker, and there were comments by Cecilia Widegren, Johan Hjertqvist and Stefan Ackerby. All in all, it became a forceful event for consumer-driven health care and a strong case for reform of health care in Sweden and the US alike.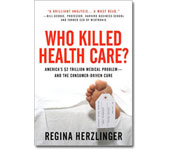 2008-06-03 14:14:49
Frihet på ålderns höst. Det verkar som att de flesta har missat den förmodligen mest positiva och betydelsefulla nyheten i Sverige på flera veckor. Igår intervjuades Peje Emilsson i Dagens Industri om det nya projekt han nu ska initiera; Silver Life. Peje är grundare av både Kreab och Kunskapsskolan, Nordens största privata skola. Nu vill han starta ett företag för att ge morgondagens äldre en bättre tillvaro:

"Jag ser framför mig ett resortliknande boende... Det ska finnas träningsmöjligheter, spa och tillgång till sjukvård. En månad om året ska jag kunna bo i Thailand. När jag sedan inte klarar mig själv åker jag till nionde våningen, där jag får mer vård."

Så låter hans egna tankar i största allmänhet, alla detaljer återstår ännu att utforma. Men projektet ska bli av. Detta ligger helt i linje med morgondagens efterfrågan och ett samhälle inriktat på tjänsteproduktion. Där blir inte äldrevård en börda för skattebetalarna utan en dynamisk näring. Det här är entreprenörskap som kommer att bidra till förändring av de gamla systemen.
2008-06-03 08:42:09
Interview in Reporter. In this week′s edition of the Slovenian magazine Reporter, there is a major interview with me. It concerns the European social model, the need for substantial free-market reforms, and drws several conclusions from the Scandinavian success. To access it, go to this web page, then click "Tednik Reporter st. 1" on the right side of the page to access the actual magazine on the web - then it is on pages 47-52.
2008-06-02 14:20:26
Marathon and Monday. Stockholm Marathon was tough due to far too little exercis in advance. Ironically, however, I managed to do it slightly faster than last year. My wife was substantially quicker than I, impressive as always.

I just finished a seminar at Hill & Knowlton with Regina Herzlinger, whom I am hosting for a few days in Stockholm. She is a Professor at Harvard Business School, author of "Who Killed Health Care", advisor to John McCain - and a fan of my book. Tomorrow, we will have a major event arranged by Timbro and the Swedish Association of Pharmaceutical Industries.