2006-11-30 14:26:52
Tips: Sovjetunionens roliga historia. For att klara vardagen i fortryckets och kommunismens Sovjetunionen anvandes ofta humor. Nu har David Cesarini och Claes Ericson samlat manga av de skamt om regimen som forekom i tysthet. Roligt och talande; den totalitara regimen klas av i sin forljugenhet och sitt pretentiosa yttre.

Las mer har - >
2006-11-30 14:12:24
In Wodehouse′s Footprints. Yesterday evening, I passed Berkeley Square - where Bertie Wooster lives in the novels - on my way to the Drones (!) restaurant. And it was situated opposite a shop called Jeeves. Wodehouse IRL. Fun, fun.
2006-11-29 19:11:55
The City. A few hours ago, I landed in a unusually sunny London. Below a picture of the city centre and the financial districts, to the right a glimpse of the Millennium Dome. The latest edition of The Economist reports of worries at Wall Street for losing market shares in the financial markets - to emerging economies. But also to London. The Empire strikes back...? Basically, it is a clear case of state intervention or free markets. The financial markets in London City were successfully de-regulated during Thatcher. But Wall Street is still trapped in red tape. So old Britain gets back.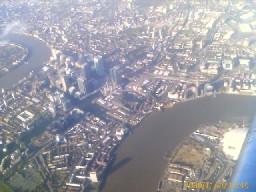 2006-11-28 10:50:28
Trevligt i Malmö. Gårdagens arrangemang på Marknadsekonomiska klubben om boken "Sänkt skatt är möjlig" blev mycket bra. Intresserad och engagerad diskussion, som Kvällspostens politiske redaktör Peter J Olsson idag påpekar på sin blogg. Hade också nöjet att träffa en mycket uppskattande f d SAF-ordförande, Ulf Laurin. Allt i trevlig miljö: Hansaklubbens källarvalv - lämpligt med tanke på budskapet om fri ekonomi.
2006-11-28 10:43:54
Borgarrådsblogg. Nya borgarrådet i Stockholms stad, och min f d kollega, Ulla Hamilton, har startat en blogg. Kan vara ett bra sätt att följa en del av hur staden styrs - och att ta del av intresssanta tankar och idéer från Ulla. Läs här.
2006-11-28 00:36:48
Hyckleriet. Förre statsministern Göran Persson är anmäld för arbetsmiljöbrott. Gudrun Schyman försökte smita undan sin skatt. Laila Freivalds var motståndare till utförsäljning av lägenheter men köpte sin egen. Likaså Lövdén. Ständigt dessa vänsterpolitiker som inför och argumenterar för allsköns statliga ingripanden. De har ingen förstålse för hur svårt det är för företag att klara ut allt detta. Eller för privatpersoner att klara ekonomin. Tills den dag de själva råkar ut för sina egna byråkratiska skatter och regler. Senaste i raden - mycket roligt - är att socialdemokraterna efter valförlusten behöver säga upp 40 personer från riksdagskansliet. Läs mer. Och de vill inte följa turordningsreglerna. Precis. Självklart vill en arbetsgivare bestämma vilka som ska vara kvar. Men det var ju det de var emot. Eller?
2006-11-27 12:09:17
Lägre prioritet för sänkt skatt? Inför vårt föredrag ikväll om boken "Sänkt skatt är möjlig" på Marknadsekonomiska klubben i Malmö publicerade Sydsvenskan igår en artikel med anledning av boken. Budskapet är att en radikal agenda om sänkta offentliga utgifter - som gör rejält sänkt skatt möjlig - nu bara kommer från Timbro. I partipolitiken hörs inget av detta, vilket statsminister Reinfeldts debattartikel i DN tas som belägg för. Sant är att rejält sänkt skatt inte var ett huvudtema i valet. Men sant är också att Alliansen var tydliga med flera offentliga utgiftsminskningar - som skulle göra vissa skattesänkningar möjliga. Och all förändring måste ju börja någonstans. Vår bok visar på fler strategier och metoder att använda framöver - som förhoppningsvis kan vara till inspiration i partipolitiken.
2006-11-25 16:18:42
Friedman. I mentioned that I would get back with more comments about Milton Friedman and his ideologic and economic legacy. Now, numerous very good obituaries have been written, that might be studied. In fact, I think the best compilation of links to articles about Friedman has been made by the Adriatic Institute for Public Policy, in Croatia. Here, one can use the links to get to the texts.
2006-11-23 14:08:26
What Dutch Government? Here in The Netherlands, the media is of course occupied with the results of yesterday′s elections. It seems to become very hard to form a new government. From my perspective, it is good that the reformist Prime Minister Jan Peter Balkenende beat the less reformist Labour Party. But on the other hand, the extreme left and right gained, while the most free-market party lost. In some way, there has to be one of those grand coalitions to have a majority. And that is not positive for reform prospects; the direction will be unclear. The trend from Germany, Italy and Austria is spreading. As in those countries, it remains to be seen if they will make the whole term or not.

Read more in EUObserver - >
2006-11-23 14:04:04
View on Globalisation and Reforms. I just delivered a keynote address at a major symposium by ING Investment Management. It is the world′s 12th largest financial institution. I provided a global outlook as well as showed the case for reform in Europe and pointed to what direction reform should have.

See the PPT presentation here - >
2006-11-22 22:57:22
Ökad trygghet med lägre a-kassa och lägre skatter. Regeringen sänker vissa bidrag, såsom a-kassan, och sänker skatterna. Med andra ord drar sig det offentliga tillbaka och ger medborgarna något mer frihet. Minskar detta tryggheten, som det så kallade a-kasseupproret vill ge sken av? Absolut inte, friheten ökar - men ockå tryggheten för den som så vill. Det visar inte minst fackförbundet Sif. De har nu byggt ut sin inkomstförsäkring, så att den som tecknar den får hög ersättning vid t ex arbetslöshet. När man får behålla sina egna pengar - genom att skatten blir lägre - kan man välja sådana lösningar om man vill. Och utbudet av lösningar lär växa, vilket ger mer valfrihet än bara statliga försäkringar. Om övriga fackförbund upphörde vara grenar av det socialdemokratiska partiet kunde de också göra sådant. Det vore mer till nytta för deras medlemmar - och skulle kanske rentav öka deras legitimitet.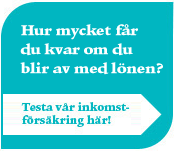 Läs mer om Sif:s inkomstförsäkring här - >
2006-11-22 22:34:42
Realtid: Hallå...! Den så kallade affärskvällstidningen realtid.se gjorde en liten intervju med undertecknad apropå anförandet på Trinity College. Kan läsas här.
2006-11-22 13:07:24
Total Tax Rate - And Hours of Tax Bureaucracy. Corporate tax is just one of many taxes paid by companies. Other taxes include, for example, payroll taxes, VAT and property tax. Now, PricewaterhouseCoopers and the World Bank have calculated the total tax burden on companies in 175 different countries. "Paying taxes - the global picture" can be read here (pdf). They have also analysed how many hours it takes annually for companies to actually deal with all the bureaucracy surrounding the payment of all the taxes. The differences are great indeed - from 68 hours in Switzerland to 602 hours in Spain. Below a diagram from The Economist that shows both the total tax rate and the hours of bureaucracy.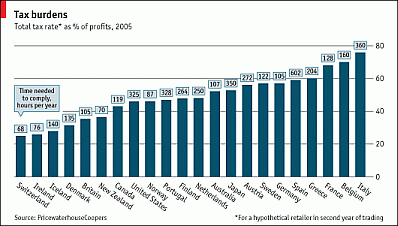 2006-11-21 14:11:24
Är Per Borg ensam i socialdemokratin? Allt tyder på att det socialdemokratiska partiet inte kommer att ompröva en stavelse i sin politik utan fortsätta vara okonstruktiva och populistiska i opposition. De senaste opinionssiffrorna lär stärka detta; att deras egen regering sällan låg över 35 procent lär de inte fundera över. Lika lite lär de beakta att en reformregering alltid drabbas av kritik i början men väl kan vinna när effekterna visar sig.

Men det finns en person som analyserar och tänker fritt i det partiet - f d statssekreteraren och ordföranden i riksbanksfullmäktige Per Borg. Hans bok "Reform eller reträtt" presenterades på ett seminarium den 30 oktober där undertecknad opponerade. Den har i huvudsak samma verklighetsbeskrivning som min bok "Sagan om välfärdens återkomst", som han uppgav att han var inspirerad av när han skrev, men inte samma slutsatser och rekommendationer.

Idag skriver han på DN-Debatt med samma budskap som i boken. Dagens modell med offentlig välfärd och trygghet fungerar inte, och om inget görs kommer en omfattande kris snart att vara ett faktum. Socialdemokratin måste ta sitt ansvar och lägga om politiken och bland annat stå för privat välfärd. Detta kräver också samverkan med dagens regering, påpekar Per Borg. Rakt, klokt och läsvärt.
2006-11-20 13:57:15
Nytt TBP: Efter Bulgarien och Rumänien - dags för västra Balkan? Idag på lunchen presenterade vi ett nytt Timbro Briefing Paper, denna gång en granskning av situationen i nästa omgång möjliga EU-medlemmar, på västra Balkan. Fullsatt och en mycket bra disksussion mellan författaren till detta Briefing Paper, Maria Weimer, och Kjell Albin Abrahamsson och Gunnar Hökmark.

Tidigare utvidgningar av EU med föregångare har ofta haft stor betydelse för att stabilisera demokrati och rättsstat. Och de positiva ekonomiska effekterna av fler på den gemensamma marknaden är väl belagda i många studier. För västra Balkan kan vägen mot EU ha mycket stor betydelse för just demokratisering och stabilisering.

Talarna föreföll överens i sitt stöd för att EU ska utvidgas ytterligare, samt i bedömningen att det 28:e EU-landet blir Kroatien. De största problemen finns ännu i Serbien samt Bosnien-Hercegovina. Där går inte reformerna vare sig snabbt eller ens alltid i rätt riktning.

Läs mer - och ladda ned detta TBP - här - >
2006-11-19 21:14:05
Debate at Trinity College. Ireland is fantastic. Hospitable, beautiful, historic, yet young and dynamic. Anyway, I was scheduled to speak Thursday evening at The University Philosophical Society at Trinity College. Chairman of the meeting was Dr Garret Fitzgerald, former Irish Prime Minister, an impressive reformer now 84 years old and still going strong. The two other speakers were Maurice Hayes, Senator, and Denis O′Leary, former Deputy Secretary-General of the EU Commission.

A leading member of the Society, Trevor Bream Browne, a student, presented a paper about why he believed that European integration has gone too far. Then, we each did our speeches. My message was that integration of governments and policicians has gone too far, but integration of people, cultures and companies has not gone far enough. We need a Union of liberation, that tears down borders in order to increase free integration, not a Union of regulation that attempts to introduce a failed big government model all over Europe.

A fascinating place. Over 100 people present, and they were allowed to interrupt with questions or protests. A real, classic, debating society. We don′t have that tradition in Sweden, which we should have. The views were many, the arguments very different and it was all very intense and in a good mood. But the paper was, eventually, voted down with a broad margin.
2006-11-19 21:08:51
Ireland - Turkey of Yesterday? Should we allow a country to be EU member, where women′s rights are not respected, where the grip of religion is strong and which is very poor? Well, we did, actually, in 1973, when Ireland joined the EEC. Someone reminded me that these are the main issues discussed about Turkey and the EU today. A somewhat drastic comparison, perhaps, but interesting and relevant. It shows how the EU membership - and the path to it - will enhance openness and modernity - and economic progress.
2006-11-19 21:05:26
Debate on Irish Radio. Saturday morning, I came to Newstalk - a radio station in Ireland - believing that I would be interviewed for fifteen minutes about my book, Europe and reforms. It turned out to be a debate with the former Irish Minister of Labour, Joan Burton. A very nice and telling discussion about what the state should do, the free market, Ireland and Sweden, though. One can listen here.
2006-11-19 20:54:35
Casino Royal. Apparently, Ségolène Royal won the primaries to be the candidate for President from the Socialist Party in France. Clearly, there is a strong desire for something new and unconventional, yet electable, in French politics. In terms of ideology and policy, many have said that she has been a moderniser who has abandoned traditional leftist ideas. Well, I have noticed th opposite too, for example when she said that capitalists (owners of companies) should be "frightened" and in her views about globalisation. I guess the next few months will reveal more, but I think few know more than I do for now. And that is not too much. This nomination is, in its uncertainty on policy, a bit of a gambling.
2006-11-19 20:51:57
Mr Manka Invited. Now, a formal invitation to a debate with me has been sent to Vladimir Manka, the Member of the European Parliament from Slovakia (Socialist) who was upset about an interview with me and who contacted all the Swedish MEP:s. Read the invitation here. And here are the articles in Trend in English, main article and interview with me.
2006-11-18 11:03:39
Milton Friedman. I got the news that Milton Friedman had passed away, after my speech at a great arrangement at Trinity College in Dublin. Milton Friedman has indeed been a very important source of inspiration for me throughout the years. He was of course a brilliant economist, but most of all a man of principles, standing up for freedom. I will get back with more about his impressive and important heritage - and about the Ireland that has been so successful in recent years, thanks to following his ideas.
2006-11-18 10:59:18
In European Voice: The True Nature of the So-Called Social Europe. This week, European Voice published a piece by me about the failure to reach a compromise about the EU working-time directive. I believe it reveals the true nature of the calls for a "Social Europe" - all about restrictions to freedom and attempts to introduce big government on a European scale; a model that has failed in every country where it has been tested.

Read it here - >
2006-11-15 10:24:32
Stirring the European Parliament. A Member of the European Parliament, Vladimir Manka, a Socialist from Slovakia, did not appreciate my message in Bratislava. Clearly, he belongs to those who want to introduce a so-called social model of big government in Slovakia and wants to use the Nordic countries as an argument for that.

My activities in Bratislava, including the large interview in Trend, Slovakia′s version of The Economist, seem to have made his task difficult. There, I argue that other countries might learn from the free-market reforms of the Nordic countries, but should avoid their big government. Thus, Mr Manka has now translated the Trend articles and sent to all the Swedish Members of the European Parliament. He claims to be "shocked" and asks whether Timbro is a reliable source of information and if I am a respected analyst in Sweden.

I will let others be the judge of that. One could perhaps, in all modesty, wish that the facts and arguments that I put forth should be judged by their own merit and not by who is the messenger. But this is where the fun continues. The non-Socialist Swedish MEP:s seem to confirm the credibility of the messenger, whereas the Socialist ones do quite the opposite.

Somehow the assessment of credibility seems to follow whether you agree with the message or not. Another way to determine which arguments are the strongest is a public debate - which I would be happy to have with Mr Manka at any time. To be continued, I hope...

(Thanks, Christofer!)
2006-11-15 10:16:19
Världsledande i dumheter. Fortfarande klagas det över att Arbetslivsinstitutet ska läggas ned - inte minst, förstås, från den egna personalen. Trots att de utvärderingar som har gjorts visar motsatsen, framhålls att institutets forskning skulle vara "världsledande". Två veckor före folkomröstningen om euron, 2003, presenterade institutet ett dokument i genren. Där påstod en rad företrädare från institutet att svenskarnas hälsa - särskilt kvinnornas - skulle försämras med euro som valuta. I en debattartikel i Dagens Nyheter kritiserades de flesta argument som framhölls för medlemskap. Det fanns och finns förvisso sakliga argument emot inträde i euron, men detta tillhör inte den kategorin. Analysen och argumenten i artikeln får stå för sig själva. Läs detta debattinlägg av en förment politiskt neutral statlig myndighet här.
2006-11-14 15:48:13
Speech at Trinity College. After Friedrich Engels, Bono, Winston Churchill, Desmond Tutu and Salman Rushdie. But before Al Pacino, who speaks on the 22nd of November. I am referring to the fact that on Thursday evening, I will speak at Trinity College in Dublin. Host is The University Philosophical Society, a classic debating arena, with past members like Oscar Wilde, Bram Stoker, Jonathan Swift and Mary Robinson. Quite a name-dropping. But they are impressive people. My topic is European integration. Will be lots of fun.



2006-11-14 13:21:10
Dags att söka! Stureakademin är en ettårig utbildning som ger kunskap, nätverk och träning i analys och argumentation. Allt i klassisk liberal anda. Sök här.
2006-11-14 12:05:45
So That′s Where My Interest in Astronomy Comes From...? I just received very interesting results from a person who apparently has been engaged in extensive genealogical research into the family Munkhammar. Apart from known facts, such as the origin of the name coming from the leading blacksmith at the iron factory in Munkfors, there was a surprising piece of information. The second man on the moon, Edwin "Buzz" Aldrin is - way back - a relative of mine. I couldn′t attempt to describe how, though, but I suppose that due to the massive migration from Sweden to the US once, many Swedes have relatives there.
2006-11-14 11:58:17
Demonstration utanför Timbro. Tydligen har ett antal extrema vänsterorganisationer organiserat protester mot regeringens förändringar av a-kassan. "Sänker ni a-kassan så sänker vi er!" uppges vara ett av de sofistikerade slagorden. Den första "blockaden", som de kallar verksamheten, genomfördes utanför Timbro den 3 november. Själv var jag då på resa och tittade bara in på förmiddagen. Det tragikomiska är att den 3 november var halvdag på de flesta arbetsplatser och att skanderandet som skedde på eftermiddagen gjordes framför ett tomt hus. Kunde det göras tydligare att ingen av demonstranterna verkar ha varit i kontakt med arbetsmarknaden? Och att reformer för fler jobb, såsom sänkt a-kassa, är viktiga?

Läs mer i Stockholms Fria Tidning - >
2006-11-14 11:55:23
Drag Queen? Tydligen har det cirkulerat en elektronisk Yrkesvägledare en tid. Först igår nådde den mig. Man skriver in sitt namn och får veta vilket yrke som passar en bäst. Själv ska jag tydligen byta bana något - till Drag Queen...

Öppna Yresvägledaren här (Excel) - >
2006-11-13 13:38:06
Sarkozy for President! I have had my doubts about Nicolas Sakozy, what ideas he really has about the future. But now, there is good reason for support. In a recent speech, he pointed out that globalisation creates "unprecedented possibilities", that France should do a number of free-market reforms and break with the past - and that the state should protect without protectionism. Hear, hear!

Read more in the FT - >
2006-11-13 10:48:20
I Expressen: Turkiet är Europas viktigaste frihetsfråga. I dagens Expressen publiceras en debattartikel av undertecknad med plädering för Turkiet som EU-medlem. Det vore av mycket stor betydelse för att avvärja en kollision mellan väst och islam, men också för EU:s öppenhet och identitet. De positiva ekonomiska aspekterna ska inte heller underskattas. Inte minst är också de vanliga motargumenten mot turkiskt EU-medlemskap mycket svaga.

Läs debattartikeln här - >
2006-11-13 09:51:56
The Failures of the Stern Report. The former Chief Economist of the OECD, David Henderson, has presented a critique of the British Stern Report on climate change. That very report has ignited a situation in the public debate where virtually everyone talk about the coming disaster and how to save us all. David Henderson points to serious errors in this reasearch, in terms of method, which clearly show that it is flawed, partly unfounded and biased. Well worth reading before running our and shouting that the end is nigh...

Read it here - >
2006-11-13 09:39:12
Briefing Paper Balkan. Måndagen den 20 november presenterar vi ett nytt Timbro Briefing Paper: "Västra Balkan knackar på EU-dörren". Efter det att Bulgarien och Rumänien träder in EU i januari kommer fokus på kortare sikt - Turkiet lär ta sin tid - att vara på länderna på Balkan för nästa utvidgning. Maria Weimer har skrivit, Kjell Albin Abrahamsson och Gunnar Hökmark kommenterar. Begränsat antal platser. Välkommen!

Läs mer och anmäl dig här - >
2006-11-09 13:51:15
Don′t Touch My Working Time! The Ministers for Labour Market in the EU failed to reach a compromise on the working-time directive the other day. This means that the current regulation will be a reality from January, which will have serious adverse consequences. For example, the "on call"-time that doctors and nurses sometimes have, is counted as working time. Thus, expenses for health care will suddenly have to rise because more staff will have to be hired. The main ingredient in the directive is a limit on working time in the EU at 48 hours per week.

This is both a matter of what issues the EU should deal with and - if the EU should deal with them - what the EU should do. If the EU should be a Union of liberation and not regulation, it follows that this is not an issue for the EU but for member countries. Then, there will be institutional competition between countries about what policies that work the best. But if the EU should engage in the matter, it should certainly not impose mroe regulation and more limits on people′s freedom. Which it does in this case.

I think it is an unacceptable limit on people′s freedom if the government forces people to work a maximum of 48 hours a week. If I want to work 88 hours a week, why on earth should the government prohibit that? But all right, if a national government wants to limit people′s freedom and indeed decrease national competitiveness - it is up to them. But now France tries to force such limits on everyone else - such as Britain. And worst of all: they do it for internal political reasons.

This all shows the advantages of an EU à la carte, where you can pick which parts you want to have. Countries that don′t want part of damaging regulations shoudl be able in general to opt out. And with a union of soon 27 and after that probably more members, the EU is very heterogeneous. Then, the direction of the Union is likely to become towards a core of single market and then more free choice for countries about what areas of co-operation they want to engage in.

Read more in the FT - >
2006-11-09 12:09:01
Nytt Amerikabrev: Framgång för vänstern? Nej. I ett Amerikabrev direkt från Washington, DC, skriver Mathias Sundin om det just avslutade valet i USA. Hans intryck skiljer sig något från det som har dominerat i Sverige. Läs här.
2006-11-09 12:06:06
I NMI: Ensidigt i Fokus. I senaste numret av Fokus finns en artikel med budskapet att Alliansen mörkade före valet att de avsåg dra ned på olika bidrag som förtidspension. I en kort kommentar för Näringslivets Medieinstitut visar undertecknad att detta inte stämmer med verkligheten. Läs här.
2006-11-08 13:10:59
Reformbehov för framtidens välfärd. Svenskt Näringsliv har anlitat Konjunkturinsitutet, KI, för att göra beräkningar av olika scenarier för den ekonomiska utvecklingen fram till 2035. I scenario ett antas att sysselsättningen förblir densamma. Ska välfärdstjänsterna utvecklas som ekonomin i övrigt - mot denna bakgrund - måste kommunalskatten höjas till 46 kronor år 2035. Detta på grund av den s k Baumols lag om lägre produktivitetsutveckling inom tjänsteproduktion. Bibehålls sysselsättningen och skattenivåerna inte ökar måste de offentliga välfärdstjänsterna dras ned med hela 17 procent. Med en radikalt ökad privat sysselsättning behövs dock ingen av dessa skadliga åtgärder. Till detta kan läggas att privat finansiering av välfärdstjänster och socialförsäkringar erbjuder en än mer effektiv lösning på dessa problem.
2006-11-08 11:21:09
Åslund in FT About Central Europe. In today′s Financial Times, Anders Åslund points out that the main problems for the countries of Central Europe are not political, but economic:

"But central Europe′s economic results are impressive only by European Union standards. From 2000 to 2005, Poland, the Czech Republic, Slovakia and Hungary grew on average by 4 per cent a year, compared with 8 per cent a year in the 15 former Soviet republics. Even in this boom year, central Europe will grow by 5 per cent, while the former Soviet Union comes close to 9 per cent. Star performers are Armenia, Azerbaijan and Kazakhstan. ...

Two-thirds of the much higher growth in the former Soviet countries can be explained by their far lower public expenditures. The only other significant factor is the high world prices for oil. The ex-Soviet countries have become part of the high-growth belt from China via India to the Baltics and they look to the economic models of east Asia, with low taxes, limited social transfers and free labour markets, rather than the EU."

Read the entire article here - >
2006-11-08 09:15:40
Implications of the Democrat Victory. Despite efforts from John Kerry, the Democrats won the House, as predicted, though the Senate remains uncertain. It is more of a loss for the Republicans than a real victory for the Democrats.

The common explanations for the discontent are the situation in Iraq - which has not been handled the way it should - and the scandals. Personally, I think one should not underestimate the importance of the criticism against the Republicans from their own people about abandoning policies for small government. The expansion of the federal government with George W Bush has been criticised as a betrayal of core conservative values. This is likely to have discuraged many Republicans from voting.

What will happen? Well, normally in a system of checks and balances like the US federation, this is a situation which leads to less government intervention in society. Spending increases have historically been smaller when there have been different majorities. This is simply due to the fact that it is harder for the politicians to agree.

In this case, however, it might, at least initially, have the opposite effects. First, the tax decreases by George W Bush - foolishly made temporary from the start - will probably not be prolonged. Second, there will be no social security reform that will avoid a spending increase for pensions. Third, if anything, there will be more restrictions on foreign trade.
2006-11-07 15:01:43
Europeans Support Flexible Labour Market. In the latest Europe-wide opinion poll Eurobarometer, 72 per cent of the respondents agree with the following statement: "Work contracts should become more flexible to encourage job creation." So please, no more excuses from the politicians about people standing in the way of reform. Loud minorities, perhaps, but not people in general.

Read Eurobarometer here - >
2006-11-07 14:29:39
Does the EU Commission Support Ms Royal? Ségolène Royal, the Socialist candidate for French President, has said that she wants more of a "social Europe". A model that has failed miserably and created very anti-social effects on the national level is, for some reason, desired on a European scale. According to Le Figaro, the Swedish EU Commissioner Margot Wallström supports Ms Royal in her EU vision. Indeed, Sweden then has a Commissioner in conflict with the Swedish Government. But perhaps she is just preparing to leave Brussels and become a leader of the Social Democrat Party? In any case, the new Swedish government ought to begin to consider new names for the post as EU Commissioner.
2006-11-07 12:55:18
In Trend: ?védsky sociálny model má antisociálne efekty. This week, the main topic - in several articles - in the Slovakian version of The Economist, Trend, is the so-called social model, the Nordic countries and Sweden. It features an extensive interview with me. Read the first article here and the interview with me here.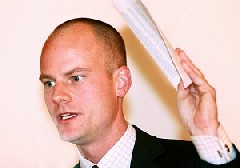 2006-11-06 23:23:46
Lönebildning i Studio Ett. Några personer sitter i ett rum och bestämmer huruvida hundratusentals personer ska få 200 eller 250 kronor mer i löneökning. Ser någon ett modernt, flexibelt och frihetligt samhälle, där egna insatser lönar sig, i denna bild? Själv ser jag en centralstyrd lönebildning som kväver varje drivkraft hos individen att uträtta något.

Likväl är detta vad vi nu är på väg in i, med nästa års avtalsrörelse. LO har kommit med ett initialt ställningstagande om hur de vill att alla medlemmar ska ha det. De lägsta lönerna och kvinnors löner ska höjas mer än andra, anser de. IF Metall håller inte med och hoppade av. De inser att det är de som skulle få stå tillbaka i denna kollektiva fördelning av lönerna.

Nåväl, detta diskuterades av undertecknad och Stefan Carlén från Handelsanställdas Förbund i Studio Ett idag. Jag påpekade att bristen på företagande, konkurrens och privat finansiering håller tillbaka lönerna för de flesta kvinnor i offentlig sektor. Därför är liberaliseringar där centrala. Att sedan P1 enbart hade intervjuat kvinnor i handeln gav en missvisande bild av de flesta kvinnors verklighet.

För dessa kvinnor gäller naturligtvis andra villkor än för dem i offentlig sektor. Att de har låga löner har andra förklaringar. Detta visar i sig hur fel centrala lösningar därmed är. Blir det mer lönsamt för den enskilde att göra extra insatser lär inte minst kvinnor tjäna på det. Man bör inte heller glömma betydelsen av sänkt skatt för dessa Europas högst beskattade låginkomsttagare.

Lyssna på programmet här - >
2006-11-06 12:05:38
Justice - But Wrong Punishment. At last, justice has arrived to Saddam Hussein by the decision from the court. Among several bad signs from Iraq, this is a good one, since it is the rule of law. Unfortunately, they decided on the death penalty. I think that this punishment is wrong in principle and should not be allowed in democratic states. In this case, in particular, I think it would have been a better signal if he had been sentence to life imprisonment. It would have been the opposite of his own rule of death and a sign of a new and humane society.
2006-11-05 23:53:30
EpA Economic Papers: Ny regering och politik för jobb. Liberala Ungdomsförbundet har en publikation om ekonomiska frågor, där en artikel av undertecknad just har publicerats. Läs den här.
2006-11-05 23:11:08
Humor från isolerad kommunist. Tydligen har Ali Esbati på sin blogg vid ett antal tillfällen publicerat inlägg som har kritiserat det faktum att undertecknad talade på ett arrangemang hos norska Fremskrittspartiet i april. Nu senast i fredags, apropå en artikel i SvD om nämnda parti.

Självklart tar i stort sett ingen denne Esbati på allvar. Än färre torde orka traggla sig igenom hans ordmassor ägnade att dölja den udda kombinationen av postmodern principlöshet och kommunistisk retorik. Den som lyckas finner en person som har sällat sig till Jan Myrdals verksamhet som alla förtryckares försvarsadvokat, från Iran till Kuba. Ändå tänkte jag ägna hans utfall ett par ord.

Få som har tagit del av min verksamhet torde ha missat att undertecknad står för klassiska liberala principer. Detta är motsatsen till totalitära läror, från nazism till Esbatis kommunism. Det är en frihetslära som har legat till grund för historiens framgångsrikaste samhällen. Centrala liberala principer är tolerans för olikheter och öppna gränser med bl a fri invandring.

Mitt liv har i mycket varit ett arbete för denna frihet. Detta har fört mig till att hålla hundratals anföranden på de mest skilda platser, inför väldigt olika åhörare. Ibland har åhörarna delat många av mina principer, ibland väldigt få. Mitt mål är detsamma: att övertyga om mitt budskap. Jag vill att åhörarna ska stödja liberala idéer i högre grad när jag går därifrån än när jag kom.

Så även med Fremskrittspartiet. Självklart instämmer inte jag i hela deras partiprogram idag. Och i deras historia finns flera ställningstaganden som står i direkt strid med mina principer - inte minst i frågan om invandring. Men det är ett parti i förändring och jag fick möjlighet att bidra till denna utveckling med ett tal. Således underströk jag inte minst i talet betydelsen av öppenhet mot omvärlden och fri rörlighet.

För att göra det mycket enkelt kan konstateras att när ett parti står för något liberalt håller jag med om det, om det står för något antiliberalt håller jag inte med. Ju fler liberala uppfattningar partiet har, desto bättre. Esbati insinuerar bisarrt nog att jag snarare instämmer i de icke-liberala delarna. Det är lika uppenbart som självklart felaktigt. Esbatis smutskastning är löjeväckande genomskinlig.

Möjligen är den här typen av lätt rättshaveristiska inlägg en följd av den desperation som sprider sig av att hans parti är i opposition. En annan anledning kan vara att i motsats mig så är det just de liberala idéerna hos olika partier som Esbati avskyr. Men istället för att angripa dessa - vilket är svårt eftersom verkligheten då blir ens fiende - görs grundlös smutskastning.

Av alla dåliga skäl till att ägna sig åt destruktivt trams vet jag inte vilket som är sämst. Det spelar dock ingen roll; jag hoppas att de få som har betraktat inläggen från denne den förste och siste postmoderne kommunisten fick sig ett gott skratt. Det fick i alla fall jag.
2006-11-03 12:00:43
Happy Halloween! Just let me wish you a horrifying halloween. For fans of old horror films like me, this is fun times. If you want to see a classic and not get too scared, I would suggest Christopher Lee′s first Dracula film from 1958. Enjoy!



2006-11-03 11:58:33
Bratislava. There is now some documentation, including photos, from the arrangements and the lecture I gave in Bratislava. See here.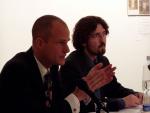 2006-11-03 11:50:27
Back From Oslo. The conference where I spoke yesterday took place in the fortress Oscarsborg, which is situated on an island outside of Oslo. It was built to protect the entrance to the Norwegian capital. And indeed it was given that task decades after it was built, when Nazi Germany was about to invade on April 9th 1940. A fleet of cruisers and smaller ships entered during the night with no lights on, but were spotted. The head of the old fortress managed to mobilise some people and load the cannons. (From Swedish Bofors, by the way.) The cruiser Blücher was sank - and the German staff that had the task of capturing the King and Government sank with it. Thus, the Norwegian Government got the time to escape. This is 66 years ago. The world - and Europe - is indeed so much better today in many ways.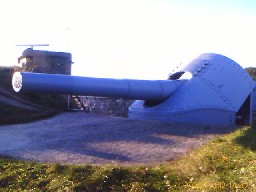 One of the cannons at Oscarsborg.
2006-11-03 11:46:05
Kommentarer. Sydöstran skriver en ledare utifrån mina påpekanden på bokseminariet i måndags. Skribenten är tveksam till min optimism om möjligheterna till fler reformer i Sverige efter de initiala på arbetsmarknaden. Det viktiga i den frågan är att en regering som vågar förändra står pall för kritiken så reformerna blir av och de goda effekterna kommer - då vänder också opinionen.

Kommentar två, i ett närliggande ämne, är att "Sänkt skatt är möjlig" recenseras i Tidningen NU. Boken anses "väl optimistisk om skattsänkningsviljan hos riks- och kommunpolitiker, men är ändå bra som referenspunkt och faktaunderlag".
2006-11-01 12:34:33
Falling, One By One... It seems that the ghost of labour mobility restrictions is haunting Europe. In 2004, only Britain, Ireland and Sweden did not have any such arrangements to stop the free movement of labour in the enlarged EU. Now, both Britain and Ireland will introduce measures against people from Bulgaria and Romania when they join the EU in January. And among the others, several countries discussed abolishing the previous regulations - but now it seems they will also have restrictions on the newest members. For example, The Netherlands seems to go that way. And Spain too. But Sweden, with a new government, will not have any restrictions. The previous Social Democratic government wanted it, but did not manage to get a majority in Parliament. This government has said that will not propose anything similar - I sure hope that position is steadfast. Hopefully, then, more people will come to work in Sweden this time than in 2004, when only some 2000 people came.
2006-11-01 12:30:44
Dagens citat:

"Det är inte i politiken som jag tror att vi har så mycket brister.

Göran Persson talar om valförlusten i partitidningen Aktuellt i Politiken, nr 42
2006-11-01 12:23:31
Från Arbetslivsinstitut till Oscarsborg. Morgonens debatt med Anders Björnsson i Gomorron Sverige på SVT om nedläggningen av Arbetslivsinstitutet blev klargörande. När staten direktfinansierar forskning blir den politiserad, och så har varit fallet med Arbetslivsinstitutet. Detta har synts i ledningen, deras bidrag till facket, deras beröm till s-regeringens politik - och frånvaron av förslag till reformer på arbetsmarknaden trots dess stora problem. När expansionen av antalet myndigheter nu vänds till en minskning är det därför lämpligt att just denna verksamhet får ett slut. Se debatten här.

I tv-studion var det mycket liv om snöstormen och dess konsekvenser - som är betydande. Jag slås av hur de som talar om farorna med global uppvärmning både lyckas skylla sommarens värme och denna iskyla på samma fenomen. Nu styrs hur som helst min färd inom kort mot Oslo, där tankesmedjan Civita genomför ett årligt arrangemang benämnt Oscarsborgsseminariet. Min bok "European Dawn" finns med och jag ska tala om Europas möjliga lärdomar av Norden.