2007-11-30 14:04:52
Lyckad svensk release! Igår kväll genomfördes således den svenska releasen av "The Guide to Reform". Undertecknad inledde och förre finansministern Erik Åsbrink kommenterade. Åsbrink kom med en rad intressanta och relevanta reflektioner kring sina egna erfarenheter av reformarbete. Och en del ris och ros till boken. Ett välbesökt arrangemang, många publikfrågor och god stämning. Sedan vidare releasefestligheter och sen kväll... Uppdatering: Lyssna på presentationerna och diskussionen här och läs bloggkommentarer här och här.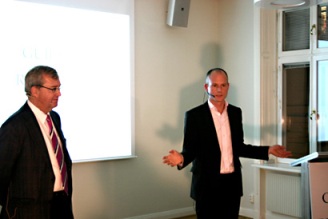 Besök bokens webb här - >
2007-11-29 13:04:19
GT: "Mannen som vill förändra världen." Idag publicerar Gotlands Tidningar en intervju med undertecknad med anledning av den nya boken. Läs mer här.
2007-11-28 11:53:28
Quote of the Day:

"I couldn′t care less."

Kevin Rudd (Labour), new Prime Minister of Australia, replying to a warning that his policies might lead to conflicts with special interests such as trade unions.

Read more in the FT - >
2007-11-27 14:09:40
Bloggers Start to Write. I noticed that a few bloggers in different countries have started to write about my book, which is just starting to reach markets. See, for example, here, here, here, here and here. My FT article was obviously translated and published in Poland too, see here.
2007-11-26 23:11:56
Releasefest! Några platser uppges finnas kvar på den svenska releasen av min bok på torsdag. Anmälan här. Välkommen!
2007-11-26 23:08:22
"Alliansen är en konstig tant." Träffande och insiktsfullt av Ann-Charlotte Marteus i Expressen för några dagar sedan om skillnaden mellan hur en borgerlig och en socialdemokratisk regering betraktas och behandlas i Sverige. Läs här.
2007-11-25 14:09:23
Brutal Cowards. Russian police arrested opposition leader - and former chess champion - Garry Kasparov at an election meeting. According to witnesses, he was forced to the ground and beaten. This is what an election campaign in Russia looks like today.

President Putin has all the powers of the state and has used its force to retain control. Media and NGO:s are far from free, and thus Putin and his party are way ahead in the opinion polls. Despite that unfair advantage, this is how the opposition is treated. A shame.

Read more - >
2007-11-25 14:00:10
Buy Something Day. I forgot, so I advise you one day too late. Yesterday was what a new group refers to as the Buy Something Day. When we buy a new product, we contribute to our own well-being, economic growth, better environment and in many cases higher incomes for the world′s poor. Not too bad. So I think that we can celebrate all week long. Or all year, for that matter.



2007-11-23 13:14:01
Taking Off. The web page for my book, guidetoreform.com, had 349 visitors from 29 countries during the first two days. A promising start.
2007-11-23 12:20:11
Yppighetens nytta. Igår kväll presenterade vi således en ny bok i serien Timbro Debatt, med titeln Yppighetens nytta, författad av Jonas Frycklund. Undertecknad har varit projektledare och var även moderator för presentationen, där också Marie Söderkvist Tralau och Katarina Bjärvall medverkade.

Jonas bok är ett mycket bra försvar för konsumtionen och konsumtionssamhället. Han bemöter en rad vanliga kritikpunkter på ett faktarikt men också resonerande och ofta humoristiskt vis. Fria konsumenter driver inte bara utvecklingen av bättre varor och tjänster utan har en central roll i samhällets framåtskridande.

Konsumtion är bra för miljön, minskar fattigdomen i världen - och konsumtion uppskattas av väldigt många. Och framför allt: kritiken är inte ny. Den har hängt med i många sekler och alltid är det någon förmyndare som anser att vanligt folk inte ska unna sig det ena eller det andra. Frågan blir som alltid vem som ska tvinga oss att avstå - och med vilka medel.

Läs mer och beställ boken här - >
2007-11-21 22:44:33
In FT: Even in Europe, Reform is Possible. In Thursday′s edition of Financial Times Europe and Asia, there is a Comment piece by me. A number of the main conclusions from my book are applied on current events, like the situation in France.

Read the article here - >
2007-11-21 15:03:37
BBC. I am in London for the first formal release of my book. Always great to be here; probably the most dynamic city in Europe. I just came from the BBC after having recorded an interview for BBC World Radio (Europe Today). It will be broadcast at 17.00 British time, 18.00 Central European Time. Listen here. The interview about the book that Timbro has recorded can now also be found at YouTube. Perhaps not BBC studio quality, but an informative discussion.


2007-11-21 07:21:45
EU Affairs Blogs. Euractiv has a major article about European blogs and their role in the debate. This blog is listed in the article. Read more here.
2007-11-20 19:25:35
guidetoreform.com. Since the first formal release of my new book takes place tomorrow in London, the official web page of the book is now up and running. There, one can access more information, order the book, see news - and an interview with the author... Welcome!

The Guide to Reform
2007-11-20 10:21:26
Avaliable at Amazon. My new book The Guide to Reform is now avaliable for purchase at Amazon - one day before the formal release. IT has really speeded up society...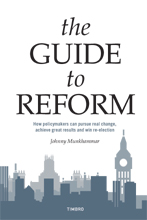 2007-11-20 10:13:38
Bloggträff. Igår kväll var det lite för-release av min bok för ett antal ledande bloggare. Andreas Bergh, Ratio, som inom kort presenterar en bok som heter "Den kapitalistiska välfärdsstaten", medverkade också. Likaså statsministerns nyutnämnde statssekreterare HG Wessberg.

Mycket bra diskussioner om reformstrategi. Mitt bidrag var förstås de internationella jämförelserna, Andreas Berghs den svenska reformhistorien och HG:s den svenska regeringens situation. Bra fördjupningar, öppen atmosfär, god stämning.

Några bloggare har redan skrivit, se här, här och här. Johan Ingerö har redan recenserat boken här.
2007-11-19 09:54:07
Åsbrink kommenterar min bok. På den svenska releasen av min bok "The Guide to Reform" den 29 november kommer förre finansministern Erik Åsbrink att stå för kommentarerna. Det ska bli mycket spännande att ta del av hans erfarenheter av svårigheter och möjligheter att genomföra viktiga reformer. Läs mer här.
2007-11-16 10:44:17
Meeting the President. It was a very nice one-hour meeting with the President of Lithuania, Valdas Adamkus, and his advisors. Discussions about the economic situation, the need for reform and strategies to do it. A lot of media present when I arrived, from tv, radio and newspapers. Now off to lunch with politicians, then meeting with think-tanks from the region and finally the gala dinner.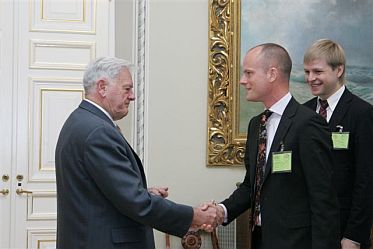 2007-11-16 08:13:03
In a Cold Vilnius With a Hot Economy. The beautiful Old Town of Vilnius these days is frosty indeed. But all the new cars and newly built skyscrapers in the other parts of the capital suggest that the economy is doing well. And Lithuania has been one of the Baltic tigers, with strong growth of prosperity, due to substantial reforms during the past decade or so.

This year, GDP growth is projected to be more than 7 per cent. Average household income will rise by 12 per cent. Exports and imports rise by about 15 per cent each - in this one year alone. Taxes as a share of GDP has fallen from 41 per cent in 2000 to 32 per cent this year. It is probably both a cause and consequence of the high growth rates.

This doesn′t mean that reforms should stop here and now. Still, Lithuania′s GDP per capita is still just 58 per cent of EU average. And studies point to a need for reforms in several sectors, such as labour market, higher education and health care. That way, Lithuania can not just close the gap with the EU average but pass it - like Ireland did.
2007-11-15 07:57:11
Main Release. On Wednesday the 21st, my new book "The Guide to Reform" will be formally presented in London. Since it is published in association with the Institute of Economic Affairs, that is where the arrangement takes place. Located in Westminster, a few hundred metres from Houses of Parliament, it is classic ground. The IEA is the oldest think-tank in Europe, this is where the ideas of Thatcherism were developed and it and has been the workplace of people like Friedrich Hayek and Lord Harris. Some seats are rumoured to be left on the evening of the 21st, read more here about how to participate.
2007-11-15 07:52:51
Meeting the President. I am on my way to Vilnius, Lithuania, for several lectures and speeches about reform strategy. It will be a little "pre-launch" of my new book "The Guide to Reform". Apparently, the President of Lithuania, Valdas Adamkus, took an interest in my visit. I am now scheduled to meet him as well - and to give him two copies of the book. Since my book largely aims to inspire and encourage politicians to do more reforms, this might be considered a good start for a book that has yet not been formally presented.
2007-11-14 12:39:28
Picture Element! Do you have too many digital photos to ever show them? Do you lack the time to sort them all out? Do you feel that bringing the computer onto the dinner table or in front of the fireplace aren′t the best ways to show your photos?

There is now a simple solution to all of that. Send a CD with all the photos to the new company picture element and you will get a designed, high-class photo book with the best photos. Or several books; the more copies you order, the cheaper they get. The web page is under construction.

Here is a one-page document (pdf) describing the products - showing photo books, prices, etc. Queries can be e-mailed to pictureelement@munkhammar.org. This product takes digital photos to a new stage. It is the ideal documentation of a vacation trip, a wedding party or a company kick-off.

A digital picture consists, as everyone knows, of pixels. That word is short for "picture element". And by the way, this company is started, owned and managed by my equally beautiful and entrepreneurial wife Linda.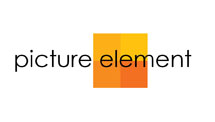 2007-11-14 11:30:24
Myths About Free Trade. The debate about globalisation and trade has turned more protectionist in recent years. Claims are made that the US loses jobs and that ordinary people don′t benefit from free trade. A new Trade Policy Paper from the Cato Institute shows the facts:

- The number of Americans who have jobs is 16,5 million higher than a decade ago.

- Average real compensation per hour paid to American workers increased by 22 per cent during the last decade.

- 3,3 million jobs have been lost in manufacturing during the past decade. But 11,6 million new jobs with higher wages were created.

Read the Paper here (pdf) - >
2007-11-14 11:02:06
Re-Elected Reformer. The moderately reformist centre-right government of Anders Fogh Rasmussen was re-elected yesterday. The Danish people did not want to return to higher taxes and increasing welfare dependency. Denmark has been reforming in different waves during the past 15 years, step by step leaving the old "social model" behind. This has been successful in terms of rising living standards and should continue - and the voters agreed. This again confirms the point that reformers tend to get re-elected.

Read more (Jyllands-Posten) - >
2007-11-12 10:30:53
3718 Metres Above Sea Level. At Tenerife, we were a small group that devoted a substantial part of the free time to climb Mount Teide. Stefan Fölster was naturally in the group, and his wife Catharina Barkman. We started where the road ends, at 2200 metres above sea level. The climb was quite steep and surprisingly breathtaking, due to the air getting thinner. Adding to the excitement was the fact that Teide is a volcano, with sulphur emissions coming here and there. The view form the peak was amazing. I think we could see all the other Canary islands.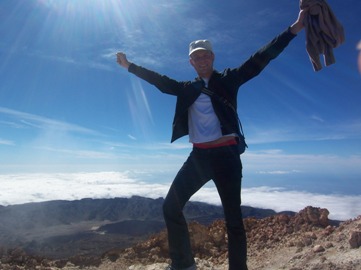 2007-11-09 11:45:18
Friedman and Pinochet. Naomi Klein and her informal staff of propaganda-makers at the alleged "Culture" pages of several newspapers lie and mislead in order to turn people′s perception of society upside down. One very concrete point is their allegation that Milton Friedman was an advisor of Chile′s military dictator Pinochet. Their message is, thus, that Friedman approved of oppression and that the ideas of a free economy are somehow tied to political dictatorship.

Of course both the very issue and the example are completely wrong. Milton Friedman went to Chile and gave a lecture at a University about the need for both economic and political freedom. He met Pinochet one, a brief meeting, as he always tried to convince people about the need for freedom. He did the same thing in China. Now, both these countries did adopt several of his economic ideas, with enormously positive effects in terms of increasing living standards and decreasing poverty.

Chile is also today a democracy, which Milton Friedman believed would be the case after introducing economic freedom. That is unfortunately not yet the case of China. But to say that the messenger of freedom approved of oppression is perverted. To lie about a person whose ideas have benefited so many people who have been lifted out of poverty is a disgrace. This probably says a lot about the charachter of people who give this message.

Read more here.
2007-11-09 11:36:02
Fler unga får jobb än någonsin förr. Antalet unga i arbete var 8,8 procent högre tredje kvartalet i år jämfört med ett år tidigare. Läs mer. Det är en ökning på 45 000 personer. En så stark ökning av sysselsättningen bland unga har inte uppmätts förut. Mätningarna började 1963.

Självklart beror detta delvis på god konjunktur. Men tidigare har antalet unga i arbetsmarknadspolitiska åtgärder ökat även i högkonjunktur. Nu dras dessa åtgärder ned och unga kommer istället i arbete. De sänkta arbetsgivaravgifterna, inkomstskatterna och a-kassan har naturligtvis betydelse.

KI har konstaterat att en tredjedel av de nya jobben är en följd av regeringens reformer. Den andelen kan vara större avseende jobben för unga. Ibland kan man undra hur förhållandevis begränsade reformer får så tydlig effekt. Sannolikt är signalverkan och riktningen helt enkelt viktigare än den direkta omfattningen på kort sikt.
2007-11-08 21:25:55
Seeing With Different Glasses. A society with severe social problems due to neoliberal policies, a genuinely immoral and violent place - and with bizarrely loose gun laws. Has anyone heard statements like this about Finland as a consequence of the tragic shooting in a Finnish school, killing nine people? At least I haven′t noticed any such interpretations. But when similar events take place in the US, that is what many commentators say. There is simply a difference between objective analysis and ideological propaganda.
2007-11-08 13:29:33
The Times They Are A-Changin′...

...for the better.
2007-11-08 12:20:52
Erfarenhet och principer. Enskilda ersoner har stor betydelse för alla organisationer - i synnerhet på centrala positioner. Att regeringen idag utsåg HG Wessberg till ny statssekreterare i Statsrådsberedningen är därför lovande. HG har erfarenhet, auktoritet och vägleds av principer. Ett starkt bidrag till uppstyrningen av regerandet, såväl strategi som vardag.
2007-11-06 22:46:04
To Vilnius! The Lithuanian Free-Market Institute will next week celebrate its founding with a major arrangement. I will be the key note speaker - a little pre-launch of my new book "The Guide to Reform". There will also be a lecture at The Institute of International Relations and Political Science and separate meetings with leading politicians and journalists. Will be very interesting. Of course, Lithuania did reform substantially, but more can be done. The current success should not be allowed to be temporary.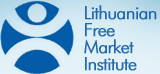 2007-11-06 22:33:33
Ständigt dessa skatter. Det är mycket diskussion om politiska tjänstemän i regeringskansliet som inte har betalat alla skatter hela livet. Förvisso passar det den mediala logikens förenkling, personifiering och dramatisering, men proportionerna är beklagliga. I jämförelse får den politik de arbetar med - som betyder mycket för medborgarnas vardag - begränsat utrymme.

Ingen vet i hur hög grad människor gör tjänster åt varandra utan att däremellan betala in skatter. Men vi vet att en person som vill anlita en annan måste tjäna 6000 kr före skatt för att den anlitade ska få 1000 kr över efter skatt. Så väldiga skatter gör det omöjligt för personer med vanliga inkomster att köpa tjänster.

Lagar ska följas. Men man kan konstatera att när lagar om exempelvis skatters enorma omfattning gör livet svårt skapas ofta andra vägar. Detta är inte medborgarnas misslyckande utan systemens. Det är inte rimligt att enorma skatter driver vanligt folk att bryta mot lagar för att få livet att gå ihop.

Man kan också fråga sig vad de enorma proportionerna i den mediala kritiken får för effekter. Vågar någon som eventuellt i livet har gått mot rött eller parkerat fel någonsin engagera sig i politiken? Är människor som knappt har gått utanför dörren verkligen alltid de bästa politiska ledarna?
2007-11-06 16:03:23
Dagens citat:

"Nej, jag har börjat med email först nu, eller email-post heter det väl. Och så har jag börjat googla."

Göran Persson visade i P1 härom veckan hur väl han hängde med utvecklingen under tiden som statsminister.
2007-11-05 14:00:33
Going Bananas. A striking sight for a visitor arriving by plane to Tenerife are all the banana plantations. Quite visibly, the bananas need lots of special treatment to be cultivated there - and still they get quite small.

Bananas grow naturally in the tropical parts of the planet. Tenerife is part of the subtropical. So why are all the plantations there - providing lots of small bananas? Two answers: Tariffs and subsidies.

Instead of importing all bananas from countries with the best conditions to grow them, Europe has a protectionist trade and agriculture policy. And we all lose; tax-payers, consumers, Tenerife workers and banana producers in other countries.