31/12/2004 12:42:53 pm
Wealth Prevents Disasters. A few days ago, I wrote that rich countries probably are much better at protecting people from natural catastrophes and take care of people. I doubted, however, that the difference would be as large as we might hope - since people everywhere tend to regard unlikely events as things that will not happen. The graph below, from Action Aid, seems to contradict that and show that wealth matters fundamentally. One counterargument may be that the rich countries are situated in places with few natrural disasters. Perhaps it has some relevance, but history shows that the rich countries of today got worse hit before they became rich: The 1906 San Francisco earthquake (and the subsequent fire) killed at least 3,000 people out of a population of about 400 000. The 1994 quake in the same area killed only 60, out of a population that had almost doubled. Over 8 000 people in the Galveston, Texas area died in the hurricane of 1900, but hurricane Andrew?s 1992 path through a much more heavily populated Florida killed only 40 people. Thus, the graph stresses the importance of a growing economy - and thereby a free economy - to be able to protect citizens and save lives in disasters.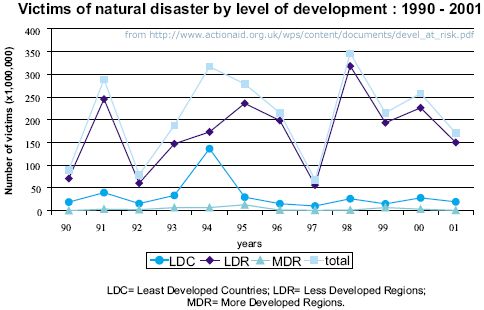 30/12/2004 5:59:03 pm
Don′t Make One Catastrophe into Two.
Sweden seems likely to be worst hit of all the European countries by the tsunami. Almost eveyone I talk to know someone who is still missing. This is of course due to the fact that Thailand has emerged as a very popular place for Swedish tourists. Many thousand Swedes were there when the wave struck and 2500 are still missing. We may have a tragedy just as big as when the ship Estonia sank in 1994 and some 850 Swedes died, a trauma which is still with us.
The handling by the Swedish government of the crisis has been slow and clumsy. Apparently, today the first planes to get the survivors home lifted off. Private Swedish companies and resorts, on the other hand, reacted within a day or two and did what they could. The government has sent the Foregin Minister there, a symbolic PR-gesture of no practical importance whatsoever. The bungling crisis management will be a heavy load on the image of their ability to govern in the years to come.
Apart from the human disaster, this event is now analysed from many aspects - also economic. Some claim that this will actually be good for the economy. They point out that new things have to be built to replace the old and that it will boost growth. A usual mistake, disproved by Bastiat in a classic example, and if that false economic analysis would get hold we would create another catastrophe out of the first. Of course resources now have to be directed towards rebuilding - but they would otherwise have been directed towards building new things that didn′t exist. This is not only a human loss, it is an economic one. Read more in the short piece from The Mises Institute below.
Read here - >
30/12/2004 5:41:51 pm
Har lämnat byggnaden. För en stund sedan lämnade jag Näringslivets Hus och Svenskt Näringsliv för sista gången som medarbetare. Innan jag gick ut från den lugna byggnaden för den grådaskiga Storgatan skrev jag "Grev Turegatan 19" på ett antal kartonger; adressen till Timbro några kvarter bort - min nya plats på barrikaden. Allra sist tog jag dock med mig en OH-bild med ett citat ur Selma Lagerlöfs Jerusalem, som kan passa i jultider och inför det nya året:

"Det var den turkiska regeringen borta i Konstantinopel, som var orsak till hela olyckan. Det var den, som hade låtit de gamla vattenledningarna förfalla, som inte höll vägarna vid makt, som satte sig emot allt järnvägsbyggande, som hindrade företagsamma utlänningar att anlägga hamnar, som förbjöd att införa västerländska böcker och tidningar. Det var den, som lade så tunga skatter på envar, som företog sig ett nyttigt eller inbringande arbete, att folk föredrog att dåsa bort sitt liv i overksamhet. Det var den, som inte upprätthöll rättvisan, utan tillät domare att ta mutor, som lämnade rövare att i långa tider husera ostraffade, som hade låtit hela folket förslöas och försummas, tills det inte längre var i stånd att resa sig."
29/12/2004 2:10:14 pm
Till Tykos försvar? Signaturen Bulten i Bo - som förefaller hämta en stor del av sin dagliga inspiration i att följa mina förehavanden - har reagerat alldeles särskilt på min text om Robin Hood. Han skriver roligt och ironiskt, om än utan synbar slutsats, att jag försvarar varuhusägare Tyko Jonsson. Det gör jag inte, jag skrev om Robin Hood. Framför allt vill jag påpeka att Tyko Jonsson har fundamentalt fel om kommunismen när han tror att alla som frivilligt ger bort något är kommunister. (Eller rättare sagt vill Tage Danielsson få kommunismens motståndare att framstå som inskränkta och snåla.) I ett kommunistiskt samhälle är den privata äganderätten upphävd - det är kärnan i ideologin - och ingen kan ge bort något. Ingen äger något. Man har tvingats avstå allt man äger till staten. I dagens s k blandekonomi finns detta halvvägs genomfört. Vi tvingas av staten - ytterst med hot om våld och fängelse - att avstå hälften av det vi producerar. Kvar är mindre resurser för frivilliga relationer, såsom att skänka saker. Bara i ett fritt, kapitalistiskt, samhälle kan äkta solidaritet finnas - tack vare frivillighet och privat ägande.
29/12/2004 12:21:47 pm
Will We Learn From the Tragedy? The tragedy following the tsunami in Southeast Asia gets worse by the hour. Now, the death toll has reached 67 000. Media tells of a horrifying place where rescue operations are far too limited. One might ask what had happened if such a tsunami had taken place outside Western Europe. Would our far wealthier societies have been much more efficient in handling the catastrophe? My spontaneous reply would of course be yes; free and prosperous societies have great resources to save lives and care for the survivors. But I also suspect that the difference would have been smaller than one might expect. It all has to do with human risk aversion. People everywhere act as if unlikely things will not happen at all. We smoke tobacco, drive cars, climb mountains and protect us from terror in far too limited ways - until disasters strike. The richer parts of the world are not very prepared for the dangers of nature either. Saying this is not to be cynical or claiming that we should never take risks. My point is that we should learn from disasters like this. And if that is to happen, we have to remember how easy it may be just to go back to business as usual after some time when the worst memories have faded.
26/12/2004 4:15:20 pm
A Real Christmas Thriller. Today is the election again in Ukraine. What a battle it has been! Viktor Yuchenko was poisoned but survived, then the regime tried to steal the election and the people stopped it. Now, he will most likely become the President. Not least since he apparently won the TV duel against his opponent. Of course it will be hard for him to be the President of the whole country, it will be hard work. But let?s hope it is time tonight to celebrate step one for Ukraine towards a stable democracy and EU membership.
26/12/2004 4:10:09 pm
30,5 är mer än 25,25. I dagens Aftonbladet finns årets mätning av svenskarnas förtroende för partiledarna (Sifo). Den stora nyheten är att förtroendet för Fredrik Reinfeldt stärks och han har numera nästan samma siffra som Göran Persson; 40 mot 43 procent. Förtroendet för Lars Ohly har rasat ned till 10 procent. Den som är intresserad av en sådan jämförelse kan notera att förtroendet i genomsnitt för de fyra borgerliga partiledarna är 30,5 procent. I den nuvarande konstellationen s, v och mp är snittet 25,5 procent. Möjligen beror det delvis på att intrycket utåt av det nuvarande samarbetet mer liknar ett gammaldags bondslagsmål än regerande. Kanske har även de borgerliga äntligen blivit lite skickligare och mer trovärdiga. Lovande.
26/12/2004 4:04:13 pm
Robin Hood at Christmas. In Sweden, public service TV shows two programs every Chritsmas eve that refer to Robin Hood. One is the American animated Disney film, the other a Swedish animated film by Tage Danielsson. The first shows Robin Hood breaking into Prince John?s castle and stealing back all the tax-money to the people that earned them. A hero for the freedom of the people and a limited government. The true Robin Hood. The other one refers to Robin hood as somebody who steals from anyone who has money and gives it to the poor. That is something different. If you work hard and succeed, that Robin Hood might take your money and give it to your lazy neighbour. It is the socialist Robin Hood. Perhaps the two versions say something about our different cultures on each side of the Atlantic?
24/12/2004 10:44:16 am
Merry Christmas! Let me wish you a truly happy and restful Christmas with this quote by Ayn Rand, which I borrow from ny good friend and colleague Johan Norberg:
"The secular meaning of the Christmas holiday is wider than the tenets of any particular religion: it is good will toward men... The charming aspect of Christmas is the fact that it expresses good will in a cheerful, happy, benevolent, non-sacrificial way. One says: ´Merry Christmas´ ? not ´Weep and repent´. And the good will is expressed in a material, earthly form ? by giving presents to one?s friends, or by sending them cards in token of remembrance?
The best aspect of Christmas is the aspect usually decried by the mystics: the fact that Christmas has been commercialized. The gift-buying?stimulates an enormous outpouring of ingenuity in the creation of products devoted to a single purpose: to give men pleasure. And the street-decorations put up by the department stores and other institutions ? the Christmas trees, the winking lights, the glittering colors ? provide the city with a spectacular display, which only ´commercial greed´ could afford to give us. One would have to be terribly depressed to resist the wonderful gaiety of that spectacle."
23/12/2004 11:04:39 am
Kontroll & Förbud 3. Idag skriver utbildningsminister Leif Pagrotsky och s-studenternas ordförande Eric Sundström på DN Debatt. Läs artikeln här. Det huvudsakliga budskapet är att regeringen nu vill tillåta universitet och högskolor att ta ut avgifter av utländska studenter men förbjuda dem i lag att göra det av svenska studenter. Förslagen till stopplagar haglar ned dessa dagar. Högre utbildning för svenskar ska alltså bara få finansieras via skatten. Om jag som student skulle vilja ta mer lån eller söka stipendier för att bekosta en extra god utbildning så ska det vara omöjligt. Sådana utbildningar ska inte finnas här, det ska vara förbjudet. Man stänger av valfriheten för studenten, stänger en ny väg för att finansiera högre utbildning - och hindrar därmed nya utbildningar från att växa fram. Detta när gamla företag och jobb försvinner snabbt och snart sagt alla konstaterar att vi måste höja kunskap och kompetens i Sverige för att locka nya, välbetalda, jobb. Hur ska den högre utbildningen få mer resurser om den bara får finansieras offentligt? Ska det tas från äldreomsorgen? Ska svenska studenter behöva flytta utomlands för att hitta utbildningar som har förbjudits här? Även om avgifter skulle tillåtas skulle naturligtvis många utbildningar förbli offentliga och avgiftsfria. Diskussionen handlar inte om huruvida avgifter ska införas överallt utan om den möjligheten ska förbjudas eller ej. Och hur kan man vilja förbjuda utbildning?Ibland ter det sig som att personalen på bryggan på m/s Sverige avsiktligt siktar rakt mot isberget.
Läs artikel i SvD av undertecknad här - >
23/12/2004 10:58:42 am
Tidlöst om ledarskap. Företag, organisationer, skolor, myndigheter - överallt behövs skickligt ledarskap. Här ett tänkvärt citat om det goda och det mindre goda ledarskapet inför det nya året, från "Xenofons ledarskap". Också en god illustration av begreppet "redan de gamla grekerna...".

?Ja, vid Zeus, men i fråga om den ledarkonst som är gemensam för alla verksamhetsgrenar ? jordbruket, politiken, hemmets förvaltning, krigföring ? håller jag med dig om att människorna skiljer sig i kunskap. När man till exempel far över det öppna havet i en trier och det gäller att nå målet inom några dagar, kan vissa båtsmän tala och handla så att de sporrar sina män att villigt arbeta hårt, medan andra är så oförståndiga att de behöver mer än dubbla tiden för samma färd. De förra går iland svettiga och berömmer varandra, befälhavaren och de underlydande; de senare kommer fram utan att svettas, men de hatar befälet och hatas av det. Även fältherrar är olika på den punkten: några gör sina män ovilliga att arbeta hårt eller utsätta sig för fara, och dessa bryr sig inte om att lyda annat än av nödtvång, och sätter rent av en ära i att motsätta sig sin befälhavare. Dessa fältherrar lär dem heller inte att skämmas om något vanärande händer. Men när gudainspirerade, tappra och kunniga fältherrar övertar detta slags trupper, och ofta även andra, får de dem att skämmas över att göra något vanärande och att anse att det är bättre med disciplin: de är, alla och envar, rentav stolta att lyda och arbetar gärna hårt när det behövs. Liksom det förekommer hos enskilda soldater, som äger en viss medfödd arbetsglädje, så växer också under de goda befälhavarnas inflytande fram en arbetsiver i en hel här och ambitionen att bli sedda av befälhavaren när man gör något bra.?
22/12/2004 10:05:29 am
Kontroll & Förbud 2. "Man kan ha roligt utan sprit, men varför chansa?" Så stod det på en skylt inne på krogen Cliff Barnes i Stockholm. En inspektör från kommunens tillståndsenhet fick syn på denna och krogen fick i våras en allvarlig varning - försteget till att få tillståndet indraget. Till denna brottsliga humor ska läggas förseelsen att ha ett lägre pris per centiliter för drinkar med 6 cl sprit än drinkar med 4 cl. Såvitt jag vet är det inte första april idag. Alltså fastnar skrattet åt denna Orwellska parodi lite i halsen. En krog ska inte ha för låga priser eller skämt på väggarna. Undrar om det går bra att köpa något riktigt dyrt från försäljningsmonopolet och skåla med inspektören i ett mörkt hörn av kommunhuset? Åtminstone om man inte skrattar?
22/12/2004 9:57:01 am
Kontroll & Förbud 1. Statsminister Göran Persson gjorde igår ett utspel om att eventuellt göra förbud mot vinst i friskolor till en valfråga 2006. Ytterligare en stopplag. Friskolornas riksförbund svarar idag, enligt Dagens Nyheter, att Persson blåser upp en fråga som "egentligen" inte är ett problem. Nej, det är verkligen inget problem om en skola gör vinst. Tvärtom. Förlust är dåligt, vinst är bra - för att vara enkel. Vinst innebär att verksamheten bedrivs på ett effektivt vis; mer undervisning per krona. Att de som investerar i en skola kan tjäna på investeringen leder till att de vill förbättra verksamheten. Och vinst leder till att fler vill investera. Hur svårt kan det vara? Vill vi ha utveckling och mer investeringar i utbildning eller inte?
22/12/2004 9:56:57 am
The Religious Compassion of George W Bush. Since my personal "religion" consists of rationality, humanism, science and progress, I don?t share much of the Christian faith of George W Bush. But I dislike the anti-religion hysteria that we can so often see in Europe - not least as part of the anti-US and anti-Bush propaganda. Many people here seem to care less if a Christian (or a Muslim) clearly separates his or her religious and political beliefs or not. And they neglect to see that religion can be inclusive instead of exclusive. Religion can also be the basis for strong universal values for human rights. Thus, it was very welcome when The Economist in the latest edition analysed the Christian faith of Predident Bush and pointed out that his faith is personal, rather mainstream and inclusive:

"Mr Bush has been careful not to sound sectarian when talking about religion. He angered many supporters by claiming, for instance, that Muslims worship the same God as Christians (a view espoused by Harry Truman but not by most evangelicals). He visited a mosque after September 11th. ?We do not impose any religion; we welcome all religions,? he said at a 2001 prayer breakfast. ?We do not prescribe any prayer; we welcome all prayers.?

By and large, Mr Bush has not associated the workings of providence with America or himself. The best evidence is his frequent assertion that ?the liberty we prize is not America?s gift to the world. It is God?s gift to humanity.? To many Europeans, this formulation seems unnecessary. They argue that liberty is good in itself, not because it is God?s gift. But to Americans the association is almost axiomatic, since it is rooted in the declaration of independence (?all men are created equal, that they are endowed by their Creator with certain unalienable rights?)."

Read the entire article - >
22/12/2004 9:54:07 am
13,4 %. No, it is not the average rate of unemployment for us in Western Europe. (Though quite close.) It is the GDP growth in Turkey during the past year. Perhaps it is worth saying again: Welcome, Turkey!
21/12/2004 11:40:50 am
Nuder hot mot framtidens välfärd. I Ekonomiekot på P1 intervjuades idag finansminister Pär Nuder, som talade om en ordentlig översyn av hela skattesystemet:
"Väl så viktigt att markera i det sammanhanget är att jag inte ser framför mig ett lägre samlat skatteuttag. Jag tror tvärtom att det i framtiden är säkert så att vi kan behöva tillföra mer resurser till framför allt omsorgen och vården. Vi vet att det runt hörnet väntar väldigt stora anspråk på välfärdstjänster inom de områdena och det ska på ett eller annat sätt finansieras. Så det blir inte tal om att se fram emot något långsiktigt lägre skatteuttag om vi vill upprätthålla de höga ambitioner på välfärdens område som vi socialdemokrater vill."
Fel på alla punkter. Sänkt skattetryck är det viktigaste som kan göras för Sveriges ekonomi. Höga skatter är inte garanten för god välfärd utan det främsta hotet mot den. Ett högt skattetryck ger låg tillväxt, färre nya jobb och bidragsberoende. Läs gärna detta tal av Dan Mitchell från the Heritage Foundation, om bland annat vikten av sänkt skatt. Inte minst listar han koncist de åtta sätt på vilka höga skatter förstör den ekonomiska utvecklingen. Vill man ha ökad välfärd är sänkt skattetryck den bästa vägen. Högre tillväxt innebär större totala resurser för bättre levnadsstandard. Det ger också fler medborgare mer pengar kvar att köpa privat välfärd för - vilket ger valfrihet och mer välfärd per krona.
21/12/2004 10:06:43 am
Continued Swedish Economic Decline. It has been said frequently by the Government in recent years that the Swedish economic decline has been stopped. Sweden has even been said to prove that a country can have high taxes and yet reasonable economic growth. It is true that if a country is very good in other fields than taxes, that may compensate somewhat. But the record shows that to be untrue as well. The latest statistics from Eurostat, on GDP per capita for the 25 countries of today?s EU, show that Swedish decline has continued in recent years. In 1995, the average Swede was 18 % wealthier than the EU-25 average, but in 2002 he or she was 15 % wealthier. The fact that we are clearly above the average at all is due to the ten new members being relatively poor. In contrast to the continued slight Swedish decline, one can look at Finland with an increase from 6 % above in 1995 to 13 % in 2002. Or Britain, with a rise from 10 % above to 18 %. Or Ireland, which was 1 % under the average in 1995 and was 33 % above in 2002! And the new EU countries have been growing strongly, as Estonia with a rise form 34 % of the average to 49 %. Actually, the degree of Swedish decline is only surpassed by Germany, France, Italy and Austria.
Read the statistics from Eurostat (pdf) here - >
20/12/2004 11:06:06 am
Bush Time Person of the Year. US President George W Bush is the Person of the Year in Time Magazine. (Need it be mentioned that this has made very limited news in Swedish media?) The motivation is "for sticking to his guns (literally and figuratively), for reshaping the rules of politics to fit his 10-gallon-hat leadership style and for persuading a majority of voters this time around that he deserved to be in the White House for another four years." Furthermore, Time writes:
"An ordinary politician tells swing voters what they want to hear; Bush invited them to vote for him because he refused to. Ordinary politicians need to be liked; Bush finds the hostility of his critics reassuring. Challengers run as outsiders, promising change; it?s an extraordinary politician who tries this while holding the title Leader of the Free World. Ordinary Presidents have made mistakes and then sought to redeem themselves by admitting them; when Bush was told by some fellow Republicans that his fate depended on confessing his errors, he blew them off.
For candidates, getting elected is the test that counts. Ronald Reagan did it by keeping things vague: It?s Morning in America. Bill Clinton did it by keeping things small, running in peaceful times on school uniforms and V chips. Bush ran big and bold and specific all at the same time, rivaling Reagan in breadth of vision and Clinton in tactical ingenuity. He surpassed both men in winning bigger majorities in Congress and the statehouses."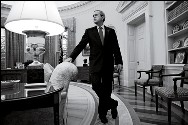 Read the article - >
20/12/2004 10:44:42 am
"Jag känner en kille, som känner Karl Rove. Läs Mathias Sundins Amerikabrev, som skickades ut idag, här.
20/12/2004 10:22:06 am
"Nuder är problemet - inte 40-talisterna." Idag utvecklar jag i en artikel på Sourze varför Pär Nuders samhällsmodell är problemet och inte de 40-talister han osmakligt har kallat "köttberg":
"Företrädare för en del ideologier tenderar att betrakta människor som kollektiv snarare än individer. Och ju mindre människor ses som individer, desto mindre blir också det individuella livet värt. Pär Nuders uttryck om 40-talisterna som "köttberg" går långt i den riktningen. Hundratusentals individer framställs som problem, som en hög död materia.
Att vi lever allt längre borde ses som en stor framgång för mänskligheten. Något är fundamentalt fel i ett samhälle där det framställs som ett stort problem. ...
I den västeuropeiska samhällsmodellen, som har drivits allra längst i Sverige, är tanken att staten ska ta hand om oss från vaggan till graven. ... Pär Nuder står för denna modell. Den politiker som spenderar mest framstår lätt som alla goda gåvors givare. Men det offentliga har inga egna pengar utan finansieras via skatten från dem som arbetar. Systemet är under press och Pär Nuder har rätt i att den ökar. ...
Låt de offentliga välfärdstjänsterna vara ett grundutbud. ... Låt oss som kan betala själva göra det.
Det talas nu om tvångsarbete för att rädda systemet. Gränserna ska stängas. Skattetrycket kan behöva höjas till 60 och 70 procent av ekonomin. Att sådant diskuteras visar att den stora staten är problemet, inte lösningen. Nu är hög tid att skifta successivt mot ett humanistiskt system med liten stat och privat välfärd. Där är människor av alla generationer resurser, inte problem."
Läs hela artikeln - >
19/12/2004 7:36:53 pm
Niklas Ekdal om min bok. Idag skriver Dagens Nyheters politiske redaktör Niklas Ekdal om min bok. Han jämför den med en annan bok på liknande tema, "Forma framtiden" från Institutet för framtidsstudier. Ekdal anser att jag har bättre förslag för framtidens välfärd.
Läs artikeln - >
18/12/2004 1:28:25 pm
Welcome, Turkey!! The dramatic day in Brussels yesterday ended well. The Turkish PM Erdogan rejected the first proposal from the EU. As it was altered somewhat on the Cyprus issue he accepted. Great! Now the path towards a better Europe and a better Turkey is clear. This is the best Christmas gift anyone in Europe could have received. Erdogan was greeted as a hero by thousands of people when he came back to Istanbul. For once, I think there would have been reason for us to do the same.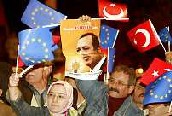 18/12/2004 1:06:02 pm
Perssonpengar och Reinfeldtresurser? I en debattartikel i Dagens Nyheter igår berättade Moderatledaren Fredrik Reinfeldt - efter en lång inledning om jul, kristendom och familj - att hans parti vill öka statsbidragen ytterligare fem miljarder mer till kommunerna än regeringen. Fakta är att blott ca 25 % av de offentliga utgifterna går till välfärdstjänster; vård, omsorg och skola, medan över 40 % är transfereringar, i form av socialförsäkringar och bidrag. Att förstärka välfärdstjänsterna på transfereingarnas bekostnad kan ha goda skäl, inte minst finns nog stöd bland medborgarna för denna prioritering. Men mer skattepengar till offentliga monopol är verkligen inte något huvudrecept för bättre välfärd. Att hälla pengar i monopol är lite som att hälla vatten i ett durkslag. Det är trots allt modellen att det offentliga ska äga, driva och finansiera allt som är felet. Vägen till bättre välfärd heter fri konkurrens, privat företagande, fri finansiering. Då kan vi både öka de totala resurserna till välfärd och få mer tjänster per krona. Reinfeldts moderater är så rädda för att utmålas som alltför förändringsbenägna av den mäktiga maskin som är deras motståndare att de helt avstår från att resonera om grundproblemen och de vägar som faktiskt finns till ett bättre välfärdssamhälle. Istället accepterar de en felaktig socialdemokratisk problembeskrivning och receptet till lösningar blir lika fel. Glöm inte att Bush vann valet i USA trots att han lyfte fram reformer av Social Security, vilket är kontroversiellt där också.
Läs debattartikeln - >
18/12/2004 12:49:05 pm
President Bush on Growth, Deficits and Social Security. This Thursday, President Bush discussed his economic agenda at a televised White House Conference with experts and politicians. One interesting piece of fact which was mentioned was that in 1935, when the pay-as-you-go Social Security was introduced, there were 40 working people for each person being supported by the system. By 2020, there will be only two people working for each person being supported by Social Security. That illustrates well the need for change and the President spoke about that, arguing for his thought of having personal accounts. (Another interesting fact that was pointed out was that the budget deficit was projected to be 4,5 % of GDP this year, but turns out to be 3,6 % - still high but not a dramatic size. Now what matters is which measures will be taken to continue reducing it.) President Bush also talked briefly about the ideology behind his economic reforms:

"I love the idea of people being able to own something. You know, one of the most hopeful statistics in America is the fact that more and more people are owning their own home. It is a -- it?s just -- I met a lot of people on the campaign trail that said, I just bought my first home. And there?s just such joy in their voice, that they were able to say, this is my home.
I love the fact that more and more people are starting their own business. I think one of the unique things about America is that the entrepreneurial spirit is so strong that people are willing to take risks. People from all walks of life, all income levels are willing to take risks to start their own company. And it?s a fantastic experience to meet people who say, my business is doing well. I?m trying to do the best I can with my business.
And I like the idea of people being able to say, I?m in charge of my own health care. In other words, if I make a wise decision about how I live, I end up with more money in my pocket when it comes to a health care savings account. I particularly like the idea of a Social Security system that recognizes the importance and value of ownership. People who own something have a stake in the future of their country and they have a vital interest in the policies of their government."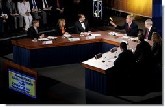 Read a transcript of the White House Conference - >
17/12/2004 2:11:38 pm
Did We Cheer Too Soon? Late yesterday night, the EU leaders made their long awaited and discussed proposal to Turkey. Since it contains the central aspect of starting negotiations with Turkey about EU membership - starting on the 3rd of October 2005 - it has been regarded as a positive message. Many cheered when receiving these news, me definitely included. The EU proposal does, however, contain a large number of conditions that will be hard for Turkey to meet. Read about its contents here. Today, so far, the Turkish PM Erdogan has declined to accept the deal as it is. Thus, uncertainty is again very big. The EU leaders now have to modify their proposal and apparently discussions are intense. This is the most important decision the EU will make in years. They definitely seem to be heading in the right direction. But they have to wrap it up during this meeting.
Read about the current situation in Financial Times - >
17/12/2004 10:44:54 am
Hasta la vista, Svenskt Näringsliv! Igår var det konferens med samtliga medarbetare på Svenskt Näringsliv, vilket avslutades med middag och festligheter på Berns. Jag fick tillfälle att hålla ett litet tal till samtliga närvarande. Självklart ville jag framföra ett tack för en mycket intressant och lärorik tid. Men också understryka att jag nu inte lämnar kampen för fri företagsamhet utan bara byter plats på barrikaden. Talar också en del om kampens kärna och vikten av att vara företagsamhetens Ivanhoe.
Läs hela talet (hade för en gångs skull skrivit ned allt) - >
16/12/2004 2:18:22 pm
Lars Ohly-koden. Vänsterpartiet verkar falla ihop som ett brinnande korthus. Nu senast har sena förhandlingar i slutna rum och öppna slagsmål i media präglat deras agerande i försvarspolitiken. Det kommunistiska partiet har alltid hållits långt borta från landets försvars- och säkerhetspolitik. Inte nu längre - nu dikterar de politiken. Men de gör det i sönderfall. Blott Perssons hot om nyval sägs ha fått lite ordning i sista stund. Detta sätt att regera ett land ter sig för den humoristiskt lagde som en parodi. Som ett avsnitt av Blackadder. Samme Lars Ohly som nog inte hade gjort betydande motstånd om Sovjetunionen ville invadera Sverige är nu en av dem som utformar försvarspolitiken. Det nya förslag riksdagen har att behandla vet få vad det innebär i detalj. Kaos. Är detta Lars Ohly-koden? Kommunistisk kaos? Dess inte fullt så hemliga tecken finns i var och varannan historiebok. Om det ändå vore dags att skriva sista bladet för historien om denna förtryckets ideologi.




Frågan är onekligen om situationen förtjänar ett leende eller inte.
16/12/2004 10:30:22 am
Objectivist Center Moving to DC. Next February, it is 100 years since Ayn Rand was born. In 2005, Timbro will publish a new Swedish edition of "Atlas Shrugged" - one of the books that has had the strongest impact on me, I admit. The Objectivist Center, working for Ayn Rand?s philospohy objectivism, will now be moving its headquarters to Washington DC. Ed Hudgins, a very competent and nice person, will be the new Managing Director. In the future, they will focus on two fields:
"One program focus will be the defense of capitalism as a moral ideal, not merely an economic one...: the moral right of individuals to their own lives; entrepreneurs as creators who should take pride in their creations; the moral virtues manifested by entrepreneurs; and the need for them to stop apologizing for creating the richest country on Earth.
A second focus will be the culture wars over religion, values, and the clash of civilizations. ... We will promote our distinctive cultural values?reason, individualism, and achievement?by applying to them to the issues of public debate."
16/12/2004 10:18:58 am
Citat värda att minnas:

"Det är alldeles för mycket hänsynstagande i svensk politik."
Göran Persson

"Opposition, det är konspiration."
Karl XIV Johan

"Inte kan man lägga en institution för livsmedelssäkerhet i ett land där de bara känner till marinerad ren."
Silvio Berlusconi om att lägga EU:s livsmedelskontor i Finland

"Precis som påven är jag oavsättbar."
Romano Prodi

"Jag är rätt manlig."
Björn Rosengren

"Man får acceptera den konsumtion de har kommit överens om."
Göran Persson. Om Nordkorea, inte svensk centralstyrd välfärd.

"Jag kritiseras över hela världen. Men jag ser det så här: om jag är omtalad, måste jag vara på rätt spår."
Kim Jong Il

"Vår första prioritet är att skapa jobb."
Brittiska Tories valmanifest 1997, s. 9

"Regeringar kan inte skapa jobb."
Brittiska Tories valmanifest 1997, s. 10
15/12/2004 4:00:26 pm
First Yes to Turkey! Today, the European Parliament debated and voted on a resolution concerning the forthcoming decision by the EU leaders about whether to start negotiations on EU membership with Turkey or not. The resolution says that the EU should without delay start negotiations with Turkey, based on the impressively positive development in the country, but naturally not before guarantee that the end result is membership. The resolution was accepted today in the EP with 407 votes for and 262 against. The alternative, to propose only "a privileged partnership" with Turkey, was voted down 415 to 259. It is not yet time to celebrate, since the actual decision will take place on Friday, but the fact that a clear majority of the EP voted for Turkey is a very good sign. Hopefully we can soon open the Champagne to celebrate that the EU has taken the path of modernity and freedom to the future.
15/12/2004 11:53:56 am
Gräddfil åt alla, Per Borg!
I dagens Svenska Dagbladet svarar f d statssekreteraren (s) Per Borg på min tidigare debattartikel. Han bekräftar att vi är överens om beskrivningen av verkligheten; vår samhällsmodell kommer att behöva förändras rejält, det offentliga kan inte leverera alla välfärdstjänster. Jag skrev kort om den uppenbara lösningen, att öppna för all tänkbar privat finansierad och levererad välfärd. Det offentliga skulle då dras ned till ett grundläggande utbud som främst är till för dem som inte kan betala själva, privat.

Per Borg instämmer förvisso i att detta skulle lösa mycket, men anser att det ändå inte är lämpligt eftersom många medborgare inte gillar idén. Vi accepterar olikheter inom privat konsumtion idag, men inte inom välfärd, skriver han. Men om de som har det sämst idag ändå får det bättre i mitt samhälle? Om det offentliga inte längre ska göra allt åt alla räcker rimligen resurserna bättre till dem som verkligen behöver. Och övriga, som får köpa privat välfärd, får precis vad de vill ha. Kan verkligen inte olikheter både accepteras och välkomnas om alla får det bättre? Är likhet så viktigt att det är bättre om alla har det lika dåligt?

Per Borg nämner gräddfiler. Idag har vi köer (vilket bara kan uppstå i centralstyrd planekonomi) och då betalar allt fler privata försäkringar så de slipper köerna. En del anser det orättvist. Men de tar ju inte en plats av någon annan. De går till en enhet som finansieras privat, som inte hade funnits annars. Och lämnar en plats ledig i kön, släpper fram de som stod bakom. Alla borde ha bättre möjligheter att göra så. Sänkt skatt ger fler möjlighet att köpa privat välfärd.

Slutligen vill jag dock instämma i Per Borgs förslag att reformera socialförsäkringarna likt pensionerna. Där togs de offentliga utgifterna ned med ca 40 procent, det blev ett mer grundläggande utbud - utöver det har man nu privata lösningar.

Per Borg avslutar: "En politisk process bör snarast inledas som prövar och värderar långtidsutredningens framtidsscenario. Passivitet medför utveckling i riktning mot Johnny Munkhammars vision."

Jag tror båda vägarna leder i samma riktning. Men det ena är en bekväm väg, den andra en dramatisk. Den stora staten faller, men vi kan välja hur.
Läs Per Borgs artikel - >
15/12/2004 11:39:59 am
Kapitalism skapar välfärd. Ofta talas det om att vi inte bara kan se till en fri ekonomi och företagande utan också måste tänka på sociala värden. Visst. Men alla förutsättningar för en god levnadsstandard och bra välfärd skapas ju av de krafter som släpps loss i ett kapitalistiskt system. Att tro att man ska kompromissa med den fria ekonomin för att främja sociala värden är minst sagt att skjuta sig i foten. Ytterligare tydliga empiriska belägg för detta har nu lagts fram i en C-uppsats i statsvetenskap vid Karlstads Universitet av Linda Hedström. Hon har utgått från Svenskt Näringslivs ranking av Sveriges kommuners företagsklimat. Sedan har hon ställt frågan huruvida det finns samband mellan företagsklimat och välfärd. I denna undersökning har hon preciserat fem faktorer som får utgöra välfärd: ohälsotal, arbetslöshet, förvärvsintensitet, medelinkomst och grad av socialbidrag. Sedan jämför hon dessa faktorer med kommunernas placering på listan över gott företagsklimat och söker eventuella samband. Slutsatserna överraskar inte, men utgör värdefulla nya belägg. Ju bättre företagsklimat, desto lägre ohälsotal, färre arbetslösa, högre förvärvsintensitet och högre beskattningsbar förvärvsinkomst. Inom de två förstnämnda områdena är sambandet tydligare än de två sistnämnda. Sambandet är svagt mellan företagsklimat och grad av socialbidrag. Intressant och användbar läsning!
Läs uppsatsen - >
14/12/2004 9:51:10 am
Massflykten från det offentliga. När ca 65 000 personer hade röstat igår på aftonbladet.se hade 94 procent svarat att de inte litar på att det offentliga kommer att ge dem en god äldreomsorg. Tidigare har 9 av 10 i en opinionsmätning genomförd av AMF Pension sagt att de inte tror på det offentligas löften om pensionerna. Insikten om att den stora staten faller är väldigt brett förankrad. Nästan alla ser att systemet inte fungerar och kommer att förändras rejält. I den mån det idag är möjligt - om de har pengar kvar efter skatt, om sådana lösningar har vuxit fram - flyr allt fler från det opålitliga offentliga till privata lösningar. Allt tyder på att det är en utveckling som exploderar. Det offentliga gav inte trygghet utan otrygghet. Massflykten in i privata lösningar kommer rimligen att sätta politiska spår. Mer sådana lösningar kommer att släppas fram. Det offentliga dras ned.
14/12/2004 9:37:54 am
How Dare They? Yesterday, as the Latvian construction workers came to their jobs in Vaxholm, they were met by a hostile mob. The people that outnumbered them represented Byggnads, one of the most powerful organisations in Sweden, the power due to special privileges granted to them by the government. They shouted "go home, go home" and the police had to come so that the Latvian workers could get to work. How can they do this? How can it be accepted? First, this is an organisation that has strongly defended Swedish construcution workers right to work in Berlin for Swedish salaries - which are considerably lower than their German counterparts. Second, why should the tax-payers of Vaxholm let this organisation try to force them to pay more than they need for the new school? Isn?t it good that they now can have more resources left for teachers and school books? Third, if I have a shop selling, say, plants and a competitor turns up seling the same plants cheaper - should I be allowed to physically stop my competitor from getting into his or her shop? No, if I can?t make it in the competition I have to close down and do something else. This is a fundamental battle about truth, consequence, basis rights in a free society and, finally, economic development.
13/12/2004 5:20:12 pm
Reforms Work. In a piece at Tech Central Station, Fredrik Segerfeldt analyses the annual Transition Report from EBRD:
"A new comparison between the countries in East and Central Europe shows just how well economic reforms work. ... In this year?s report the Bank ranks 27 countries according to a transition index. The more reformed a country, the higher the ranking. The eight first positions are occupied by the post-communist countries that joined the EU earlier this year, headed by Hungary, the Czech Republic and Estonia. The three last positions are taken up by Turkmenistan, Belarus and Uzbekistan. As expected, income levels between these two categories of countries differ greatly. The average GDP per capita in the three most reformed countries is $14,800, compared to $4,500 for the three least reformed countries, about three times less. It cannot be stated more clearly. The faster a country leaves command economy structures behind, the better off its population is. Reforms work."
Read the article - >
13/12/2004 1:57:40 pm
Svensk Linje: För deterministiskt men ändå strålande. I senaste numret av Svensk Linje recenserar Klas Hjort min bok. Han är till stor del positiv och anser att boken är "nyttig och lärorik läsning". Hjort anser att den "beskriver på ett strålande sätt välfärdsstatens inneboende systemfel" och innehåller "gott om förtjänster". Däremot är han kritisk till det han uppfattar som determinism, att den utveckling som beskrivs kommer att inträffa oavsett vem som styr:
"Det vore inget vidare om unga opinionsbildare valde att strunta i politisk påverkan med hänvisning till att välfärdsstaten kommer att krascha med eller utan deras hjälp."
Instämmer i detta. Självklart betyder det mycket att vi argumenterar för ett bättre samhälle. Min förhoppning är att så många som möjligt vill plocka argument och fakta från boken för att göra det. Jag tror inte heller att allt nytt kommer automatiskt. Däremot är jag optimist och är övertygad om att vi ser nedräkningen för den stora staten. Det finns definitivt obevekliga fakta och trender i verkligheten. Oavsett värderingar har vi att förhålla oss till denna verklighet. Detta har ytterligare en poäng: jag vill inte att bara de redan övertygade ska ta till sig bokens tema. Jag vill att alla, från höger till vänster, ska kunna göra det. Vi lever i samma verklighet. Slutligen tror jag även det är sant att flertalet partier successivt kommer att skifta sin politik i denna riktning. De var ju rätt överens om att bygga ut dagens stora stat - jag tror de även blir alltmer överens om att backa ur detta historiska felsteg.
13/12/2004 9:48:59 am
Five Days Left Until Final Test for Europe. This Friday, the leaders of the EU countries will decide on whether they will give Turkey the green light to start accession negotiations or not. Tomorrow, the European Parliament will vote; in the Committee there was a clear "yes" with 50 votes pro and 18 against. The debate all over Europe has become more intense during the last weeks and the opponents have mobilised. Recently, the latest Christian Democrat candidate for Chancellor in Germany, Edmund Stoiber, said that if they win the next election, they would "do whatever is necessary to prevent Turkey from becoming a full member of the EU". The Swedish PM Göran Persson predicts that the meeting on Friday may be dramatic. Indeed this is a test for the EU of enormous principal importance. The path chosen will decide if the EU is a union of universal values or a club dominated by protectionist and reactionary forces longing for ethnically homogeneous societies. A strong and clear "yes" from the EU would set an example for the world that countries where the population is largely muslim can be modern and democratic. And there is no plan B, nobody knows what would happen if the EU leaders would say no. Any country that fulfils the basic criteria on democracy and human rights should be able to become a member. First Turkey, then Ukraine!




Of course Turkey has an important place under the stars.
Read a thorough description of the situation in Dagens Nyheter (in Swedish) - >
11/12/2004 4:24:58 pm
Respekt! Igår kväll var jag på det trevliga och välbesökta releaseminglet för Christian Gergils nya bok "Respekt!" (Corbeau Förlag). Den handlar om hans tid på Farmen, innan han blev den erkänt värdige vinnaren, och vilka slutsatser som kan dras. På baksidan står:
"Det här är en bok om att kräva och visa respekt. Men också om att vara ärlig och säga ifrån."
Gergils ser också Farmen som sin personliga revansch, vilket beskrivs i inledningen:
"Den som följer vissa gamla och egentligen självklara regler om moral, respekt, ansvarstagande, sanning och rätt kan till slut få chansen att komma igen som vinnare."
Han har i andra sammanhang också fört resonemanget vidare från Farmen till hela samhället. Både avseende moral och vikten av frihet och att stå emot gruppen och starka kollektiv. Boken ska bli intressant läsning - inte minst för oss som missade själva serien på TV.
11/12/2004 1:13:20 pm
"Finally! The Truth!" During the past two months, I have been speaking about and debating my book at about 15 occasions. Every time, several people say enthusiastically: "Finally! The truth! Someone who speaks clearly and openly about reality. Someone who is no tactic and doesn?t try to hide the future!" This Thursday, I spoke in Gothenburg for about 50 business leaders, politicians, civil servants and journalists. A 73-year old gentleman rose to ask the first question and said that it was the best he had ever heard, adding that we all have to go out and continue saying the truth. Politicians should be forced to speak up about the future. I fully agree and get very happy when this is the result of my book. People seem to feel - no matter where they live or what they do - that the system is falling apart. That we have to do something, but they don?t know exactly what. They seek a clear sense of direction and an honest analysis. If I can provide that, I couldn?t be more content with the result of my book.
11/12/2004 1:00:06 pm
Vad säger de om litteraturpriset? I Dagens Nyheter igår skrev Johan Lönnroth, Måns Lönnroth och Peter Jagers att Ekonomipriset bör frikopplas från övriga Nobelpris, eftersom det är av en annan karaktär än naturvetenskaperna:
"Men i det stora hela har ekonomipriset tenderat att premiera en alldeles speciell typ av nationalekonomi, nämligen den som söker efterlikna naturvetenskapernas metoder och objektivitet. Detta är, menar vi, djupt olyckligt i och med att prisets prestige styr framtida forskningsinriktning."
Artikelförfattarna har förstås rätt i att ekonomi, som en samhällsvetenskap, inte handlar om att söka samma typ av eviga och exakta svar som naturvetenskaperna. Detta är en invändning de delar med t ex Ekonomipristagaren FA Hayek. Men detsamma kan i än högre grad sägas om litteraturpriset, som inte handlar om forskning eller verklighet alls. Ska man då inte dela ut pris i den typen av ämnen? Tja, så länge omvärlden inser skillnaderna, att de som får priserna får dem av andra skäl än pristagarna i fysik, finns rimligen inga problem.
Snarare förefaller huvudkritiken mer specifikt handla om årets pristagare och konsekvenserna för den ekonomiska politiken av deras forskning. Politiker får styra mindre och normer - övervakade av tjänstemän - mer. Det uppskattas inte, för tjänstemän kan inte begripa verkligheten bättre än politiker, framhåller de. Och politikerna är ändå valda ombud. Mot detta kan två invändningar resas:
1. Politikerna har extremt starka drivkrafter att utnyttja sina positioner till att bli omvalda. Den stora staten byggdes i stor utsträckning ut för att infria löften som var till för att politiker ville väljas om. Detta missbruk av den politiska makten måste begränsas, av både grundlagar och andra fasta normer.
2. När politiken mer styrs av fasta normer, t ex för ett stabilt penningvärde, är det inte främst tjänstemän som får mer makt i förhållande till politiker. Det är alla aktörer ute i samhället, främst medborgarna, som får mer frihet. Verkligheten ritas inte ständigt om efter politiska nycker utan förutsättningarna består även imorgon. De skilda val alla gör ständigt baseras på stabilare förutsättningar.
10/12/2004 1:43:32 pm
Bureaucrash! Do you want to be a freedom activist? Then Bureaucrash is probably just the thing for you. They are fast, innovative and visible. A first step might be to purchase something from their excellent web shop.





The Bureaucrash Web Shop - >
10/12/2004 11:54:26 am
The Blog is Mightier Than the Sword. The weekly magazine Resumé has called munkhammar.org "one of the most popular and respected blogs in the country". The number of visitors has definitley been rising steadily. Now, the number of so-called unique visitors are at least a thousand a day. (Some media attention during tis week has probably helped.) And as far as I understand, a unique visitor is one IP-address, behind which an entire company or organisation may be found. Voices that desbribe this idea of a web page as a log book - blog - as a new media with growing power may be correct.
10/12/2004 11:37:52 am
Generellt eller selektivt? I den socialdemokratiska idé- och debattidskriften Tiden recenseras min bok. Inte fullt överrskande är rubriken "Bra frågor men fel svar". Nina Blomberg, som har recenserat, skriver att jag "längtar efter ett systemskifte där generell välfärdspolitik ersätts med en selektiv där var och en genom försäkringslösningar ska finansiera och planera för egen välfärd". Detta är helt rätt tolkat. När jag i tisdags kväll debatterade välfärd med Bo Könberg på Liberala Klubben fokuserade han också på frågan om generell eller selektiv offentlig välfärd. Även om han instämde i mycket i boken var han kritisk mot denna del. Frågan är egentligen om det offentliga ska göra allt åt alla eller inriktas mot vissa. Onekligen kan det låta trevligare att alla får något; jämlikhet är en stark överideologi. Men är verkligen syftet med offentligt finansierad välfärd att alla, även de som kan betala, lever av den? Idag får miljonärer barnbidrag. Är det rimligt när de offentliga resurserna inte räcker till det allra viktigaste ens? Selektiv i detta fall innebär ju att det är de som kan klara sig mer själva som väljs bort. Det offentliga skulle då främst inriktas på de som inte själva kan betala. Offentlig välfärd motiveras ofta av solidaritetsskäl. Idag är det inte så. Av tio skattekronor en genomsnittlig svensk betalar in är det bara två kronor som omfördelas till andra. Resten går in i offentliga system som man själv får lika stor del i. Varför ska det offentliga ta in fullt så mycket bara för att bestämma hur jag ska använda de pengar som ändå används för mig själv? Varför inte behålla mer och bestämma själv, samtidigt som den skatt som omfördelas blir kvar?
10/12/2004 11:23:15 am
Face: Off. For some reason, I keep thinking about Viktor Yuchenko?s destroyed face. I am not sure why. Perhaps it is because it shows with intimate clarity the cruel evils of a corrupt and authoritarian political system. After all, if he was poisoned in an attempt to kill him - and his doctors say he was - the deed wan?t done by his fans. Perhaps I think of it partly because Yuchenko, who was a handsome man just a few months ago, now has to show his face all the time to millions of people around the world. It is also something irreversible over this event; even in a free Ukraine in the future, Yuchenko will bear the scars of dictatorship.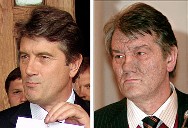 Viktor Yuchenko this spring to the left and this fall to the right.
09/12/2004 2:01:17 pm
"Ekonomisk ojämlikhet är rättvis." I denna veckas Smedjan argumenterar Nima Sanandaji tydligt och väl för att skillnader i inkomst beror på skillnader i insats av främst utbildning och arbete. Därför är det rättvist att man själv får behålla frukten av det man arbetar ihop och att det inte beskattas bort. Bidrag gör det bara olönsamt att förbättra den egna situationen. Han beskriver bl a med statistik från Census Bureau hur inkomstkillnader i USA beror på förmåga och insats, inte social bakgrund. Nima kom själv till Sverige från Iran som 9-åring och studerar idag bioteknik vid Chalmers Tekniska Högskola. Lärvärd artikel!
09/12/2004 7:37:13 am
Svenska Nyhetsbyrån om politikskifte. En ledare från Svenska Nyhetsbyrån igår beskriver behovet av både makt- och politikskifte. Artikeln bygger på min krönika på Alliansens nya webbsida och min bok:
"Anpassligheten till makten är ofta ett större hot än makten i sig. När universitetslärare, statsanställda och även privata företagare, upphör med att vädra sina åsikter av rädsla för att inte hålla sig väl med makten, går samhället miste om alternativa synsätt. ...
(Johnny Munkhammar) är en avvikande röst i samhällsdebatten och hans aktuella bok ?Sagan om välfärdens återkomst? är både optimistisk och pessimistisk. Dysterheten följer av analysen av dagens samhälle, där skatterna inte räcker till för att finansiera den offentliga sektorn, och där skatterna inte kan höjas. Hoppet finns i möjligheten att förändra samhället så att fler människor kan bidra till välfärden och samtidigt utveckla de tjänster som i dag ryms inom den offentliga sektorns ram.
Den typen av partipolitiskt fristående analyser behövs i ett vitalt samhälle. Men det behövs också en förändring av den förda politiken."

Läs hela artikeln här (pdf) - >
09/12/2004 7:22:27 am
American Gains From Globalisation. In the latest edition of The Economist, an interesting new paper from the Institute for International Economics is described. It attempts to calculate the size of the gains of past and future globalisation for the US, an important topic during these days of discussion about offshoring of jobs and protectionist tendencies. And for a country like Sweden, which is smaller and very dependent on foreign trade, the argument gets even stronger. A study cited in the paper suggests that trade has boosted consumer?s purchasing power in the US by 2,8 % of GDP a year, or $300 billion, since World War II. This is due to the greater product variety brought by free trade. Increased competition leads to an additional yearly gain of 5,8 % of GDP. Taking the average of all the estimates in the cited studies, the conclusion is that the American economy is about $ 1 trillion better off today thanks to global integration. When the same techniques are used to estimate the future gains of further liberalisation, the result end up between $ 450 billion and $ 1,3 trillion. A safe estimate is said to be that the average American household would gain about $ 4500 a year.
09/12/2004 7:15:27 am
Nuders samhällsmodell har skapat "köttberget". Finansminister Pär Nuder varnade i ett tal för ?köttberget? av 40-talister. Oavsett ordval har han rätt i sak - men detta är bara effekten av hans eget samhällssystem med stor stat som gör människor till problem. Om detta skriver undertecknad idag i Göteborgs-Tidningen:
"Redan idag går bara tre miljoner av våra nio miljoner i befolkningen till jobbet en vanlig arbetsdag. När de många som är födda på 1940-talet börjar gå i pension förvärras denna situation. Allt färre försörjer allt fler.
Det här är vad Pär Nuder beskriver. En avgörande prövning för samhällsmodellen i hela västra Europa. Men vad är det för samhällsmodell som gör det till ett problem att människor lever länge? Där det talas om tvångsarbete?
Modellen med en stor stat som tar hand om oss från vaggan till graven är problemet, inte lösningen. När människor blir problem för systemen ? ?köttberg? ? finns fundamentala fel och de kan bara lösas genom en ny, humanistisk, modell: privat välfärd."
Läs hela artikeln här (pdf) - >
08/12/2004 1:08:23 pm
Going To Timbro! From the start of the new year, I will be working at Timbro, the renowned free-market think-tank. There, I will be part of the group of qualified producers of ideas which the new Managing Director Cecilia Stegö Chilò sees as the core of the organisation. I really look forward to this new position and the new tasks. My years at the Confederation of Swedish Enterprise have taught me a lot and they have been both interesting and intense. And I wish to keep in touch with all the good friends and collegues that I have got to know during this time. But my new position at one of the most interesting and influential think-tanks in Europe is a natural and positive step ahead. There will be a continued and intensified struggle for a free society and a free economy!
08/12/2004 11:31:34 am
"Sagan om välfärden tål att berättas flera gånger". Min bok recenseras av Per Dahl i Barometerns huvudledare idag:
"Författaren beskriver pedagogiskt på sina knappa 200 sidor hur människor faktiskt får det bättre med mindre politik och mer välstånd, valfrihet och frihet. Men först måste vi lyfta från folkhemmet, likt en fjäril som knegar sig ur puppans stelnade skal.
...han påminner oss åter om att de förändringar som krävs om vi vill förnya vår välfärd inte är mindre detaljjusteringar och den nymålning av högskattehuset. Det behövs mycket vidare reformer och tydligare avsteg från 30 års högskattepolitik. De avstegen kommer att göras. Frågan är bara om det sker genom politisk diskussion och medvetna beslut, eller om de bara uppstår som en följd av ickebeslut.
Här gör Munkhammar sin insats: han ger unga och nya i politiken en chans att se de verkliga alternativen, bortom röstfiskets retorik."





Läs hela recensionen - >
08/12/2004 9:17:31 am
Svensk regeringskris nära? Gudrun Schymans avhopp igår från det sönderfallande Vänsterpartiet kan skapa en akut regeringskris. Den nuvarande konstellationen s, v och mp har med mycket möda och stort besvär försökt regera landet. Förhandlingar, med kraftiga gräl inför öppen ridå, har präglat regerandet istället för en mer korrekt koalition. S behöver stöd av både v och mp för att nå majoritet. Utan ett av dessa partier får de borgerliga majoritet. Det betyder att Schymans avhopp kan få stor betydelse, särskilt som det första tecknet på det nuvarande regeringsunderlagets sönderfall. Kanske fler ansluter sig till Schyman? Ska regeringen förhandla om nästa statsbudget med v och mp eller v och Gudrun Schyman? Ska en enda person, vars senaste utspel har handlat om mansskatt och gratis (alltså betalda via skatten) tamponger styra landets ekonomi? Så kan man inte ha det. Även för dem, som anser att Makten är allt, måste det vara droppen. Kontrasten mot den borgerliga Alliansens goda samordning och positiva stämning är slående.
08/12/2004 8:56:03 am
Rätt bild. Sedan Timbro igår eftermiddag tillkännagav att jag har rekryterats för nya, spännande, uppgifter har flertalet medier givit en korrekt bild. I Dagens Media, Resumé och Dagens Industri skrivs nu således främst att jag frivilligt och med stor entusiasm ska ta mig an det nya uppdraget. I Dagens Nyheter idag beskrivs det hela dock åter som att jag behövde göra ett val mellan Svenskt Näringsliv och denna blog. Så är det inte. För det första är det nya uppdraget resultatet av en längre diskussion som först nu slutfördes, och vars resultat alla är mycket nöjda med. För det andra är min blog en bisak i sammanhanget och jag har inte vare sig här eller på annan plats uttryckt något som står i strid med Svenskt Näringslivs uppfattningar. Att däremot gå längre i olika analyser och förslag - men i samma riktning - är en helt annan sak. Det faktum att jag bland annat har använt denna blog för att göra så har rönt tydlig uppskattning bland många företagare.
08/12/2004 8:46:04 am
De-regulations in France Would Create Millions of Jobs. Nicolas Sarkozy, the most popular politician in France and the finance minister that just resigned to become party leader of the UMP, appointed a committee that would make proposals for increased growth in France. This week, their report was presented to the French government. One point they make, according to the FT, is that de-regulating the service sector would create millions of new jobs in France. If the French service sector would employ the same proportion of workers as in Germany, that would be an increase by 1,2 million jobs. If it reached American levels, the increase would be 3,4 million. One can dicuss the figures, but the point is important: French unemployment is not due to free trade and outsourcing of jobs. It is due to one aspect of the European Social Model; heavy regulations that restrict free enterprise. Thus, measures to create more jobs and increased growth should focus on liberating the productive forces. Not the harmful traditional French tendency towards protectionism and statism.
07/12/2004 5:17:09 pm
Till Timbro! Från och med årsskiftet kommer jag att arbeta på Timbro, näringslivets tankesmedja. Där ska jag ingå i den grupp av kvalificerade idéproducenter som Timbros tillträdande chef Cecilia Stegö Chilò ser som kärnan i verksamheten. Jag ser verkligen fram emot denna nya roll och de nya uppgifterna. Mina år på Svenskt Näringsliv har varit mycket lärorika, intressanta och intensiva. Och jag vill hålla kontakten med alla de goda vänner och kollegor jag har fått under denna tid. Men min nya roll på Europas mest spännande tankesmedja är ett naturligt steg vidare som är mycket roligt. Det blir fortsatt och intensifierad kamp för ett fritt samhälle och en fri ekonomi!




Läs Timbros pressmeddelande - >
07/12/2004 10:33:21 am
Apropå uppgifter i media. I olika medier florerar just nu en mängd påståenden om denna webblogg och mitt arbete. Om detta kan jag i nuläget säga två tydliga saker: Denna blogg kommer att fortsätta och jag kommer att ha mycket spännande och intressanta arbetsuppgifter framöver.
06/12/2004 4:18:30 pm
Riv för att få luft och ljus. Allians för maktskifte presenterade idag kl. 1600 sin nya webbplats. Jag fick förtroendet och nöjet att skriva den första kolumnen, som fokuserar på varför maktskifte är ett självändamål i ett fritt samhälle.
Läs kolumnen - >
06/12/2004 4:09:22 pm
Did You Know That... Between 1970 and 2003, the number of employed people in the US increased by 75 per cent. In Germany, France and Italy together, the increase was 26 per cent. And half of that increase was due to German re-unification! Does Europe actually have to expand geographically to be able to increase employment? Or will we reform the European Social Model fundamentally?
Read more facts about Europe and the US in "Cowboy Capitalism" from the Cato Institute - >
06/12/2004 1:30:35 pm
Dolda socialister i Aftonbladet. I dagens Aftonbladet levereras ett kraftfullt försvar för de offentliga monopolen inom vården på debattsidan:
"Med en privatisering av sjukhusen skulle vi ta ett stort steg på den väg där, för att citera ... Lars Engqvist, ?allemansrätten håller på att ersättas av en rikemansrätt?. ... Det måste vara en lag som förhindrar all utförsäljning av sjukhus och inte ger några kryphål. Sjukvården är inte till salu!"
Artikeln undertecknas av Björn Rönnblad, Elin Sundberg, Cecilia Verdinelli och Lars Henriksson. Dessa poserar med de neutralt klingande titlarna läkare, jur stud, redaktör och metallarbetare. De framhåller att de är medlemmar i nätverket SITS, Sjukvården Inte Till Salu. De säger sig vara "ett partipolitiskt oberoende nätverk i Göteborg". En enkel sökning på nätet visar dock att två av artikelförfattarna är medlemmar i Socialistiska Partiet och två i Attac. Så var det med oberoendet.
05/12/2004 2:22:00 pm
12 Days Left. On December 17th, EU leaders will decide whether they will say yes or no to starting negotiations with Turkey anout future EU membership. Despite the fact that the negotiations will take at least ten years, it is a giant decision. At this moment, it will be decided what the EU is and whether the "clash of civilisations"-argument will be strongly disproved. The Financial Times had an interesting article in their Weekend section about the path to power for the Turkish Prime Minister Erdogan and the development of Turkey in recent decades.





Read the article in FT - >
05/12/2004 2:06:13 pm
Byggnads kan göra oss alla till förlorare. I Vaxholm bygger lettiska byggnadsarbetare en skola till ett lägre pris än svenska dito förmådde erbjuda. Alltså: kommunens resurser kommer att räcka längre - till fler lärare och bättre läromedel i skolan. Varför skulle bara svenskar få bygga? Eller tillverka bilar, kläder och DVD-spelare? Vårt välstånd bygger på att vi gör det i vi är särskilt bra på och köper in varor och tjänster som andra gör bättre och billigare. Det är därför en DVD-spelare nu kan kosta 1000 kr istället för 10 000. Följden av att stänga gränserna är att utbudet av allt blir litet och dyrt. Det vet Byggnads. Men vad händer då med de svenska byggnadsarbetarna? Ja, vad hände med de svenska bönderna? För ca 150 år sedan arbetade 80 procent av svenskarna i jordbruket. Nu är det 3 procent. Jordbruket effektiviserades och resurser frigjordes för annan verksamhet. Det är just det som bygger välståndet. I förlängningen är det inte säkert att det är Sveriges främsta nisch att bygga, kanske nästan uteslutande utländska företag kan göra det. Vi är på väg in i ett tjänstesamhälle, redan arbetar över 70 procent av svenskarna med att producera tjänster. Ju mer tjänster, desto rikare land visar studier. Att hindra det med stängda gränser, subventioner och rigida regler är bara dumt. Byggnads vet det också. Vad är det då de kämpar för? Peter Wolodarski förklarade det tydligt i DN igår, det är deras egna intressen som organisation. Men vi som inte arbetar på Byggnads kansli saknar anledning att låta dem göra oss alla till förlorare.
Läs kommentar i frågan av Svenskt Näringslivs Dick Kling - >
05/12/2004 1:49:44 pm
Support Ukraine Today. The decision by the Supreme Court in Ukraine that the second round of the elections is declared invalid is of course very important. Probably the new election will take place on December the 26th. The candidates will be the same, but most of the rest will be different. The eyes of the world will follow the election closely, media can hardly continue to be that biased, and the opposition is very mobilised. Winner so far is the freedom of the people, loser is anyone that wanted a Belarus-inspired development in Ukraine. Vladimir Putin is perhaps the greatest loser, and he doesn?t hide his discontent with the Supreme Court. The bigger issue is, however, that Ukraine is now a very divided country, also in geographical terms. In the longer run, that might lead to a looser Ukrainian federation than today. If one wants to support the European Movement in Ukraine, which stands on the side of the opposition, and their production of the news site Ukraine Today, it is possible to send a contribution in Sweden to Postgiro 926 8930-6. Label it with "Ukraina".
03/12/2004 5:04:03 pm
Julklappstips: Altissima Noll. På Gotland har nu Träkumla Rom kommit igång på allvar. Där tillverkas rom av sockerbetor i en charmig och klassisk miljö. Första produkten Altissima Noll, efter det latinska namnet på sockerbeta, har lanserats och finns nu på Systembolaget. Man kan besöka destilleriet, prova rom och bli medlem i deras sällskap. En intressant aspekt av detta är hur skickliga entreprenörer fann en ny idé om hur sockerbetor kan utnyttjas. Det har ju blivit en riksbekant diskussion om Roma Sockerbruks nedläggelse i åratal. Nu har företagsamheten funnit nya vägar till en produkt av högre förädlingsvärde och som borde ha mycket goda chanser att möta den efterfrågan som finns i ett modernt samhälle av kvalitet, design och medveten livsstil.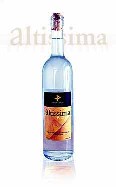 03/12/2004 2:15:39 pm
Varför kallas hon inte Beirut? Socialminister Berit Andnor har använt Riksförsärkingsverkets resurser till att producera "analyser" som misstänkliggör Moderaternas förslag om socialförsäkringarna. Hennes eget parti skulle förstås kunna tänkas vara den naturliga granskaren och kritikern av andra partier. Dessutom förfogar just hennes parti redan över resurser som är flera gånger större än de andras tillsammans. Men det räcker inte. Alltså görs Regeringskansliet titt som tätt också om till en propagandacentral. Nu räcker inte heller det. Eventuellt under press från dåliga opinionssiffror används även de s k oberoende myndigheterna i detta. På kritiska frågor om denna hantering svarar Andnor:
"Vad är problemet? Tål moderaternas förslag inte granskning?"
Problemet? Att vi har en minister som använder skattemedel - bland annat betalda av personer som röstar på Moderaterna - till partikampanj. Att hon inte tycks inse hur fundamentalt fel detta är visar kanske allra tydligast vilket självändamål maktskifte faktiskt är.
03/12/2004 2:11:59 pm
Britons! Don?t Make the Swedish Mistake! In The Spectator yesterday, Nick Herbert of the think-tank Reform wrote an interesting article. He believes, after watching the Queen?s speech, that New labour has chosen a very risky path for their third term. It is guided by one principle, often repeated:
"It is about the progressive power of government as a force for good."
That is a totally different form of government than what Tony Blair has been preaching. He has repeatedly said that government should just give people opportunities and that you sould decide by yourself what to do with them. Now, Mr Herbert fears, British politics will be all about running peoples lives for them. And that road leads to becoming the new Sweden:

"And it is the suggestion that Britain might become the new Sweden which should truly set alarm bells ringing in corporate Britain and indeed in the home of any British taxpayer. ... Setting aside its crime rate, which is the highest in Europe, and its problem of alcoholism, both feats which Britain is attempting to emulate, this is the mother of high- tax nations. Sweden?s tax burden is an eye-watering 50.8 per cent of GDP, compared with 35.3 per cent here and 25.4 per cent in the US. Nearly £6 of every £10 in the country is spent by the government. About 10 per cent of the Swedish workforce are on sick leave at any one time. ... The brief intervention of a conservative government in the early 1990s introduced economic and public service reforms, including tax reductions, which dramatically improved Sweden?s economic performance, resulting in a period of better growth and lower unemployment. But ironically these are policy lessons which New Labour refuses to learn. ... Britain is, to use Tony Blair?s phrase, at a fork in the road. One way leads to the new Sweden, to ever bigger, more expensive and intrusive government, of the kind from which Britain has traditionally recoiled. The other way leads to personal responsibility, freedom, and the wealth that follows."

Read the entire article - >
03/12/2004 10:50:14 am
Bildt om Ukraina. I sitt senaste e-brev analyserar förre statsministern Carl Bildt situationen och utvecklingen i Ukraina. Han sätter de nuvarande händelserna i ett bredare sammanhang, såväl geografiskt som tidsmässigt. Han summerar inledningsvis vilka långtgående konsekvenser den nuvarande situationen kan få i ett av Europas största länder:
"Blir det ingen lösning under de närmaste dagarna, och motsättningarna fortsätter att skärpas, kan vi snabbt stå inför den allvarligaste och farligaste europeiska krisen sedan det jugoslaviska sönderfallsdramat inleddes i början av 1990-talet."
E-brevet - och annat intressant - kan läsas och beställas på bildt.net.
02/12/2004 2:41:08 pm
French Socialist "Yes" to EU Constitution Proposal. French politics in general has a statist bias that is one of the strongest in Europe. And of course French Socialists don?t constitute the more market-oriented wing of it. Now the French Socialist Party has voted "oui" (at least 59 % when 85 % of the votes are counted) to the proposed EU Constitution. What does that say about the proposal? From a freedom point of view it might seem that the EU would turn more socialist. On the other hand, the "non"-fraction with its leader Laurent Fabius is more traditionally Socialist than the "oui"-fraction of the party. They wanted a no-vote because they considered the proposal dominated by free market ideas. The truth is of course that the propsed Constitution is a great compromise and that liberals find it too socialist and vice versa. It is also true that it improved after the EP elections when the British got their way in important respects. Now it seems possible that the French will eventually vote yes in their referendum. But that is far from certain, and it is highly likely that some of the countries with referendums will vote no. Then there will be the option of creating a two-speed EU or re-negotiating the proposal - and the former is more likely.




Read more - >
02/12/2004 1:47:42 pm
Littorin stärker tesen. Moderaternas partisekreterare Sven-Otto Littorin har nu en blog. Kul och välkommet! Det är den första i sin kategori i landet. Med detta tycks Moderaterna signalera att de menar allvar med att vara ett parti av individer och flera röster - inte bara ett kollektiv med väl koordinerade utspel. Att Littorin var först ger även ytterligare styrka åt tesen att främst liberala krafter ägnar sig åt bloggar.
Läs Sven-Otto Littorins blog - >
02/12/2004 11:21:23 am
1,3 läkare per patient? Nyligen fick jag uppgift från, som det heter, vanligtvis välunderrättad källa, om att Karolinska Sjukhuset har 1000 vårdplatser och 1300 läkare. Således mer än en läkare per plats, och då är ju inte dessa den enda personalen. Bakom detta påstådda faktum finns förklaringar som att läkare får ägna 80 procent av sin tid åt administration. De har inte tid med parienterna. Men bakom detta finns förstås grundorsaken: monopol. Troligen är monopol ett av historiens smartaste sätt att felutnyttja resurser. Köer skapas trots ibland stora resurser, personalen blir utarbetad trots att de är många, patienterna stör verksamheten snarare än är i dess centrum - något tillspetsat. Skillnaden mot den kreativitet, effektivitet och mångfald som släpps loss av fritt företagande och konkurrens är avgrundsdjup. Ju viktigare och mer efterfrågad en vara eller tjänst är, desto viktigare att alla former av monopol hålls långt borta. Vården är kanske det främsta exemplet.
01/12/2004 3:53:25 pm
Ukraine Takes One Step Away From the Brink. The Ukrainian Parliament voted, with 226 votes to 229, to sack the current government and its Prime Minister Viktor Yanukovych. In a attempt to take back some of the initiative, Yanukovych urged the Supreme Court to declare the election results invalid. (One might ask why, if he there was no fraud or fake as he has insisted there wasn?t.) Ukraine has been on the brink of disaster for ten days and now they may have taken one step away from it. The opposition is happy - but knows it is only one step. Still, the outgoing President, head of the election-fakers, has to decide. If he does, and there is much international pressure for it, the country would be ruled by an interim government. And the election would have to be done again, hopefully without the massive frauds. One has to remember also that none of this would have happened without the courage and strong will of the vast majority of the Ukrainian people. No matter how this ends, they will never forget their struggle for freedom and neither should we.
Read more - >
01/12/2004 10:37:51 am
Munkjävel? Sedan min kommentar "Varför bloggar inte vänstern?" lades ut på Sourze/Spray igår kväll har ca 260 läst och 50 kommenterat. Många kommentarer är positiva och intressanta. En av dem är dock bäst, och den förefaller tillhöra de mer kritiska. Kort och koncist är budskapet "Munkjävel!". Den är bäst för att den troligen svarar på frågan i rubriken till min artikel tydligast.
01/12/2004 9:27:49 am
30th of November - a Day for Openness? For years, quite large demonstrations by neo-nazis took place on the 30th of November in Sweden. For some reason, in Stockholm they chose to meet by the statue of the great admirer of Turkey, the Swedish King Karl XII. They demonstrated against openness and diversity and for a homogeneous Sweden with closed borders. Yesterday, according to media, about 150 people joined the demonstration in this city. Hardly anybody noticed or cared. I want to believe that this partly is a result of the great effort by the Confederation of Swedish Enterprise, which in 2001 decided to take the 30th of November from these forces and make it a day for "An Open Sweden". This was in a time when the forces of intolerance and fascism seemed to be strong and coming. So the Confederation arranged large meetings all over the country for open borders and a free society. In the City Hall of Stockholm, the Managing Director Göran Tunhammar took the fight for openness in front of hundreds and hundreds of people. Fighting for free enterprise is always ultimately a struggle for a free society with open borders.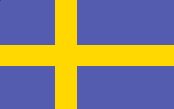 The Swedish flag is sometimes said to symbolise the blue skies with the sun - under which not just blond people with blue eyes should gather in freedom, it might be added.
30/11/2004 5:45:03 pm
Varför bloggar inte vänstern? Mängden frihetligt orienterade webbloggar - bloggar - växer stadigt. Varför har inte vänstern några? Är det för att vänstern inte behöver denna kanal när de redan har den formella politiska makten? Eller för att en blog är individuell och inte kollektiv? Eller för att vänstern bara gillar plakat och inte mer kritiska analyser? Om detta skriver undertecknad i en debattartikel i Sourze.
Läs artikeln - >
30/11/2004 5:22:02 pm
Argument FÖR stopplagen? När jag just talade om framtidens välfärd för ett 50-tal deltagare i en konferens på Praktikertjänst - vilket var mycket intressant och trevligt - nämndes det kanske enda goda argumentet för stopplagen. Denna lag ska ju på ett eller annat vis förbjuda offentliga vårdinrättningar att delvis finansieras privat, vilket skulle kunna vara möjligt genom att de tar in patienter som har finansierat sin vård genom privata försäkringar. Genomför man en sådan lag kommer det offentliga bara att kunna finansieras offentligt, via skatten. Men vi vet att medborgarna efterfrågar väldigt mycket mer vård än det offentliga kan ge. De privata försäkringarna växer snabbt fram. Förbjuds denna väg mittemellan tvingas ju alternativ som är helt privat drivna och helt privat finansierade fram. Inget mittemellan blir möjligt. En fullständigt privat vårdmarknad kommer att växa fram än snabbare. Detta nämndes lite på skämt som en öppen fundering på konferensen, men ter sig onekligen som en intressant tanke. Är det vad Ylva Johansson vill?
30/11/2004 2:23:02 pm
Tips: Management Magazine. Senaste numret av den ambitiösa tidskriften Management Magazine har temat "Kapitalismen i 21:a århundradet". Där finns en rad intressanta artiklar av bl a Anders Isaksson, Nils-Eric Sandberg, Bo Ekman och Staffan Heimersson. T ex skriver Bo Ekman om att det nuvarande språnget för hundratals miljoner människor i Asien från fattigdom till lägre medelklass är lika stort som Europas steg en gång från jordbruk till industri. Marie Ehrling intervjuas också om ledarskap och hon framför en rad kloka och imponerande idéer. Och slutligen finns satir av Stefan Grudin. Väl värd att läsa!
30/11/2004 11:02:20 am
The World Gets Better, Part IV. In the year 1900, a mere 10-15 per cent of the earth′s population were part of the money-based formal economy. Global GDP was about 1100 billion dollars. In 1950, about 25 per cent (then some 500 million people) were part of the formal economy and GDP was about 4000 billion dollars. In 2000, more than 50 per cent of the total population were part of the global economy and GDP was 42 000 billion dollars. All according to the World Bank.
Time to repeat some basic truths:
1. As market economy spreads, the world gets richer.
2. Of course those pepople who are not part of the global economy have poor living standards, but that is an argument for more global capitalism, not less.
3. Everyone can win at the same time. When one gets rich, it doesn′t mean that another person gets poor. The global economy is growing.
29/11/2004 7:02:42 pm
"Är rättsväsendet på väg att privatiseras?" Torbjörn Magnusson, VD och koncernchef på försäkringsbolaget If, har skrivit en intressant artikel på JKL:s blog. När staten inte klarar av att bekämpa brott längre faller mer kostnader på försäkringsbolagen. Därför blir de alltmer engagerade i att förebygga brott och If stödjer exempelvis Lugna gatan, Stiftelsen Respekt och Fryshuset. Han beskriver en skrämmande bakgrund och ställer relevanta frågor:
"Varannan timme, dygnet runt, sker ett bostadsinbrott i Stockholms län. I genomsnitt drabbas ett hushåll av stöld eller skadegörelse vart femte år. Sannolikheten att ett sådant brott klaras upp är försumbar. Av Brottsförebyggande rådets statistik framgår att endast 3 procent av alla anmälda bostadsinbrott i länet 2003 ledde till åtal. ... Men försäkringsbranschens gemensamma arbete på detta område är inte tillräckligt. Dessutom är det inte rimligt att överlåta statens ansvar för brottsbekämpning på näringslivet. De pengar som staten sparar i form av för små polisiära resurser får idag andra bära."
Magnusson ställer viktiga frågor. Man skulle kunna lägga till fler. Till exempel om det verkligen är rimligt att över en miljon svenskar som skulle kunna arbeta försörjs av offentliga bidrag, till kostnader som årligen överstiger 100 miljarder, när polisen och rättstaten blott skulle behöva tillskott på någon miljard.
Läs hela artikeln - >
29/11/2004 4:57:20 pm
From Senate to Silvio. In Forum Romanum in Rome, the original Senate building is still standing. Anyone who has seen the great film Gladiator, or indeed several previous films describing the Roman empire, can be impressed by the open and lively debates that took place in the Senate during the periods of relative political freedom. The Senators present took their places according to their opinion in the matter up to debate - to the left if you were for the proposal and vice versa. Just imagine tough debates about basic principles in phiolosophy and politics at the same time as people in my cold home country lived in sheds and ate whatever they could find. The current leader in Rome, Silvio Berlusconi, is indeed governing another kind of country but has found his crusade for the moment: tax cuts. That is very welcome in Europe, though unfortunately he doesn′t intend to cut the public expenses. Thus, if he succeeds, the budget deficit would rise and Italy would break the fiscal rules of the eurozone. But if you don′t cut down government when you cut taxes, you lose the main point of doing them at all.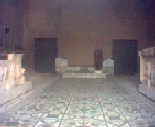 29/11/2004 1:40:36 pm
One Small Step for a Man... From the 1st of January, all quotas restricting trade with clothes and textiles will be abolished. Cheap clothes of good quality will be easier to import from, for example, China and India. The OECD calculates that a normal European family with two children will save some 250 euro a year from the lower prices. This deal in the WTO is a good step. It shows the benefits from free trade. Of course some people that now manufacture the same kind of clothes but to a higher price in the EU and the US will lose their jobs. And that process is always difficult for those persons. But nobody wants to pay 100 000 euro for a car if it is possible to pay 10 000. Nobody wants to pay 1000 euro for a pair of trousers if one can pay 100. And that is what it is all about. Free trade increases competition, which increases creativity and hence quality - and reduces price. This is how the world develops and gets better, step by step. Lower prices are just as important for living standards as higher wages.
29/11/2004 1:34:56 pm
Brännpunkt II: Hur vill Per Borg fylla välfärdsgapet? F d statssekreteraren Per Borg (s) hakade den 23/11 på min debattartikel på Brännpunkt och beskriver tydligt välfärdsgapet. Det vill säga att efterfrågan på välfärd ökar men utbudet av offentlig välfärd minskar. Idag skriver jag i en replik att han har rätt och att några ytterligare faktorer gör situationen än mer dramatisk. Bra att enigheten om situationen är bred. Viktigast är dock hur man vill lösa situationen, hur man vill fylla gapet. Min lösning är att dra ned det offentliga rejält och låta detta främst vara till för dem som inte själva kan betala. Vi övriga kan köpa den välfärd vi vill ha privat. Då kan gapet slutas. Andra lösningar ter sig minst sagt orimliga. Vad vill Per Borg och andra?
Läs artikeln - >
27/11/2004 2:17:03 pm
They Will Not Simply Follow Orders. Despite being in Rome on vacation, it is hard not to devote some attention to the situation in Ukraine. For everyone engaged by principles of freedom, these are very important times, and of great importance not just to Ukraine but for Europe. I noticed that some representative of the Police Force in Kiev said that they will not follow possible orders to use violence against the hundreds of thousands of demonstrators. That is a good sign - when parts of government, and the armed forces in particular, no longer obeys orders the end is often not far away. Now the Speaker in the Parliament has obviously proposed that the election results be declared illegitimate, and the EU urges Ukraine to do the election again. That would be a good outcome. According to the official results, the current PM won by about 3 per cent. But with massive fraud resported by international organisations, it seems very likely that the opposition leader got more votes. Either case, the election has to be done correctly and that is the core of the struggle. Of course the PM has his supporters, but there cannot be a majority of the population that wants a leader that cheats his way to power. If you don′t have that principle of honesty, what good principles do you have? That says everything you need to know about that man. He is a gangster and can never be relied upon. Much now relies upon the strong will of the brave protesters in Kiev.
26/11/2004 6:49:12 pm
I Sydsvenskan - "Systemskifte smygs fram". Statsminister Persson anklagar Moderaterna for att vilja ha ett enormt systemskifte nar de foreslar 65 procents ersattning i vissa socialforsakringar. Men han har sjalv flaggat for minst lika stora forandringar och har tillsatt en omfattande utredning. Den ska dock presenteras strax efter valet, inte fore. Men vi borde diskutera fore valet de forandringar av var samhallsmodell som nu kravs inom kort. Om detta skriver undertecknad idag i Sydsvenska Dagbladet.
Las artikeln - >
24/11/2004 12:00:28 pm
Fyra år till med Bush: Bra för Europa, marknadsekonomin och öppenheten. I min kolumn i denna veckas Entreprenör analyserar jag vilka några av de viktigaste effekterna av utfallet i det amerikanska valet sannolikt blir. Att George W Bush återvaldes med fler röster än någon president tidigare har fått förvånade många i det Europa där etablissemanget har spritt sin avsky mot Bush. Nu har vi fyra år till med Bush, vars mandat har stärkts betydligt - och det är hög tid att se hans politik som den verkligen är. Min bedömning är att Bush kommer att vara bättre för relationerna med Europa eftersom han inte avser utlösa ett globalt handelskrig, han kommer att stå för frihandel mot de protektionistiska kraven på att skydda jobb, och han lär genomdriva en rad reformer i marknadsekonomisk riktning - vilket är positivt för den amerikanska, och därmed den globala, tillväxten.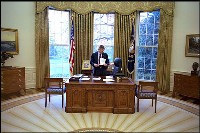 Läs kolumnen - >
24/11/2004 10:21:07 am
Nine Times Higher Growth in the US Than in France and Germany. In the third quarter of this year, economic growth on an annual basis was 0,4 % in France and Germany - and 3,7 % in the US. Such extremely low figures for the large European countries are risky - another rise in the euro or in the oil price may push them into recession. Remember that all this is in a situation which is supposed to be in a positive trend for the business cycle. The US productivity growth is higher, they work more per person - and there are more persons working. Of course they run ahead and the wealth gap is widening. But this is not destiny, it is not a higher power that has decided this outcome. Europe doesn′t have to lag behind and become the old backyard of the world. It is a deliberate choice. We have a system of society with big government that simply destroys our opportunities. We have chosen it by ourselves and we could choose to change it. I think that big change is coming, much more than Agenda 2010-like reform programs, but why wait? Why should we allow it to get even worse before we reduce government, taxes and public monopolies and thus liberate the forces of wealth creation?
23/11/2004 11:39:27 pm
190 Political Parties Participate in the Iraqi Elections. According to the Iraqi Authorities, 228 parties applied to participate and 190 were admitted in the elections in January. This is 189 more parties than were allowed two years ago. Of course there are problems in Iraq, but this shows that freedom is on the way and freedom works.
23/11/2004 8:23:35 pm
En idiotisk politik sprider sig. Att vara så bra på att leverera välfärdstjänster att man gör vinst - och därmed har medel till utveckling - är inte populärt. En stopplag ska som bekant föreslås inom vården. Nu anser nye skolministern Ibrahim Baylan att vinstförbudet också ska gälla skolan. Detta som kommentar till ett reportage i Dagens Nyheter om den framgångsrike entreprenören Jan Walther, som har lyckats starta fyra gymnasieskolor som går med vinst. En del återinvesteras, en del har gått till de som har investerat, bland annat Walther själv. När avkastning uppstår kan fler lockas att investera i skolan. Detta ska nu regeringen uppenbarligen undersöka hur man kan hindra även inom skolan. Denna socialismens motstånd mot vinst går hand i hand med det klassiska kristna vinstmotståndet sedan 500 år. Denna fördomsfulla och okunniga dogmatism är ett hot mot utveckling på varje område där den appliceras. Vinst är ett tecken på att verksamheten utvecklas och effektiviseras; mer tjänster per krona. Förbud och hinder mot vinst är att medvetet hindra utveckling och välja sämre skola och vård. Hellre en förlegad ideologi än utveckling och bättre standard. Knäppt.
23/11/2004 11:02:21 am
What Direction for Ukraine? Indeed the situation is dramatic in Ukraine. The protests from the supporters of the opposition candidate Victor Yushchenko continue to grow after the presidential election two days ago. The claims from the opposition that there was massive fraud are confirmed by international observers that have reported thousands of irregularities. The chairman of the Committee of Foreign Affairs in the Swedish parliament, Urban Ahlin, actually personally observed how the people of the current Ukrainian Prime Minister tried to steal the ballots where the support for the opposition was strong. In the capital, Kiev, it is said that the real support for the opposition was about 75 per cent. Now, as protests are mounting, the government security forces threatens to stop them with force. They are already reported to try to stop people from going to Kiev to join the protests. This all reminds of Georgia not too long ago, and Serbia a few years ago. In both cases, the authoritarian system and its last leaders were thrown over. Hopefully, this will be the outcome here as well. It has already gone so far that it seems hard to imagine how the current PM could even enter Kiev physically to be sworn in as President. If the pro-western opposition leader would win this struggle, backed by a strong popular movement, that would have a huge impact on Ukraine?s future direction - towards Europe, towards a more stable democracy.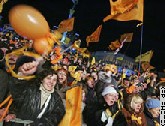 Read more at BBC - >
23/11/2004 10:50:16 am
Ny problemformulering. Dagens Nyheters förre chefredaktör Anders Johnson, idag skriftställare, recenserar min bok i veckans nummer av Entreprenör. Recensionen är utförlig, intressant och positiv. Han skriver att jag vägrar acceptera den rådande problemformuleringen och just pekar på att modellen med stor stat inte är en del av lösningen utan av problemet. Bland annat skriver han att jag "hävdar, på goda grunder, att problemen ligger i att de offentliga systemen bygger på planekonomiska principer". Anders Johnson summerar med att boken "ger en bra vägledning i arbetet på att återuppbygga ett välfärdssamhälle av ny modell".
Läs recensionen (pdf) - >
22/11/2004 11:54:19 am
Bush Won With a Hopeful Message. Two myths about the American election have been widely spread in Europe: That George W Bush won because of religious fanatics and that his message was one of fear. The first myth has been destroyed by election statistics; Bush gained more in the group that say they have no religion at all than he did among active Christians, for example. Now, analyses show that the fear-argument is wrong as well. Mr Bush won mainly on a message of hope - for a growing America, for a better "ownership society", democracy in the Middle East, etc. John Kerry, in contrast, mostly displayed a litany of complaints. One fact that confirms this image is that Bush got the most votes in economically growing regions, where optimism about the future is strong.
Read about this in The Economist - >
22/11/2004 11:02:44 am
Hög skatt - mindre intäkter. Enligt Dagens Nyheter igår har skatteintäkterna från starksprit minskat med en miljard på två år, från 5,1 till 4,1 miljarder. I en öppen värld med rörlighet över gränserna blir höga skatter alltmer omöjliga; det gäller även bolag, kapital och arbete. I alkoholfrågan överstiger nu den mängd alkohol som tas in över gränsen den mängd som säljs via Systembolaget. De offentliga monopolen, vars yttersta syfte det är att kontrollera människor på ett eller annat vis, tappar greppet. Och när så sker krävs att människor tar ett större ansvar för sina egna val, för sina liv. Än så länge kämpar dock kontrollanterna om att behålla makten och de höga skatterna. Detta trots att detta skapar väldiga problem för svensk bryggerinäring, skapar smuggling och svarta sektorer som minst sagt innebär risker för många unga. En beräkning visar för övrigt att om alkoholskatten sänktes rejält skulle vi uppnå våra klimatmål om mindre koldioxidutsläpp i södra Sverige. Detta för att mängden fordon som åker söderut för att handla alkohol utomlands skulle minska kraftigt. Men det kanske är väl mycket att hoppas på att detta argument ska ha avgörande betydelse, trots att de gröna tycks tillmätas allt större betydelse i den regerande konstellationen...




Hög tid att svenska bryggerier får en rimlig chans att producera och sälja inom landet.
21/11/2004 6:59:59 am
De borgerliga överger det nödvändiga systemskiftet. Skillnaden i storlek på den offentliga sfären, statsmakten, i ett borgerligt Sverige och ett socialdemokratiskt är år 2007 blott 2,5 procent; 1404 mot 1439 miljarder i totala offentliga utgifter. Detta framgår vid en jämförelse av budgetpropositionen och de borgerliga budgetmotionerna. Konsensus runt huvuddragen i nuvarande samhällsmodell med en stor stat är således betydande. Detta i en tid då utmaningarna för denna modell är större än någonsin, liksom därmed behovet av stora förändringar. Den stora staten är huvudorsaken till våra problem med låg tillväxt, bidragsberoende och otillräckliga välfärdstjänster - inte en del av lösningen. Vi måste få en mindre statsmakt, för både välståndets och välfärdens skull. Det är ämnet för en debattartikel av undertecknad i Svenska Dagbladet idag.
Läs artikeln (pdf) - >
20/11/2004 4:37:22 pm
The Socialist Class Society. Walking along the icy streets of Stockholm I remembered two other more or less bizarre arguments from the debate yesterday on higher education:
1. We must keep the government monopolies, because otherwise it won?t be possible to study topics for which there is no demand in society. So we need the tax-financed education monopoly because I shall be able to learn things that nobody will pay me for in the future?
2. We need an education system and an academy that is truly independent and free. Yes, indeed we do. But when the government has the total power over the universities, that is an extremely dependent and unfree system.
This is more than a discussion about education. It is about society as a whole and what principles it should be founded upon. The classic European Conservatives never minded whether everyone got a true chance in life. The Socialists care about that, but they don?t want anyone to benefit from taking the chance. They punish success and reward passive "need". They have created a new class society where ability doesn?t matter. The opposite of both these is a free society where you get a chance and get to keep the result of your efforts. Paying extra for your education today and getting a good salary - that isn?t taxed away - in the future is an example of an option we should have.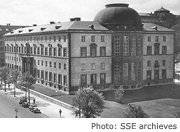 The main building of the Stockholm School of Economics, started almost 100 years ago by Swedish enterprise - privately owned, run and financed, but under increased government control. Its importance for Swedish prosperity can hardly be exaggerated.
20/11/2004 12:49:08 pm
In the Lion?s Den. It is hardly an exaggeration to say that I went into the lion?s den yesterday afternoon. The Swedish National Union of Students, based on compulsory membership for Swedish students, arranged a conference with the sole purpose of protecting the government?s monopoly on higher education in Sweden. They are starting a national campaign against private initiatives, mainly private financing. My view is that freedom of establishment and free financing should be allowed. That would create freedom of choice and competition, and we would have universities and educations that are now prohibited - and, not least, larger total resources for higher education.
In the debate yesterday, in front of some 100 persons, four persons were part of the anti-campaign and we were two on the other side. The arguments for keeping today?s extreme system - government monopoly - were poor, and in some cases just embarrassing.
"The alternative to government monopoly is that the persons with rich parents get to study", was one argument from Britt-Marie Danestig, representing the Post-Communists in the Parliament. Wrong. The main way to pay for an education with a tutition fee - if you choose that - would be more loans. Why should she be able to prohibit that for young people that want to invest in their future?
Tobias Smedberg, chairman of the hosting organisation, said that private financing is bad and that there are other ways to increase funding for higher education. Despite me asking three times, there was no example. If you keep the government monopoly, you have to take money from other public services such as elderly care or police - and that won?t happen.
The debate was intense and inspiring. And, I hope, it was clarifying enough to de-mobilise somewhat before their - in essence - student-hostile campaign.
19/11/2004 1:23:29 pm
Upphör med ransoneringen av välfärd! I dagens e-brev från Svenskt Näringsliv visar jag hur kravet på att välfärdstjänster ska finansieras via skatten blir till en ransonering av välfärd. Endast privat finansiering kan bryta ransoneringen och köerna - och öka de totala resurserna i samhället till välfärd. Att bibehålla kravet på skattefinansiering och monopol är att bibehålla ransoneringen, för ingen tror att skatterna kan höjas. Att göra ransoneringen än tuffare genom stopplagar är förstås ett steg i motsatt, skadlig, riktning.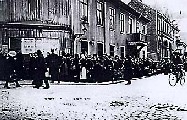 Brödkö i Göteborg under första världskriget. En annan tids ransonering.
Läs kommentaren - >
19/11/2004 12:22:25 pm
He Means What He Says. Quite often, people say that they don′t understand how Tony Blair and George W Bush can have such a close relationship. A European Social Democrat and an American Conservative. Blair even seemed to want Bush to win the American election, unlike most Europeans. The explanation is that they largely share the same principles and values. For example, Blair has said:
"When the Americans say we want to extend...democracy and human rights throughout the Middle East...people say, well, that is part of the neo-conservative agenda. Actually, if you put it in different language, it is a progressive agenda."
Blair is right. The neo-conservative interventionism in foreign policy is contrary to much of Conservative history. Often, Republicans in the US, for example, have argued that the US should pull back from most of the world. Now the situation is the opposite. The point is that parties and policy labels may change, but principles do not. So two politicians from different parties can share the same base of values.
18/11/2004 4:43:27 pm
Barroso Commission Approved by EP. The nominated Barroso Commission was today approved in the EP with 449 voting in favour, 149 against and 82 abstaining. Now it is time to get to business; there is much to do, not least to create a more prospeous Europe. The debate and events that preceded this approval, with the Italian nominee for Commissioner at its centre, is sometimes regarded as a failure for the EU. But it is the opposite. This is a very good example of checks-and-balances in action. In contrast to Sweden, for example, in the EU there are balancing powers that restrict what the executive power is allowed to do. More of this and we get a better Europe, with a Union that can focus its main missions.



18/11/2004 1:57:43 pm
Min marxistiska bok. Igår kväll genomfördes Timbros pubseminarium om min bok på ett fullsatt Café Momba. Maria Larsson, riksdagsledamot för Kd och ordförande i den borgerliga Alliansens välfärdsgrupp, framförde en rad positiva och intressanta kommentarer. Bland annat instämde hon i att 2,5 procents skillnad i storlek på den offentliga sfären ännu år 2007 mellan ett borgerligt och ett socialdemokratiskt Sverige är för lite. Hon ville verka för ett mer förändringsbenäget borgerligt alternativ. Mauricio Rojas, riksdagsledamot för Fp och tillförordnad chef för Timbro, ansåg att min bok liknade den marxistiska litteratur han läste i sin ungdom - lika deterministisk, lika säker på att systemet faller. Å andra sidan kunde han inte finna några fel i denna diagnos. Och det är en av de stora poängerna med boken; den baseras på fakta och verklighet, vilket man måste förhålla sig till oavsett ideologi. De fem stormvindarna som blåser på den instabila stora staten finns där. Även Kurt Wickman, fil dr och författare, som recenserar min bok i dagens Smedjan, påpekar detta. Han utvecklar också resonemangen på ett utmärkt sätt avseende hur avvecklingen av den stora staten lämpligast sker; hur den politiska reträtten kan organiseras.
Läs recensionen - >
18/11/2004 1:49:14 pm
Why is the Handbrake on? There is a very good metaphor in a letter to the editor in today′s Financial Times. It regards the impossibility of increasing economic growth in Europe while keeping the European social model - the aim of the Lisbon process. Benjamin North from the Faculty of Economics and Politics at the University of Cambridge points out that saying that "Europe can thrive at its own pace" is like saying "a car travelling down a motorway with its handbrake on will arrive in its own time". And the conclusion, according to North, would be that "we in Europe like to have the handbrake on and will focus on improving speed in other ways".
17/11/2004 3:11:42 pm
Tala om att j***as med stockholmarna. En ny rapport från Stockholms Handelskammare visar minst sagt intressanta fakta om skatterna och deras regionala fördelning. Invånarna i Stockholm - de allra flesta inflyttade - utgör 20 procent av landets totala befolkning. Vidare har de 29 procent av de totala inkomsterna. Men stockholmarna betalar hela 44 procent av alla landets skatteintäkter! I det närmaste står alltså denna femtedel av landets befolkning för nära hälften av skatteintäkterna. Vilken börda. Och den bärs naturligtvis lika mycket av låg- och medelinkomsttagarna i Stockholm som av några andra. Detta går utöver att bestraffa regionen för att man lyckas skapa tillväxt. Det är en pomperipossaskatt som riskerar stoppa landets ekonomiska lokomotiv. Och om det stannar så stannar vagnarna också. Varför ska framgång bestraffas? Tillväxt är att skapa resurser, inte att ta av någon annan. Varför ska staten göra det omöjligt att flytta till Stockholm och lyckas genom arbete, risktagande och företagande? Måste man leva kvar på sin ort och tvingas till bidrag?




Tre kronor som än så länge finns kvar i huvudstaden.

Läs rapporten - >
17/11/2004 1:47:28 pm
Från curlingpolitiker till social rörlighet. Svenskt Näringslivs arrangemang denna lunch om min bok blev välbesökt och diskussionen var livlig. Agneta Dreber tog fasta på begreppet "curlingpolitiker" och påpekade att dessa inte minst är närvarande i hennes bransch livsmedel. Nu övervägs som bekant seriöst högre skatt på produkter med hög socker- eller fetthalt; inget eget ansvar, staten sköter allt. Hon underströk två saker som avgörande att verka för i politiken just nu: att synliggöra skatterna (de flesta tror att de betalar hälften så mycket i skatt som de faktiskt gör) och att det måste löna sig tydligt att arbeta. Robert Gidehag påpekade att han förvisso delar min tes om att den stora staten faller, men att vi kan påverka hur och när genom att vara ute i debatten idag. Då är inte minst moraliska argument viktiga. I detta sammanhang lyfte han fram exemplet att den stora staten bromsar den sociala rörligheten; de höga skatterna gör att de som från början har låga inkomster inte kan arbeta sig upp.
16/11/2004 5:18:58 pm
Less Work With High Taxes. A new empirical study by Professor Magnus Henrekson and Steven J Davis gives new evidence as to how taxes obstruct productive work. It will be part of a book published by the National Bureau of Economic Research. Based on empirical studies in the OECD countries, they find that 12,8 % in higher total tax pressure (standard deviation) creates the following effects:
- a 4,9 % drop in the employment ratio,
- an increase of the black economy by 3,8 % of GDP,
- 122 hours less productive work per person, and
- 10-30 % smaller business within economic sectors like household services, retail, child and elderly care, cleaning, personal services - that move into the households.
Everyone say that we have to work more, be more productive. So why do we have the highest tax pressure in the democratic world?
16/11/2004 11:47:17 am
Never Ending Story. At Today?s meeting in the Ecofin Council, one topic of discussion will - as usual - be the growth ans stability pact. It has been revealed that Greece, due to poor statistics, actually has breached the deficit ceiling of 3 % every year since 1998. Thus, the discussion about the pact continues. Now, what is wrong here is the formal procedure; they have imposed a rule which they don?t follow. And that is the kind of problem you get when the guardians of the rule are the same as the ones supposed to follow it. That should have been separated from the start, with the pact in the Treaty or similar. What is not wrong, however, is to change the content of the pact. First of all, the pact has never been as important as its space in the media suggests. The US have never had such a pact and the dollar works fine since hundreds of years. But the point is that the deficit limit of 3 % is a shortsighted and rigid measure. In the long run, the problems for the eurozone will be a consequence of big government and demographics. Thorough reforms are needed. A pact within the eurozone should mainly focus long-term government debt, not short term deficit. That is something for the heads of EU governments to condsider.
16/11/2004 11:31:15 am
Condoleezza Makes History. According to "two senior administration officials", President Bush will very soon announce his nomination of Condoleezza Rice as the next Secretary of State. Basically, this is not a radical change; she has seemed to be as much Secretary of State as Colin Powell during these four years. Her words as the adviser in security policy issues for President Bush have been very important for the US foreign policy. But now she will probably gain the formal position as well. This is a very good choice. The fact that the Bush administration will have the first black woman ever in this position is a good sign. But most importantly, she is strongly devoted to spreading liberaty and democracy over the world, not least in the Middle East. And that is one of the most important tasks of the Western World in the coming years.





Read more - >
15/11/2004 10:52:55 am
The World Gets Better, Part III. According to a new study from the World Bank, the number of poor people in East and Southeast Asia has decreased by 250 million during the last five years. This is due to decades of very high growth, which is the direct result of a free economic system and globalisation. Growth is estimated to continue to be high, 7 % this year and 5,9 % in 2005. Growth in China will be comparably low next year; 7,8 %. (Tha fact that this is considered low says a lot about the previous years.) Where are the globalisation critics now? Where are those who complain about free trade and big business?
Read more about "East Asia Update" - >
15/11/2004 7:45:05 am
Allt utom att lösa problemet. LO:s ordförande Wanja Lundby-Wedin får frågan om inte de senaste fallen av hur fackliga ledare med stor kreativitet har ordnat lägenheter till sig och sina familjer kan ses som ett argument för marknadshyror:
"Det är då jag blir riktigt upprörd. Får vi marknadshyror i Stockholm får ingen som inte är högavlönad en hyresrätt i Stockholm. Det här är inget argument för att införa marknadshyror, men det visar att vi har för få lägenheter som går till en allmän kö."
Detta är sakfel. Och det avslöjar en oroväckande stor brist på insikt i en viktig samhällsfråga hos ordföranden i landets mäktigaste organisation. Vi har marknadspriser på mat - och vi har inga matköer och alla har råd att handla. När priset sätts fritt och företag får konkurrera om konsumenterna anpassas utbudet till efterfrågan. Men när priset centraldirigeras skapas köer - till bröd i Sovjetunionen och till lägenheter i Stockholm. Om fri hyressättning skulle införas i Stockholm skulle en del priser gå upp, andra ned. Där priserna går upp blir det lönsamt att bygga mer, vilket leder till att fler billiga lägenheter blir lediga.
Självklart är det utbredda tricksandet och fifflandet ännu ett tydligt argument för att införa fri hyressättning. Och varför ska det bara finnas "en allmän kö"? Släpp bostadsmarknaden fri så uppstår mängder av möjligheter att ordna bostad.
Läs intervjun (DN) - >
14/11/2004 5:20:18 pm
More and Better Welfare Services with Less Money. A new econometric study from the Jerusalem Institute for Market Studies, "Can Civil Society Finance a Private Welfare System?", shows two important things about the US. First, that people tend to spend much more money on private welfare when taxes are lowered. Second, that private organisations provide welfare services much more efficiently than public authorities. In fact, one dollar of privately donated money is equivalent to 3,70 dollar of public tax money. Thus, if the US government were to offer a 100 % tax credit on charitable contributions, the national net budget for welfare services would be 135 % higher than it is today. And the government would decrease its funding with 32 %.




Read the study here - >
13/11/2004 3:37:13 pm
Medlemskap, ordförandeskap och utanförskap. Idag är det tio år sedan en majoritet av svenskarna röstade ja till EU-medlemskap. Den första januari 1995 gick vi med, första halvåret 2001 var Sverige EU-ordförande och den 14 september röstade en majoritet av svenskarna nej till euron. Några steg fram, några tillbaka. Om de politiska turerna och veligheten under dessa år skriver idag Carl Bildt på DN-Debatt. I stor utsträckning argumenterades i ekonomiska termer för EU-inträdet. Och EU-medlemskapet har lett till ökad handel, större investeringar och högre tillväxt. Medlemskapet har även starkt bidragit till en bättre grund för den ekonomiska politiken. Oberoende riksbank med inflationsmål, tak för statsbudgeten och överskottsmål fanns kompakt motstånd mot före EU-inträdet. Men, som Johan Schück skriver idag i DN, nationell ekonomisk politik kan naturligtvis fortfarande vara skadlig och skapa problem. Men det är egentligen inte de ekonomiska konsekvenserna som är det mest relevanta vid en analys av Sveriges roll i Europa. Inte heller den politik som beslutas om inom EU - ibland klok, ibland så skadlig som politik kan vara - är det centrala. EU handlar om att lämna den historiska parentes av suveräna nationalstater som Europa har präglats av under 1900-talet. Vi är på väg att återskapa ett multikulturellt europeiskt imperium präglat av rörlighet, möten och utbyte. Sverige borde vara mer aktivt närvarande i denna utveckling.



12/11/2004 3:09:21 pm
Lönsamt med kortare arbetstid - för vänsterpartister. Den genomsnittliga svensken arbetar åtta procent av livet. Och det minskar. Strax över tre miljoner av vår befolkning på nio miljoner går till arbetet en vanlig arbetsdag. Samtidigt vet vi att arbete, produktion, skapar allt det välstånd vi lever av. Bristerna på område efter område i vårt samhälle som följd av låg tillväxt blir allt mer uppenbara. Ett antal länder har snabbt passerat oss i välstånd. Hur kan någon i detta läge förorda att vi ska tvingas arbeta mindre genom kortad arbetstid? Jan Björklund ställde idag denna fråga till Vänsterpartiet i Stockholms stads budgetdebatt: "Men om det nu är lönsamt med kortare arbetstid - hur kommer det sig då att ni har lagt på extra pengar i budgeten? Och varför har ni inte börjat tillämpa det på vänsterpartiets kansli och gå hem klockan 14 för att ge flera personer arbete?" Tydligen fick han inget svar. Det finns inget svar att ge - de har helt enkelt fel. Utom möjligen på en punkt: välståndet skulle säkert öka mer om vänsterpartisterna gick hem kl. 14.
12/11/2004 11:12:22 am
"Good is Evil." Have you ever seen James Bond disposing of an evil murderer? Probably. Did you ever think that Bond was doing something bad? That he was as evil as the murderer? Probably not. Bond is a force of good, fighting evil and making the world better. In today′s Aftonbladet, there is an article by the signature "Doktor Gormander" (naturally the person writing such garbage doesn′t put the real name there) that equals good and evil. Nixon and Hitler, Churchill and Stalin - they are the same. One of the greatest heroes of history is considered the same as the greatest mass murderers. This is not just moral relativism, it is historic revisionism. It is an attempt to equal those who liberated Europe from tyranny with the tyrants that occupied it. The headline is: "Should Bush receive the Nobel peace prize?". Well, certainly he and Tony Blair deserve it more than many who received it before (such as Arafat), since they have liberated some 50 million muslims from dictatorships. And the less dictatorships in the world, the more freedom and thus peace.
Read the article (if you dare), in Swedish - >
11/11/2004 1:31:23 pm
Sweden - a Normal European Country. Today, my good friend and colleague Fredrik Segerfeldt presented his book "Twelve families in Europe - taxes and welfare in other countries". He points out that the dominating view in Sweden is that we are the only society that devotes very large public resources to welfare services and social security. By comparing Sweden with six other similar western European countries, he shows that this is not the case. True, we have the highest taxes and the largest share of GDP that goes to welfare and social security. But as our GDP per capita today is lower than the others?, those resources counted in euro or kronor are just about average. Thus, Sweden is a normal European country and we face the same challenges as the others.
Read the book (pdf, in Swedish) - >
11/11/2004 1:22:50 pm
Island - en ekonomisk oas. Ibland seglar länder, som tidigare har varit relativt fattiga, upp på den ekonomiska stjärnhimlen med hög tillväxt och snabbt ökande levnadsstandard. Island är ett sådant; en karg och kall plats - långt ifrån det mesta - som har lyckats. 1970 låg Sverige på fjärde plats i välståndsligan och Island var nr 15, nu är Sverige nr 14 och Island nr 7. Förklaringen är reformer i marknadsekonomisk riktning som har gjort Island till en ekonomisk oas.
Läs min kommentar i Svenskt Näringslivs e-brev - >
10/11/2004 10:11:24 pm
Fel då - fel nu. På lördag är det tio år sedan en majoritet av svenska folket röstade ja till EU-medlemskap. Inför detta är det svårt att undanhålla några av de argument som framfördes före omröstningen och som kanske inte visade sig helt korrekta. Ty det kan vara intressant att göra som Birger Schlaug föreslog:
?Behåll broschyrerna, debattartiklarna, annonserna ... och se vad som händer om några år, så får vi se vem som hade rätt och vem som inte hade rätt.?
P4-Efter Tre 94-11-14

?Idag är det lika sannolikt att unionen om fem år innehåller färre än 12 länder som att den innehåller fler.?
Jonas Sjöstedt , Visst finns det alternativ

?Sverige kan inte välja om vi ska gå med i EU:s valutaunion eller inte.?
Per Gahrton ,GA 94-11-09

?Ett medlemskap är helt omöjligt att förena med levande demokrati.?
Gudrun Schyman , Arboga Tidning 94-08-22

?Ungern, Tjeckoslovakien och Polen kan tänkas ansöka om EG-medlemskap. De riskerar en kalldusch. Illusionen om EG som vägen till all-europeiskt samarbete kommer bryta samman under 90-talet.?
Per Gahrton, I stället för EG

?Medlemskapet innebär planekonomi och detaljplanering av gammal sovjetisk typ.?
Birger Schlaug , TT 94-08-05

?EU är en fundamentalistisk frihandelsorganisation.?
Birger Schlaug , Trelleborgs allehanda 94-09-17

?Vi kan tvingas att både lagra kärnbränsle och bryta uran.?
Hans Lindqvist, Alternativet 15/1993

10/11/2004 3:24:48 pm
"Vi ser det här glappet varje dag". På Bertil Ohlin Institutets lunchseminarium om min bok framfördes en rad intressanta kommentarer. Lotta Edholm, Folkpartiets gruppledare i Stockholms Stadshus, underströk att det glapp mellan efterfrågan på välfärd och utbud av offentlig välfärd som jag beskriver är vardag. Och hon undrade varför man får betala extra i privata försäkringar för bättre pension, men att det är förbjudet inom barn- och äldreomsorg. Kravet på skattefinansiering leder till ransonering. Både hon och Johanna Elgenius, politisk redaktör på Västerbottens-Kuriren, instämde i att avskaffad pensionsålder bör övervägas. Ju längre man arbetar, desto mer från det offentliga får man och tvärtom. "Verkligheten tvingar alla att tänka om", underströk Johanna Elgenius. Birgit Friggebo, f d minister (fp), undrade hur stora problem systemet ska tillåtas skapa innan rejäla förändringar sker. En högst relevant fråga. Mitt tips är att förändring kommer, men att det dröjer till efter valet - då problemen också har blivit större.



10/11/2004 2:52:55 pm
Bold Politicians are Rewarded. Conventional wisdom says that if politicians do controversial things, their voters punish them by voting for someone else the next time. Hence, most politicians follow this doctrine and are very afraid of changing their rhetorics or politics even if the reasons for it are overwhelming. Today, when the European social model is a proven failure and radical change is needed, most politicians don?t dare face it and propose changes. Tony Blair has been an exception, a bold politician who challenges old ideas and dares to pave new ways. And he has so far been re-elected with vast majorities. Gerhard Schröder has, surprisingly, also turned out to be one. His Agenda 2010 of reforms may contain only the first steps, but that is important enough. At first, voters did walk away and the SPD had very bad results in the state elections. The support for Schröder and Angela Merkel of CDU/CSU for chancellor was even. But now support for Schröder grows again, according to The Economist. If you have the guts and strength to stand by your controversial proposals and argue your case - you will win in the long run.
10/11/2004 10:17:07 am
I Sunt Förnuft: "Den stora staten faller." Skattebetalarnas Förenings tidskrift Sunt Förnuft har i det senaste numret, nr 7 2004, en intervju med undertecknad med anledning av min bok.
Läs intervjun - >
09/11/2004 6:01:48 pm
I News: Allt fler jobbar allt mindre - hot mot europeisk välfärd. Tidningen News har i sitt senaste nummer en större artikel om den demografiska situationen i Europa. Den baseras på min bok och Klas Eklunds nya bok "Ekonomisk tillväxt". Från min bok har bland annat fakta om att den arbetsföra befolkningen i Italien kommer att falla från 39 miljoner till 22 miljoner år 2050 hämtats. Samt att i Spanien kommer pensioner att öka från 50 procent av de offentliga utgifterna idag till 80 procent år 2030 om inte systemen förändras.
Läs artikeln - >
09/11/2004 1:51:17 pm
And the Wall was Torn Down. Walls have been built to protect cities and countries from outside threats, like the one in Israel today. But some walls were built to be prisons for people, to stop people from fleeing from dictatorship. That was the case when the Berlin wall was constructed in 1961; the leaders of the DDR could no longer cope with a situation where ever more of their citizens fled to freedom in the West from the socialist misery of the DDR. In 1987, US President Ronald Reagan gave his famous speech in front of the Brandenburger Tor and the Wall, forcefully saying: "Mr Gorbachev, tear down this wall!". In most of Europe, the speech was denounced as an extreme confrontation and a threat to security. But fifteen years ago today, the Wall was finally torn down, by enthusiastic people longing for freedom. They used whatever means they had - hammers, knives, their hands. The joy was enormous, people cried. Reagan was right and he got to be right. In Sweden, however, the reaction was again the same. Prime Minister Ingvar Carlsson warned about too much enthusiasm and the state TV called it all "an international crisis". In a country where neutrality had become the top ideology, many were unable to see what was without doubt right and what was wrong. This has continued; as the new Europe with the EU has emerged, Swedes don?t want to be in. When Europe was finally united again in May of this year, the government saw more threats than opportunities. It is about time that we put the neutrality doctrine on the scrap-heap of history and realise that we are part of Europe - and have to take part in its affairs.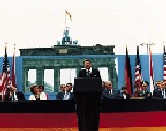 Read in Dagens Nyheter about the Swedish reactions in 1989 - >
08/11/2004 12:56:30 pm
In Who?s Who in the World. I have been elected to be in the 22nd edition, in 2005, of Who?s Who in the World:
"With the massive push toward ?globalization? in so many endeavors, Marquis recognizes your need to focus on leading citizens from around the world. ... Turn to this volume for more than just political leaders. Users will also find...many more, including:
- Heads of educational, religious, scientific, humanitarian, and professional organizations
- Philosophers, social scientists
- Social activists, labor leaders, notable state and territory officials
- Heads of state
- Ambassadors, ministers."
Read about Marquis Who?s Who here - >
08/11/2004 12:52:14 pm
Good on Privatization. The Reason Foundation has an excellent web page with news, analysis and comments on privatisation issues.
Get to the web page here - >
08/11/2004 12:35:13 pm
Tala om behov av etikdebatt - och kommission? På senare år har en intensiv och intressant debatt om etik i näringslivet förts. Bakgrunden är ett antal uppenbara missförhållanden i några stora företag i både USA och Europa. Förvisso har den breda majoriteten företagare hela tiden varit ärliga och korrekta i sitt företagande. Men debatten är relevant och orsaker till problemen kan troligen bland annat återfinnas i svag konkurrens i en del branscher och ett anonymt institutionellt ägande. Dock är etiska problem inte förbehållet ett par storföretag. Inom den fackliga rörelsen har på senare tid de mest otroliga berättelser kommit fram. I Dagens Nyheter idag skildras hur Livsmedelsarbetareförbundet, som är huvudman för en stiftelse i Stockholm som förvaltar 420 lägenheter, har givit sig själva långtgående förmåner. Lägenheterna skulle vara till för "behövande ensamstående personer eller familjer" men gick till de egna förtroendevalda. Livsmedelsarbetareförbundets Agneta Johansson som var stiftelsens ordförande uppges ha givit sig själv flera lägenheter. Samt: Hon har dessutom förmedlat lägenheter till sina tre barn. Hon har anställt sin son som städare i fastigheterna. Dottern har haft en tillfällig anställning på kontoret. Sonen har fått ett lån av stiftelsen på 10.000 kronor. En dotter fick förra året ett stipendium på 5.000 kronor av stiftelsen. Hon fick även ett stipendium året innan. En släkting till ordföranden har fått ett hemdatorpaket och digitalkamera av stiftelsen. Var finns nu förslag från regeringen om etikkommission för fackföreningsrörelsen?
Läs DN-artikeln här - >
08/11/2004 12:26:02 pm
Påminnelse: Ohlinlunch onsdag. På onsdag diskuterar jag teserna i min bok på ett lunchseminarium arrangerat av Bertil Ohlin Instutitet med Johanna Elgenius och Lotta Edholm. Det är på Folkets Hus kl. 1130 i Stockholm. Några platser uppges finnas kvar - välkommen!
Läs inbjudan - >
07/11/2004 1:45:53 pm
Boom Town. In the annual survey of the CEO:s of the 300 largest companies in Iceland, conducted by the business magazine Frjáls Verslun, optimism about the future is striking. 63 per cent of them believe that the economic growth in 2005 will be 4 per cent or higher. 50,5 per cent believe that company profits will rise in 2005 and 74 per cent think that foreign investment will increase over the next five years. This is the result of market-economic reform. Thus replies from business leaders in Sweden would unfortunately look very different.
06/11/2004 6:25:54 pm
Property Rights at Sea. Many market-economic reforms have been introduced in Iceland, such as privatising banks and lowering the corporate tax from 50 to 18 per cent. But one that might be of greater principal interest is property rights at sea. Before 1984, the sea was public property, i e nobody owned it. Thus, nobody cared about it and parts of it were fished empty. Then private property rights were introcuced at sea, just as everyone think is self-evident on the land. Since then, too much fish is not picked up and the fishing industry is much more efficient. Due to that increase in productivity, more resuources can be directed from fishing to other business. This is the same process all rich countries have to go through constantly. Unfortunately, these property rights are under attack from the left. The argument is the same as usual; "the sea should belong to everyone". Do they think that we would have food or that we would take care of the land if it belonged to "everyone"? Would any farmer invest in new equipment or in improvning his environment if he didn?t know if the land was his tomorrow? The battle is an old one, and still the good forces prevail in Iceland. And they should prevail in other places too: Property rights at sea would be a great export from Iceland to the EU to replace its current policy of planned economy for fishing.
05/11/2004 1:18:57 pm
Morning in Iceland. Iceland, where I currently am, has been an economic success story in recent years. In the 1990?s Iceland had one of the highest GDP growths in the world. Last year GDP grew by over 4 per cent. Now their GDP per capita is over 36 000 dollars. Labour force participation is 81,5 per cent and unemployment is 2,6 per cent. This is primarily the results of market-oriented reforms, led by Prime Minister David Oddson. Low inflation, de-regulated markets and lower taxes leads to increased prosperity. Surely, Iceland is a beutiful, wild, place. But it hardly strikes you as a place destinated by nature to be welthy. It is cold (very!), rocky and far away from everything. This just shows that a free economy can make any place prosperous.




The house in Reykjavik where Mikhail Gorbachev and Ronald Reagan met on October 11-12th 1986 dicussing nuclear disarmaments; one first step towards the end of the cold war.
Some key figures for Iceland?s economy - >
04/11/2004 5:03:23 pm
Interesting blog: Center for Freedom and Prosperity. News and analysis from a market-economic perspective of current events in the field of economic policy can be followed at the blog of the Center for Freedom and Prosperity. It is mostly edited by Dan Mitchell, renowned expert in economic matters at the Heritage Foundation. Recommended!
Read the blog of Center for Freedom and Prosperity - >
04/11/2004 4:42:00 pm
Timbropub: "Välfärdens återkomst." Naringslivets tankesmedja Timbro bjuder in till en pub den 17 november kl. 1730 pa Cafe Momba vid Norrmalmstorg med diskussion om min bok:
"Sällan har regering och opposition varit så eniga om att bevara vår samhällsmodell i sina huvuddrag. Storleken på det offentliga åtagandet skiljer sig någon procentenhet mellan alternativen. Samtidigt har modellen aldrig varit satt under så stor press.
Johnny Munkhammar skriver i "Sagan om välfärdens återkomst" (Hjalmarson & Högberg) att den stora staten faller. Allt dyrare tjänster, tuffare internationell konkurrens, mer heterogent samhälle, offentlig oförmåga att leverera, färre som försörjer fler - vindar som fäller en redan instabil koloss. I dess ställe kommer en mindre stat och privat välfärd.
Boken har väckt brett intresse. Dess syfte är att bryta tystnaden - före valet 2006. Nu bjuder Timbro in till en pub med samtal utifrån boken. Johnny Munkhammar inleder, efter vidtar ett samtal mellan Johnny, Mauricio Rojas, tf chef för Timbro och riksdagsledamot (fp) samt Maria Larsson, riksdagsledamot (kd) och ordförande i den borgerliga Alliansens grupp för välfärd.
Välkommen!"


Las hela inbjudan - >
04/11/2004 4:36:58 pm
Tidningen NU: "Riktigt bra." I senaste numret av Tidningen NU, det liberala nyhetsmagasinet, recenseras min bok. "Boken ar riktigt bra och forfattaren visar overtygande att vi maste arbeta mer...", skriver de bland annat.
03/11/2004 5:49:46 pm
Kerry Conceded and Bush Wins. A few minutes ago, Senator Kerry called President Bush and congratulated him on the victory. The tension and interest here at the great Heritage Foundation in Wasington DC is obvious. The fact that Kerry conceded means that there will be no long process of recounts, courts and judges like in 2000. Now the Bush team can focus - after some rest - on the coming four years. They have an agenda they want to pursue, not least concerning economics, social security and health care. But they have to do it in a way that is more bipartisan like the "no child left behind act" for school reform. Hopefully, the rumours that said that Bush is going to be bolder on domestic issues now that he doesn?t have a re-election to worry about can come true. He has to reduce the budget deficit and since taxes are not to be raised - rather further reduced - government has to be reduced. My strongest criticism of Bush has always been the big government conservatism. Now he has to take a more Reaganite direction and reduce government size. Privatising parts of social security may be one step. But more has to be done.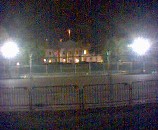 The White House as I passed it after the Election Nigh Party last night, totally quiet and surrounded by fences - but with the lights on as President Bush awaited the results.
03/11/2004 7:37:06 am
Four More Years! According to the predictions, President Bush is now just one electoral vote from winning. He leads by some four million votes nationally. Still, several important swing states are too close to call, such as Ohio. Yet it seems certain to say that Bush is the winner of this election and that this win is decisive and clear. Of course there will be close states and the temptation from the other camp to let their lawyers make an effort will be strong. Still, the margin for Bush in electoral votes may turn out to be large enough to make it pointless. One observation from this is that the record high turnout which was expected to benefit Kerry did the opposite. The tied race shown in the polls was not real. Second, the Republicans seem to get an even larger majority in Congress. Third, what will happen with US policies after such a personal victory for Bush has to be analysed further. But despite the Republican grip on the political power, Bush now has to be the uniter instead of the divider. He will have to heal some of the deep divisions in the country. And after the loss for Kerry, the Democratic party will probably have a tough debate about its policies and future direction. In sum, this was an election that should have been almost impossible for Bush to win. Due to the economic recession, the net job loss has been large and there are great problems in Iraq. But again he surprised and surpassed expectations.
02/11/2004 8:43:47 pm
I KvP: Den stora staten klarar inte att skydda mot brott. I dagens Kvallsposten argumenterar undertecknad i en debattartikel for att den stora staten inte klarar sina viktigaste uppgifter. Alla dessa brott av psyksjuka ar ett exempel. Nar staten ska gora allt at alla blir inget bra. Det allra viktigaste, att skydda medborgarna fran vald, kan inte skotas:
"Vansinneskörning i Gamla stan i Stockholm. Misshandel med järnspett i Åkeshov. Mordet på Anna Lindh. Och nu mord på ett barn och en kvinna i Linköping. Raden av tragiska och chockerande händelser växer.
Landsting har skurit ned på psykvården för att de behöver spara någon miljon här och där.
... Den svenska statsmakten anser sig inte ha förmåga att skydda medborgarna från stora risker för våld.
Hur kan det komma sig? Vi har bland de högsta skatterna i världen. ... När man tar in 1300 miljarder i skatt på ett år ska väl inte farliga människor släppas ut för att spara någon miljon?
Förklaringen är att det offentliga har tagit på sig för mycket. ... Vi lägger ut 50 miljarder om året på sjukskrivningar och 70 miljarder på förtidspensioner.
Det som görs gemensamt inom ramen för det offentliga borde inriktas på det viktigaste. Att skydda medborgarna mot våld inte minst. Att se till så att de som inte kan betala själva får välfärd och trygghet. Vi som själva kan betala borde själva stå för våra kostnader."




Las hela artikeln - >
02/11/2004 8:20:32 pm
Record Turnout - But Will Somebody Actually Win? Here in Washington DC, the only state where a majority has voted for the Democrats in every election since 1972, it is apparent that many people turn up to vote. The record from 2000 when 106 million Americans voted is expected to be surpassed; at least 120 million are expected this time. One reason is that the country is very divided and the opinions are strong. The candidates are not so much campaigning for the voters on the margin as they are trying to get their core voters to the polls. This creates more confrontation than usual. But the race is very tight. Thus Bush yesterday gave seven speeches in six states. They both continued campaigning today on election day, which is unusual. Actually they ran into each other yesterday in Milwaukee and Bush had the Kerry campaign waiting at the airport as Air Force One took off. In the elections for Congress, however, it seems certain that the Republicans will keep the majority. This is a neglected issue in the debate. If Kerry wins, he will face a Republican majority in Congress - like Clinton did - which will make it hard for him do accomplish anything. Both candidates say that they believe we will have a winner tonight, but the situation in several swing states implies that thare may be good room for the lawyers again. So we cannot be sure that any of the two will win for some time. In USA Today, you can read President Bush here arguing for the final time why he wants to be re-elected and Senator Kerry′s arguments can be read here.
01/11/2004 5:11:38 pm
Intervjuad i Blaskan. Nattidningen Blaskan, har intervjuat undertecknad om ideologiska och ekonomiska fragor, inte minst med anledning av min bok och blogg. Redaktoren Micheles Kindh skriver:
"Jag delar inte enda uppfattning eftersom mitt politiska perspektiv ligger åt vänsterfältet. Men ändå är hans blog bland det roligaste som kommit ut för tillfället. Se länk till hans underbara politiska inlägg."
Las intervjun - >
01/11/2004 5:02:22 pm
Bush ? för välfärdens skull. I en debattartikel i dagens Goteborgs-Tidningen lyfter undertecknad fram de ekonomiska fragorna, och sarskilt fragor om valfard, i det amerikanska valet. (Ursakta franvaron av tre mycket svenska bokstaver har.) Dessa fragor har inte uppmarksammats sa mycket, sarskilt inte i Sverige, och an mindre hur ambitiosa Bushs forslag ar:
"I USA finns över 40 miljoner personer som inte har sjukvårdsförsäkring utan endast har tillgång till offentlig vård. Kerry vill införa ett offentligt program för att försäkra dessa. Bush vill låta den som är oförsäkrad få sänkt skatt i motsvarande mån som en försäkring kostar. Då kan de försäkra sig utan kostnad, skatterna sänks och det offentliga byggs inte ut.

Även i USA sätts det offentliga pensionssystemet ? social security ? under allt mer press under kommande år när fler går i pension. Kerry har lovat att inte förändra systemet, vilket leder till större offentligt åtagande och högre skatter. Bush har lovat att göra låta medborgarna privat placera en del av pensionen till ett huvudnummer nästa mandatperiod. Det kan göra systemet mer hållbart, ge bättre pensioner och bibehåller lägre skatter.

Under Bush har hittills de federala anslagen i budgeten till skolan ökat med 75 procent. En satsning på höjd kvalitet har genomförts genom ?The No Child Left Behind Act?. Utbildning och fortbildning kommer att prioriteras under Bush. Kerry har inte betonat dessa frågor.

Att Bush stödjer öppenhet framgick även av att han härom året beviljade flera miljoner mexikanska illegala invandrare tillstånd att stanna och arbeta. Hur skulle Kerry-Edwards, som profilerar sig på att utlänningar inte får ta amerikanska jobb, ha agerat?"
Las hela artikeln - >
01/11/2004 4:24:08 pm
Av Ever Tighter Race. As the Presidential race enters its final hours, national polls show Bush in the lead. But polls in the swing states show Kerry gaining, not least in Florida - the most important one. An intersting fact might be that the demographic changes have benefited the Republicans. In 2000, Bush won with 271 to 266 electoral votes. If he would win the same states this time, the figures would be 278-259, since the states where he won have had an increased population and more seats in Congress. All efforts are put into winning the swing states. Democrats claim to have 90 000 activists only in Pennsylvania, and Republicans have 70 000. And since it is a very tied race, there are also 10 000 lawyers standing prepared to go to states that turn out very even, in order to question the results. When I yesterday met the former editor-in-chief of Dagens Nyheter, Hans Bergstrom, he pointed out a few things. First that the so-called soccer moms that traditionally vote Democrat, have become security moms that lean towards Bush. He also pointed out that 60 per cent of Americans have pension savings in the stock exchange, this is the "investor class". So increased capital taxes - claiming only to hit big business - would hurt most people. These people worry about the Kerry tax increases. It is now also clearly noticable that the campaigns are ending; the New York Times, today has heroic portraits of the two candidates in their struggle. A tired but fighting John Kerry seemingly saying more things wrong than Bush ever has (such as greeting the University of Wisconsin in Iowa) and a joking but also tired Bush flying to three states a day.
31/10/2004 8:48:02 pm
Good News From Iraq. In the media, we constantly see continued problems in Iraq. Violence seems to be everywhere, people die and various organisations are leaving the country. Often, this is also considered to show that the invasion of Iraq and the removal of Saddam Hussein was wrong. But there are numerous other facts from the new Iraq that are seldom shown in the media; positive signs of a free society being built step by step. There is a new currency, schools are being built, more people go to work, ever more companies are listed on the new stock exchange, tens of free newspapers are circulated, elections will be held in January. And don′t forget what is not there any more; no killings of curds, no torture by the regime, no totalitarian oppression. Andrew Cherenkoff gathers such facts, also about the new Afgahnistan (where the first person to vote in their first free elections ever was a 19-year old woman), and it is very useful reading - not least as a balance against the ordinary media.
Follow Cherenkoffs blog - >
31/10/2004 8:32:21 pm
Re-elect Assemblyman Wright. New York City is far from being a battleground place before the Presidential election. Thus, there is lots of more attention given to Halloween than to the campaigns. But one should remember that it is not just the President that is elected but also parts of Congress - and not least several local elections. For example, in Harlem I came across the poster which can be seen below for the re-election of assemblyman Wright. And of course, in NYC the terror threat is still closely felt by many. Thus, the bin Laden recording shown on TV has again made the war on terror the abolute centre issue of the debate. New York Post today wrote about "spin Laden" due to the efforts of the both campaign?s media spinners to try to use it for their candidate. Probably that will benefit Bush, since his credibility on that issue is much stronger than Kerry?s.
Poster of assemblyman Wright in Harlem - >
30/10/2004 1:03:38 pm
Interactive Election Map. Currently, Bush is still in a slight lead in the polls. This Interactive Election Map shows the latest polls and the situation in all the states. Still over 200 electoral votes are too close to call. The remaining days will be a thriller.
30/10/2004 12:55:16 pm
Conspiracy Theorists Get What They Want. Just prior to my departure to NYC, the news revealed that al-Jazeera has broadcast a new tape showing Osama bin Laden presenting new threats. Since the American election is only three days away, commentators directly discussed what possible impact this might have on the results. Most seem to agree that it helps Bush, because his credibility in the war on terror is stronger than Kerry?s. Perhaps they are wrong, not least since Kerry has criticised Bush for going to Iraq instead of catching bin Laden. Anyway, beyond doubt is that the conspiracy theorists that have believed that bin Laden one way or another would appeear before the elections get what they want. From a Swedish perspective, however, the most uncomforting aspect of this new bin Laden tape might be that he says that that he would not attack Sweden. So he hates America - and what? Does he like Sweden? What does that say about our country?
Read a transcript of the bin Laden tape - >
29/10/2004 1:29:46 pm
The Importance of China?s Economy. For the first time in nine years, China yesterday raised its interest rate. This is one attempt to cool down the booming economy; GDP grew with over 9 per cent the last quarter. Inflation is rising. The Financial Times today has a good analysis. This has sent shock waves through not only the stock markets in China but also the rest of the world. Everyone knows that the Chinese economy has to be cooled down, but it is still uncertain whether they will make a "soft landing" or a more tough one. Perhaps the most important conclusion of the events following this decision is that it illustrates the current importance of the Chinese economy. It has grown extremely strong for decades; it is now 650 per cent larger than in 1980. Predictions say that in a few more decades, it will be the second largest economy in the world. And in an open and interconnected world, what happens in China affects the lives of people in Sweden. There will be more of this as time goes by.
29/10/2004 1:20:53 pm
One Month with munkhammar.org. One month ago on the day, I started this web log. Since then, it has attracted over 7 500 returning visitors. I have also received many comments - thanks! Several conclusions might be drawn from this phenomenon. First, the web log - blog - is indeed a channel for communication in the rising. The number of visitors can be compared with the number of people who read editorials in the larger countryside dailies. Second, the blog seems to be competing with e-mail newsletters. And to many, the blog is a more attractive source of information, not least since you choose if, when and what you want to read. Third, in Sweden, the dominance of freedom forces using this channel is striking. Perhaps political scientists in a few years will conclude that this development gave politics and the debate a new injection of thoughts on freedom and contributed to change.
29/10/2004 12:51:31 pm
Tips: Frank form. Igår öppnade portarna på Frank form. Cecilia Nykvist, god vän och kollega, inledde byggandet av sitt imperium med den första butiken:
"Frank form är ett butikskoncept som kombinerar inredningsdetaljer, konfektion för dam och herr samt accessoarer. Den röda tråden är formgivningen, som vi kallar modernt klassiskt med liten tvist. Välkända formgivare blandas med okända, beprövade varumärken med helt nya. En frank blandning helt enkelt."
Kungsholmsgatan 20 i Stockholm. Be there.
29/10/2004 12:39:09 pm
6,6 procent för mycket. Enligt en ny opinionsmätning av Temo får Vänsterpartiet 6,6 procent. Det är det lägsta stödet på tio år och nästan en halvering sedan i juni. De flesta kommentarer förefaller gå ut på att partiet rasar utför. Bakgrunden är självfallet debatten om Ohly, partiet och kommunismen. Men mot den bakgrunden, i all sin avskräckande och avslöjande förfärlighet, är det snarare förvånande hur 6,6 procent av väljarna fortfarande stödjer partiet. Det enda som fortfarande är mer förvånande är att denna debatt dröjde så länge. Kopplingen mellan kommunismen som ideologi och totalitärt förtryck är väl etablerad. Ohlys extrema hållning likaså. Samt partiets smarbete med förtryckarna i Sovjetunionen och i Öst- och Centraleuropa.



28/10/2004 2:53:37 pm
Välkommet val. Styrelsen för stiftelsen Fritt Näringsliv har nu utsett Cecilia Stegö Chilò till ny chef för Timbro. Bra att Timbro får en chef så att ovisshet kan ersättas av långsiktighet. Bra också att en person med god erfarenhet och starka uppfattningar i marknadsliberal tradition tillträder den 1 januari.
"Jag ser fram emot att få ägna mig åt idéutveckling igen och hoppas kunna öka styrkan i den marknadsliberala opinionsbildningen. Den svenska samhällsdebatten är för nyhetsfixerad, för vänster - och för inställsam till makten," säger Cecilia Stegö Chilò.
Att vända debatten i riktning mot förändring och frihet är en tuff utmaning. Man kan bara önska lycka till!
28/10/2004 2:24:58 pm
Growth Saves Children?s Lives. Some say that economics in general and GDP-figures in particular are just theories without effects in reality. Growth is called materialistic - something that doesn?t actually increase living standards. One of the best proofs of the opposite is the World Health Chart. The UN and Karolinska Institutet, among others, have designed it. There, one can see a strong correlation between GDP per capita (the x-axis) and how many children out of 1000 born that actually reach grown-up age (the y-axis). All the countries lie in a near perfect line. Rich countries have many children that live, poor countries don?t. And this is a correlation which has been the same for the about 100 years from which there are statistics. Hence GDP growth increases living standards in reality in the most important sense imaginable. The obvious conclusion is that a free economy that increases growth should be priority one for all countries.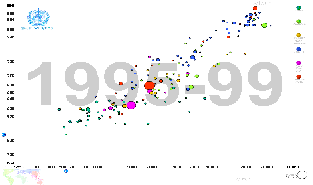 27/10/2004 11:58:22 am
Restart Barroso. Hours before the vote in the European Paliament on the European Commission, President-Designate José Manuel Barroso withdrew his proposal. Obviously, he considered the risk of having a "no" majority to be too big, despite weeks of negotiations, compromises and changed propsals following the questioning of the proposed Italian Commissioner Rosso Buttiglione. Now, the Prodi Commission will continue until mid-November when Barroso will present a new proposal. One important sign from these events is that the checks and balances of the EU system actually work. Another is the issue itself, where many European Parliamentarians seem unable to draw a line between private life and politics - typically mostly the socialists. I don′t agree with Buttiglione′s reactionary views in the private sphere more than they do, but that doesn′t mean that he is unfit as a Commissioner. It must be possible for people who have conservative Catholic views in private life to hold leading European positions. Just as it must be for Muslims in the future when Turkey and Bosnia are members.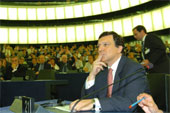 Follow the development via the EP web camera - >
27/10/2004 11:37:05 am
Systemskiftet pågår. Nu startar även försäkringsbolaget If ett livförsäkringsbolag i Sverige.
"Vi kommer att komma ut med barnförsäkring och en fullständig olycksfalls- och sjukprodukt under nästa år", säger If:s VD Torbjörn Magnusson till Dagens Industri.
Privata välfärdsförsäkringar tar över. Allt färre litar på att det offentliga ska leverera, allt fler köper privat. Enligt en opinionsmätning av AMF Pension för någon månad sedan tror endast en av tio att det offentliga kommer att hålla sina löften om pensionerna. Redan har över två miljoner svenskar privata pensionsförsäkringar. Likadant på fler områden; över 200 000 har privata sjukvårdsförsäkringar. En sådan kostar någon hundralapp i månaden och ger god vård i tid på en privat mottagning.
När det offentliga ska göra allt åt alla blir inget bra. Nu faller den stora staten successivt samman och fler tar ansvar för sin egen välfärd. Fler bolag kommer in och erbjuder sina produkter. I takt med att det offentliga försämras och fler köper privat snabbas utvecklingen på. I förlängningen kommer det offentliga att dras ned och fokusera på dem som inte själva kan betala. Flertalet kommer att betala själva och få de tjänster just de önskar: en ny samhällsmodell med både valfrihet och välfärd.



27/10/2004 11:29:41 am
Omvändelse under galgen för SR. På Aftonbladet kan man just nu rösta på vilken kandidat man anser bör vinna det amerikanska presidentvalet. När ca 13 000 har röstat leder John Kerry med 85,9 %. Självklart är detta i stor utsträckning orsakat av en fullständigt snedvriden, felaktig och spekulativ nyhetsrapportering av svenska medier - från vilka de flesta svenskar får bilden av världen. Bush har smutskastats på ett sätt som torde göra Kerrys kampanjmakare gröna av avund. Således var det inget nytt i sak att programledaren för Konflikt i P1, Cecilia Uddén, igår förklarade följande:
"Och jag tycker heller inte att svenska medier har något som helst krav på sig på opartiskhet när det gäller valet i USA. Vi har ju ingen anledning att vara opartiska och redovisa båda ståndpunkter på samma sätt som vi skulle göra i ett svenskt val."
De har aldrig haft ambitionen att göra annat än att kampanja för Kerry. Således skulle mycket få svenskar stödja Bush. Och många svenskar frågar sig förvånat hur det kan komma sig att minst hälften av amerikanerna kan tänka sig att göra det. Nu backar Sveriges Radio och säger att de ska bli opartiska. Under de sex dagar som återstår till valet får Cecilia Uddén inte bevaka valet. Sent ska syndaren vakna.

26/10/2004 10:04:12 pm
The US and Europe - and Warnings about Kerry. When I spoke in Lund earlier tonight about the relation between the US and Europe, I gave an optimistic view of the future. No matter who wins the election, the American President will try to build better relations with Europe. The differences over the Iraq war will fade and economic realties will gain in importance. First and last, on both sides of the Atlantic, in peacetime, jobs and growth is what means most for voters and hence politicians. And despite the fact that Europe lags behind economically, the economic ties are strong. The US foreign direct investment, FDI, in Europe was 87 billion dollars in 2003 - an increase with 30 % since 2002. The US has ten times more assets in Holland alone than they do in China. And the EU does 75 % of all the FDI in America every year. So the ties over the Atlantic will be repaired. Some say that Kerry would have the best opportunities to do it; not least since he speaks French. Based on economic reasons again, I believe the opposite. John Kerry and John Edwards have proposed an economic program with a clear protectionist profile. They would subsidise American industry, re-negotiate every trade deal the US has signed and impose tariffs. That would harm global trade, make poor people poorer - and make relations with Europe worse.
Read my article that compares the two economic programs (in Swedish) - >
26/10/2004 9:56:02 pm
ABB flyttar till Kina.Ännu ett exempel i den långa rad som bekräftar tesen i nyss nämnda kolumn kunde Dagens Industri berätta om idag. ABB avser de närmaste fyra åren investera drygt 700 miljoner kronor i nya anläggningar i Kina. De tänker anställa 5000 kineser, lika många som idag arbetar på ABB i Västerås.
"Helt klart flyttar vi en del produktion från Europa", säger Jürgen Dormann, ABB:s ordförande och koncernchef.
Åter bör framhållas att detta är en god utveckling; produktion sker där den görs bäst. Konsumenterna vinner. Och Kina behöver inte växa på vår bekostnad. Men om vi vägrar att skapa goda möjligheter för företag i vår del av världen väljer vi själva bort företag, jobb och välstånd.
26/10/2004 10:14:05 am
En ny värld kräver ett förändrat Sverige. En del säger att det inte är något nytt med globaliseringen, att den internationella konkurrensen inte är tuffare och att jobben inte flyttar. Alltså anser de inte att Sverige behöver förändras för att klara en ny tids utmaningar. De har totelt fel. I min kolumn i denna veckas Entreprenör visar jag varför:
"400 av världens 500 största företag har förlagt centrala funktioner till Kina. I de länder ? Kina, Indien och Ryssland ? som nu är öppna för konkurrens bor sammantaget 2,5 miljarder människor. I Nordamerika, Japan och EU bor 0,8 miljarder. Kostnaderna för produktion i dessa nya marknadsekonomier är mindre än hälften så höga. ... Vi kan även se stora förändringar i antalet anställda i svenskägda bolag med dotterbolag utomlands. 1987 hade de 750 000 anställda i Sverige och 480 000 utomlands. 2002 hade de 520 000 anställda i Sverige och 960 000 utomlands. Var tredje större företag har outsourcat verksamhet under senare år. ... Att i detta läge, som västeuropeiskt land, välja att inget göra har sina risker. ... Än värre vore dock att förändra, men i fel riktning. ... I en öppen värld måste Sverige bli en attraktiv plats. Vi måste locka företag, inte stöta bort dem."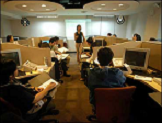 Ett av många snabbt framväxande call centers i Indien.
Läs kolumnen - >
25/10/2004 1:27:15 pm
Så här följer du USA-valet bäst. I ett nytt Amerikabrev tipsar jag om hur man bäst följer USA-valet, dess frågor, bakgrunden och utfallet. Som Johan Norberg tydligt visar i Expressen idag är svenska medier ofta kraftigt vinklade och selektiva i riktning mot antiamerikanism i allmänhet och anti-Bush i synnerhet. Då behövs andra medier att följa.
Läs Amerikabrevet - >
25/10/2004 1:15:04 pm
Prodi: "Lisbon is a failure". When the Lisbon Process was launched in 2000, the aim of its reforms was to close the GDP gap with the US by 2010. Now that we have come almost half way, the gap has grown larger. Outgoing President of the European Commission, Romano Prodi, now talks of missed objectives, failed promises and calls it all a failure. Which, of course, is nothing but the obvious truth. On November 5th, however, former Dutch PM Wim Kok will deliver his report on how to repair the failure. His report has already been sent to Financial Times, and they reveal parts of it today. Apparently, Mr Kok is also stating the facts of the failure. He blames it on a lack of political will. Now he presents new proposals, such as fast-track work permits, speeding up work to complete the single market and reshaping the EU budget. Indeed some well-meaning proposals. But why would the political will suddenly appear? And everyone knows that most of the reforms necessary in Europe - lower taxes, de-regulations, free enterprise in welfare services - have to be decided on the national level. Not to be a pessimist, but the hill upon which the road to serious reforms for growth goes is still steep.



25/10/2004 12:48:52 pm
Svensken lyssnar framför allt på radio. Av alla medier vi konsumerar i Sverige lägger vi mest tid på att lyssna på radio. Hela 22 % av den totala tiden (över fem timmar om dygnet) vi konsumerar media står Sveriges Radio, SR, för. Tvåa är SVT1 med 8 %. Detta enligt Nordicom, ett informations- och forskningscentrum vid Göteborgs universitet. Internet står endast för 7 % - och det inkluderar även när alla de traditionella medierna konsumeras via Internet. Att den gamla radion än så länge leder över det nya Internet är intressant. Å andra sidan är radio ett medium väl anpassat för en modern tid eftersom det är lätt att kominera lyssanande med att göra annat. För den som vill nå ut och påverka är detta intressanta siffror.
Se hela fördelningen av mediekonsumtion här (PPT) - >
24/10/2004 11:37:09 pm
Kyckling filé med pesto dressing och pinje nötter. Särskrivning är ett intressant språkligt fenomen. Rubriken är ett autentiskt exempel från Drottninggatan i Stockholm. På närliggande Dalagatan finns en Matt Handlare. Av stiltjen att döma kan rimligen inte alltför omfattande affärsverksamhet ha orsakat detta tillstånd. På mitt jobb sitter en Skum Släckare på väggen. Exakt vilken ljusskygg verksamhet den misstänks för är okänt för mig. Fler roliga exempel finns på skrivihop.nu. Särskrivningar är onekligen i tilltagande. Kan huvudorsaken vara det engelska språkets stora inflytande? På engelska är särskrivningar ju korrekt, till skillnad från på svenska. I så fall är det ett intressant tecken på den tilltagande globaliseringen. I en öppen värld behöver vi kunna kommunicera och i den fria konkurrensen har engelskan blivit alternativet; den globala marknadens lingua franca. Kanske engelskans tillväxt och vårt alltmer intensiva användande av detta språk även leder till en starkare influens på våra egna språk? Att särskrivningar då kommer snabbt i ett av världens mest globaliserade länder ter sig i så fall naturligt.
24/10/2004 11:26:24 pm
Bush in a Narrow Lead. With nine days left until the American Presidential election, George W Bush is in the lead. In the latest polls, he leads by between one and six per cent. See all the lastet polls here. This election has been called a referendum on President Bush. He is a controversial leader with strong ideas that he pursues forcefully. John Kerry had at least 40-45 per cent of the votes just by not being Bush. But Kerry seems unable to reach out to enough of the rest of the voters. The momentum that was building after his good efforts in the debates was halted when Bush turned out very positive in the last one. And so far Kerry isn?t winning the issues; people still trust Bush on foreign policy and the economiy is going fairly well - by American standards, very well by European standards. Still, the election is decided in the dozen swing states, where both candidates are now campaigning relentlessly. And in the final campaign, Kerry will take help from Bill Clinton and Bush from Arnold Schwarzenegger.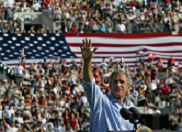 23/10/2004 5:19:00 pm
Känd eller ökänd? Linda Skugge ägnar idag en kolumn i Expressen åt det hon kallar sitt storhetsvansinne. Bakgrunden är att hon vid en sökning på Google får upp 12 800 träffar på sitt namn. Ett skäl till att hon gläds är att hon därmed passerar andra skribenter som Maria Abrahamsson och Susanna Popova med råge - de kommer endast upp i ett par hundra träffar. Om nu antalet träffar på Google skulle vara måttet på inflytande i debatten kan man möjligen påpeka att Carl Bildt med 33 600 träffar tack och lov ligger före. Likaså Johan Norberg med 29 900, även om några förefaller tillhöra en idrottsman. Och varför inte gå utanför landets gränser? Margaret Thatcher kommer upp 239 000 gånger och Winston Churchill 742 000. Nu tror jag dock inte att detta är ett rättvist mått på inflytande, och det inte bara för att jag endast kommer upp 1 430 gånger. Det finns ju andra arenor för inflytande. Och viktigast: det är skillnad på känd och ökänd. Låt oss hoppas att de 825 000 träffarna på Stalin avskräcker mer än de lockar. Likaså de ytliga, elaka, fördomsfulla och nedlåtande texter som mestadels utgör de 12 800 träffarna på Skugge.
22/10/2004 3:07:20 pm
The World is Getting Better, Part II. In the year 1900, the average person in America had to work 107 hours to be able to afford 100 KWh of electricity. In the yesr 1990, he or she only had to work 43 minutes for the same amount. In 1950, the work to afford 1 MIPS (Million Calculations Per Second) of computer power was 515 000 lifetimes. In 1990, it took about 14 hours. A sample of 12 food staples, enough for three meals, took 2 hours and 22 minutes of work to afford in 1970, but today it takes 1 hour and 45 minutes. This, and much more, is the effect of free competition. Technical and organisational improvements take place where companies compete for the customers. In the globalised world of today, the pace of this development increases. Goods and services are prouced where the best quality to the lowest prices can be achieved.
21/10/2004 3:25:07 pm
The World is Getting Better - Thanks to the Free Economy. According to the International Monetary Fund, IMF, the economies of "emerging market and developing countries" will grow by 6,6 % this year. The countries in Sub-Saharan Africa will grow by 5,8 %. The figures are high indeed. The advanced economies will have a growth of about 2 %. Significantly lower, but a reasonable level. Thus, the entire world economy is growing - we don′t grow at each other′s expense, all can win. And the poorer countries grow the fastest. The reason? We have a more open and globalised world than ever. This benefits the poor countries the most. We can also see how market economic fundamentals such as fiscal discipline and de-regulated markets are established in poorer countries. The world gets better, thanks to a free economy.
21/10/2004 2:59:32 pm
Staten klarar inte sina kärnuppgifter. Vansinneskörning i Gamla stan. Misshandel i Åkeshov. Mordet på Anna Lindh. Listan var lång och nu kom ett till tragiskt fall: mord på ett barn och en kvinna i Linköping. Ännu kan de exakta orsakerna till det sistnämnda inte beskrivas, eftersom ingen har dömts för dådet. Men det förefaller sannolikt att det, som de andra, har begåtts av en person med psykiska problem. Vilka fel som har begåtts i psykvården och vad som kan göras utreds av Anders Milton. Han har föreslagit 500 miljoner i extra tillskott till psykvården för nästa år. Uppenbart är att staten inte har klarat av en kärnuppgift: att skydda medborgarna mot våld. Psykiskt sjuka och farliga individer går fria. En ofta nämnd orsak är nedskärningar i landstingens verksamhet. Säkert är det så, dessa människor är fria för att landsting måste spara en miljon här och en miljon där. Detta sker i samma land som det offentliga spenderar ungefär 70 miljarder kronor om året på förtidspensioner och 50 miljarder på sjukskrivningar. När det offentliga åtar sig att göra väldigt mycket, att ta hand om människors liv på en rad olika sätt, blir det knappt resurser kvar för de allra viktigaste uppgifterna. Är det inte hög tid att inse att det offentliga åtagandet måste fokusera på det viktiga och släppa många andra uppgifter som istället kan lämnas över till frivilliga, privata, krafter?
21/10/2004 11:51:02 am
Liberal Debatt: "Optimistiskt och lovvärt". I det senaste numret av Liberal Debatt, som har tema välfärd, skriver avgående redaktör Karin Ekdahl-Wästberg om min bok i ledaren. Hon skriver att undertecknad "argumenterar livligt för att den stora statens fall är nära" och lyfter fram fakta från boken. Anslaget kallas "optimistiskt och lovvärt". "I en tid när de flesta politiker diskuterar om det är staten, landstinget eller kommunen som skall ha den politiska makten tycks få komma ihåg att bemyndiga individen", skriver hon.



20/10/2004 4:10:11 pm
If You Lose the Jumping Contest - Throw the Yard Stick Away. When the EU:s Lisbon Agenda was invented in 2000, the proud aim of its reforms was to close the GDP gap with the US by 2010. By then, US GDP per person was about 50 % ahead, now it is farther ahead and the gap is still widening. Now, this is what European policy makers agreed on at a seminar in Brussels: "No more comparisons with the US." Thus, they seem unable to do the economic reforms in Europe necessary in order to increase growth and prosperity. So the comparison with the US gets ever more embarassing and they scrap it. If you don?t look, it doesnt?t exist. It is like losing a jumping contest largely and throwing away the stick that you do the measuring with as the solution. Where is the Europe where capitalism once started, where is the spirit that created the industrial society, where is the Europe of the single market?



20/10/2004 4:05:39 pm
Södertankar på nätet. Nu finns ännu en intressant s k blogg att besöka. Pär Henriksson - god vän, liberal och skicklig skribent - lanserar "Södertankar på nätet". Den som är intresserad av politik och media lär finna mycket intressant där framöver.
Besök Pärs blogg - >
20/10/2004 11:54:46 am
The Land of the Free.
"I like the tax cut, because now I can afford a better education for my son."
This was said by a man in California who was interviewed on TV the other day about the American election and the Bush tax cuts. This would never ever have been said in Sweden. Here, people think that higher taxes is the only way to better education. The reason? Government has monopolised education - and lots of other services - and created a society where one is allowed to buy any car, hot dog or medicin one likes, but not education. Or health care, elderly care, child care, etc. Thus, now we even have a government monopoly on thinking about these services. Choosing and paying by yourself is not an option. In America, the natural thought is that with lower taxes, you can afford things you like, not least education. And that is a better way to go; you get to choose, less money is wasted in inefficient public monopolies, growth can increase and a variety of companies can compete for your consuming.
19/10/2004 2:21:18 pm
Varför ska någon verka i Sverige? I dagens e-brev från Svenskt Näringsliv skriver undertecknad och Ebba Lindsö om vikten av att genomföra genomgripande förändringar i Sverige mot bakgrund av den internationella rörligheten:
"Förr var länder som öar. Vatten skilde dem åt, det var svårt att röra sig mellan dem. Nu har de flesta länder växt ihop till en enda kontinent. Människor och företag kan lätt röra sig från det ena landet till det andra. ... Den nya situationen ställer krav på att ett land måste skapa en miljö som lockar, inte stöter bort, företag och jobb. Var tredje större företag har flyttat ut verksamhet på senare år. 1987 hade svenskägda företag med dotterbolag utomlands 750 000 anställda i Sverige och 480 000 utomlands. 2002 hade de 520 000 anställda i Sverige och 960 000 utomlands. ... I början av 1990-talet fanns det 37 000 internationella företag med 175 000 dotterbolag. 2002 hade antalet ökat till 64 000 företag med 870 000 dotterbolag. ... Sverige har lyckats förr med att locka produktion. Naturligtvis kan vi lyckas igen. ... Lyckas vi inte med detta kan utvecklingen gå i helt fel riktning. Utflyttningen av jobb och företag kan accelerera. ... Den svenska biten av den globala kontinenten skulle bli alltmer tom och ogästvänlig."
Läs hela kommentaren - >
19/10/2004 2:08:28 pm
Bush 52 %, Kerry 44 %. In the CNN/USA Today/Gallup Poll Tracker of likely voters, Bush is again in the lead. Kerry did very well in the TV Debates when it comes to the issues, but Bush is still clearly the most likeable person. Perhaps the strong general performance of Bush in the third debate has had an impact too.
Follow the Poll Tracker - >
19/10/2004 10:57:52 am
Högaktuell Hayek. I år är det 60 år sedan FA Hayeks bok "Vägen till träldom" först publicerades. Det är en av den moderna historiens mest inflytelserika böcker. Han visar framför allt hur nazism och kommunism står på samma grund av totalitarism och att planekonomin aldrig kan fungera utan leder till fattigdom och förtryck. Bokens betydelse för att avvärja planekonomi i väst på 1940- och 50-talen och för den marknadekonomiska renässansen på 1980-talet kan knappast överskattas. Att idag bara små sekter tror på socialism och att också socialdemokratiska partier står för marknadsekonomi är i mycket en följd av denna bok. Idag är den i sin analytiska skärpa och principiella klarhet en stark kritik mot den stora stat vi fortfarande dras med. Hayek ger den idémässiga grunden till dagens behov av förändring. Timbro ger nu ut "Vägen till träldom" igen och ägnar hela denna vecka åt Hayek, med seminarier och andra arrangemang.
Läs mer om Hayekveckan - >
18/10/2004 2:58:19 pm
Rullstolen underlättar inte. Sverige är världens tredje mest konkurrenskraftiga land, enligt den senaste Global Competitiveness Report från World Economic Forum. En del som i vått och torrt försvarar vår samhällsmodell med stor stat säger då att höga skatter inte alls bromsar tillväxt. Men den som läser rapporten finner att mycket liten hänsyn tas till just faktorer som skattetryck och offentliga monopol. I den kategori där dessa finns med som en del hamnar Sverige på plats 17. Det är således inte tack vare höga skatter som vi har halvrimlig tillväxt utan trots dem. Precis som att en person i rullstol kan vara bra på tennis, men det är inte tack vare utan trots rullstolen. Om detta skriver jag i dagens e-brev från Svenskt Näringsliv, som har ca 5000 mottagare.
Läs kommentaren - >
18/10/2004 1:29:00 pm
Nytt Amerikabrev: Jack Ryan vs Carl Hamilton. I ett nytt Amerikabrev gör Anders Ydstedt en intressant jämförelse mellan de två agenterna Jack Ryan och Carl Hamilton. Trots de liknande karaktärerna och omgivningarna har de helt olika bakgrund, vilket kanske säger en del om olika samhällen och ideal på de två sidorna av Atlanten:
"Hamilton är ?född med silversked i mun?. ... Det gäller inte bara att välja rätt vin, musik eller konst för varje sammanhang. Den livsviktiga kompetens som Hamilton fötts med är kunskapen om skillnaderna i svensk politik mellan vad som sägs och vad som verkligen gäller. ... Ryan kommer från tämligen små omständigheter, hans pappa var polis i Boston. Ryan har skaffat sig sin kompetens genom egna studier... I det svenska samhället hade Ryan varit tvungen att antingen födas in i rätt familj eller göra en omfattande och framgångsrik karriär i det politiska systemet för att överhuvudtaget kunna agera."
Läs Amerikabrevet - >
18/10/2004 10:53:02 am
Why the High Oil Price? The price of oil has risen by more than 70 per cent during ths past year. Despite the fact that the world economy today is less dependent on oil than it was in the 70s, many worry that this development will stop the global economic recovery. In this interesting paper, my friend Fredrik Hjelmqvist, CEO of Introvista, explains the causes of the rise in the oil price and predicts that it will decrease substantially in the coming months. The main cause of the rise, according to him, is political instability in many oil producing countries. Its the problems with Chavez in Venezuela, Yukos in Russia, rebellions in Nigeria and violence in Iraq. This cuts the supply of oil while the demand is stronger than it has been in a long time. He concludes, however, that most of the increases are not based on economic fundamentals and that the price level will fall again after the elections in the US and in Iraq.
Read the paper (in Swedish) - >
16/10/2004 1:32:05 pm
Fem stormvindar som fäller den stora staten. Allt dyrare välfärdstjänster, allt färre som försörjer allt fler, ökande efterfrågan på välfärdstjänster, snabbt ökande press nedåt på skatterna och ett mer heterogent samhälle. Dessa fem stormvindar fäller den stora staten. I dess ställe kommer ett samhälle med mindre stat, lägre skatter och privat välfärd. Detta vet de flesta ledande politiker, men det är hög tid att diskutera det öppet. Skriver således om temat för min bok i en debattartikel som just distribuerades av Svenska Nyhetsbyrån.
Läs artikeln - >
16/10/2004 1:25:49 pm
Selective Competitiveness Index. In this year?s Growth Competitiveness Report from the World Economic Forum, Sweden is again considered to be the third most competitive country in the world. Finland is number one, the US two, Taiwan four, Denmark five and Norway number six. It is always nice to hear positive remarks about your country, and this index does have its qualities. Unfortunately, it is sometimes regarded as proof that we don?t need to make any changes in our society in order to increase growth. Since we have very high taxes but still rank number three, the defenders of the system claim that high taxes don?t have any significant negative effects on the economy. The defenders of a highly regulated labour market and large public monopolies say the same. But this index simply doesn?t put any weight on these factors. That is obvious since the US, with its low taxes, and Sweden, with the very high taxes, are put next to each other. Instead, emphasis is put on the technological readiness, the state of the public insitutions, business competitiveness and the general macroeconomic environment. So what the index says is that Sweden is good at technology, has good public institutions and competitive business. In the last category, macroeconomic environment, Sweden is number 17. Thus, in the category where taxes, monopolies and regulations are taken into account, we score badly. It is a pity that the index doesn?t focus more on these issues since they are the essential ones for developed countries. And they are directly within the political responsibility and possibility to change.
15/10/2004 11:32:36 am
Liberal välfärd i framtiden - mindre stat, mer privat? Den 10 november kl. 1130 i Folkets Hus i Stockholm genomför Bertil Ohlin Institutet ett lunchseminarium med anlending av min bok. Undertecknad inleder och Johanna Elgenius, politisk redaktör på Västerbottens-Kuriren, och Lotta Edholm, biträdande borgarråd i Stockholm, kommenterar. Välkommen! Den som i fortsättningen vill få inbjudningar från Bertil Ohlin Institutet kan skicka ett mail till kansliet@ohlininstitutet.org.




Läs inbjudan - >
15/10/2004 11:29:36 am
Ohly - demokratins medlöpare? I onsdagens partiledardebatt vägrade Lars Ohly gå med på att utträda ur Svensk-Kubanska Föreningen. Dock påstod han att han långt om länge har insett att Kuba är en diktatur. Svensk-Kubanska Föreningens ordförande Martin Österlin kallar, enligt TT, detta bland annat "lögnaktigt förtal":
"Det är medlöperi att uttala sig så. Kuba har ett väl utvecklat demokratiskt samhällssystem. Det är inte förenligt med föreningens målsättning att kalla Kuba för en diktatur. Vi utgår från att han drar sina egna slutsatser."
Föreningen är tydlig om vad medlemskap innebär och vad de står för. Ohly vill ändå vara med. Är det så att hans ursäkter idag är tillfälligt prat och att han i sak inte alls, som han säger, har begripit bättre nu än förr?
15/10/2004 11:08:50 am
Two Weeks and 5000 Returning Visitors Later. Since its release two weeks ago, this web log has attracted some 5000 returning visitors. That is, according to surveys, comparable to the number of people who read editorials in the larger Swedish countryside dailies. It has also been quoted in several countries, other web logs and newspapers. Many people have sent comments and ideas - please continue to do so, feed-back is great! I will continue to create a content which provides new facts, analyses and arguments in order to match the demand.
15/10/2004 9:47:06 am
Reducing Poverty by Reducing Government. Many people are rightfully engaged in a discussion aboout poverty and how to reduce it. Unfortunately, most of these describe the causes of poverty totally wrong, which makes the propsed solutions counterproductive. The blame is often put on the free society, capitalism, and the solutions are often different kinds of more government interference. For example, the Kerry-Edwards economic program contains quite a few such proposals, such as raising the minimum wage. In this article, George Reisman of the Ludwig von Mises Institute, argues the opposite. He shows convincingly that big government is the cause, not the solution, to poverty. The minimum wage creates unemployment and higher consumer prices. He also shows how licensing and prounion legislation hampers productivity growth - the real source of wage increases - and forces people into jobs they did not choose and into government programs. This is one of the daily articles from the Mises Institute, which in my view is one of the very best daily e-mail newsletters one can subscribe to.
Read the article - >
14/10/2004 1:42:49 pm
Liberal Debatt, den stora statens fall och välfärdens återkomst. Det senaste numret av tidskriften Liberal Debatt har som tema de utmaningar vår samhällsmodell står inför och de förändringar som är nödvändiga. Bland andra skriver namnkunniga experter som Gunnar Wetterberg, Lars Magnusson, Nils Karlson och Fredrik Bergström. Numret följer i stor utsträckning de frågeställningar som tas upp i min bok och här kan min inledning till detta nummer av Liberal Debatt läsas.
14/10/2004 9:51:40 am
Did Bush Win the Final Debate? I admit to being surprised; John Kerry has been a very good debater. After seeing him speak and debate in the primaries and the start of the campaign, it seemed likely that George W Bush would win the debates. But Kerry changed - he started to express himself in a clear, confident and strong way. In the first debate, it seemed as if Bush was surprised too; Kerry won that one. All in all, Kerry has given his best impression ever in these three debates. Bush, on the other hand, was unfocused in the first debate, tough and quick in the second - and did his best performance in the third debate yesterday. He was positive, commanded the facts and on the offense. The rise from the first debate is almost remarkable. Polls show an even match from yesterday, but perhaps Bush just by improving so much changed the game again. The days to come will tell.
See the debate - >
13/10/2004 10:18:48 am
Göran Persson 1 och Göran Persson 2. I den pågående partiledardebatten kritiserade statsminister Göran Persson skarpt moderatledaren Fredrik Reinfeldt för dennes förslag att sänka vissa ersättningsnivåer i socialförsäkringarna till 65 procent. Sådana förändringar innebär "ett större systemskifte än någonsin", ansåg statsministern. Men hur går det ihop med hans eget svar på en fråga i samma kammare för mindre än ett år sedan? Då uttryckte statsministern följande: "En basal finansiering från samhället, därutöver avtalsfinansierade tillägg och på toppen kan det finnas en individuell försäkring. Det är värt att pröva och utreda." Är det inte så att både statsministern och moderatledaren inser att verkligheten kräver stora förändringar, men att ibland politisk taktik och retorik tar över innehållet?
13/10/2004 10:01:34 am
European Union or OECD+? Yesterday, I participated in a panel debate at the annual summit of the Pan-European Movement. The debate became an interesting dicussion about several issues of great importance for Europe in the long run. I pointed out, among other things, that one positive aspect of the enlargement is that the least common denominator between the member countries gets smaller. That implies that the EU will have to focus more on its core mission: to tear down borders and increase freedom and mobility - not to build new social systems. I also argued that it is highly likely that the referendums in several countries about the proposed Constitution will create the two-speed Europe that has been dicussed for years. A Europe where some have the new Constituion and some in the periphery will use the Nice Treaty. In the panel the most renowned EU journalist in the country, Rolf Gustavsson of Svenska Dagbladet, also participated. His interpretation of Jacques Chirac lately is that he acknowledges that there will be a two-speed Europe and that he wants to build a core co-operation based on the Euro Zone. Mr Gustavsson also pointed out that one great problem today in the EU is the tendency to replace the rule of law with various political deals. One example is the handling of the stability pact, another that the German government continues to subsidise industry despite the fact that it is prohibited in the internal market. This, he concludes, creates a risk that the unique foundation of the EU as an international co-operation based on the rule of law falls apart and is replaced by a weak OECD+. That must not happen; the EU should focus on its core mission but that core must be based on the rule of law.
12/10/2004 12:27:57 pm
TV4 and American Tax Cuts. In Sweden, media often have a tendency to report about America in a negative, selective or misleading way. That is also the case in most other parts of Old Europe. During election times, particularly much negative is written and said about Republicans - with whom European journalists share few personal opinions. This fact has been analysed and debated at Amerikabrev and recently in detail particularly often i The Stockholm Spectator. The tabloids are the worst in deviating from objective reporting, but other news media sometimes also have that tendency. Yesterday at TV4, reporter Bertil Karlefors made a story from a Republican part of California. The people there were portrayed as rich people that just want to get richer by having their taxes lowered by Bush. This was accompanied by claims that Bush only has lowered taxes for the very rich. Nothing was said about the fact that everyone now pay lower taxes. But if you decrease taxes with one per cent, the person that earns 1000 dollars will keep 10 and the person that earns 10 000 will keep 100. And if you only decrease taxes for people with low incomes, you get a more progressive tax-system. That is why it was done for everyone. Of course, neither was it mentioned that the lower capital taxes, according to a new study, lead to a boost in the stock market that increased investor wealth more than $ 2 trillion! Such wealth is a precondition for investments and new jobs. The TV4-story ended with words like: and so the sun sets in the America of rich and poor. That is misleading and spreads prejudices about America.
11/10/2004 5:20:05 pm
Oberoende riksbank tack vare ekonomipristagarna. Finn E Kydland och Edward C Prescott får således Riksbankens pris i ekonomi till Alfred Nobels minne. Motiveringen är "deras bidrag till dynamisk makroekonomisk teori: den ekonomiska politikens tidskonsistens och konjunkturens drivkrafter". I stor utsträckning har deras forskning stärkt tesen att fasta institutioner och normer snarare än konjunkturpolitik, med olika tillfälliga stimulanser, bör vara grunden för den ekonomiska politiken. Ett skäl till detta är att politikerna helt enkelt inte kan förutse framtiden och veta hur, när, och i vilken form stimulanser skulle fungera. Dessa slutsatser har bland annat bidragit till att penningpolitiken numera i västvärlden styrs av fasta normer om prisstabilitet och sköts av oberoende centralbanker. Vikten av denna forskning är betydande; nu vilar samhällsekonomin i detta avseende på stabilare fundament.
Läs mer - >
11/10/2004 11:08:51 am
Howard Wins Again in Successful Australia. During the last two decades, Australia has become a star on the global economic sky. The success is the result of market-oriented reforms since the 1980?s. Now Prime Minister John Howard just won a fourth term in office. Read more about the election and its implications here. This election result shows clearly that the Australian people likes the reforms. That may not be surprising; high growth creates ever better living standards and more jobs. One sign of the economic success can be seen at migrationexpert.com where the Australian government seeks more people. 200 000 work visas have been made avaliable until 2006. In fact, the reforms are working so well and are so popular that the entire political landscape has changed. There are hardly any forces that want to stop change or bring the old times back. The main parties are competing about who wants more reforms. This is a contrast to Europe, where politicians are afraid of even the most necessary reforms. But Australia shows that reforms work, and that the politicians who have courage to act for change are rewarded in due time.
11/10/2004 9:51:00 am
The Strengths of the Bush Economic Record. Currently, the polls show quite even figures before the US election. That implies that the third and final debate on Wednesday in Arizona State University between Bush and Kerry will be important. The topic will be domestic issues, and thus mainly economic issues. All this year there has been quite a lot of discussion about jobs and economy, and the record of President Bush has been scrutinised. Indeed, he has been President during a recession which got worse following September 11th. Unfortunately, the discussion has so far not so much concerned whose economic ideas are the best for the future. In my view, that is the most important reason to vote for Bush. Now, the Heritage Foundation has produced an analysis showing that the economic record of Bush so far, even during these tough times, has been rather good. They find that output is booming, the manufacturing outlook is positive, business confidence is high, and productivity continues to set records. Even such canards as income inequality, tax burden, health coverage, worker discouragement show grounds for optimism.
Read the analysis here - >
08/10/2004 4:08:54 pm
Praise from Norberg. My good friend, and indeed globally respected analyst and writer, Johan Norberg, comments my new book. He calls it "an important work" that he likes and recommends: "Important reading for those of us who want to change the system. Necessary reading for those who want to conserve it. They will see what they are up against." Also, don?t miss Johan?s blog, which is the best one in the country.
08/10/2004 1:25:22 pm
Old Europe - New System. We live longer, which is a great success for humanity. But the government′s systems for health care, elderly care and pensions are constructed for another reality. When the pension age of 65 was introduced in Sweden, life expectancy was 55. Now, the real pension age is 58 and we live, on average, for 80 years. This development is a fact in many countries, particularly in western Europe. In Italy, for example, the working-age population will fall from today′s 39 million to 22 million in 2050. The Economist recently published an article that claimed that Germany will have to have an immigration of 3,6 million people every year until 2050 - just to keep today′s ratio between the working and the supported. That is 180 million immigrants! In Spain, pensions will account for 80 per cent of the public expenditure by 2030 if the systems are kept unchanged. These things portray an unsustainable system. The demographic development is a promise of a longer and healthier life. But big government makes it a problem. We have to change our view about what working age is, limit government size and increase private responsibility. That is the only way to make the promise come real.
08/10/2004 10:11:56 am
Ohly - skamlöst intellektuellt haveri. Vänsterpartiets ledare Lars Ohly har en gång anklagat undertecknad för att argumentera "oförskämt och lögnaktigt". För det påståendet fanns ingen grund, vilket förvånar eftersom han tycks vara ledande expert på området. SVT:s Uppdrag granskning har gjort ett gediget journalistiskt arbete med programmen om Vänsterpartiet. De har inte bara visat hur de ledande vänsterpartisterna är ideologiska anhängare av den totalitära kommunismen. Bortom allt tvivel har de också belagt att flera, särskilt Lars Ohly, var starka anhängare av de totalitära kommunistländer som fanns. Själv var Ohly olycklig när Berlinmuren föll. Därtill hade de nära samarbete och utbyte med dessa förtryckande regimer. Ofta har vänsterpartister försökt påstå att kommunismen är bra, men de länder som har försökt införa den har missförstått. Men de gillade ju länderna också! Bortförklaringarna av deras kramande av förtryck som idé, förtryck i praktik och förtryckare själva är nu patetiska:

"Ingen i vänsterpartiet har Lenin som förebild."
Lars Ohly, 27/12 1998 i Dagens Nyheter

"Jag står för en modern leninism baserad på klasskamp."
Lars Ohly, våren 1999. Intervju i engelska tidskriften Renewal

Oförskämt och lögnaktigt. I Sverige har de bara några procents stöd, så de kan inte genomföra allt de skulle önska. Friheten skyddas därtill av en grundlag. Men det är naturligtvis en skam att Lars Ohly sitter bredvid finansministern och presenterar budgetpropostionen. Den här mannen är en av dem som styr våra liv. En som uppskattar planekonomi och kollektivism. Finns det något spår av rimlighet i det? Är det värdigt ett demokratiskt land?
Läs SVT:s citatsamling - >
07/10/2004 2:57:42 pm
På DN Debatt: Ännu ett belägg för att den stora staten faller. Ordförandena Ilmar Reepalu i Kommunförbundet och Lars Isaksson i Landstingsförbundet skriver på DN Debatt idag om att vi i framtiden måste ta mer ansvar för oss själva som äldre:
"Äldreomsorgen står för ungefär 20 procent av kommunernas totala kostnader. När 40-talisternas vårdbehov blir stora om cirka 20 år, sammanfaller det med att 60-talisterna går i pension. Det innebär inte bara stora ekonomiska påfrestningar, utan även svårigheter att rekrytera personal. Vi menar därför att fokus i äldrediskussionen behöver förskjutas. ... Syftet är att underlätta för medborgarna att leva ett självständigt liv, oavsett ålder. Stöd i form av hemtjänst, hemsjukvård och särskilda boenden blir då ett komplement. ... Om kommuner och landsting har ansvar för samhällsplanering samt vård och omsorg, måste vi vänja oss vid att den enskilde - även den som är äldre - har ansvaret att planera för sitt eget liv."
De offentliga monopolen kan inte leverera, skatterna räcker inte trots att de är mycket höga. Alltså kommer den offentliga sfären att minskas och privata lösningar släppas fram. Detta ytterligare belägg för tesen i min bok kom lämpligt dagen efter dess presentation.
07/10/2004 11:56:34 am
Successful Presentation. Yesterday evening, my book "Sagan om välfärdens återkomst" was presented at a seminar. Maud Olofsson, leader of the Centre Party, and Stig-Björn Ljunggren, Social Democrat, commented. Some 70 people came to the seminar, and the debate got quite lively - and continued during drinks afterwards. Maud Olofsson said that "the book contains many good things" but thought that I was too critical to politicians - at least from her party. Stig-Björn Ljunggren personally had many positive things to say about the book. Thus, he had to assume the role of Bosse Greider (a combination of the Finance Minister and a socialist newspaper editor) in order to fulfil his task as opponent and he presented a number of critical arguments. Here, you can read my introduction. The book can be bought in any bookstore in Sweden and can be ordered here.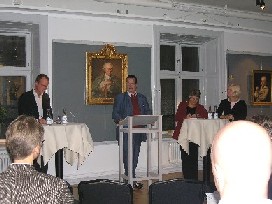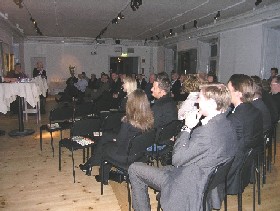 07/10/2004 11:04:29 am
Welcome, Turkey! The European Commission recommends the EU to start accession talks with Turkey. The decision will be taken at a European Summit in mid-December. The recommendation is based on a report which analysed the current situation in Turkey with regards mainly to human rights, democracy and the rule of law. Here you can read a summary which also links to the report. The recommendation is, however, a "yes, but...". It emphasises that the outcome of the talks isn?t necessary EU membership, just that it is the aim. Some people also say that 10 years of negotiations is a minimum and that it could well take 20 years. This recommendation is thus a compromise; it is a reluctant "yes". That is unfortunate and means that we who strongly want Turkey in the EU must continue to argue our case. But the direction is clear: Welcome Turkey!
06/10/2004 1:22:17 pm
A Good Start. One week ago, I introduced this web log. Since then, there have been 3800 visits. At least 2900 visitors have come one or several times. I have also received many positive comments from friends, politicians, journalists and colleagues. I will try to match those high expectations in the future!
06/10/2004 1:05:17 pm
Första lansering över landet. Liberala Nyhetsbyrån distribuerar idag en debattartikel av undertecknad till ett 30-tal landsortstidningar med anledning av min nya bok, som presenteras idag.
Läs artikeln - >
06/10/2004 10:05:00 am
Nytt Amerikabrev: Fortfarande den skinande staden på kullen. Olaf Gersemann, författare till "Cowboy Capitalism - European Myths, American Reality" (Cato Institute 2004) inleder ett nytt Amerikabrev: Det är Europa, dumbom. Världsdelen har blivit "den nya staden på kullen". Det är i alla fall vad Jeremy Rifkin, en av de mest ökända kritikerna av amerikansk kapitalism, hävdar i sin senaste bok. När det gäller livskvalitet har Europa passerat Amerika, menar Rifkin. Som en europé som har bott i USA i fem år fick det mig att brista ut i skratt. Jag satte dock skrattet i halsen när jag kom på att Herr Rifkin faktiskt kan bli trodd, inte bara i Europa utan även i USA. Det är ju uppenbart att det är Europas ekonomier som behöver bli mer amerikanska, inte USAs ekonomi som behöver "europeiseras".

Läs Amerikabrevet - >
05/10/2004 3:20:15 pm
Det låter lika dumt som det är. I en TT-artikel utvecklar nu statsminister Persson skälen till att kärnkraften ska avvecklas, med anledning av beslutet om rivande av Barsebäck 2. Många andra kommentatorer har visar varför detta beslut i sak är dåligt, men statsministern intar en särställning i att visa hur dåliga skälen faktiskt är:

"Alla i Sverige måste inse att kärnkraftens tid är utmätt. Det är farligt att tro att den är evig till sin karaktär", säger han.

Alla måste inse? Vad händer annars? Jag inser inte det utan vill tvärtom tillåta byggande av ny kärnkraft. Sedan tror sannolikt ingen att nuvarande kärnkraft är evig, men det är bättre att utveckla den vidare än att avveckla den.

"Industrin ska inte oroa sig för höjda elpriser. De ska se till att de har energisnåla processer", fortsätter han.

Men om de inte har energisnåla processer? Vi har en elintensiv industri som betyder mycket för jobb och tillväxt i Sverige. Vidare är det ett faktum att energi inte är ändligt utan oändligt - frågan är bara hur vi får fram den. Att spara energi och stänga energikällor i onödan är bara destruktivt.

Efter påståendet om att industrin ska vara energisnål besvarar dock statsministern frågan om huruvida de kan räkna med att få högre energipriser med ett klart nej. Varför ska de då tänka på att vara energisnåla?

"Vi har redan stängt Barsebäck 1 och att låta det andra verket fortsätta att gå vore konstigt", framhåller Persson i slutet av TT-artikeln.

Ett felaktigt beslut ledde således till ett annat. Har man gjort fel från början är det lika bra att fortsätta. Logiskt, men definitivt ingen god politik. Sveriges företag, jobb och välfärd behöver energi. Och varför energi från utländsk kärnkraft per import skulle vara bättre än svensk kärnkraft ter sig minst sagt oklart.
05/10/2004 9:33:12 am
No cometan el error de Suecia! I was invited by market-oriented think tank Fundacion Libertad in Panama to write an op-ed article in one of their largest dailies, El Panama America. I chose to write an article with the headline "Don?t Make the Swedish Mistake!". In it, I describe the fantastic Swedish economic development between 1890 and 1950. Entrepreneurs, free trade and low taxes created the highest economic growth in the world. After that, however, growth has declined. Few people work, many people are dependent on government contributions. Welfare services are deteriorating. The main cause is the model of big government itself. If any country wishes to learn from the Swedish example, they should look before 1950, and not after.
Read the article (in Spanish) ->
05/10/2004 9:04:05 am
Debate Between the Candidates for Vice President. Tonight Vice President Dick Cheney and Democratic Nominee for Vice President John Edwards will debate on TV. Since the opinion polls now show more even figures following the last debate, it will be important. Dick Cheney said at a campaign rally, according to Financial Times, about Senator Edwards that: "It is alleged that he got his job because he′s charming, sexy, good-looking and has great hair. ... How do you think I got the job?". Thus Cheney stresses that his own competence for the job is heavy enough to outweigh his deficits in those fields. Senator Edwards is reported to have said last week that "Iraq is in a mess because of two men - George Bush and Dick Cheney." Allow me in all modesty to propose adding a third name that all might agree should top the list: Saddam Hussein.
04/10/2004 5:17:03 pm
Moderaterna och AMS. Med en debattartikel i dagens DN fortsätter Moderaterna sin strategiska ompositionering. Nu släpper de kravet på att avskaffa AMS. Möjligen är det valtaktiskt riktigt att inte föreslå stora förändringar, men i sak - och därmed i förlängningen för hela samhällsdebatten och landets framtid - är det olämpligt. I den senaste statsbudgeten omfattar arbetsmarknadspolitiken cirka 70 miljarder kronor. Detta motsvarar runt 20 000 kronor i skatt per arbetande svensk och år. Olika utvärderingar visar att de åtgärder AMS ägnar sig åt ofta misslyckas. Samtidigt är det förstås korrekt som Moderaterna skriver att aktivitet är bättre än passivt bidragsberoende. Men varför ska det offentliga stå för aktiviteten? När viss avreglering på detta område skedde på 1990-talet växte en stor sektor av bemanningsföretag fram. Fritt företagande är bättre på att skapa aktivitet än myndigheter och verk. Politiken bör främst ta bort hindren för detta.
04/10/2004 2:18:25 pm
Capitalism Takes Us to Space. The first private space ship, SpaceShipOne, went into space for the first time on June the 21st. The second trip took place on September the 29th and the next will take place today. Its designer, the private entrepreneur Burt Rutan, has every reason to be pleased so far. Now, multi-millionaire entrepreneur Richard Branson is inspired and talks about his Virgin corporation offering space trips in the future. The price for a trip into space will be between $ 100 000 and 200 000. Quite a lot of money, one might think, but still an enormous improvement. The current cheapest trip is with the Russian government′s Soyuz, and the price tag is $ 20 million. This is a great example of private enterprise and free competition versus government monopolies. In free competition, creativity is released, quality improved and prices reduced. The most recent frightening example of government in space is the International Space Station. Its price was first estimated to be $ 8 billion, but now most think it will end at $ 100 billion. Clearly not only earth but also space needs more capitalism.
Read more ->
04/10/2004 10:11:41 am
Read This, UNDP and Newsweek! Sweden is sometimes regarded as one of the best countries in the world when it comes to living standards and prosperity. True, Sweden is a good country in many ways and has improved its macro-economic framework during the last 15 years or so. Unfortunately, the rosiest pictures seem more like wishful thinking when one regards statistics. Here are some facts, compiled by my colleague Fredrik Segerfeldt: Since ten years, the number of companies decreases with, on average, 10 a day. None of Sweden′s 50 largest companies was started after 1970. Of a population of 9 million, only just above 3 million go to work on an average working-day. The Government Social Insurance Office supports 26 per cent of the population. Sweden has lost 100 000 jobs in the industry in three years; if that continues, Swedish industry will have zero employees in the year 2033. In 1999, Sweden was no 4 in the international investment league, in 2002 it had fallen to no 27.
03/10/2004 3:37:31 pm
P1: Godmorgon, världen! Dagens panel, bestående av PJ Anders Linder, Barbro Hedvall och Per Wirtén diskuterade bl a min bok som presenteras i veckan. De föreföll relativt överens om att inte dela min optimistiska bild av att verkligheten fäller den stora staten. Bland annat framfördes argumentet att detta har sagts förut men ännu inte hänt. Förvisso är det sant att den stora staten har svajat ett längre tag. Men min poäng är att ett antal faktorer har tillkommit på senare tid som kommer att leda till stora förändringar. I boken sammanställs fakta om dessa faktorer; om de allt dyrare tjänsterna, det mer heterogena samhället, den internationella konkurrensen och demografin.
Lyssna på programmet här ->
03/10/2004 3:34:34 pm
I Värnpliktsnytt. Tidningen Värnpliktsnytt har reportage om framtidens arbetsmarknad i senaste numret, med bl a intervju av undertecknad.
Läs artikeln ->
01/10/2004 5:29:24 pm
Socialist Austria. Now I have learned more about the imfamous socialist aspects of the Austrian society. Currently attending a conference about housing policy in Vienna, it seems to me that this sector is in even worse shape here than in Sweden. Privately owned homes account for only 8 % of total housing in Vienna. One reason is that non-profit housing companies are heavily subsidized by not having to pay any corporate taxes - in contrast to ordinary companies. The non-profit companies are also forced by law to be members of one single, mighty, association. That is textbook corporatism. Incidentally, this association has started newspeak, they talk about "limited profit" instead of "non-pofit", since they want to give the impression that they make profits despite the fact that they don?t. This association, GBV, with some 100 employees, is a heavy lobbyist to keep its privileges and subsidies; a vicious circle. The largest municipal housing company possesses 220 000 homes of the total 900 000 in Vienna. They choose who is going to live where and how much they shall pay - not demand and supply. And by the way, non-european immigrants are not allowed to join the line waiting for a home. These facts might contribute to the explanation of why Governor Schwarzenegger left for the US.
01/10/2004 1:47:09 pm
Who Won? Two very diffeerent personalities debated yesterday before the US presidential election. It was a quite even match; while Bush beat Gore clearly in the debates in 2000, this was more even. Kerry is a more skilled debater than Gore. In terms of facts and figures, John Kerry would emerge as the winner from yesterday. But he seems older and more tired as a person than George W Bush, who is quick, plain-speaking and witty. And Bush is very good at repeating his main message and to show his passion for certain issues. If voters are asked what they remember from the debate, most would pobably still feel that Bush is a stronger and more determined leader. That was the most important impression for Kerry to change, and he did probably not achieve that aim despite a good effort. The problem is not his skills at debating, the problem is his changing positions on the issues. If this was Kerry?s last chance to get into the game, he might have failed. But one month and two debates are still left. Much can still happen.
01/10/2004 1:42:47 pm
Regeringen förvaltar - medborgarna vill ha förändring. Hela 75 procent av medborgarna anser att regering och riksdag inte gör tillräckligt för att förbättra företagsklimatet. 64 procent av medborgarna anser att politiken generellt bör inriktas mot att skapa tillväxt. 26 procent anser att den istället bör fokusera omfördelning. Detta enligt en opinionsmätning genomförd av Sifo i början av september, beställd av Svenskt Näringsliv. Idag skickar LNB ut en kort debattartikel till ett 30-tal landsortstidningar om detta, av undertecknad. Siffrorna är särskilt intressanta mot bakgrund av att regeringsförklaringen och budgetpropositionen mest inriktades mot fördelning och saknade viktiga förbättringar för företagande.
Läs artikeln ->
30/09/2004 1:44:10 pm
LO och framtiden: diskutera allt utom det mest självklara. Rader av analyser i Sverige och övriga västra Europa drar entydiga slutsatser om vår samhällsmodell. Vi har valt att finansiera välfärdstjänster och trygghetssystem via höga skatter. Tjänsterna levereras huvudsakligen av offentliga monopol. Enigheten är bred om att modellen inte fungerar, situationen blir allt mindre hållbar. Bidragsberoende, få som arbetar, köer till välfärdstjänster, låg tillväxt - rader av problem. LO inser likaså problemen och har presenterat en rapport som avses vara underlag till diskussionen om tänkbara lösningar. Men Långtidsutredningens huvudförslag, privat finansiering av välfärden, utelämnas helt. Istället nämns tio kronors höjd kommunalskatt, höjda avgifter till kommunala tjänster, ökad moms, omsorgsförsäkring och speciell generationsskatt. Hur långt ska man gå för att bibehålla just den modell som inte fungerar? Varför utelämna det mest självklara förslaget från diskussionen; att öppna för privat välfärd?
30/09/2004 1:27:56 pm
The Debate - Last Chance for John Kerry? Tonight, at 9PM local time, in the University of Miami, the first of three debates between George W Bush and John Kerry will take place. Since the Republican Convention, Bush has kept a clear lead against Kerry in all the polls. This reflects major problems for Kerry with his focus on details, shifting positions and rather unclear messages. History however teaches that much can happen in just a few days, and it is an entire month left until the election. But Kerry certainly has a huge task to try to use the debate to change the situation. Before the debate, if anyone still haven?t seen it, one can watch this very funny parodyThis land is my land. Or one could visit DebateFacts.com, where the Republicans claim to reveal Kerrys shifting positions. So who will most likely win this very important debate, probably to be seen by some 40 millions of Americans? John Kerry is an intelligent and skillful debater. But George W Bush is often underestimated, quick and humorous. I think most people will feel respect for Kerry, but believe more in Bush as a strong leader.
30/09/2004 1:11:57 pm
Instant Success? During the first 24 hours after its release, this web log was visited over 700 times by some 450 visitors. I have received many positive comments from friends and colleagues in places ranging from Australia to the US. The Stockholm Network, which consists of about 120 think-tanks, mostly in Europe, called this web log the "latest in a distinguished line of socio-political commentators who regard market-oriented reform and social liberalism as the only hope for progress in Europe" in their e-newsletter. Now the challenging task will be to keep - and hopefully even increase - this interest.
29/09/2004 5:40:55 pm
Blair: bold and always a step ahead. The speech yesterday by British Prime Minister Tony Blair at the Labour Annual Conference in Brighton was, as usual, very good. He is indeed a very unusual kind of politician, one with principles that he actually stands for. In the speech he also demonstrated his impressive skills in reshaping his party?s policies. It is not the values that have changed, he argues, but reality:

"Fairness in the future will not be built on the state, structures and services and government of times gone by. ... The relationship between state and citizen has changed. People have grown up. They want to make their own life choices. The 20th century traditional welfare state has to be reshaped as the opportunity society capable of liberation... In an opportunity society, as opposed to the old welfare state, government does not dictate; it empowers. It makes the individual - patient, parent, law-abiding citizen, job-seeker - the driver of the system, not the state. It sets free the huge talent of our public servants and social entrepreneurs whose ability is often thwarted by outdated rules and government bureaucracy."

Bold words about the future. Europe needs more politicians who are such insightful optimists.
Read the speech ->
29/09/2004 11:16:30 am
Välkommen till min webblog! Här kommer jag att samla analyser, information och argument i frågor jag anser viktiga. Nationella och internationella ekonomiska och politiska frågor kommer att stå i fokus. Allt med ett frihetligt perspektiv och så ofta som möjligt med nya infallsvinklar. Framför allt är denna webblog en avsändare av snabba budskap. Här finns även mer utförligt och lite äldre material under rubrikerna ovan. Uppfattningar som uttrycks är mina personliga om inte annat anges. Språket är svenska när jag bedömer att intresset främst kan anses vara nationellt och engelska när det är bredare än så. Kom gärna med synpunkter, tips och kritik. Och välkommen åter!

Welcome to my web log! Here, I will gather analyses, information and arguments concerning topics I consider important. I will focus on national and international economic and political issues. My perspective is that of individual liberty and limited government. As often as possible, I will try to find new angles in traditional debates. Mainly, the purpose of this web log is to send quick comments. Above, under the headlines, there are also some older and more comprehensive documents. Opinions expressed are my personal, unless I specify otherwise. The language will be Swedish when I believe that the topic is mainly of national interest and English in all other cases. Don't hesitate to send me comments and criticism. And welcome back!
29/09/2004 10:45:00 am
Den stora staten - ett cirkelargument. Den samhällsmodell vi har i västra Europa, med höga skatter och stora offentliga monopol, bygger på ett cirkelargument. Modellens försvarare säger att vi ska hålla fast vid den för att en klar majoritet av medborgarna vill det. Samtidigt erkänner de ofta att skälet till att majoriteten vill det är att de har gjorts beroende av systemen. Över 60 procent av de vuxna svenskarna är beroende av det offentliga för sitt uppehälle. Ju fler bidragstagare en kommun har, desto fler röstar på partier som vill ha kvar bidragen. Cirkeln är sluten: Modellen valdes för att det var enda sättet att få medborgarna att betala så mycket i skatt. Och nu när de är fast, är det svårt att backa ur trots allt större problem i modellens spår. Det är temat för min kolumn i denna veckas Entreprenör.
Läs mer ->
29/09/2004 10:17:00 am
Yes to Turkey in the EU - no to a Christian European Club! The debate about Turkey joining the EU is getting intense, since the decision about the start of accession negotiations gets closer. The pace of reforms in Turkey to meet the Copenhagen criteria has been remarkable. Unfortunately, that just makes the opponents of Turkish membership change their arguments. The worst of the irrelevant arguments now put forth is that most Turks are Muslims, but most people in the EU of today are Christians. Surely one fundamental part of the EU is freedom of religion? And what about the millions of Muslims living in today?s EU countries? I spent last week in Cyprus, which is sharply divided since 30 years between Greek and Turkish Cypriots. But one can see old Greek Orthodox churches and Mosques side by side in many small villages. That is a nice symbol of what the future EU should be like; cultures, religions and countries living side by side peacefully in free societies. The idea of a European Christian Club is intolerant and dangerous. Follow the process here.